Antipersonnel 1:1 uses a documentary approach to identify and archive, the various types of anti-personnel and submunitions that still exist around the world today. Raphaël Dallaporta´s life size photos of landmines on a black background, which look like something out of a perfume catalogue, awaken feelings of both fascination and disgust. They remind us that war is a business just like any other, and that the business of anti-personnel landmines is the vilest and basest of all.
It aims to draw attention to a business in which the mines are designed, manufactured, and sold, says Dallaporta, who has been fascinated by the subject since he came across people working with landmines while in Bosnia in 1998. In the exhibition Antipersonnel 1:1, the mines are seen as objects of beauty; diabolical beauty: they are photogenic, attractive and sensual, photographed as if they were designer products, dressed in their best dresses of steel or bronze satin. The viewer becomes captivated by the disturbing beauty of these objects. In contrast we see the detailed explanation of each: name, origin, year manufactured, weight, size, human impact, and fascination gives way to disgust and our conscience wavers faced with this vile, depraved reality.
Dallaporta shows us not the impact of landmines, something which is already well known, but the cause-effect relationships of their continued use in our world and thus achieves what photo-journalism often fails to achieve. Moreover, he does this in a way which is almost subversive, much the way in which landmines operate.
This magnificent documentary work captivated Jody Williams, 1997 Nobel Peace Prize winner and chief spokesperson of the International Campaign to Ban Landmines, as well as Martin Parr, the distinguished British photographer of the Magnum agency, who in 2004 selected Dallaporta to participate with this exhibition in the Arles Photography Festivals.
About the artist
Raphaël Dallaporta was born in 1980 and lives and works in Paris, where he graduated from the Ecole des Gobelins in 2002. In 2004 he was selected by Martin Parr to exhibit for the first time his series Antipersonnel 1:1 at the Arles Photography Festival. In 2006 he exhibited Esclavage Doméstique at the same festival adminstrated by Raymond Depardon. He participated in reGeneration – 50 photographs of tomorrow 2005-2025 organised by the Elysée Museum of Lausanne and the Aperture Foundation. In May 2008 his project Autopsy was presented at the first edition of the New York Photo Festival in Dumbo, chosen by Kathy Ryan (the New York Times Magazine). His work can be found in a number of collections including the Collections Fond Nacional d´Árt Contemporain and La Maison Européenne de la Fotographie.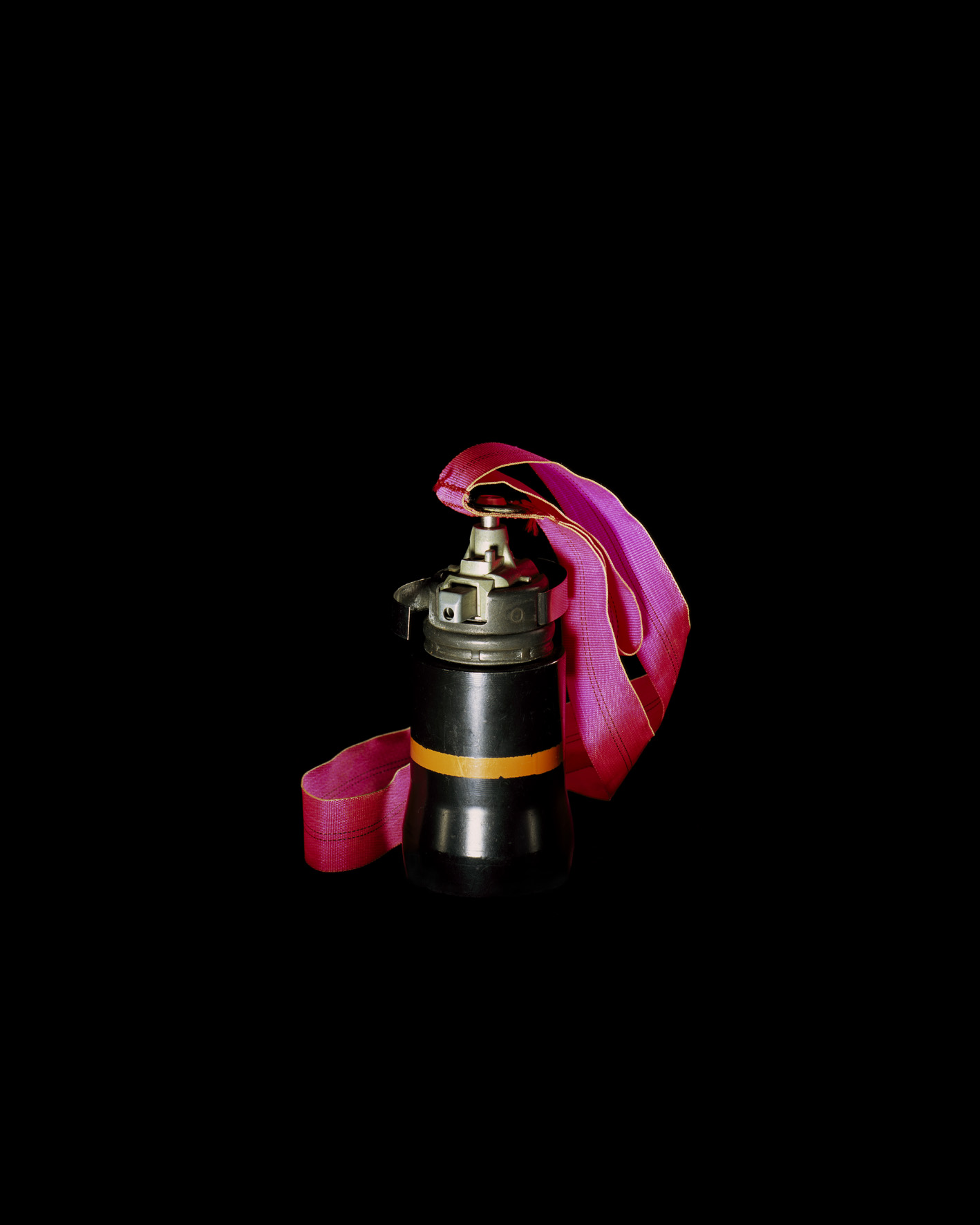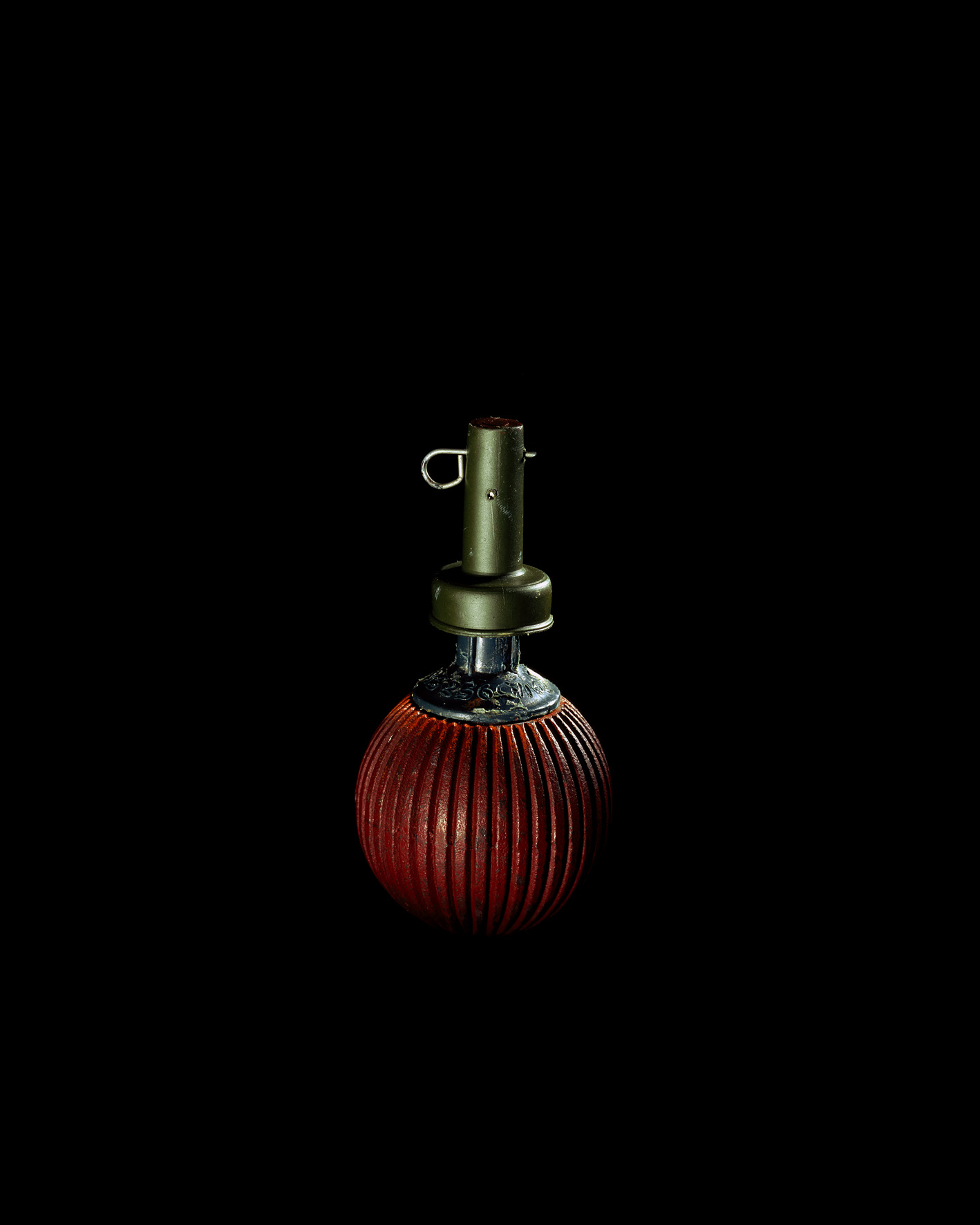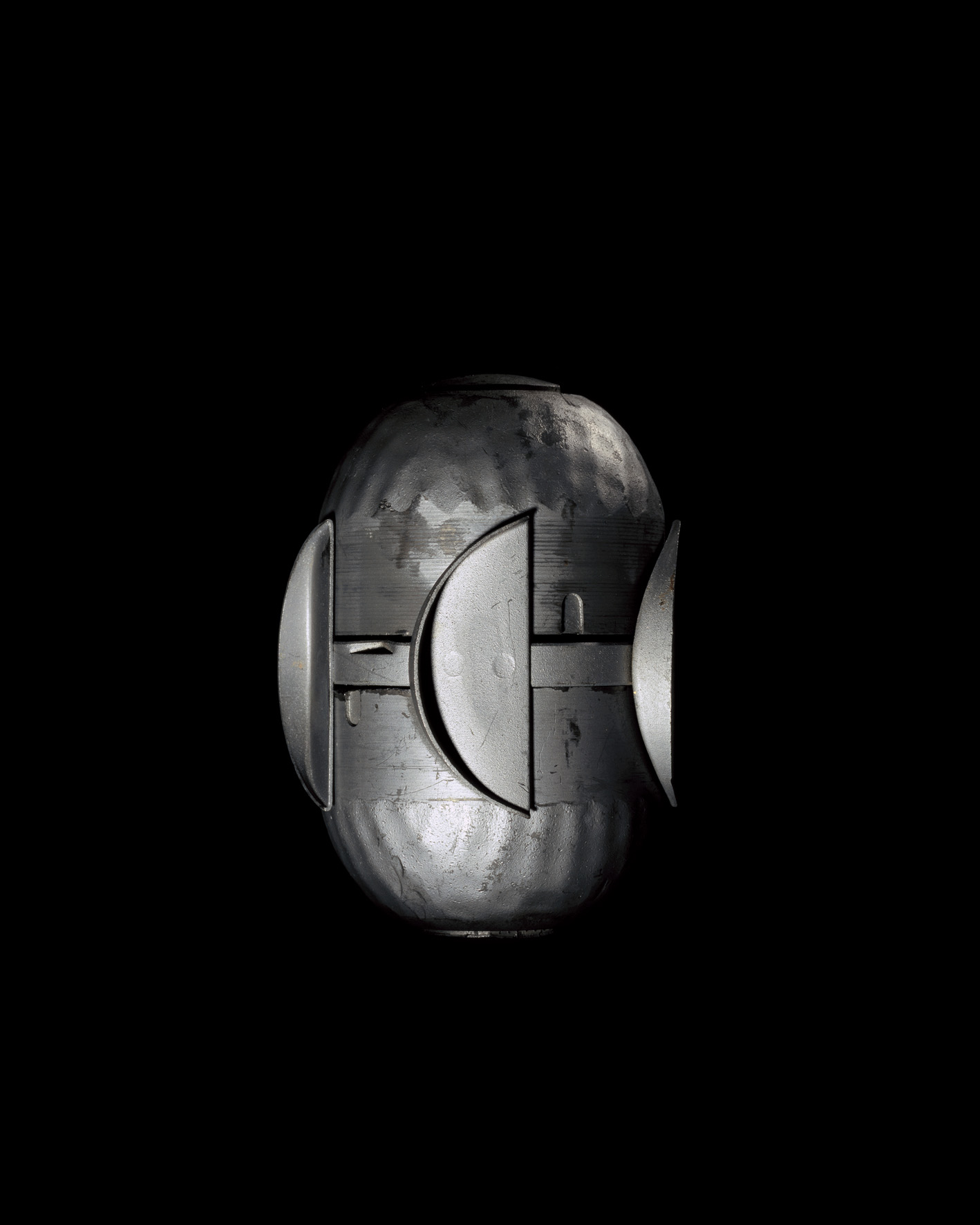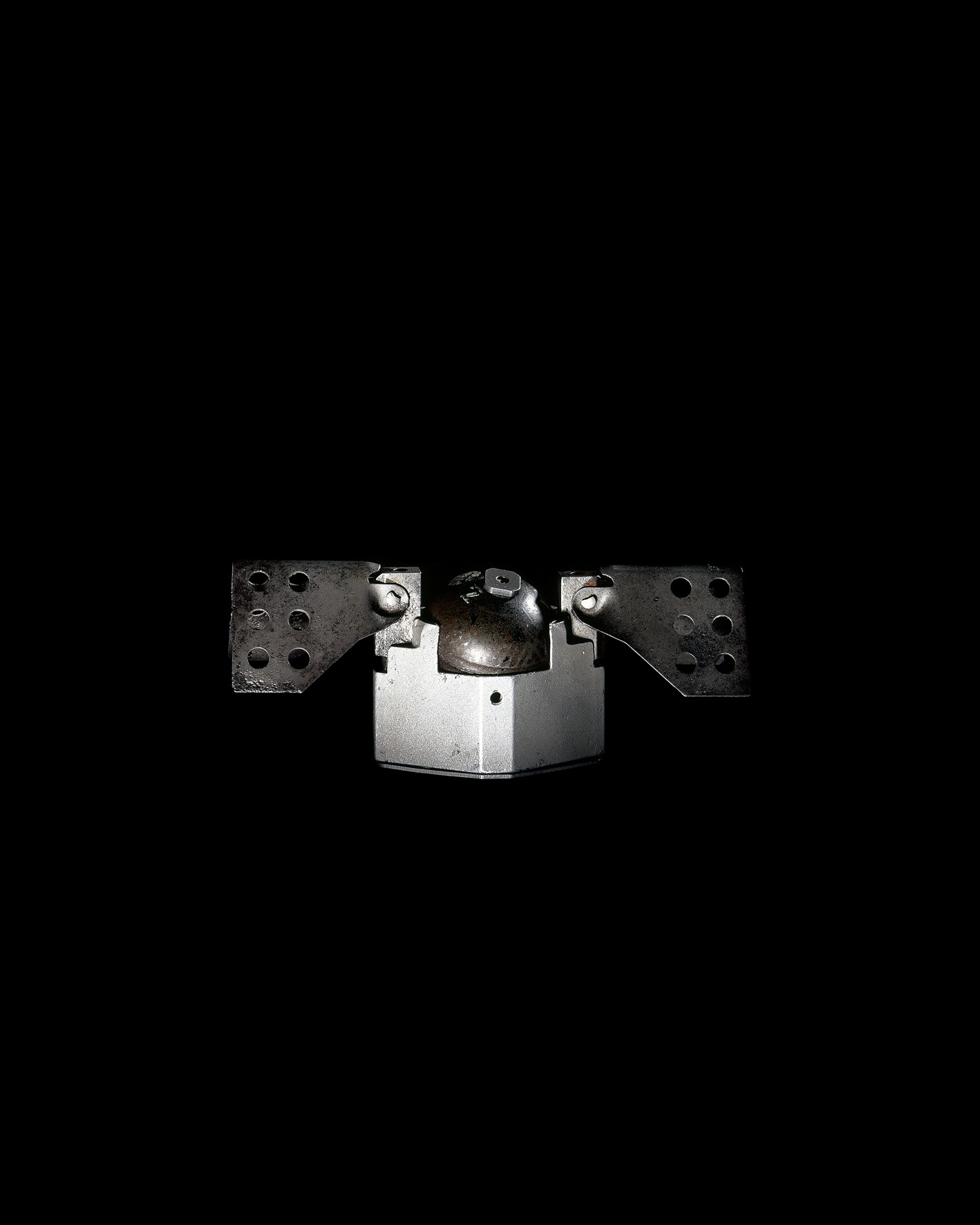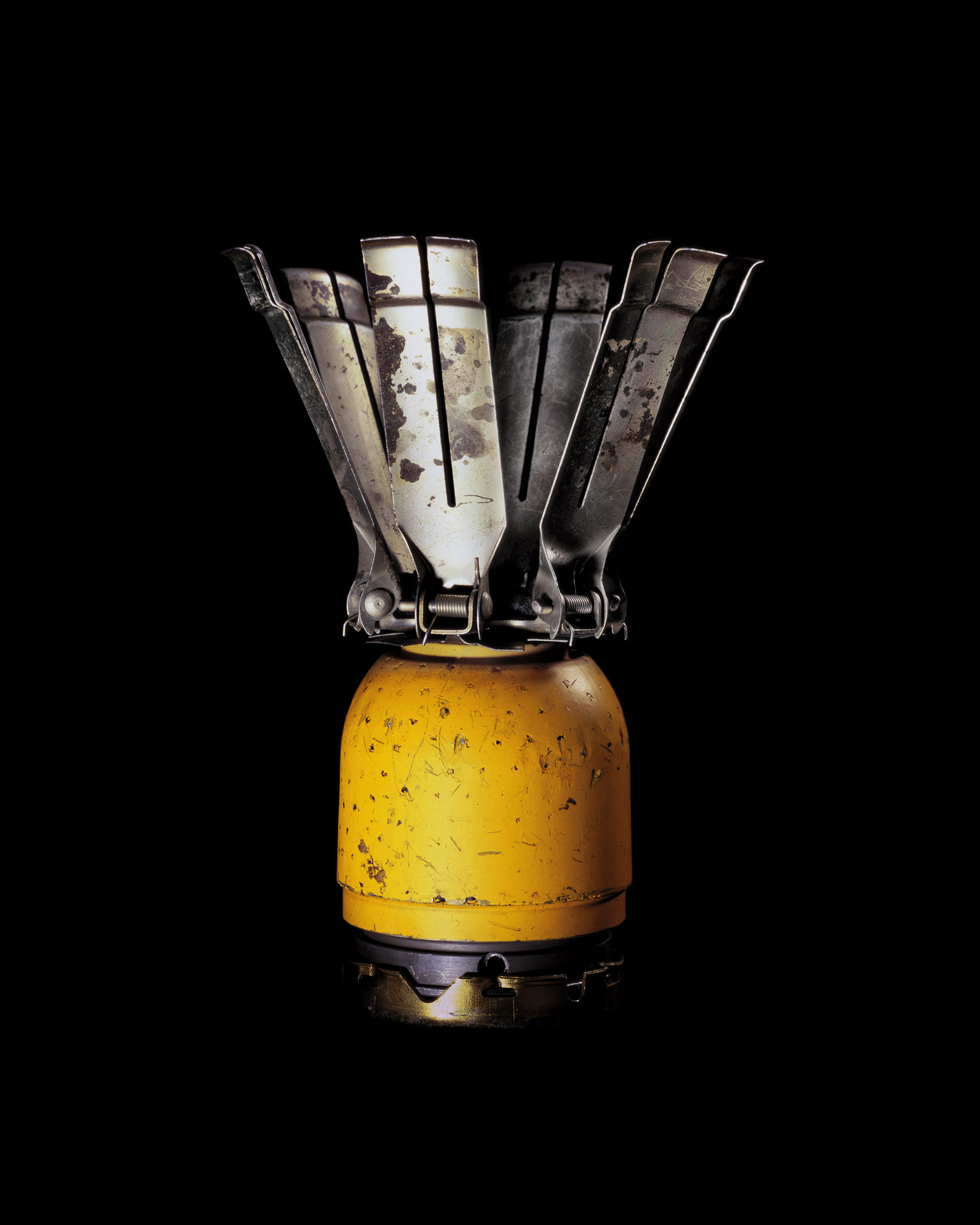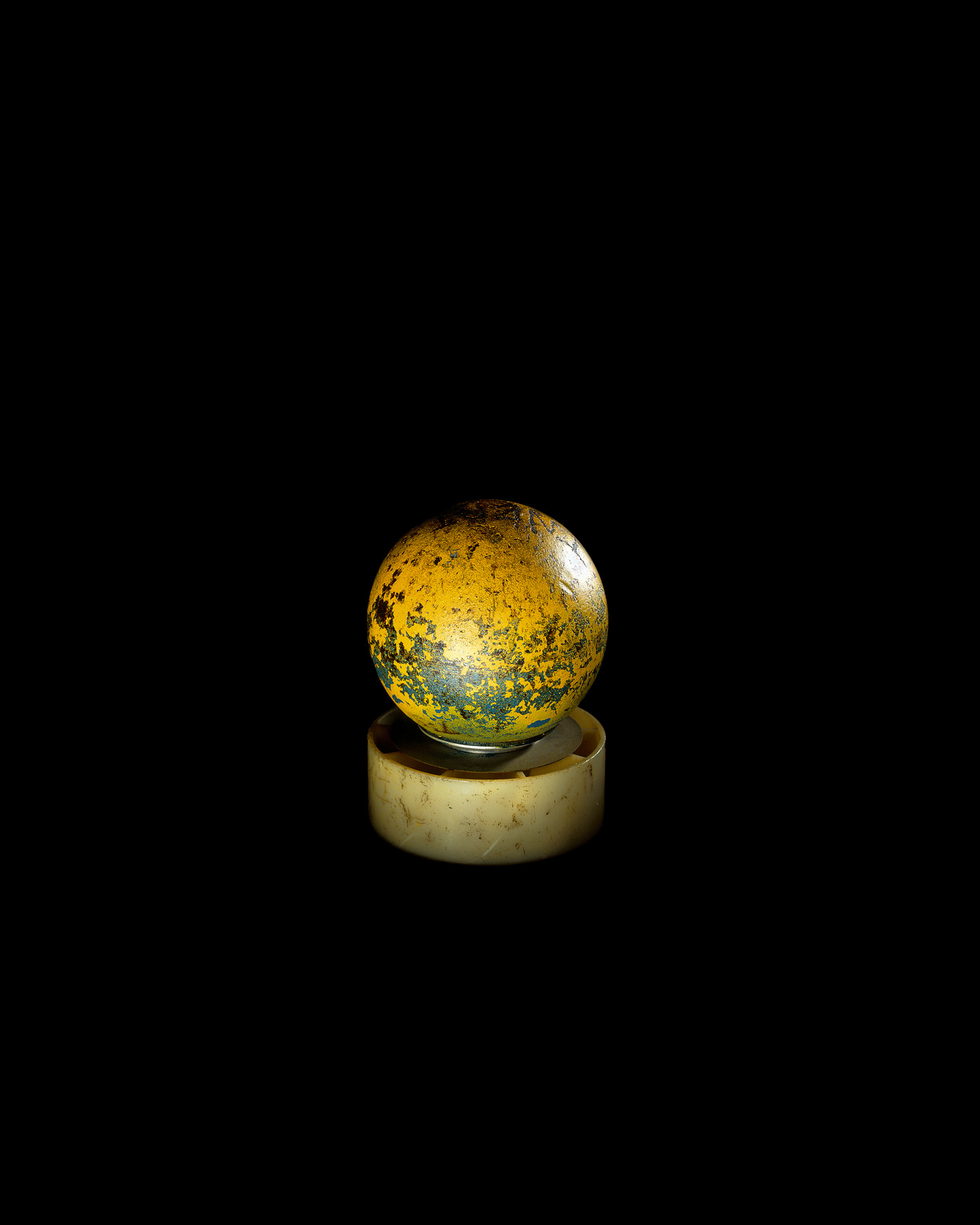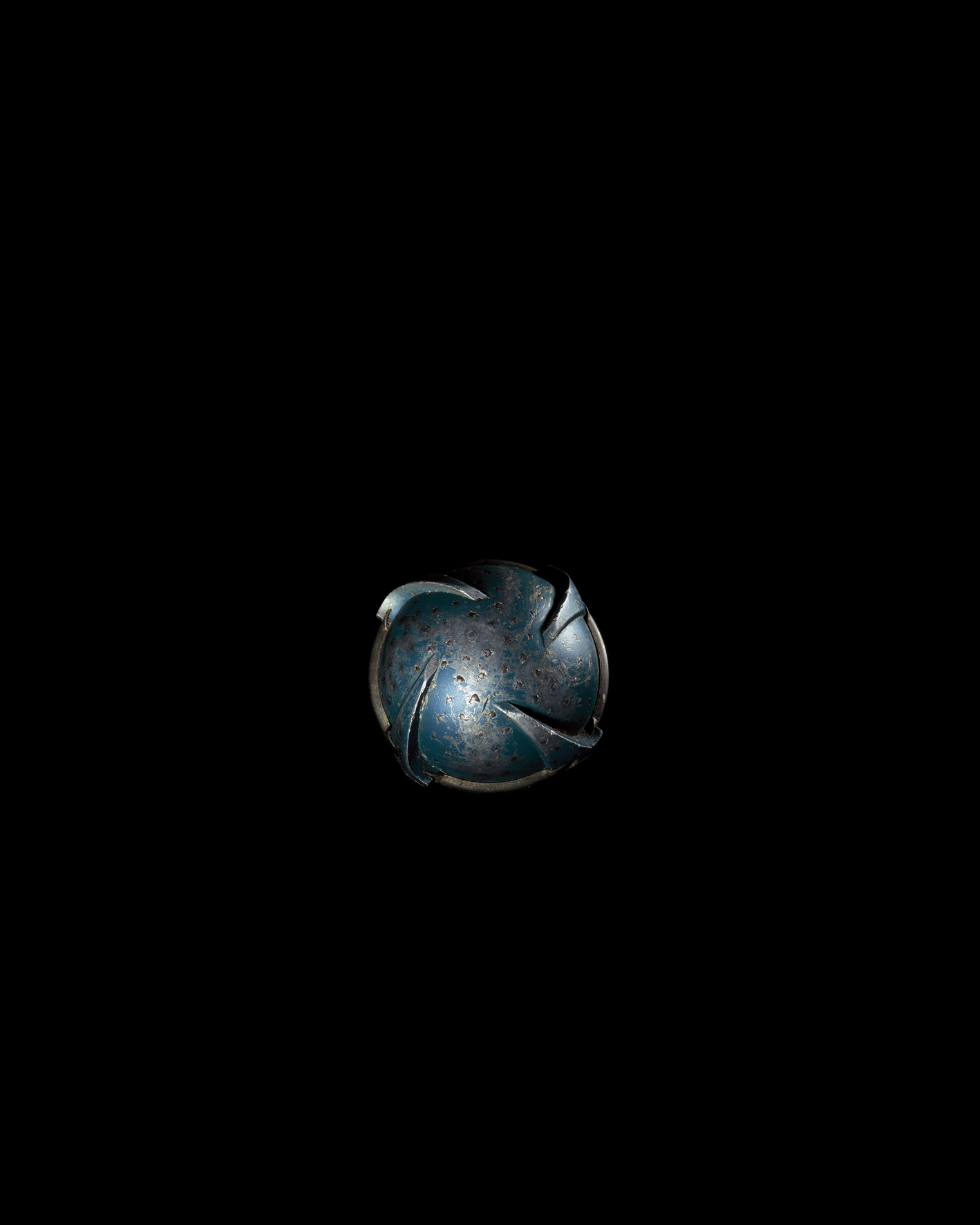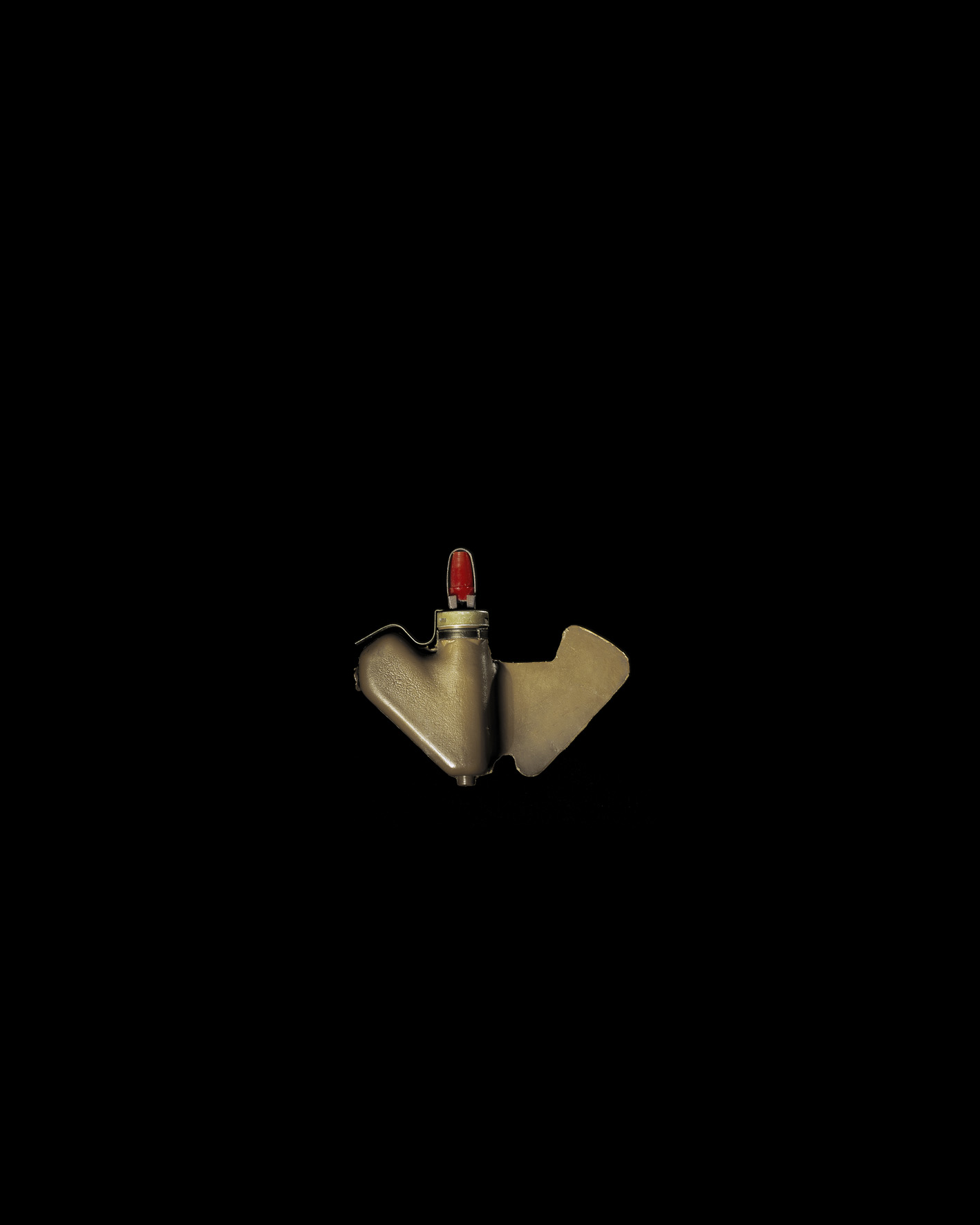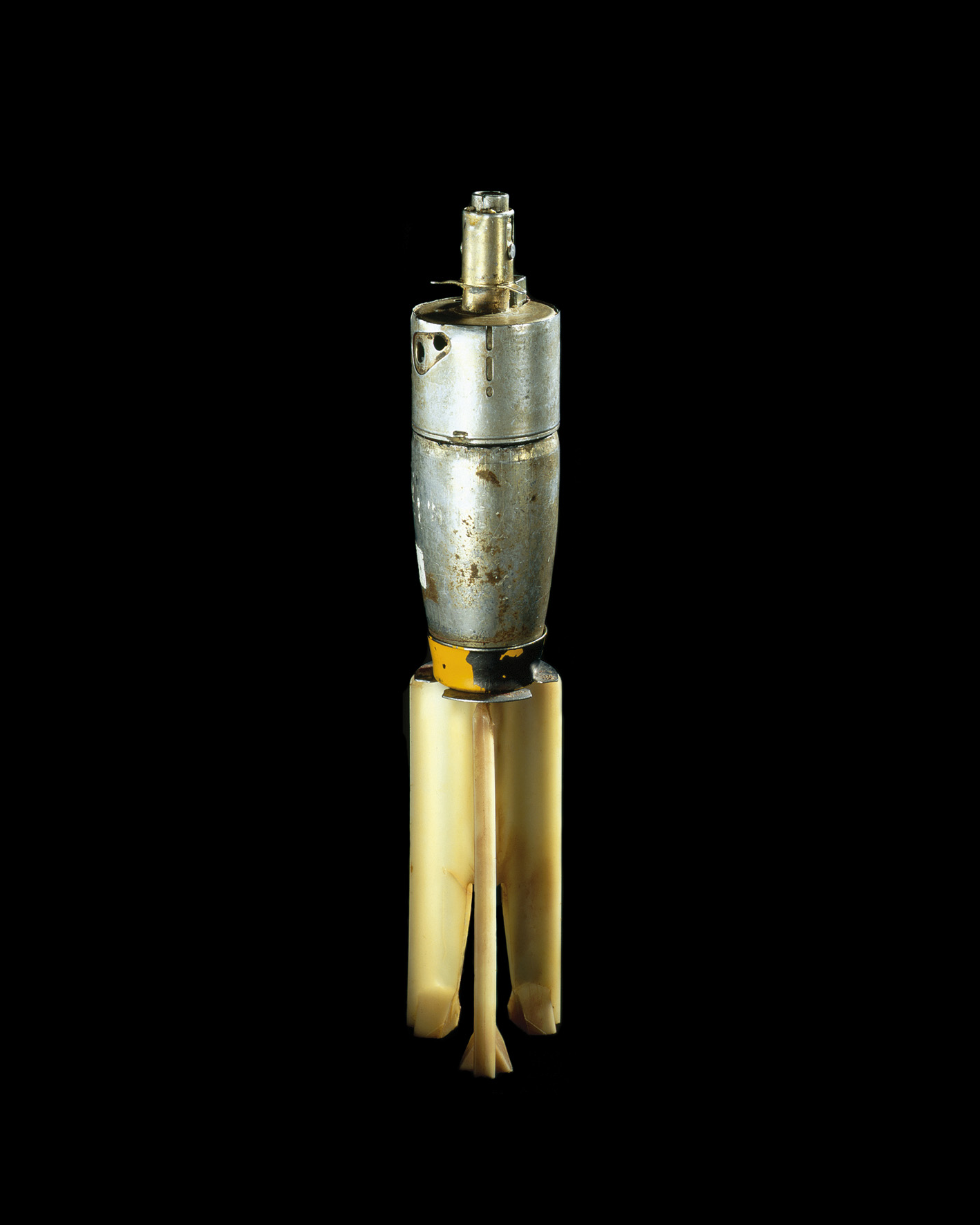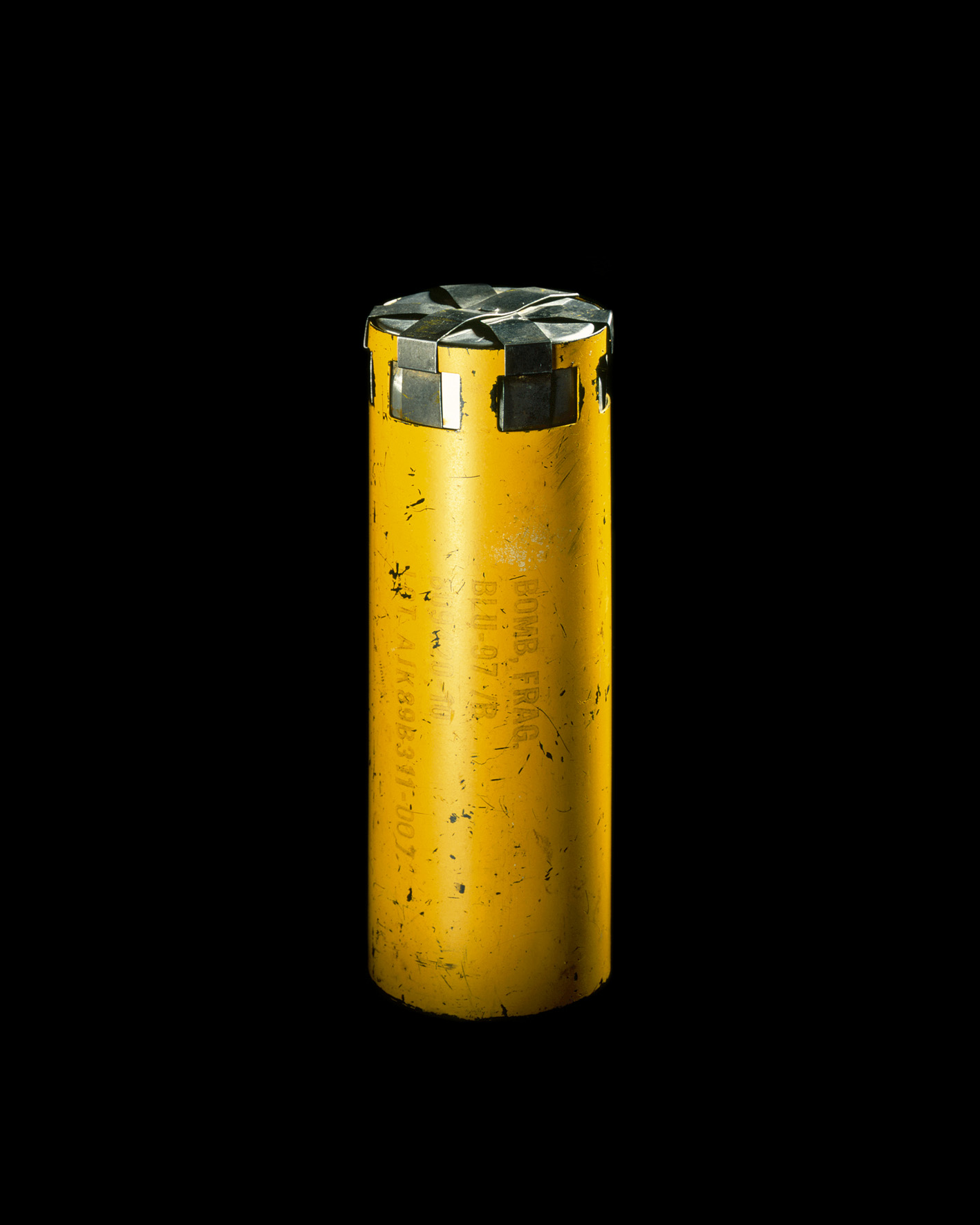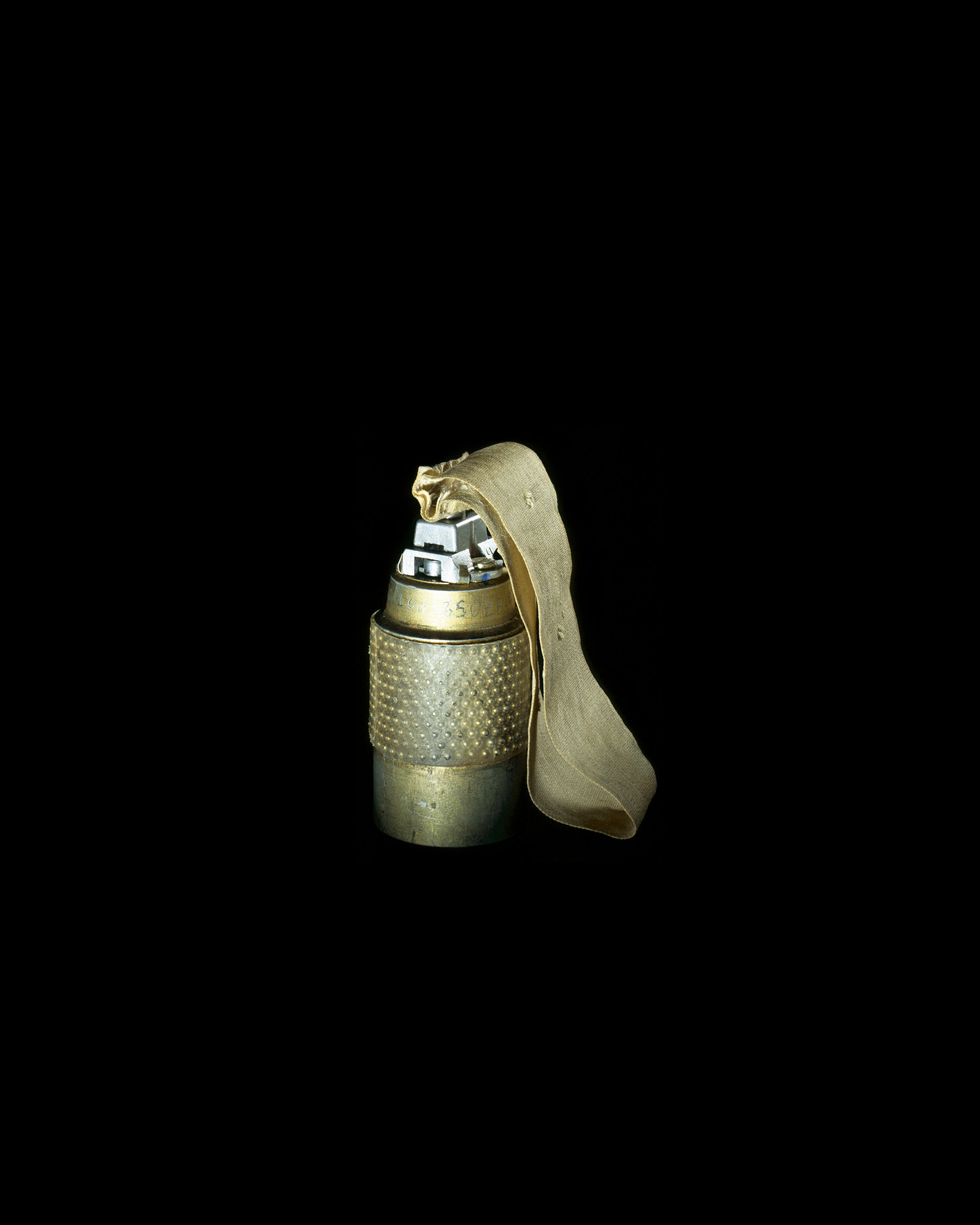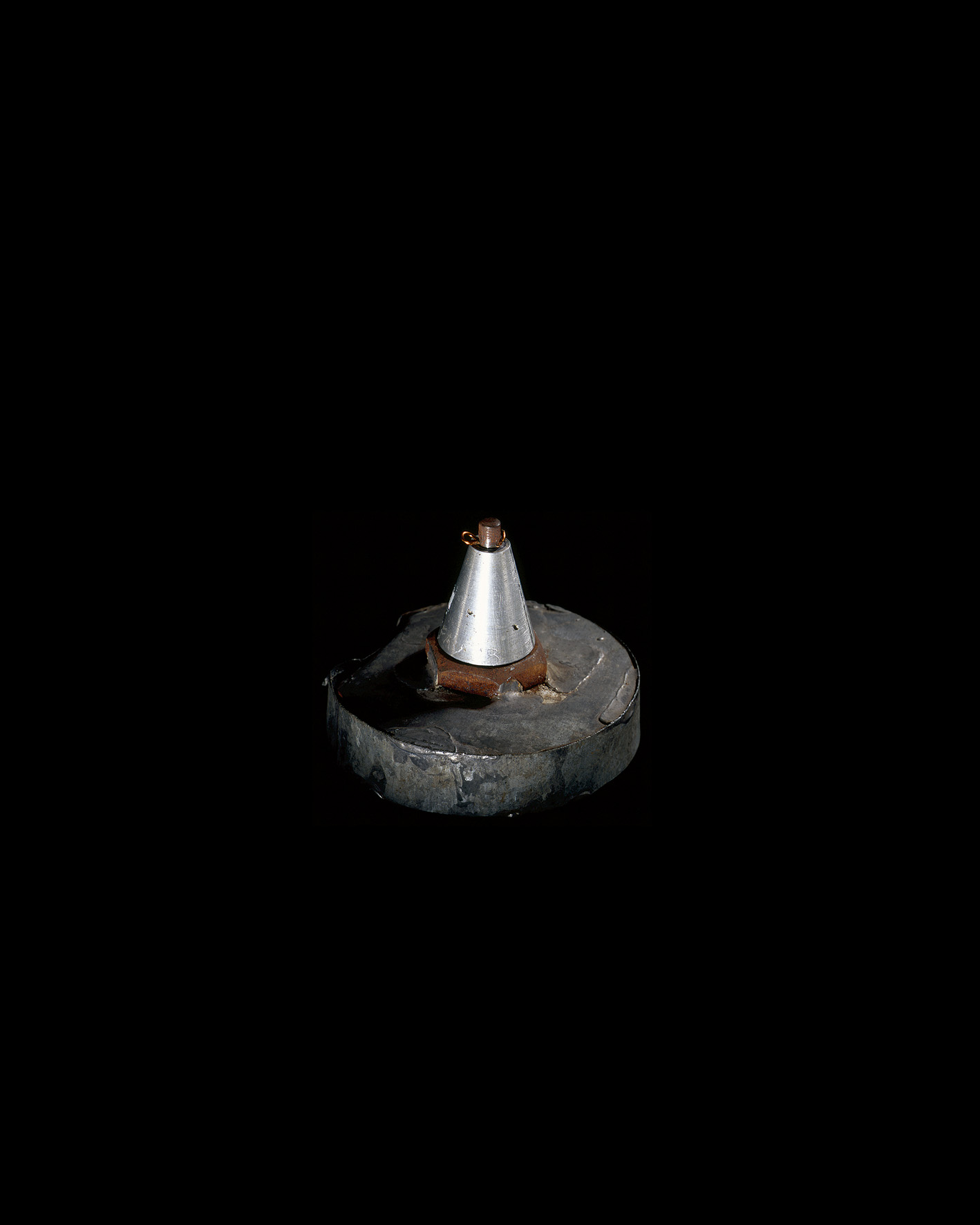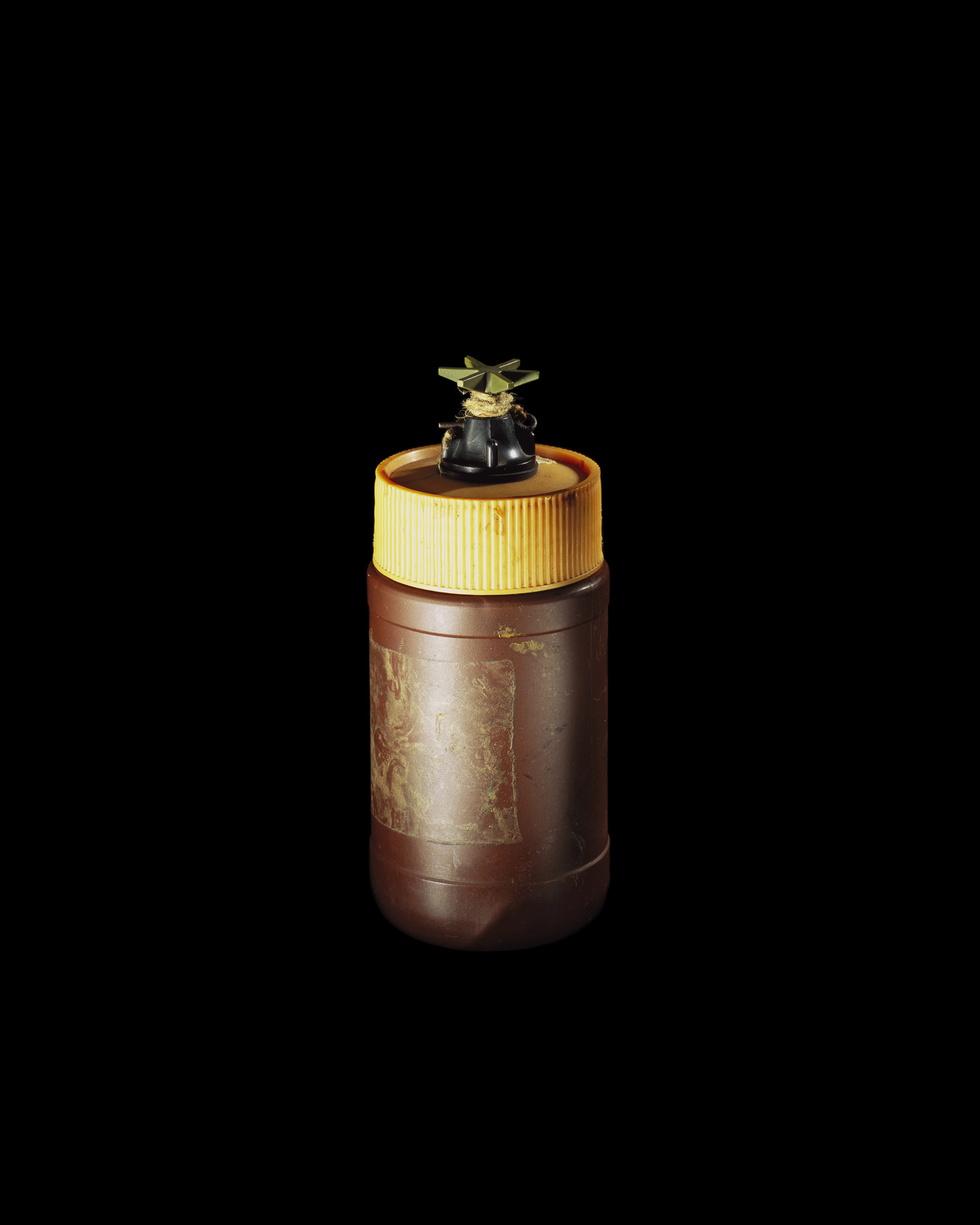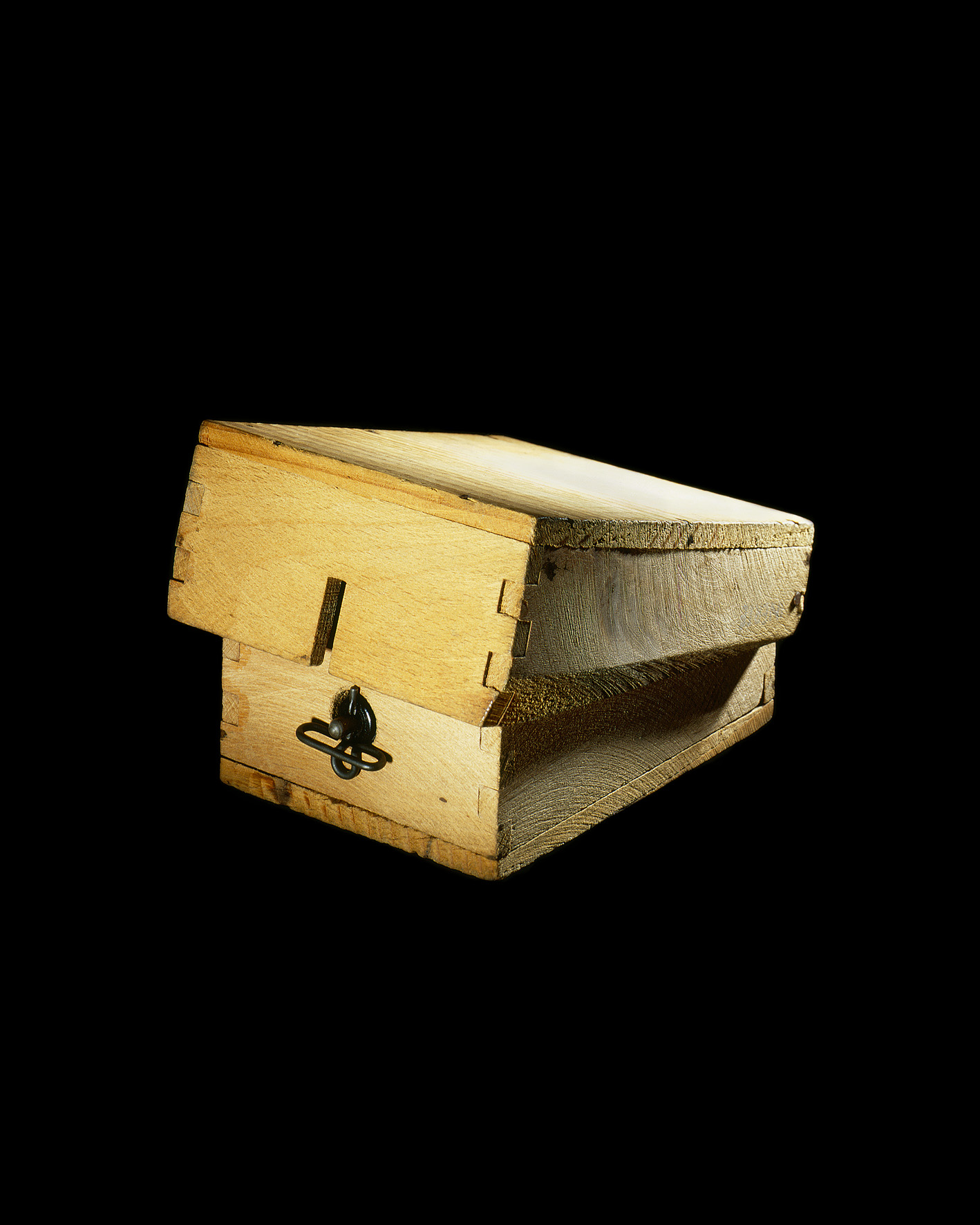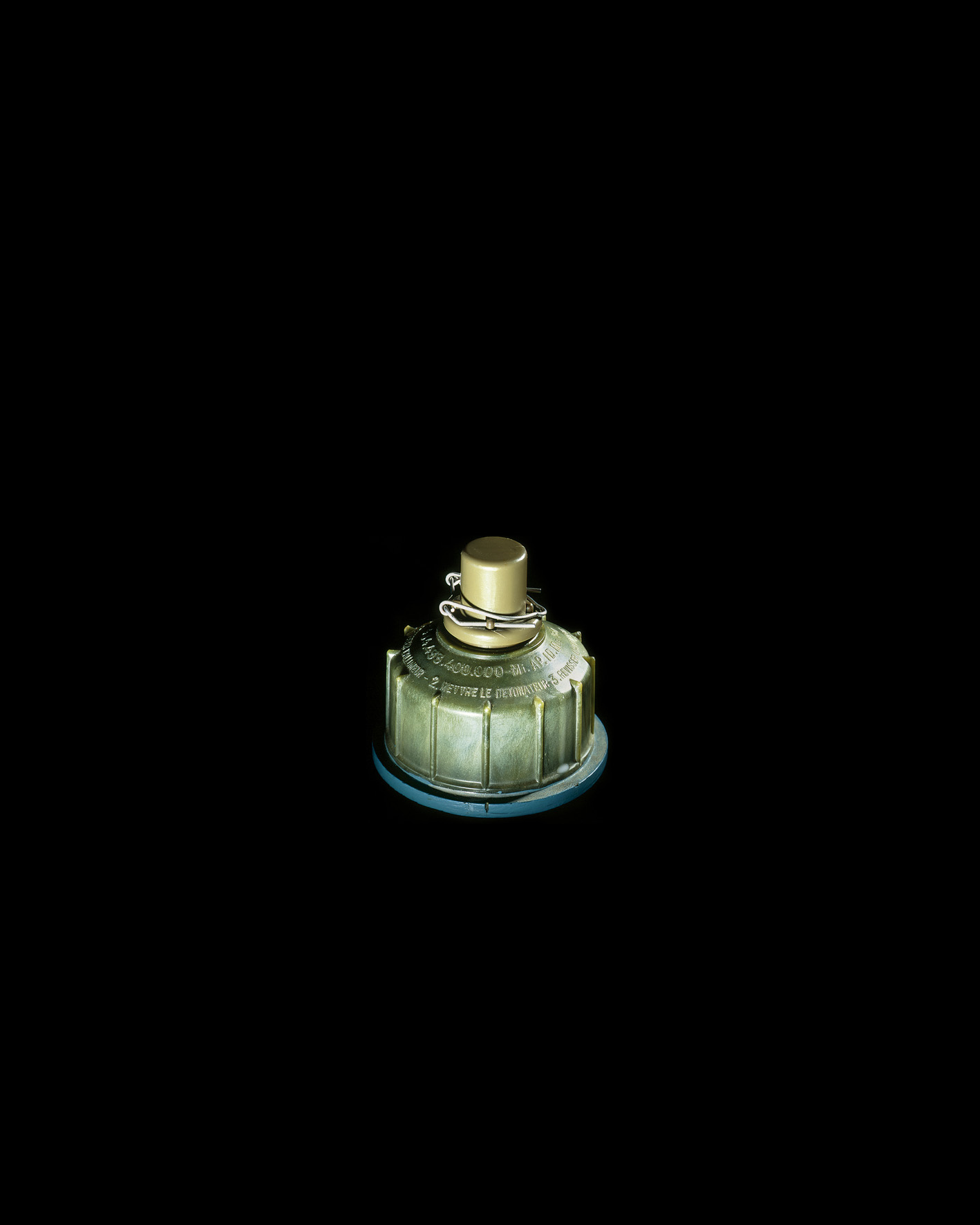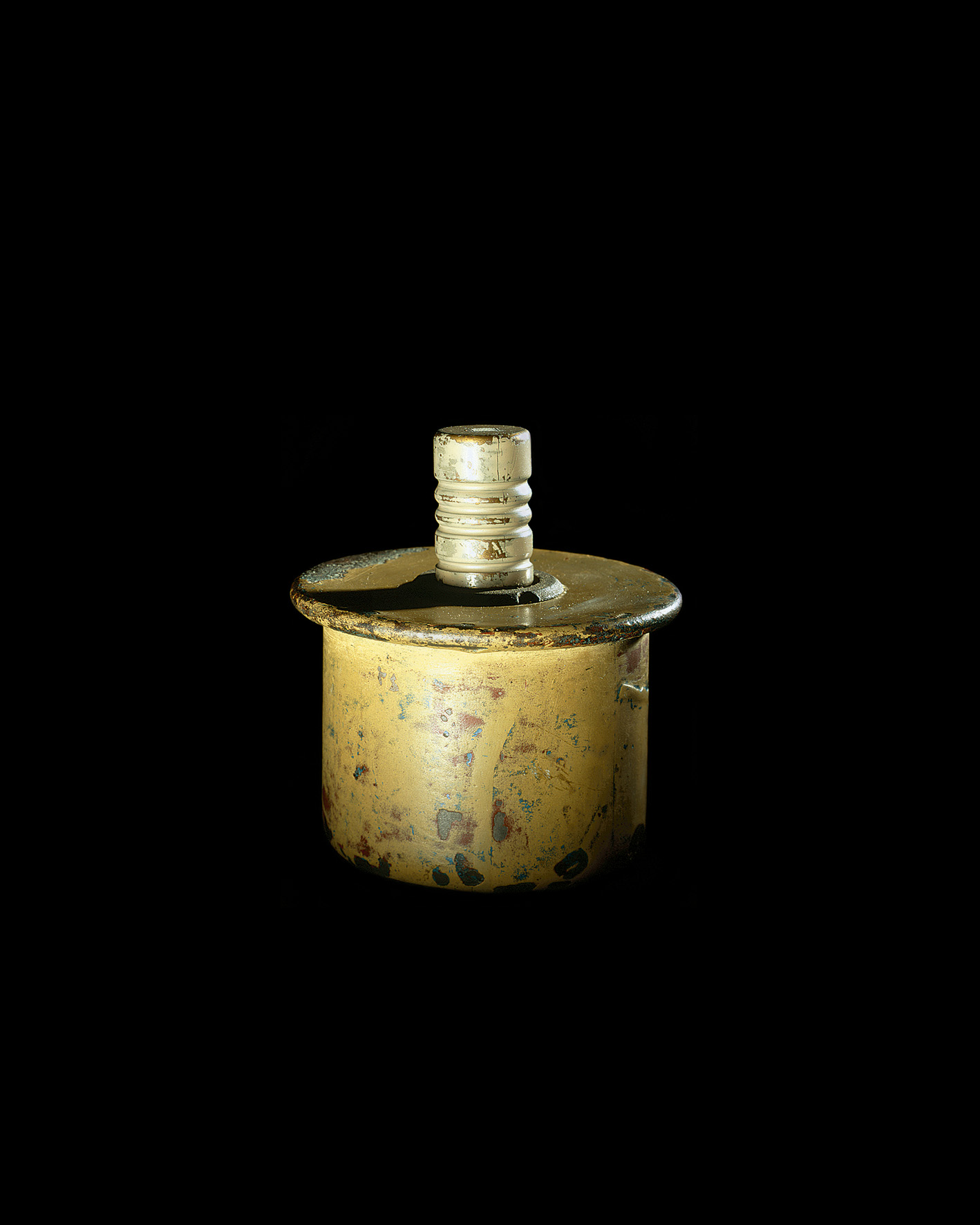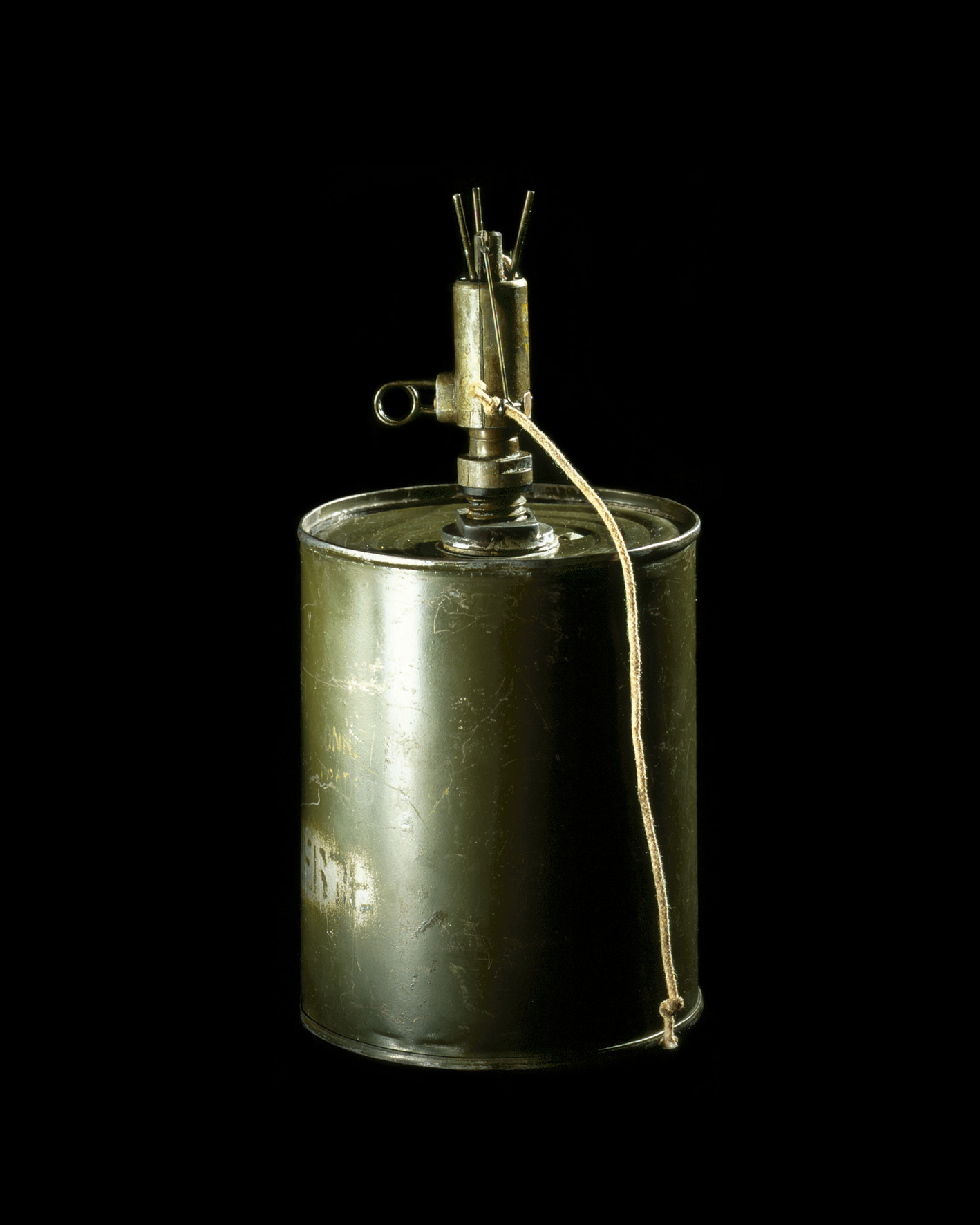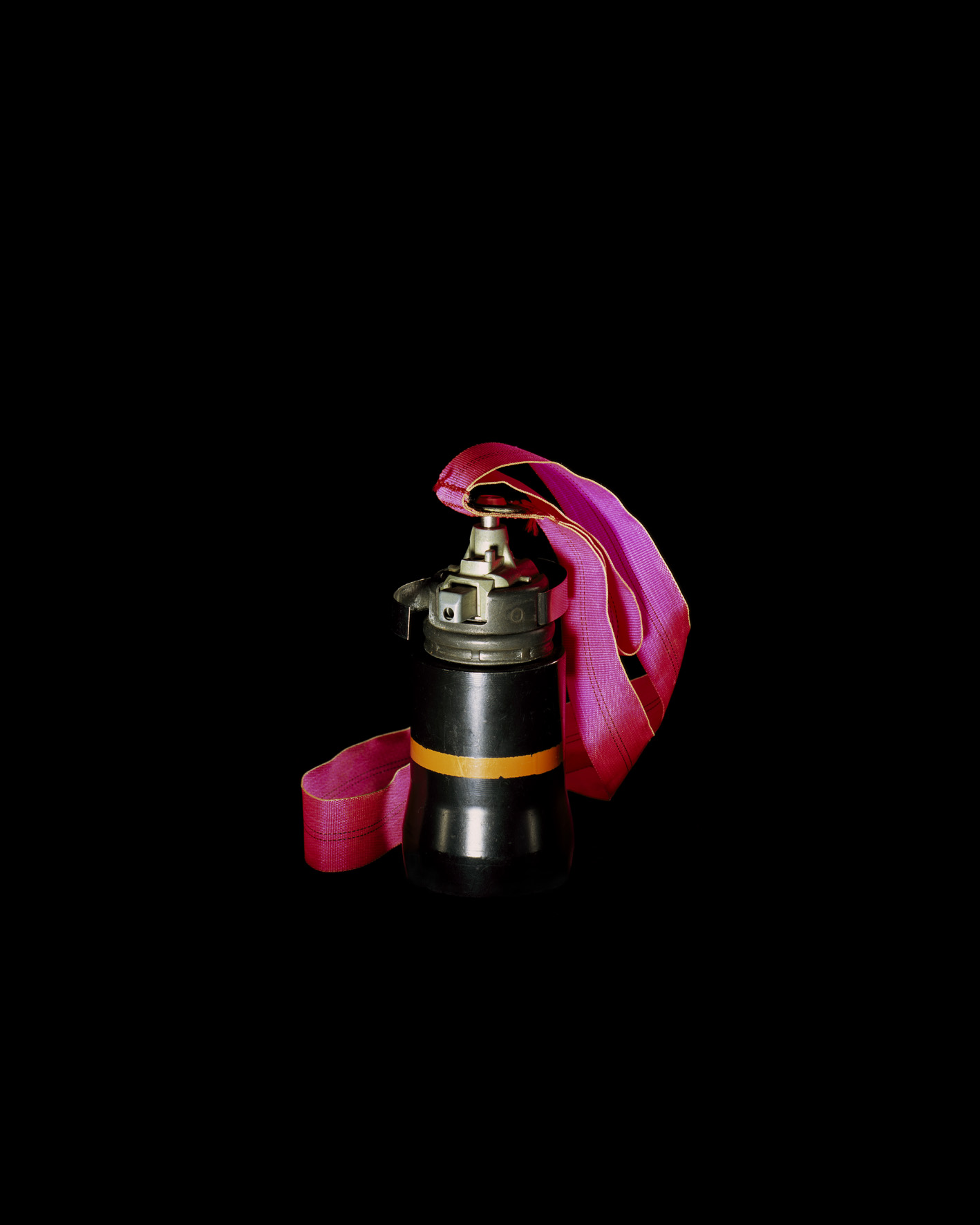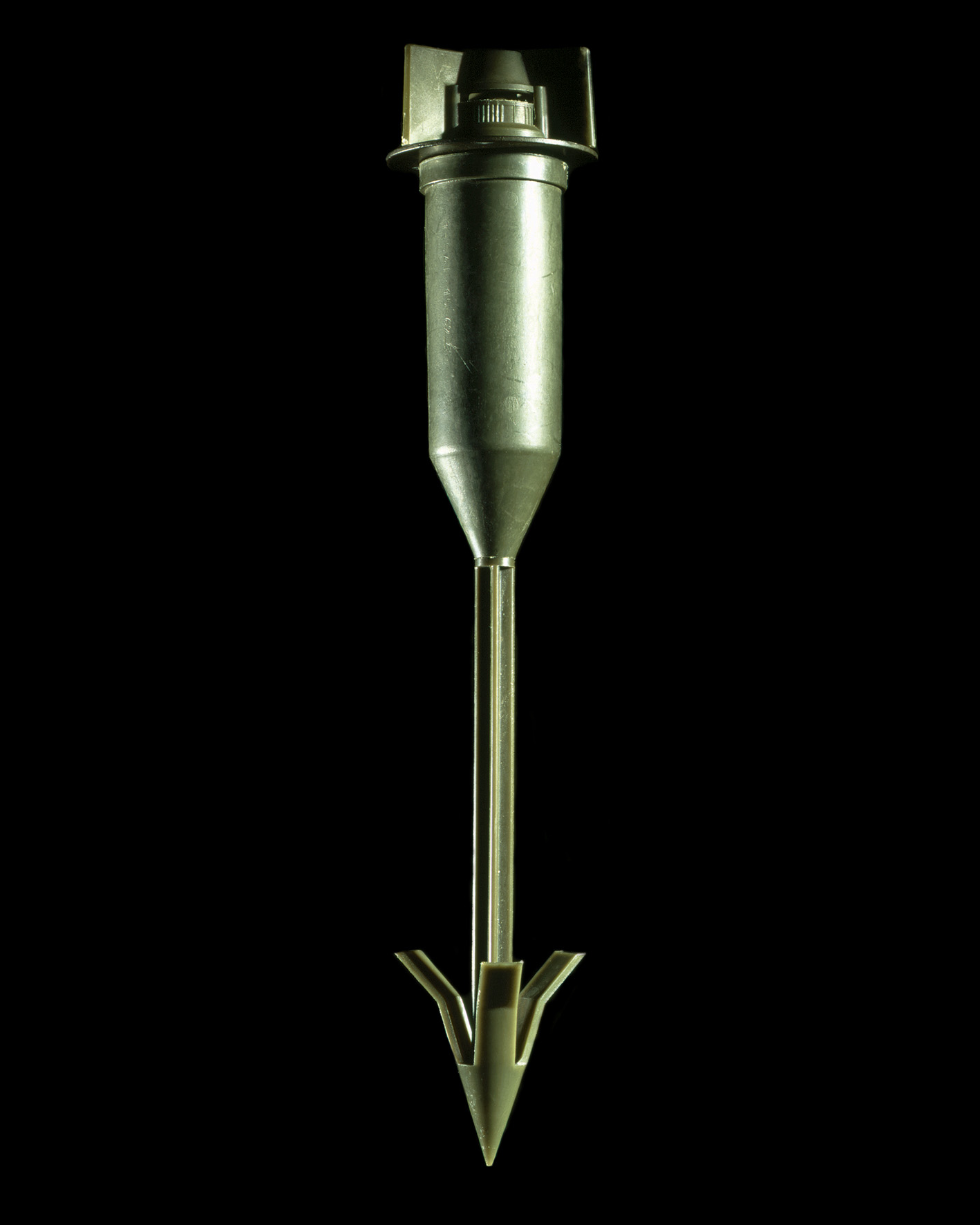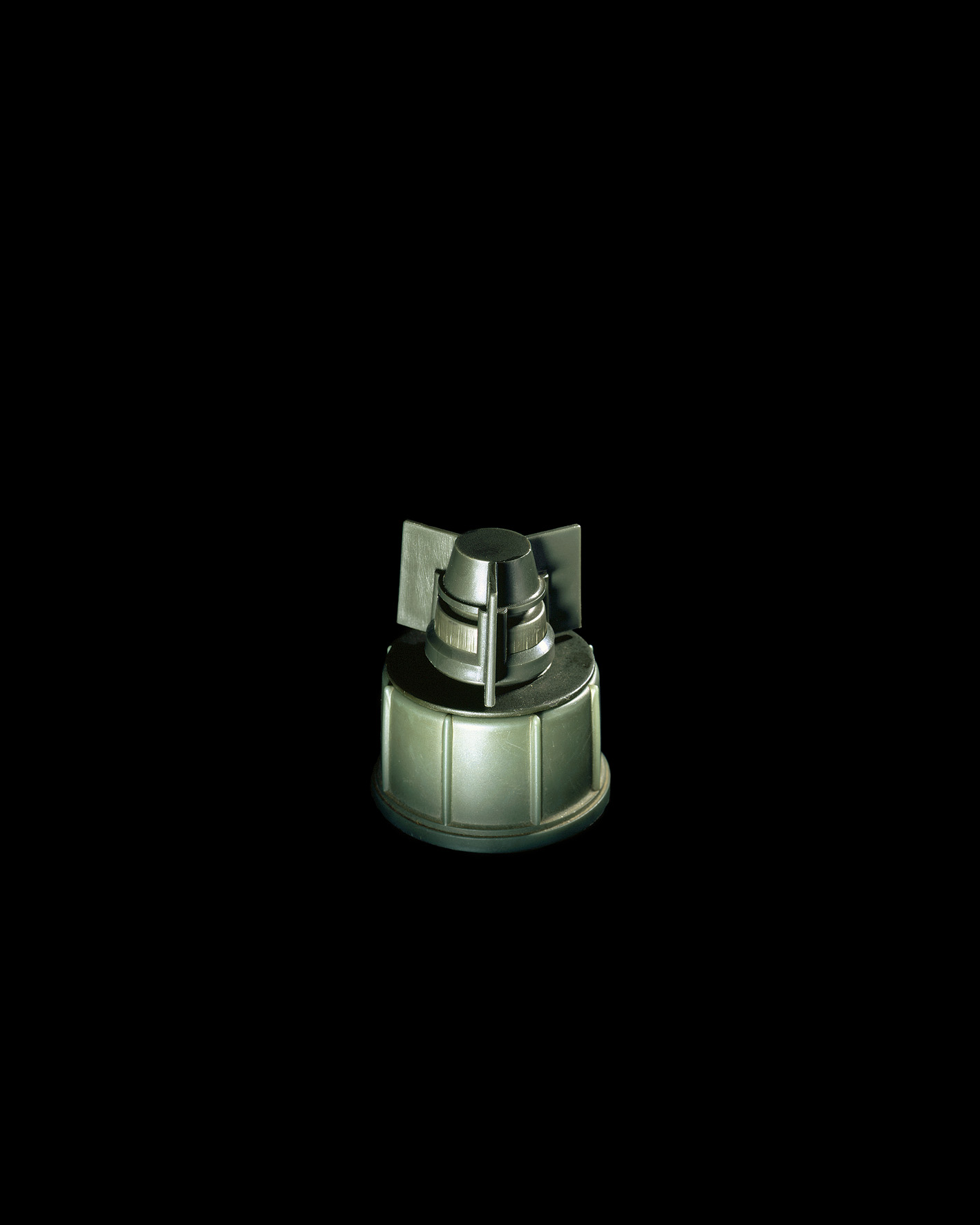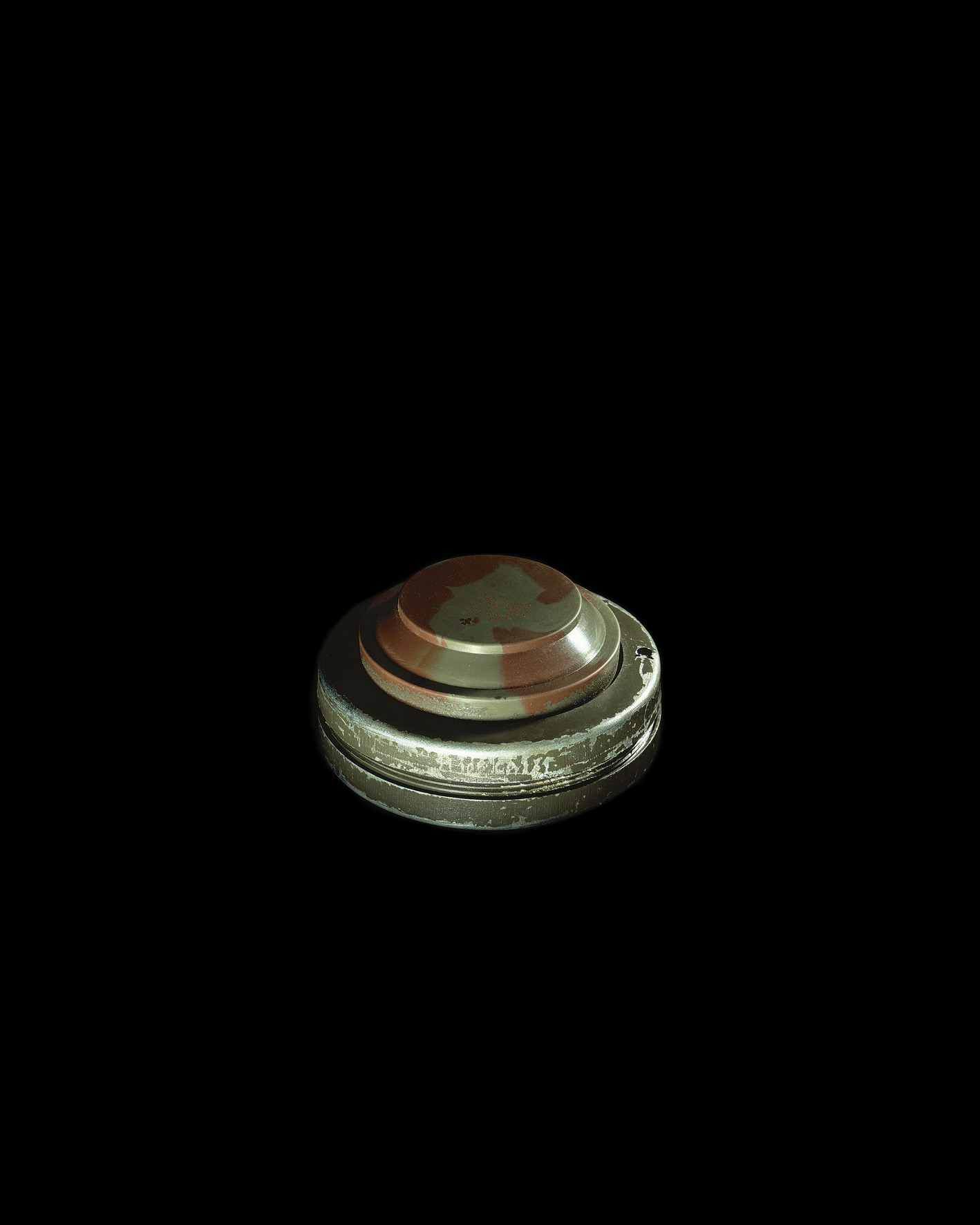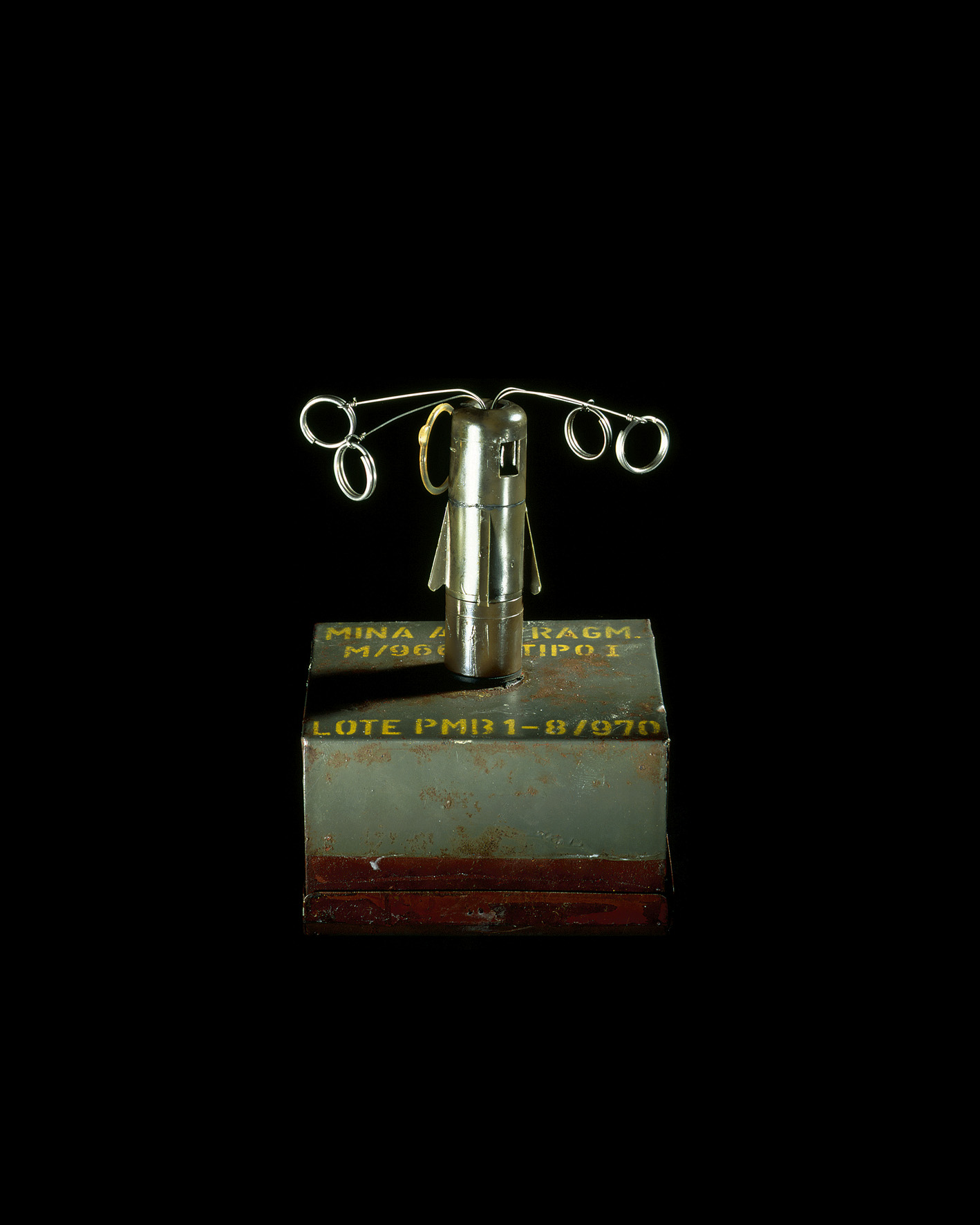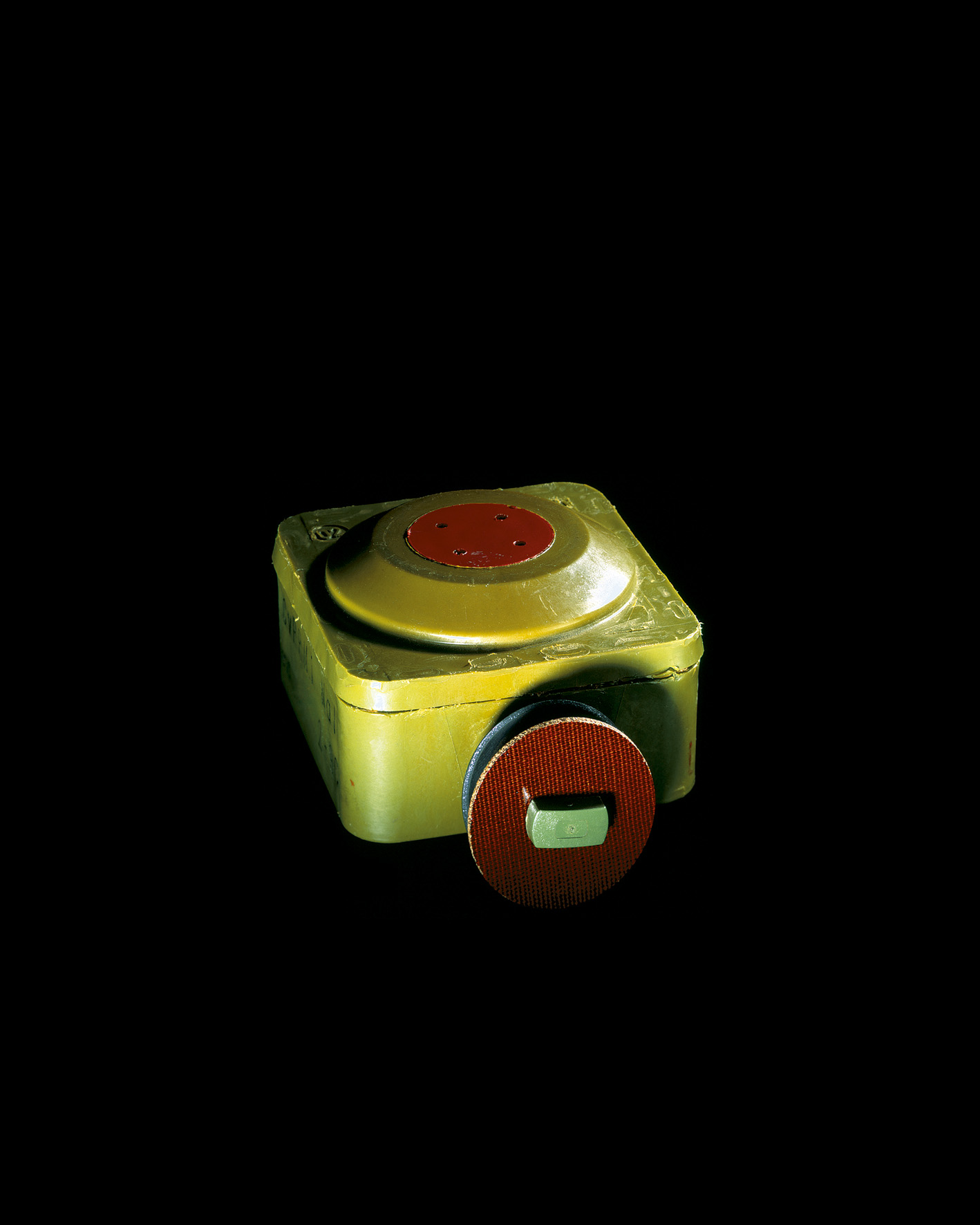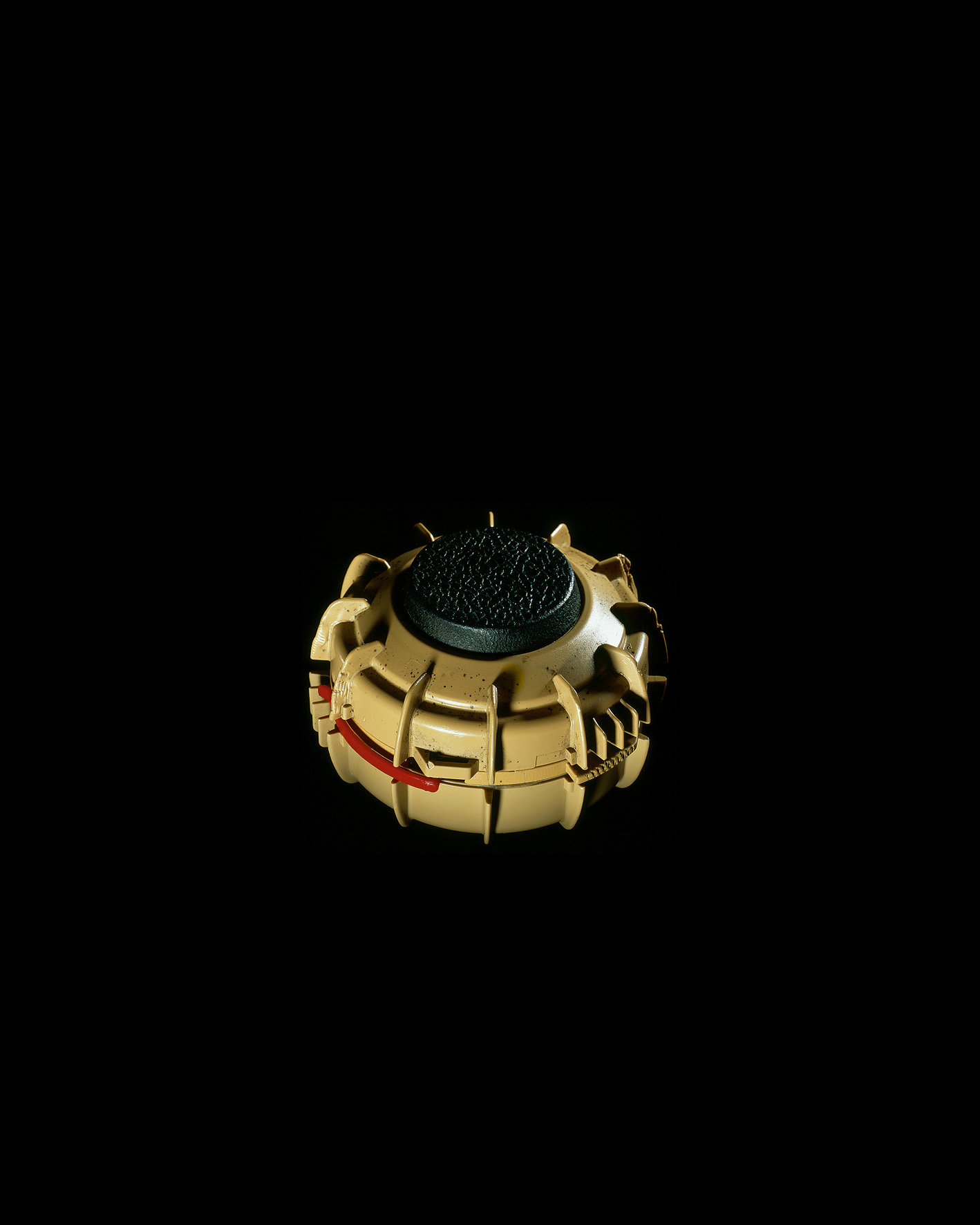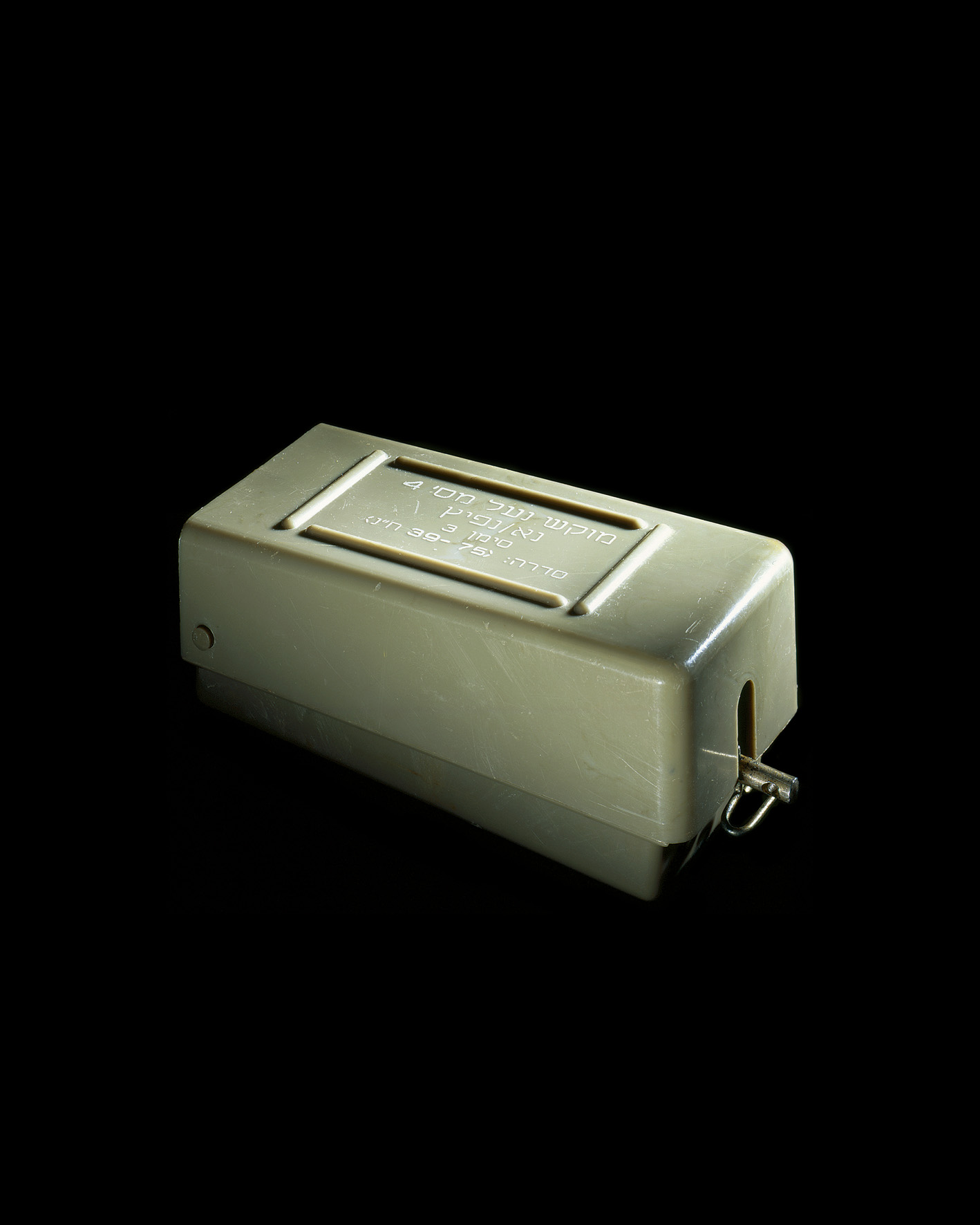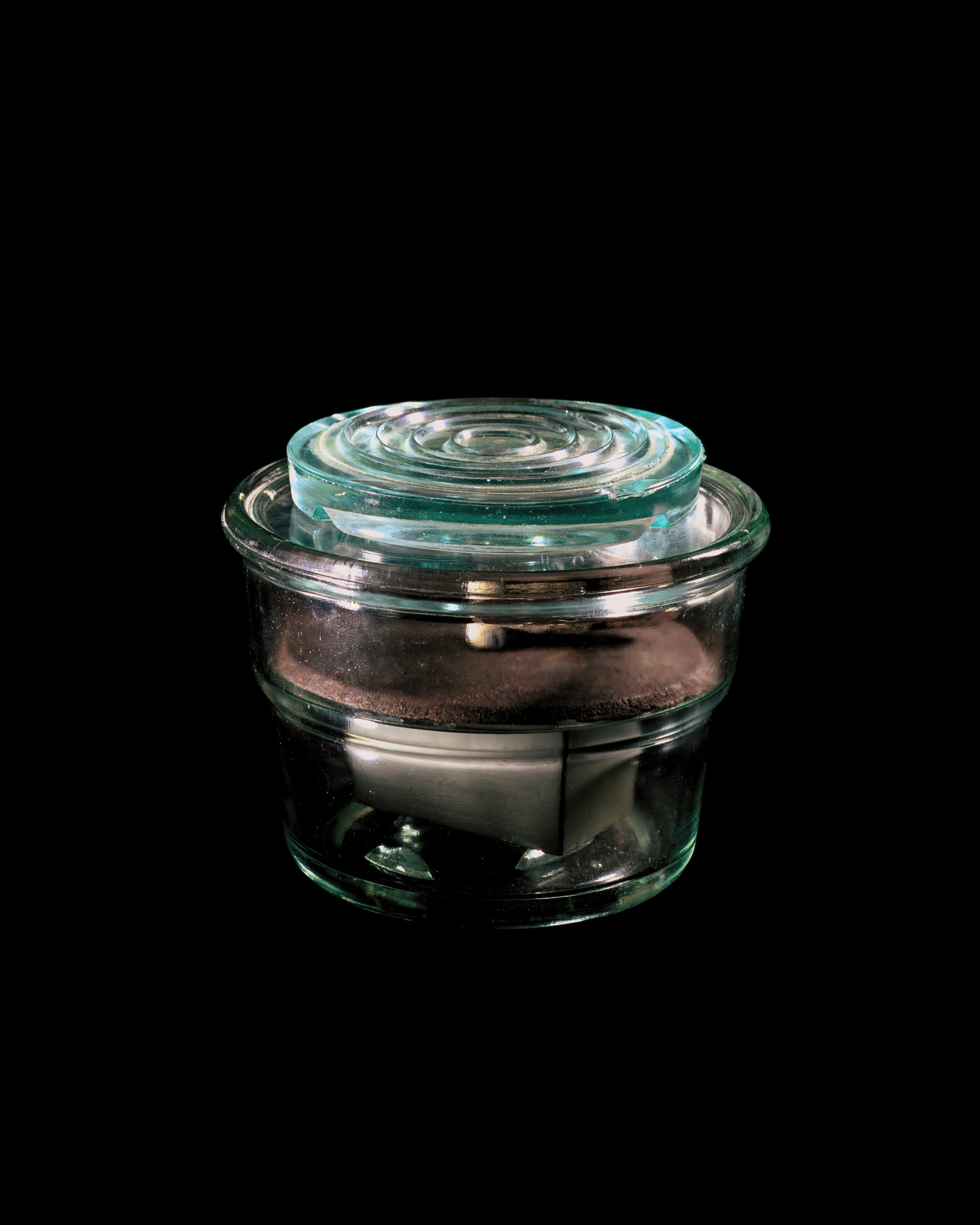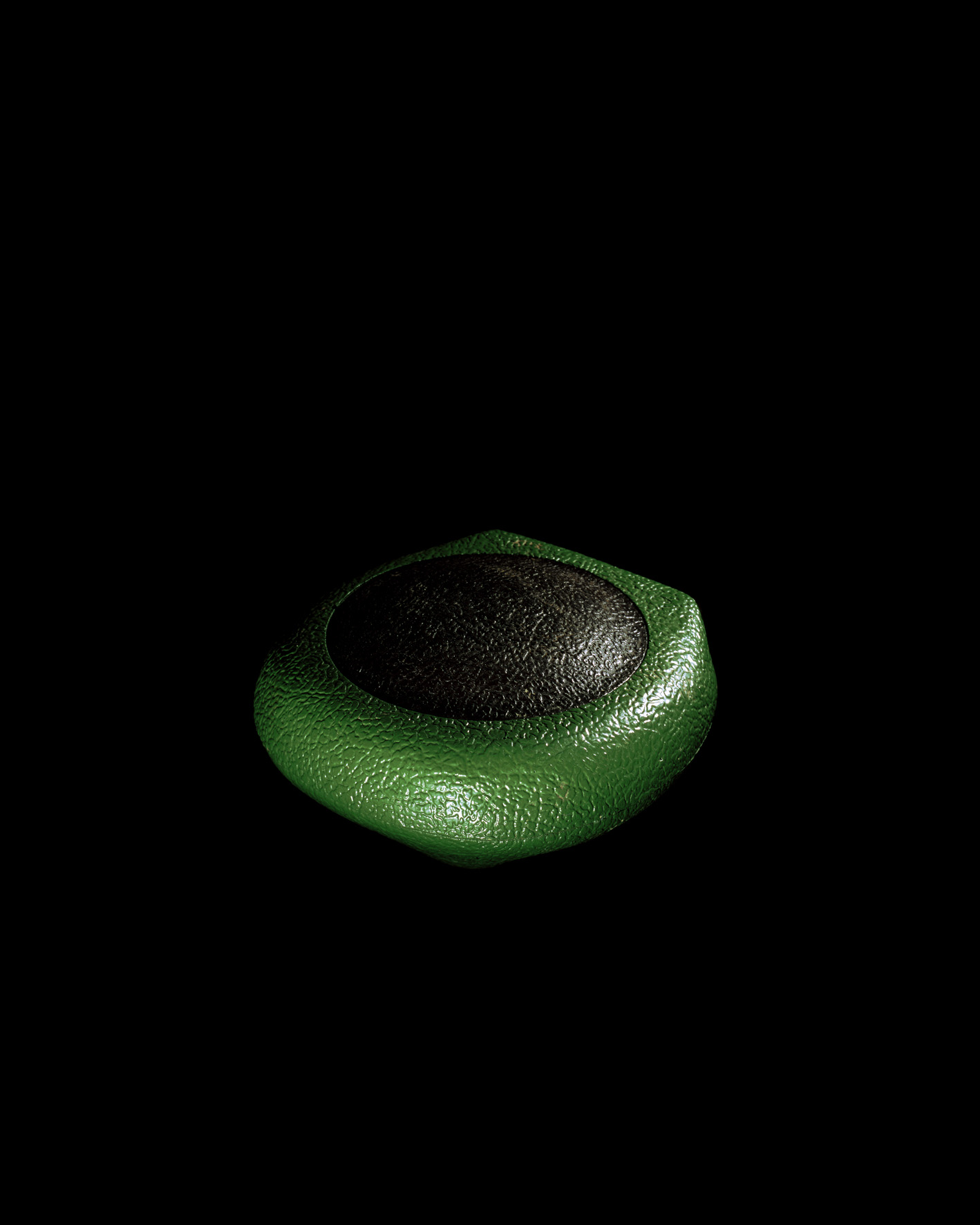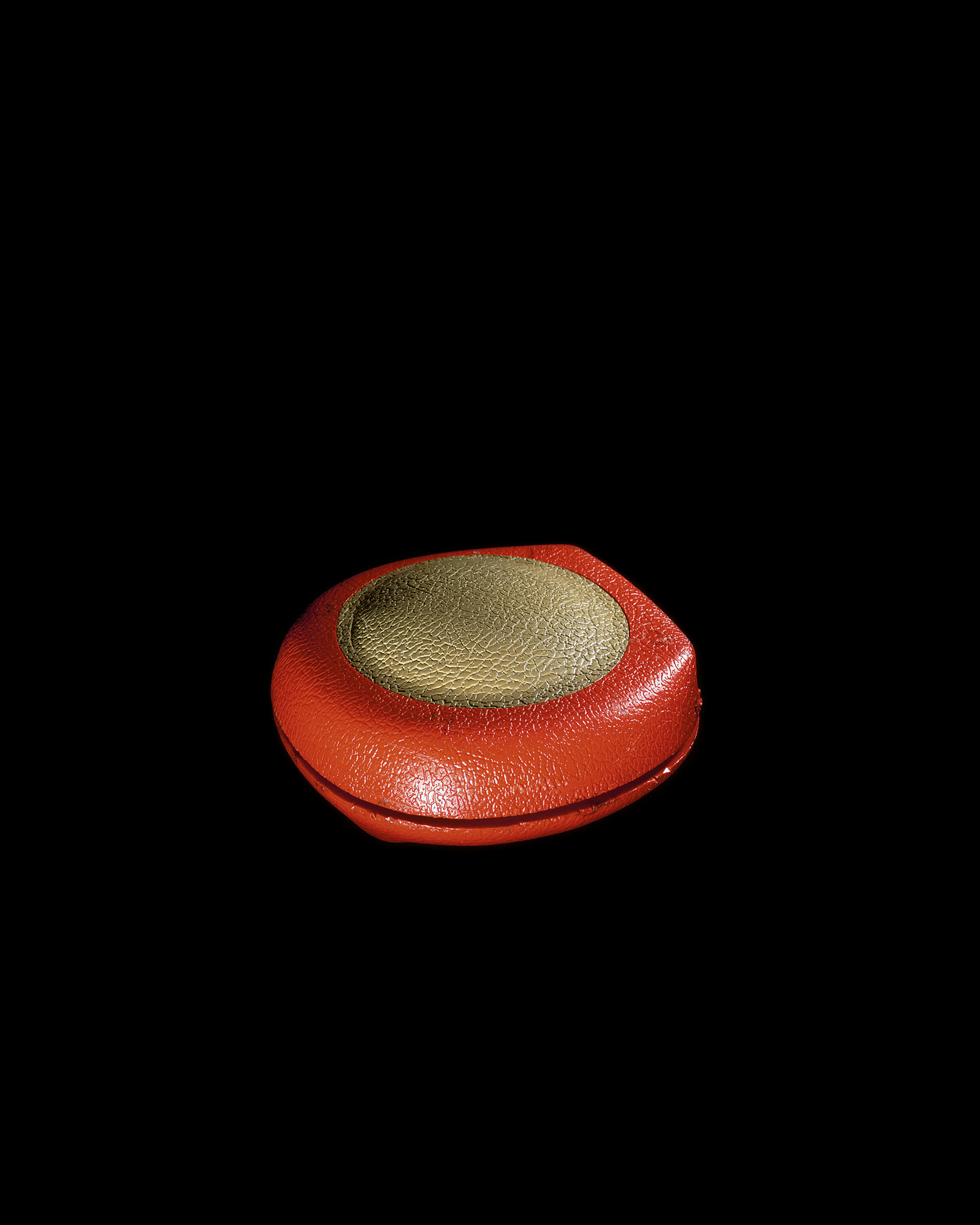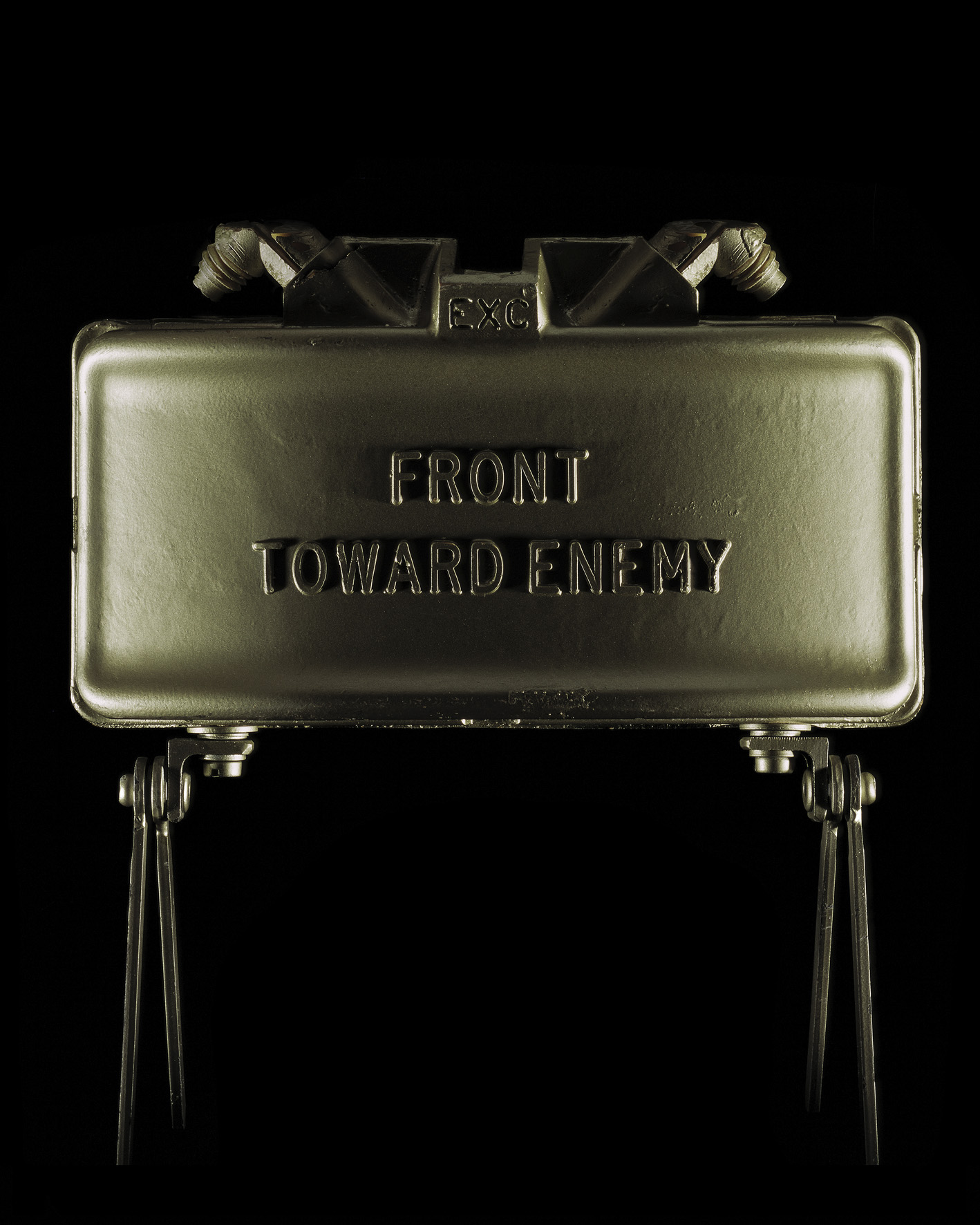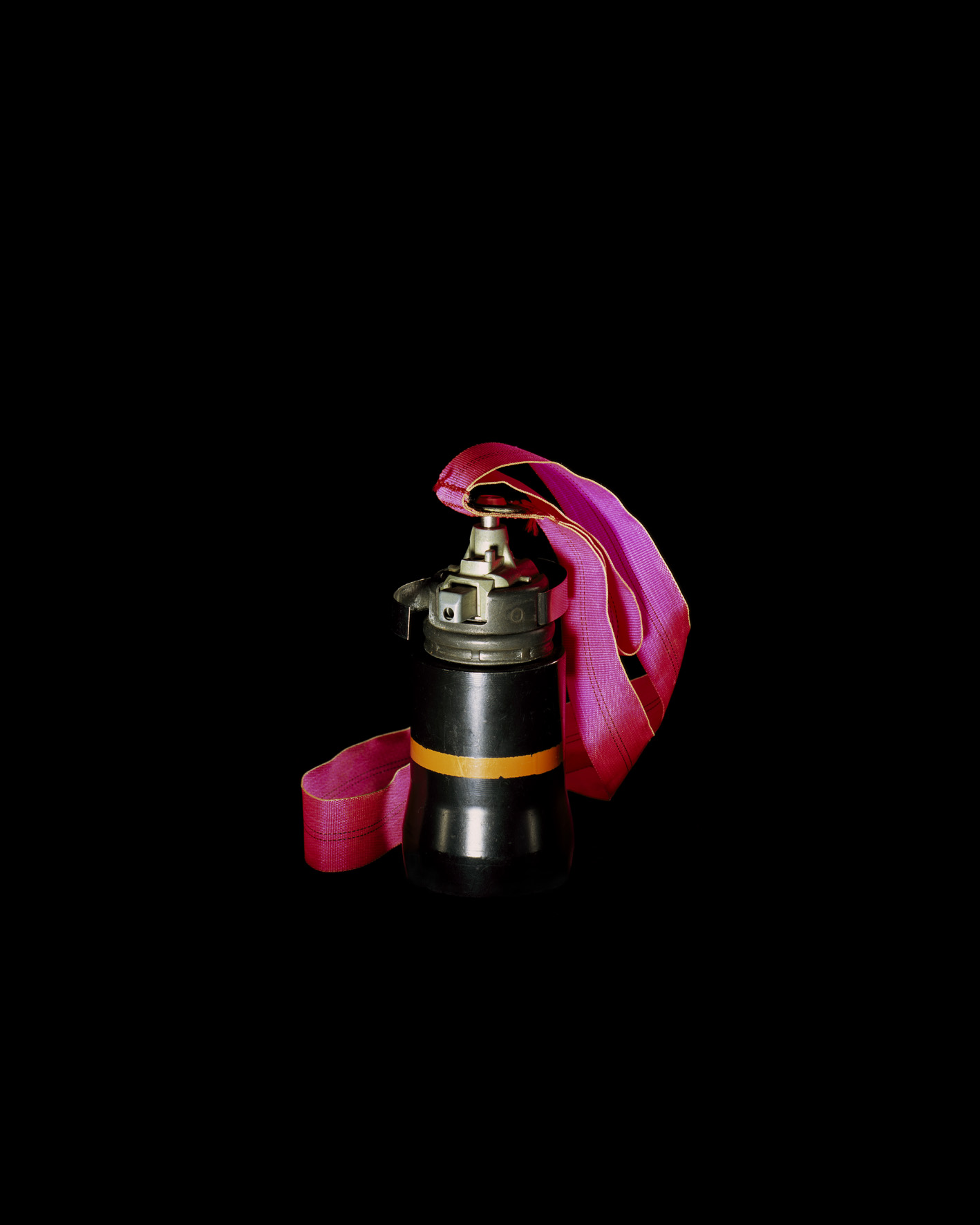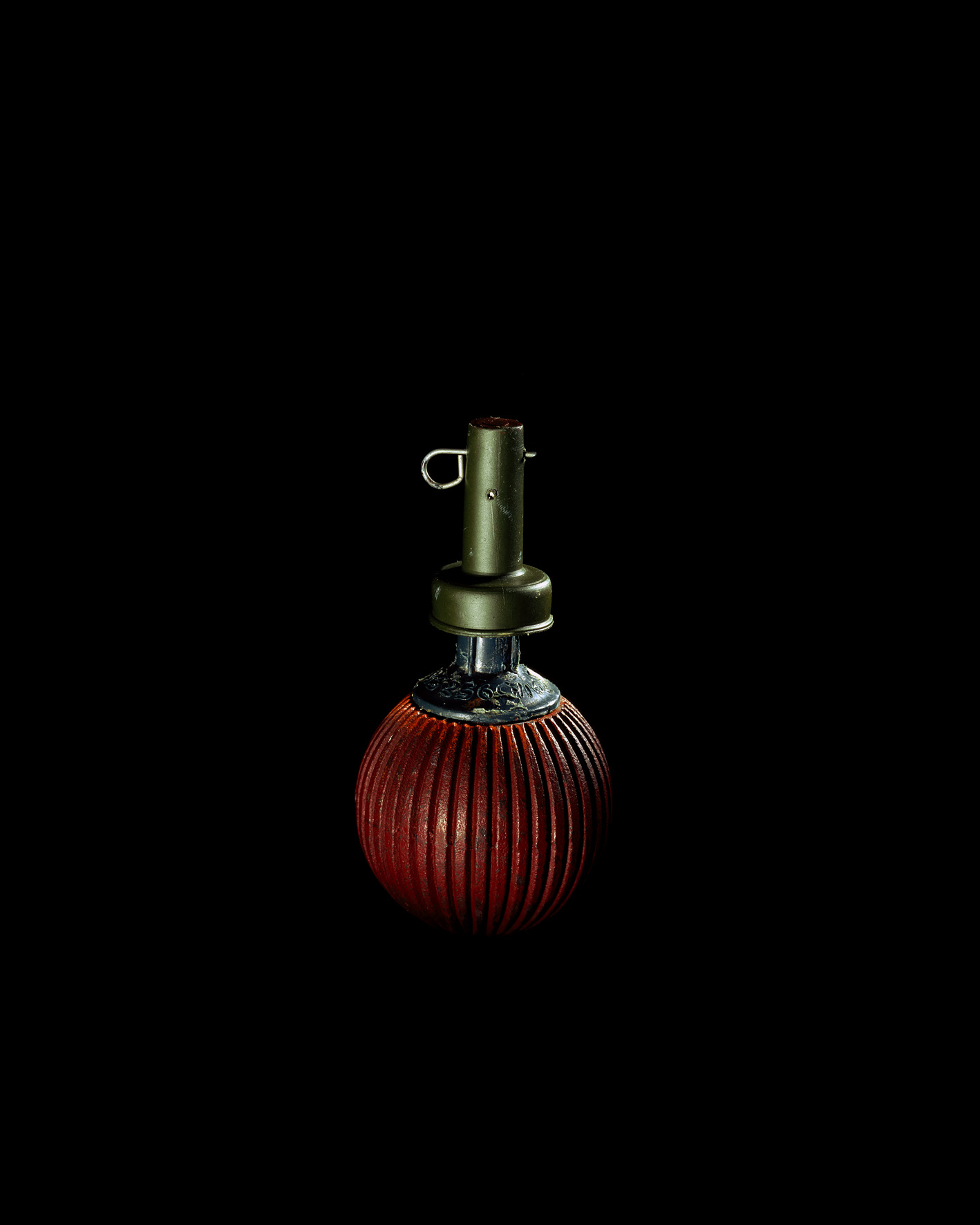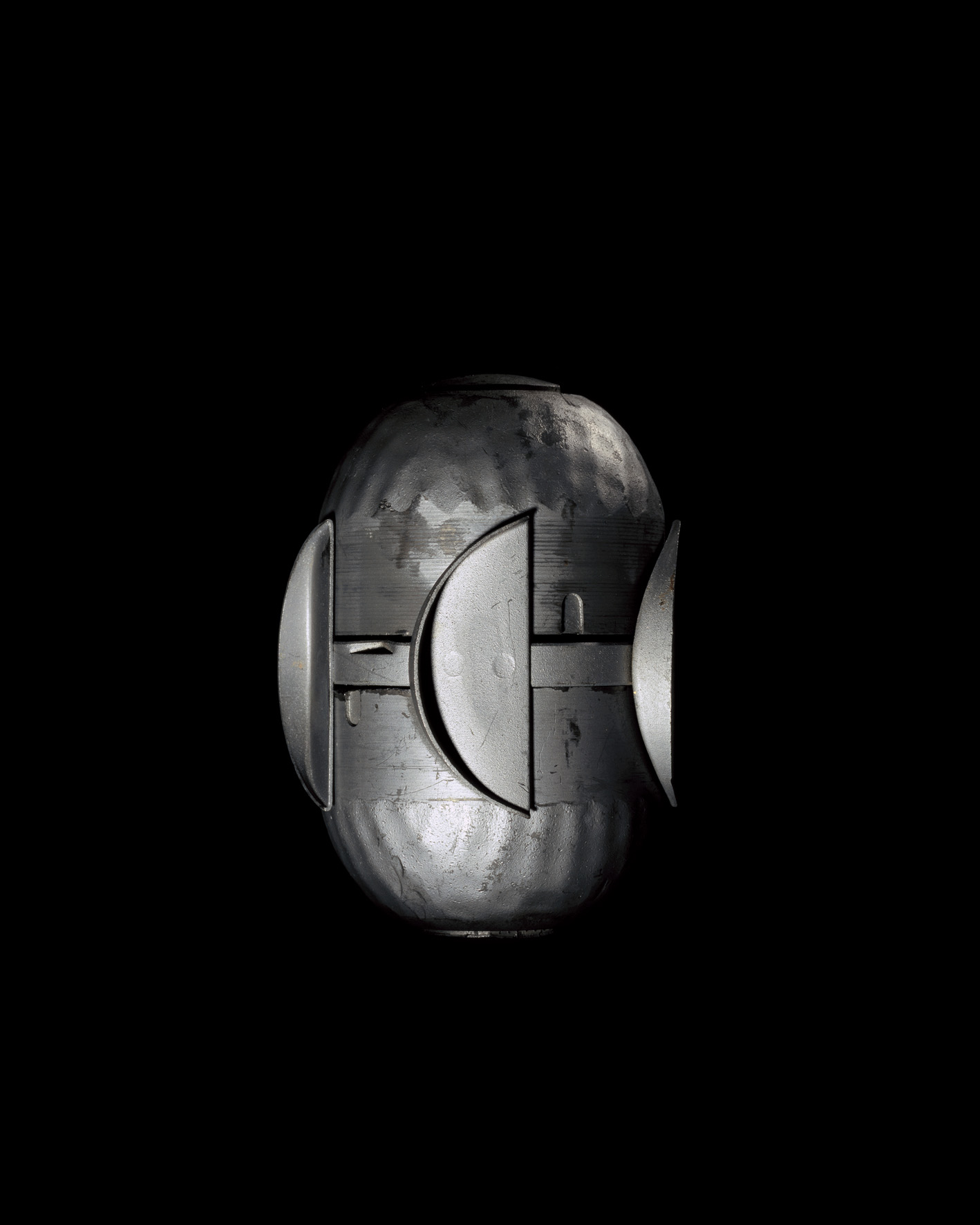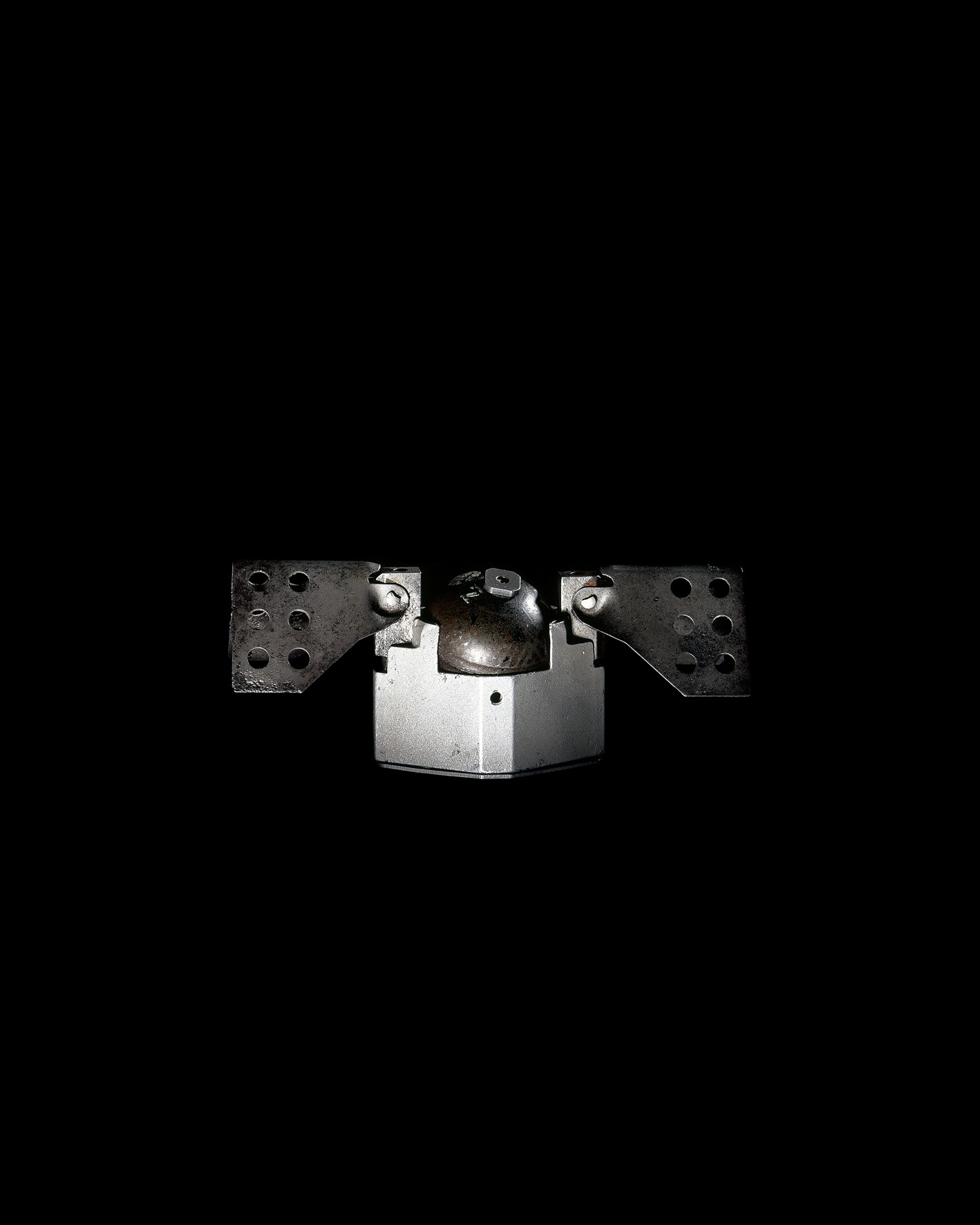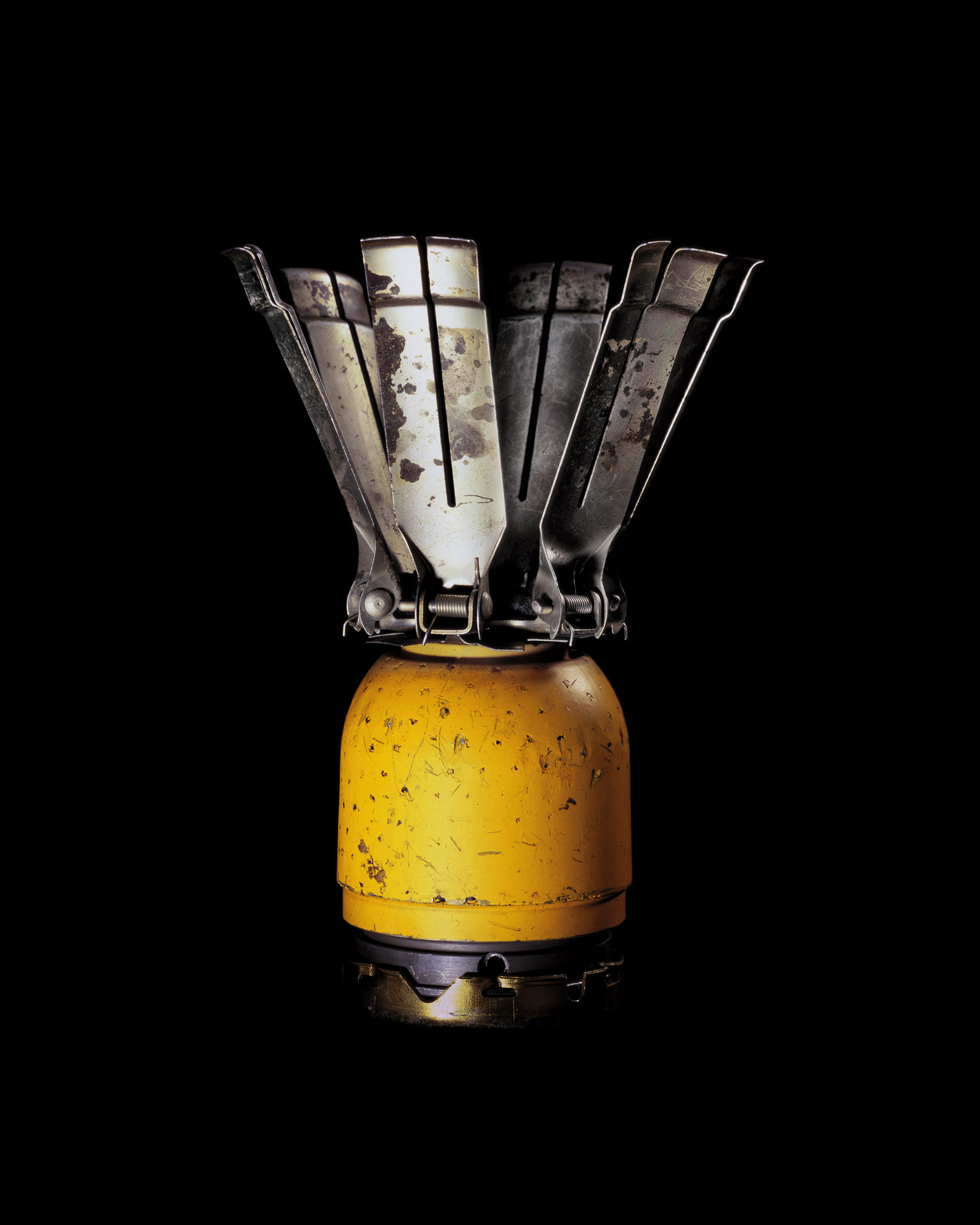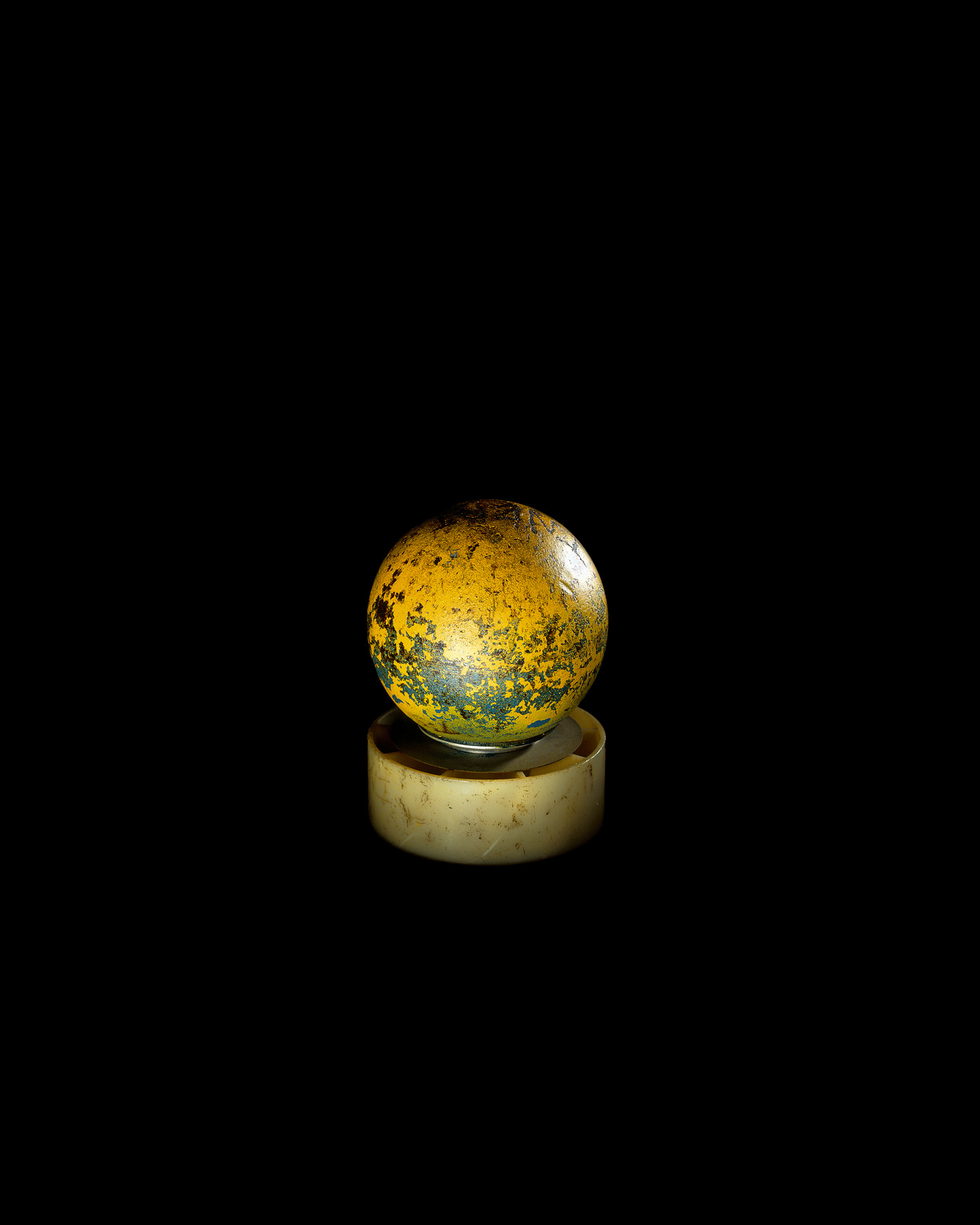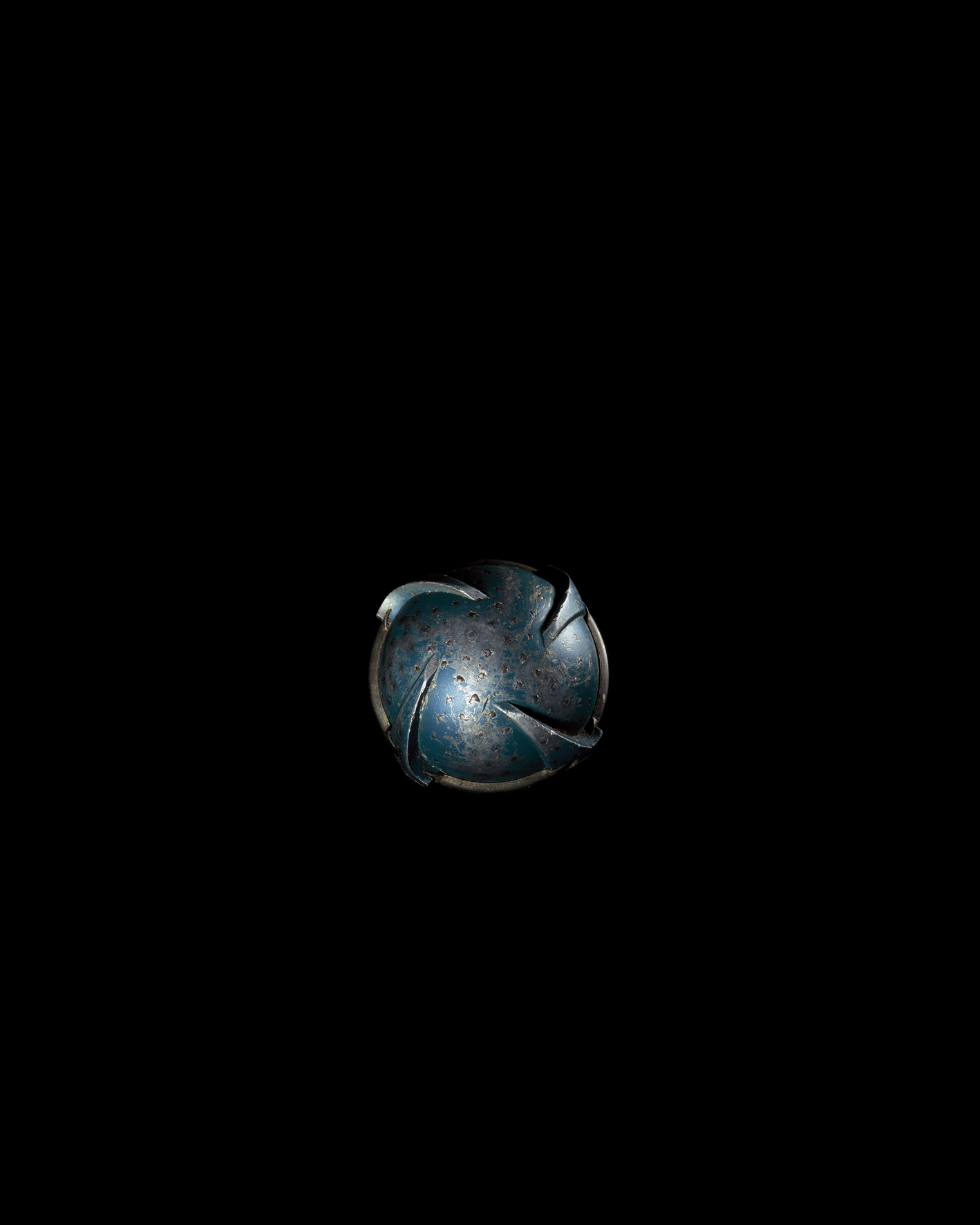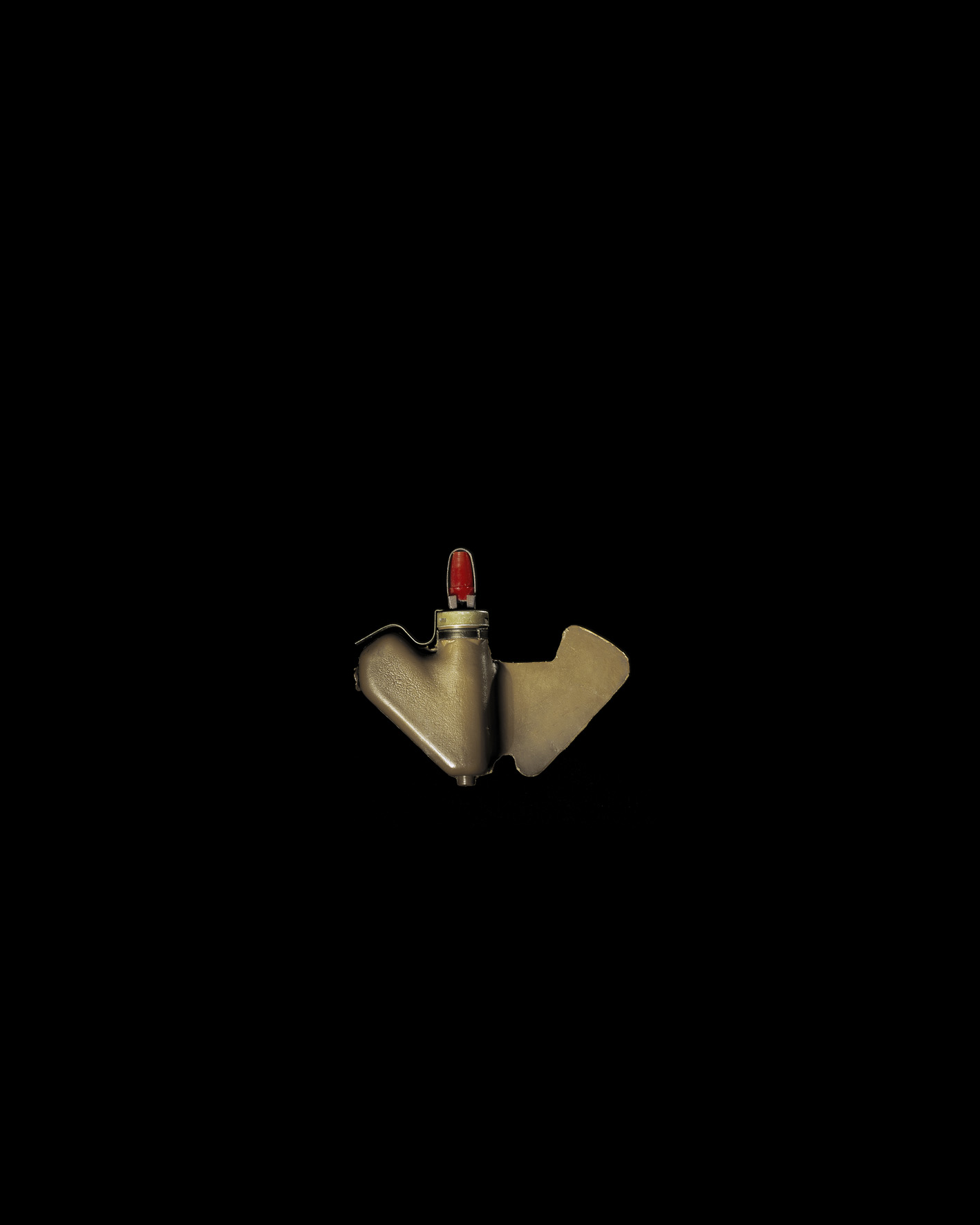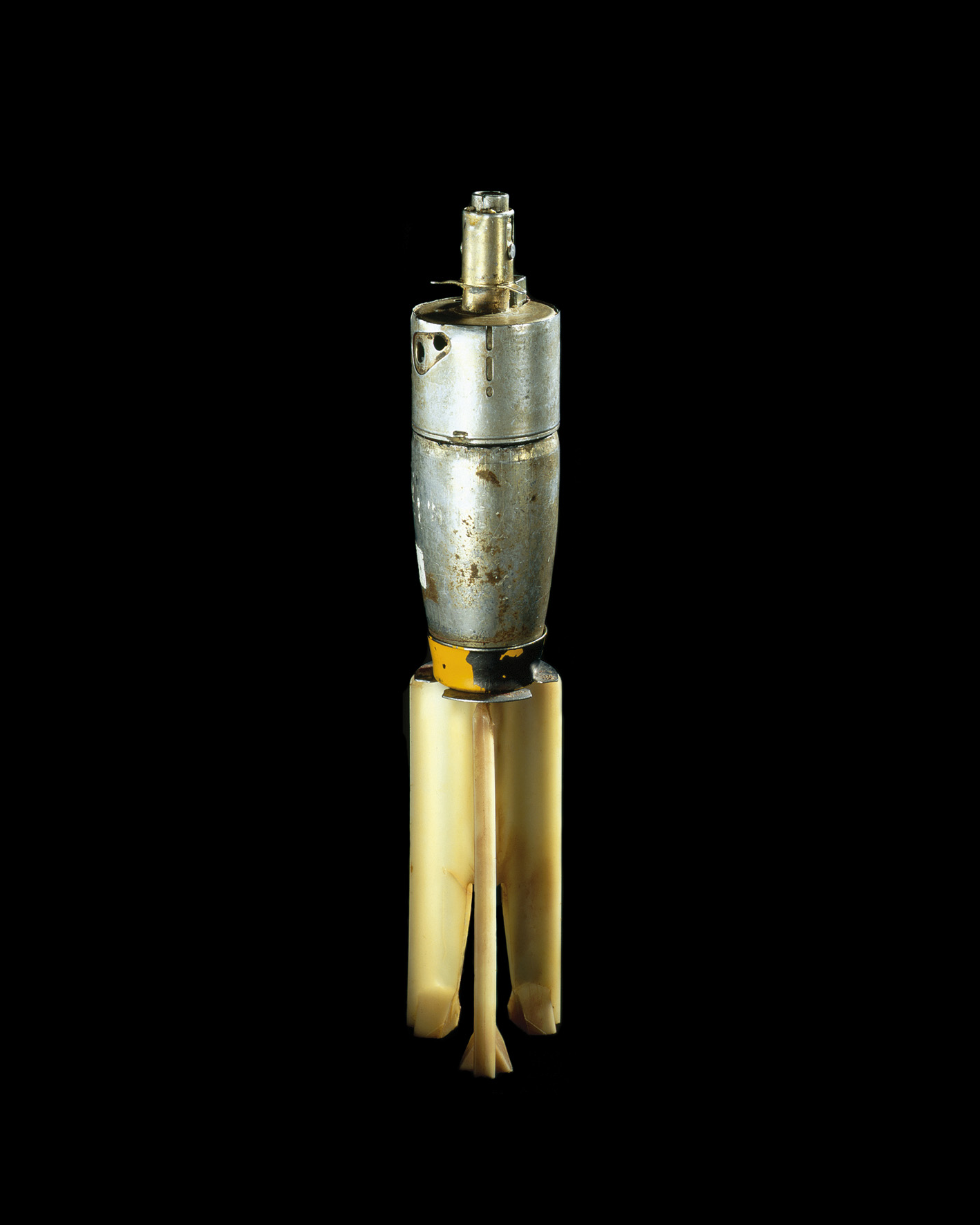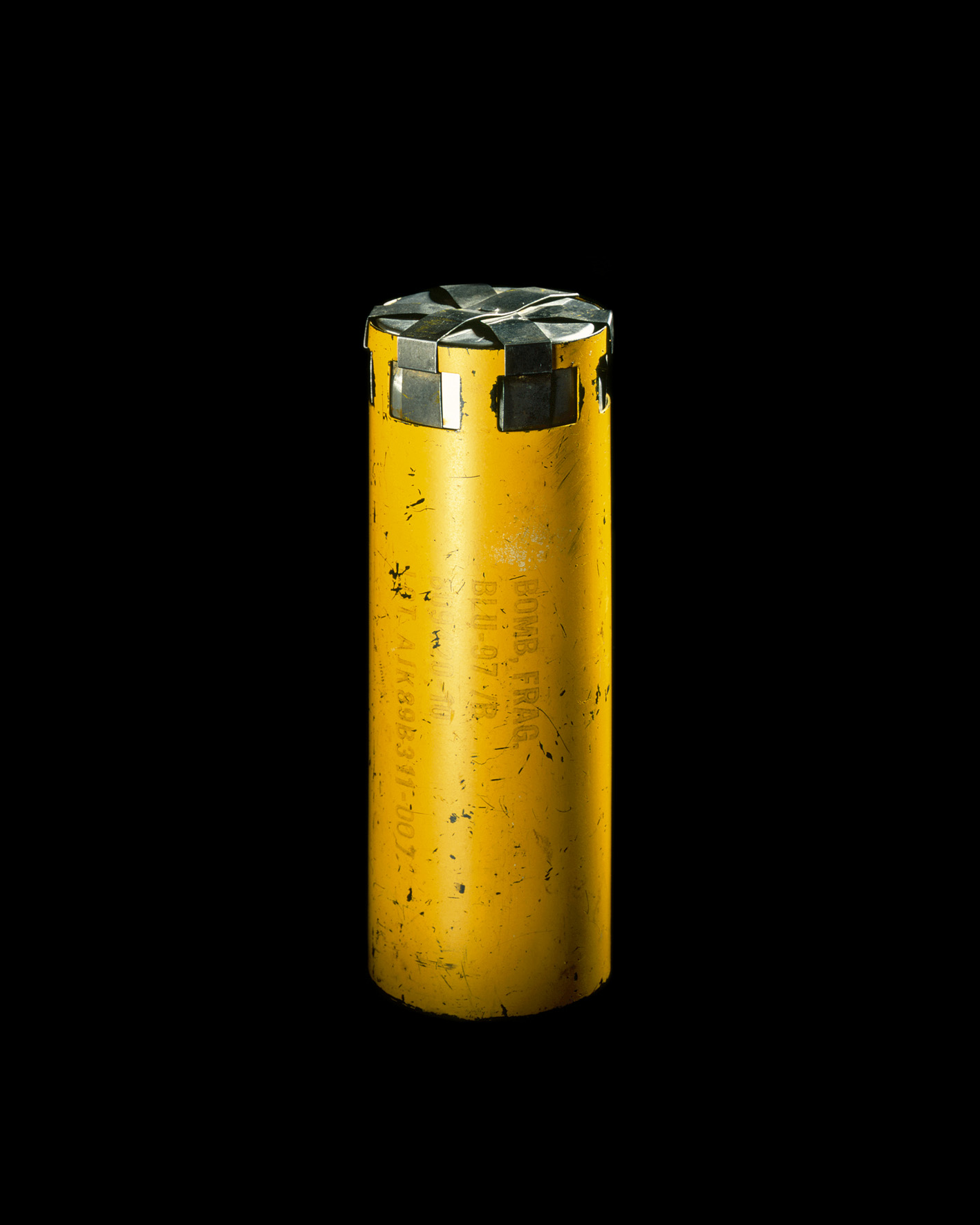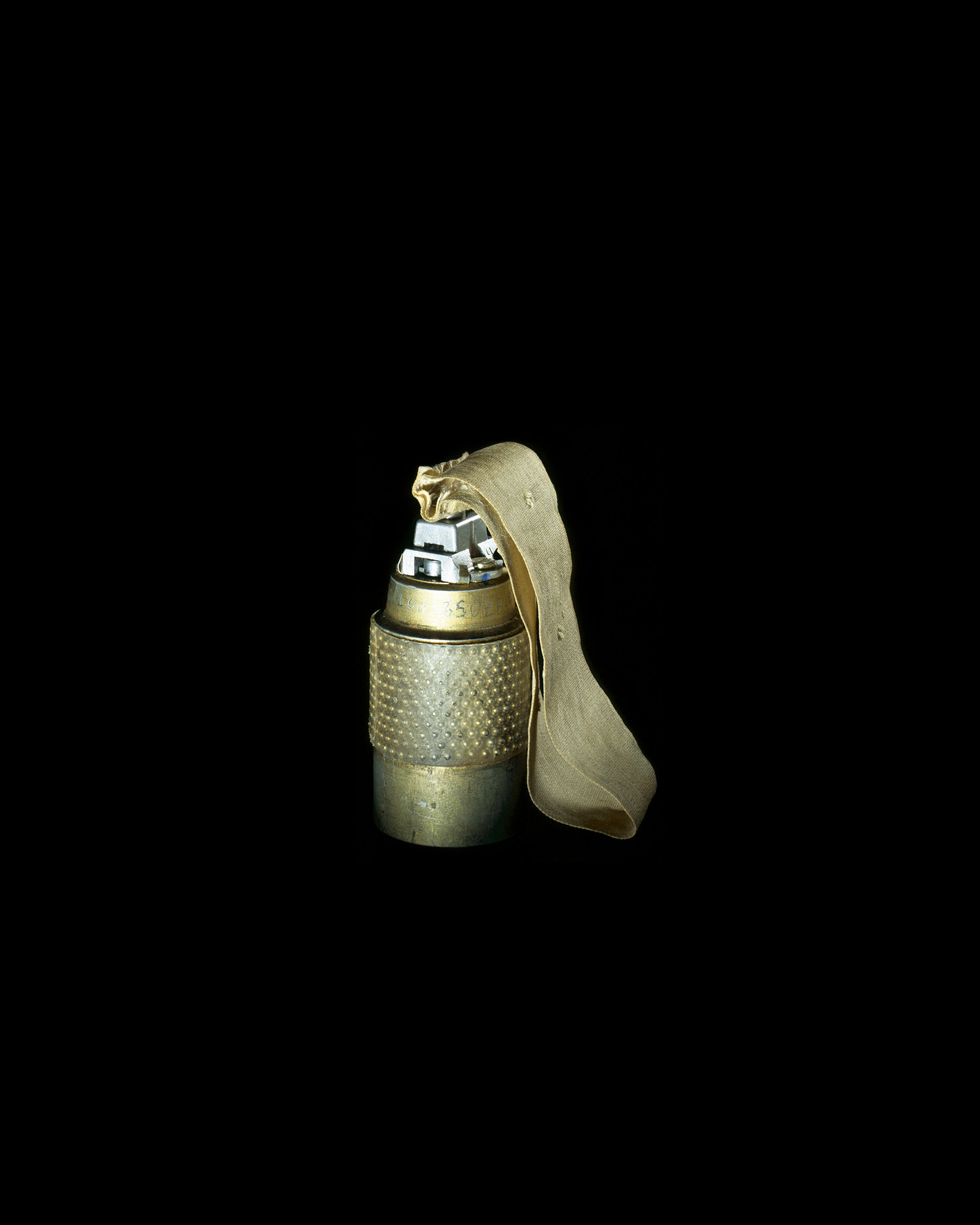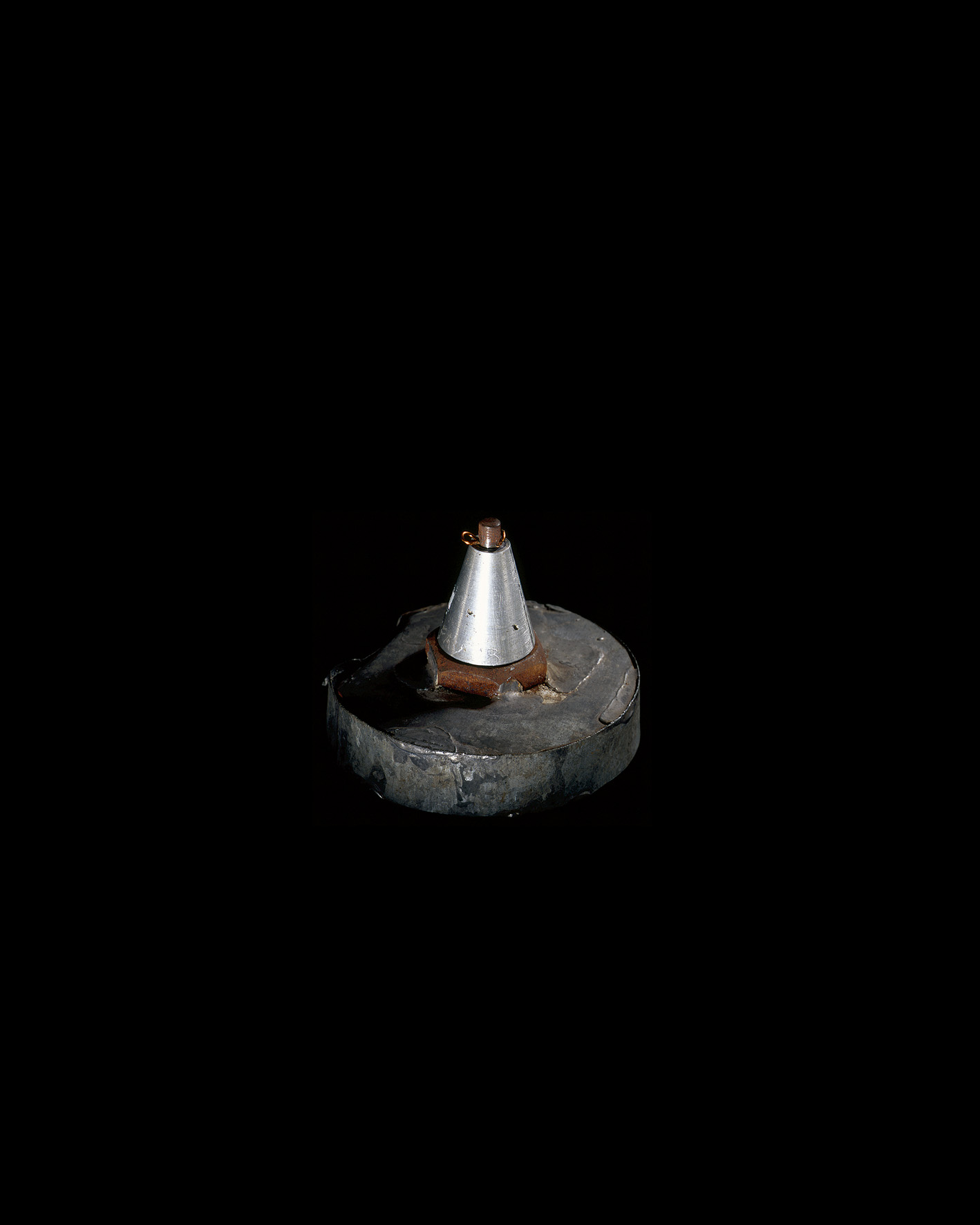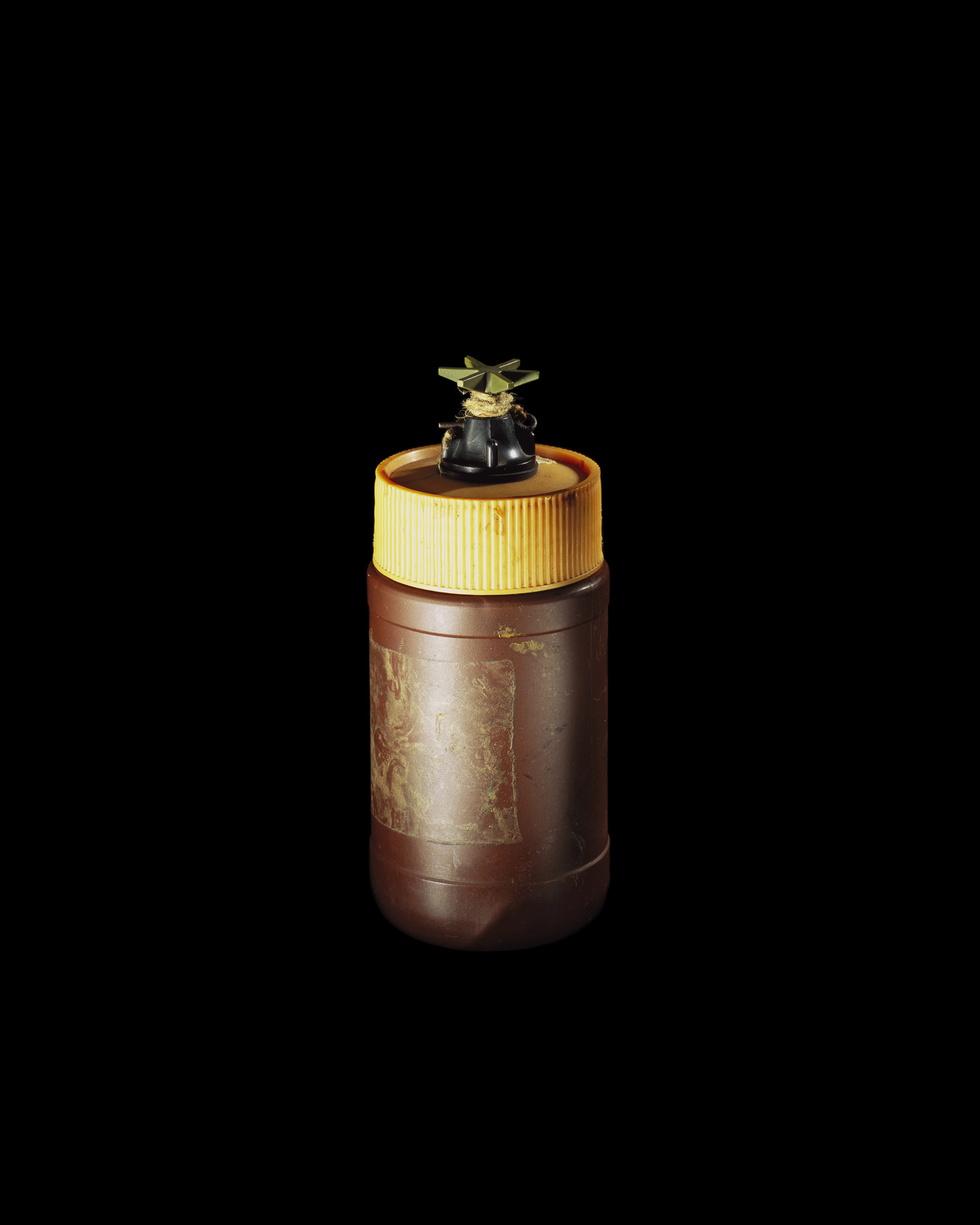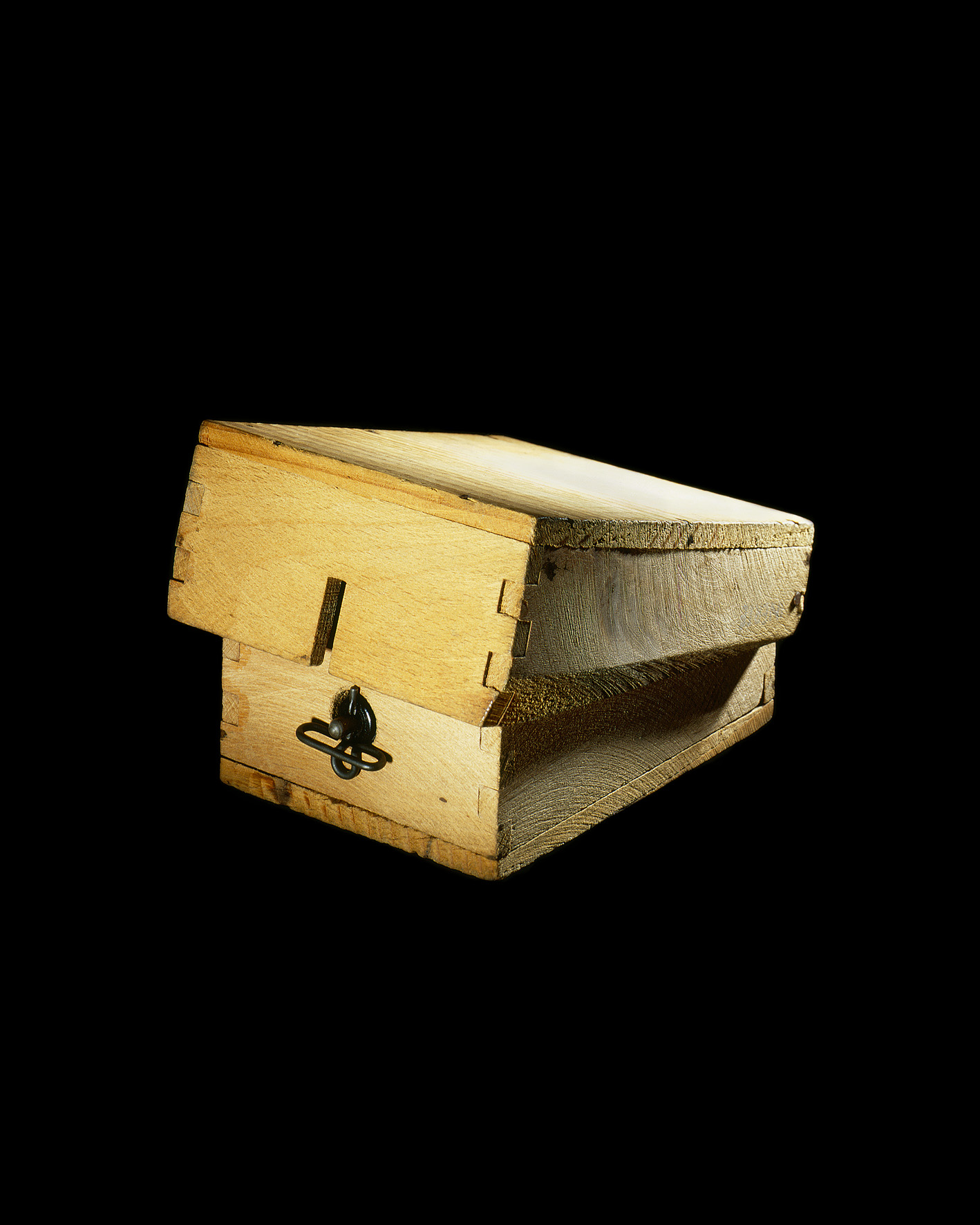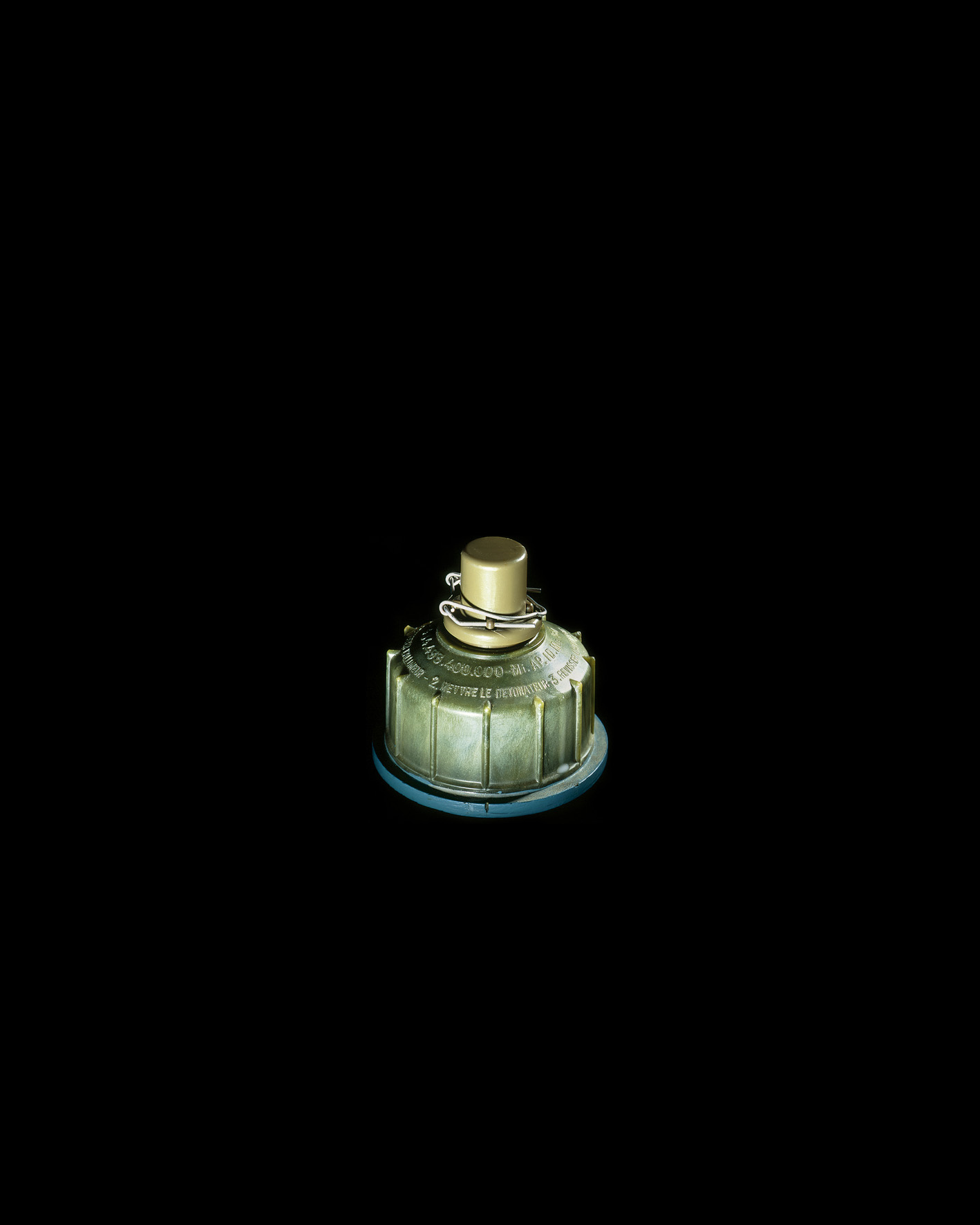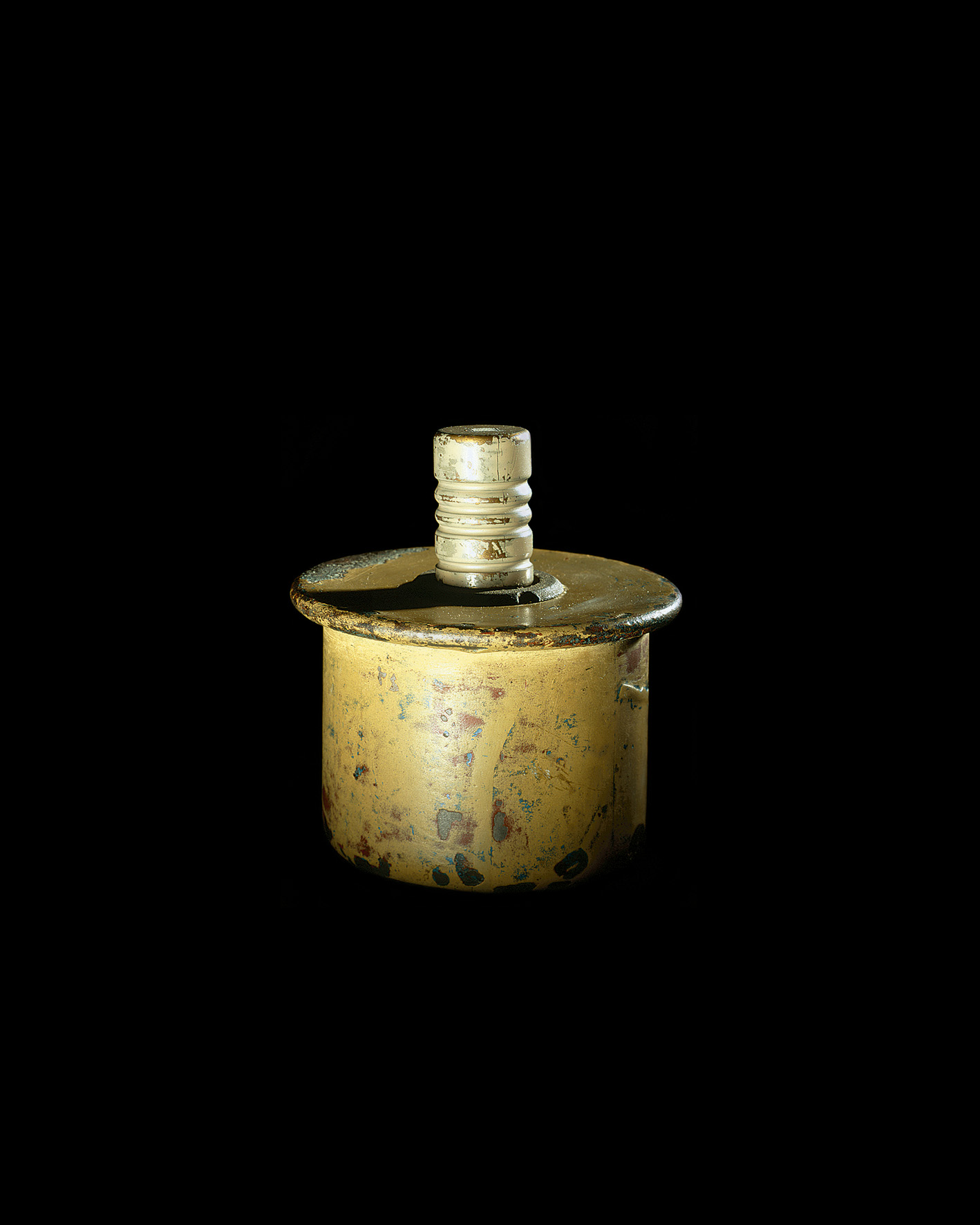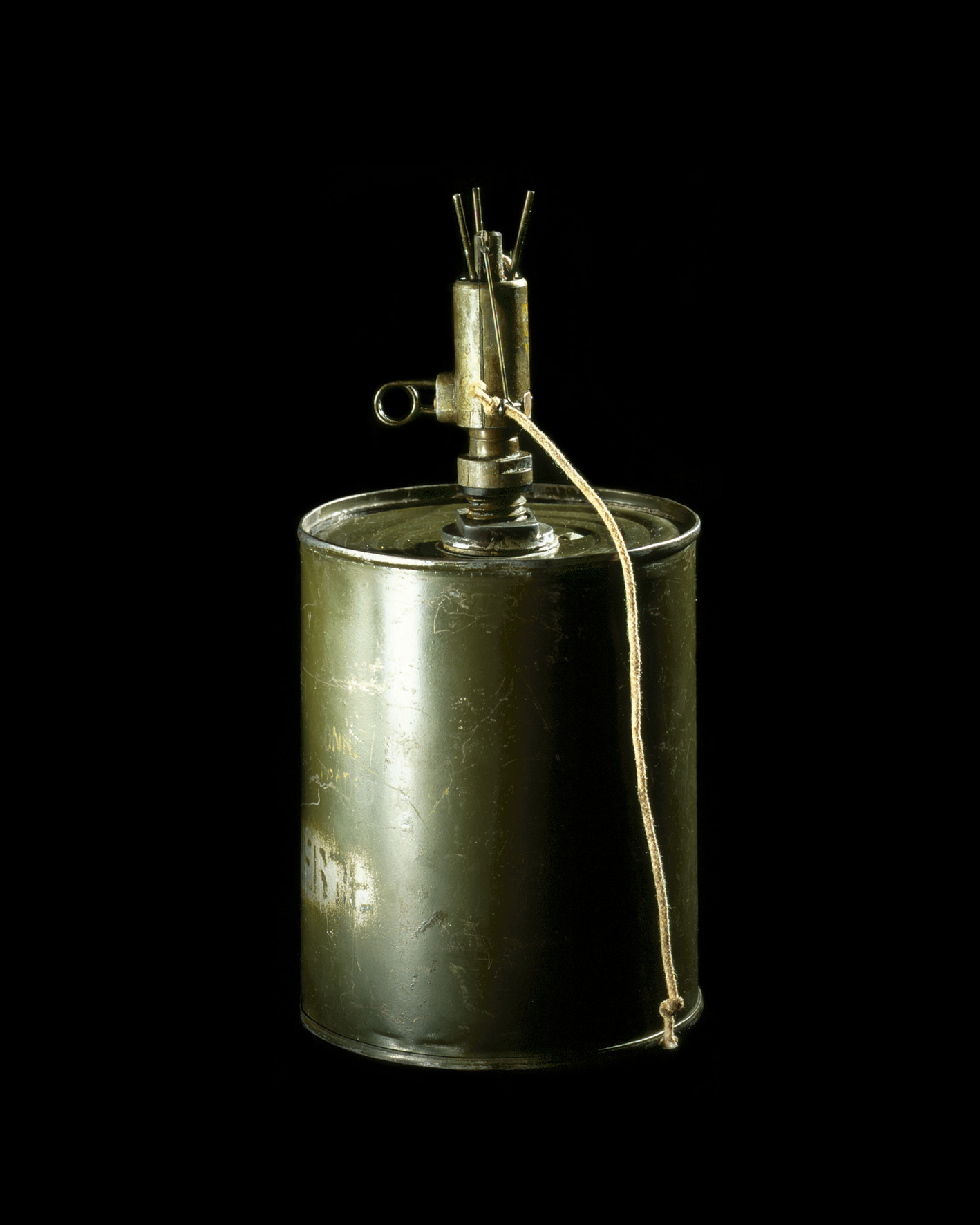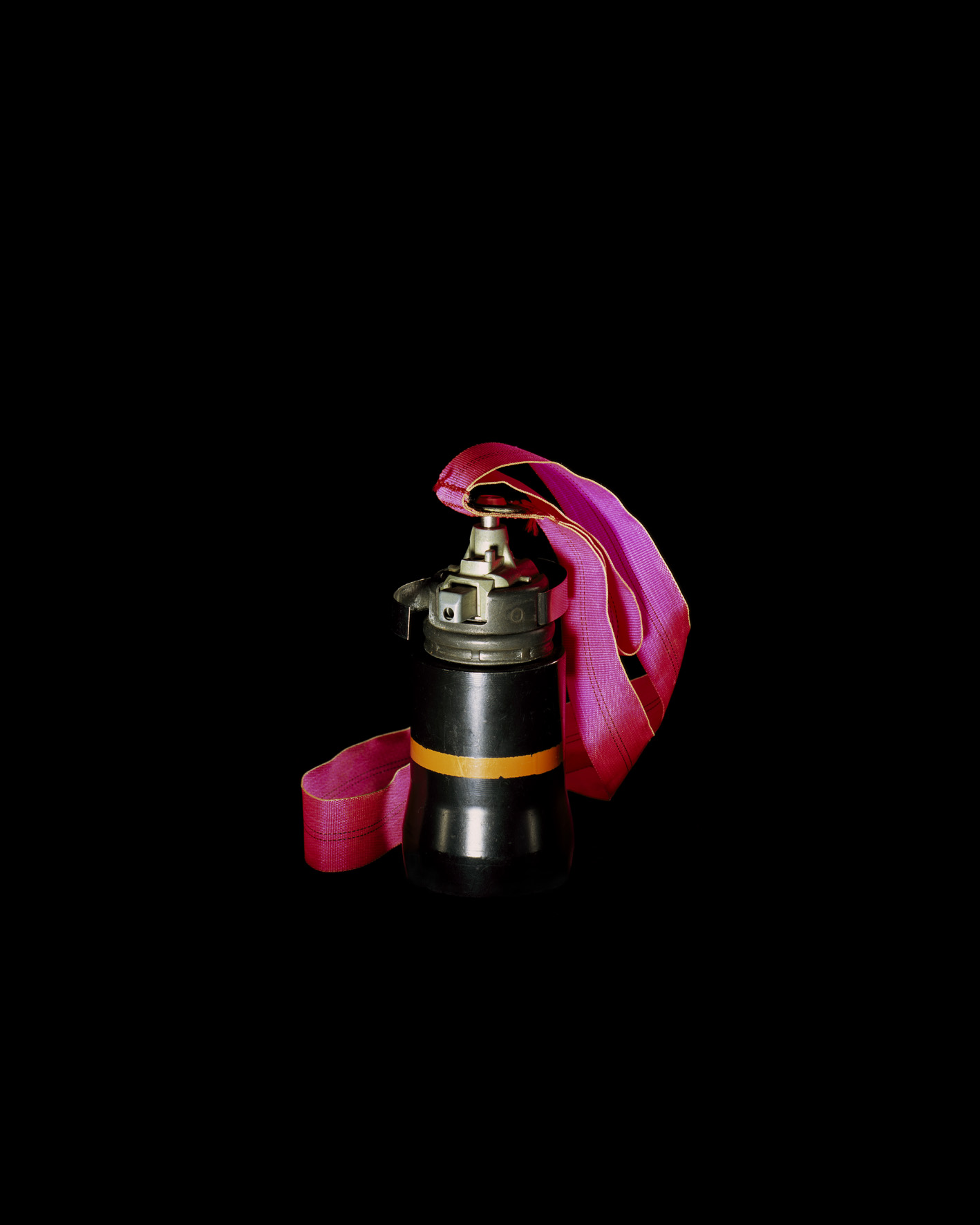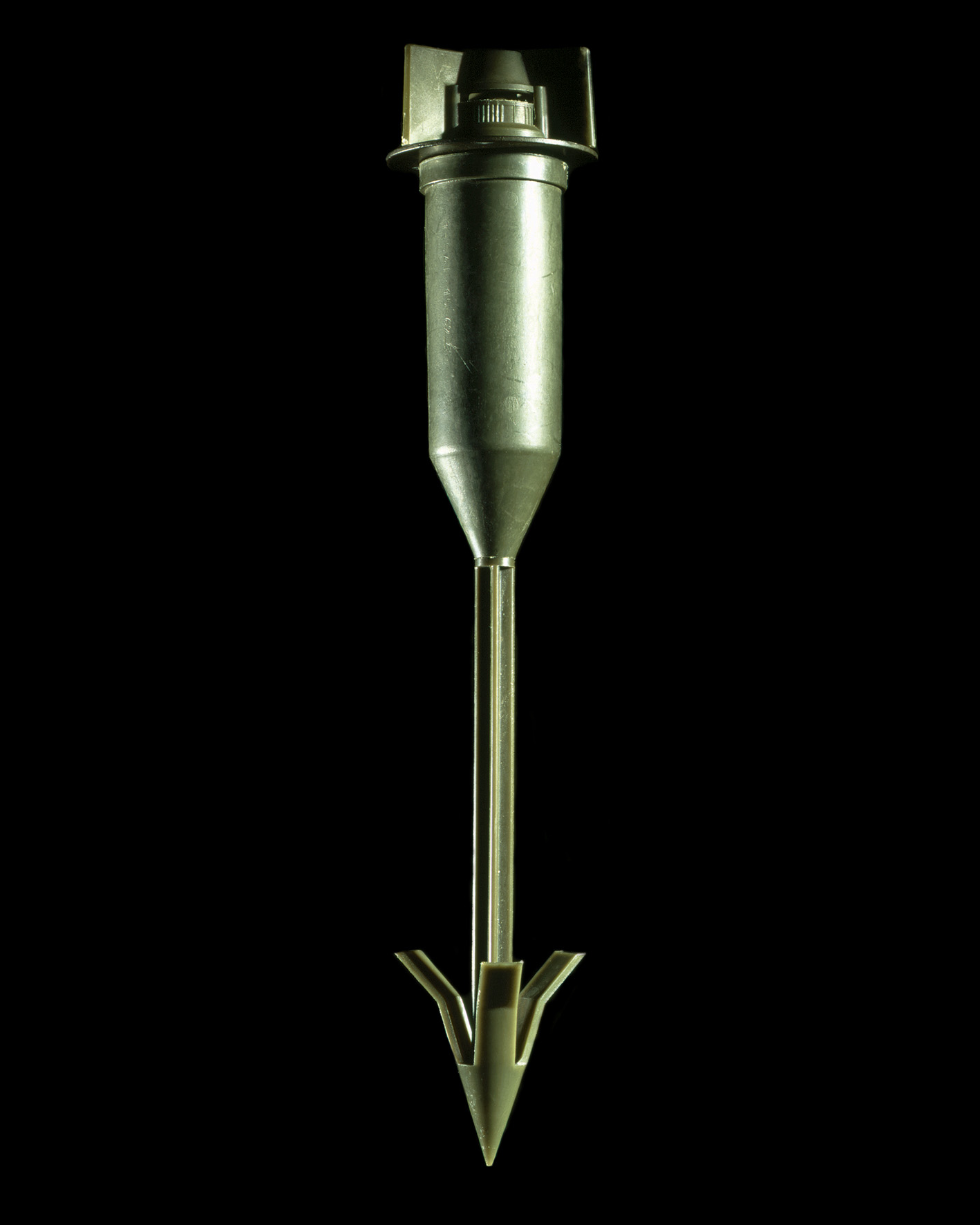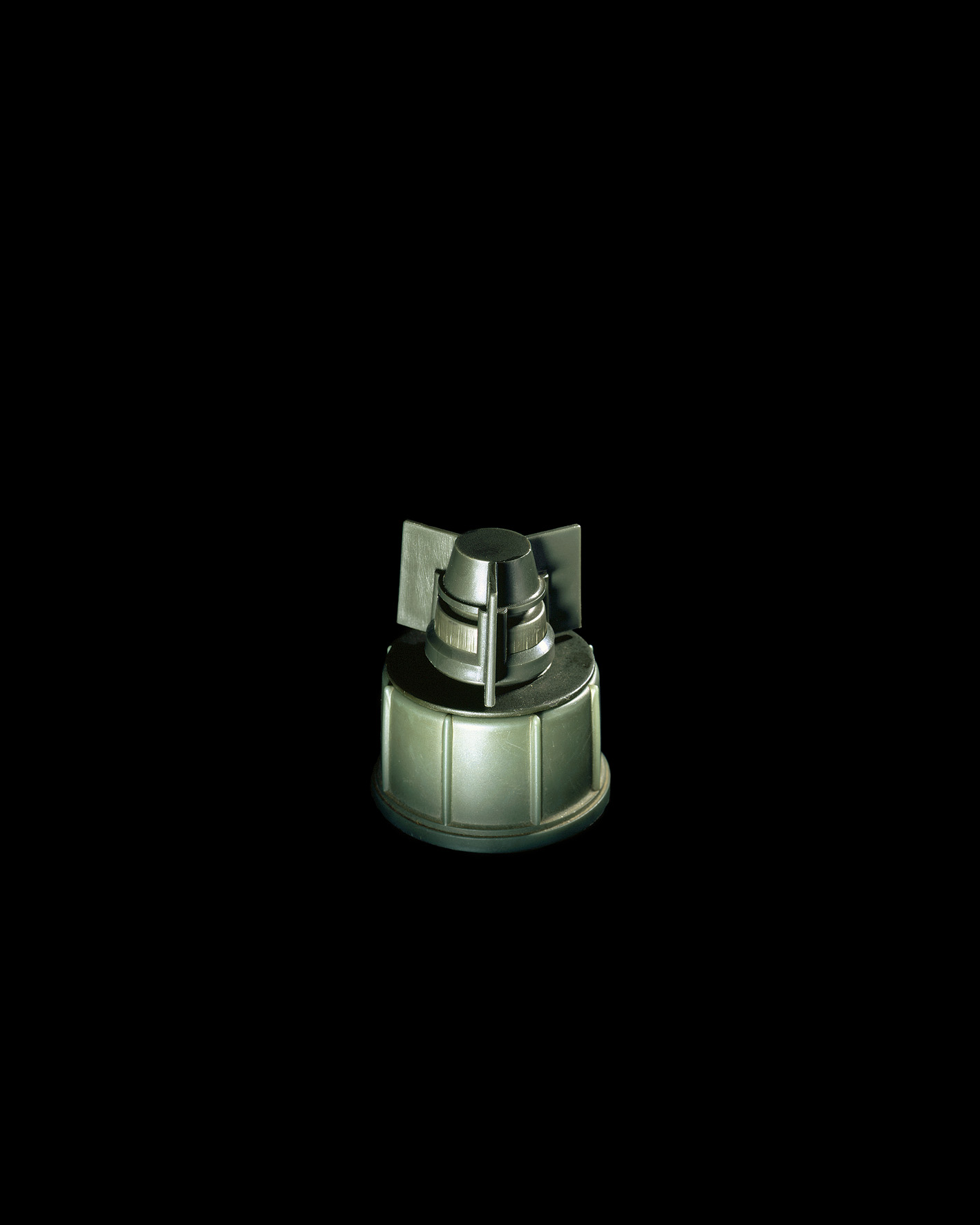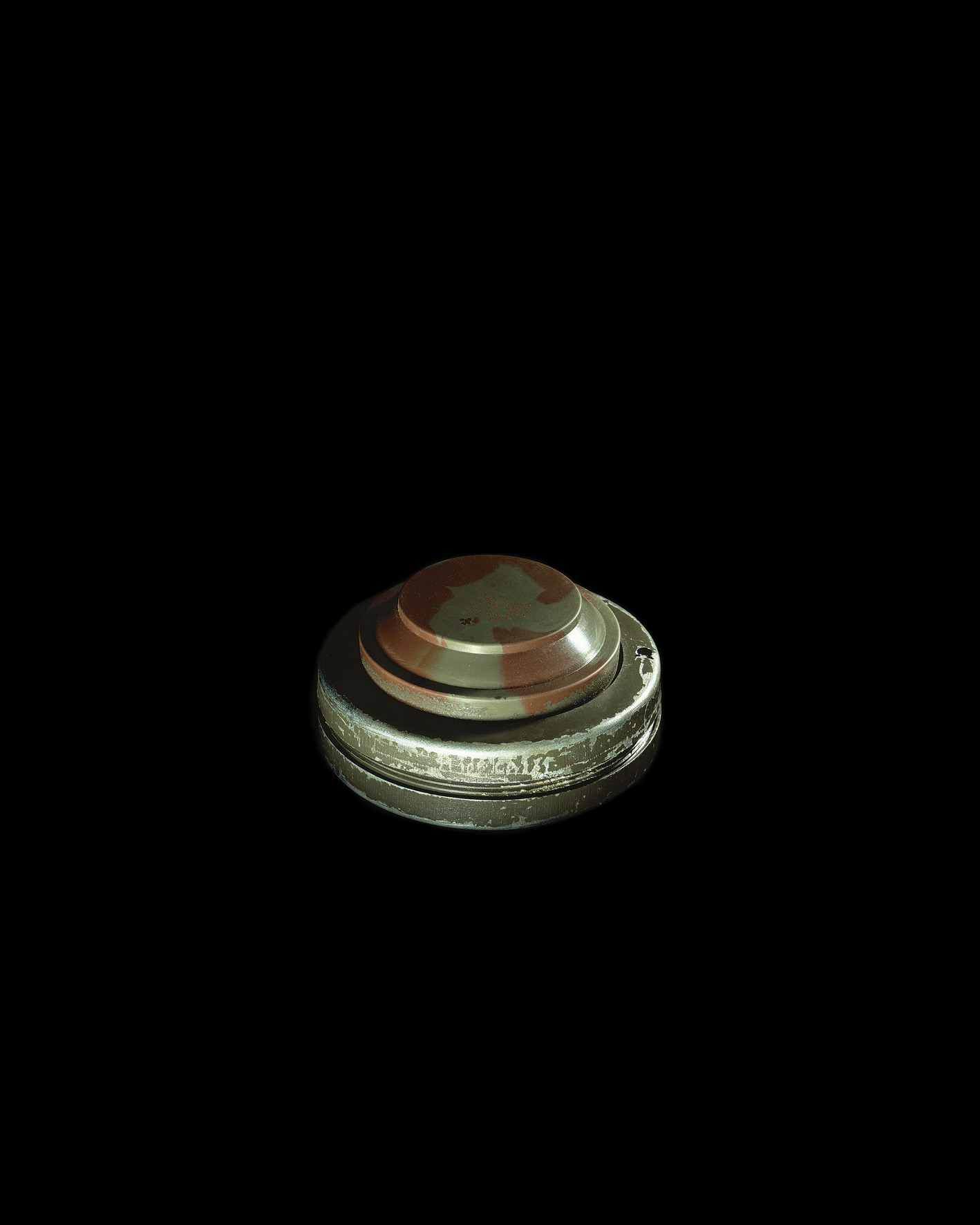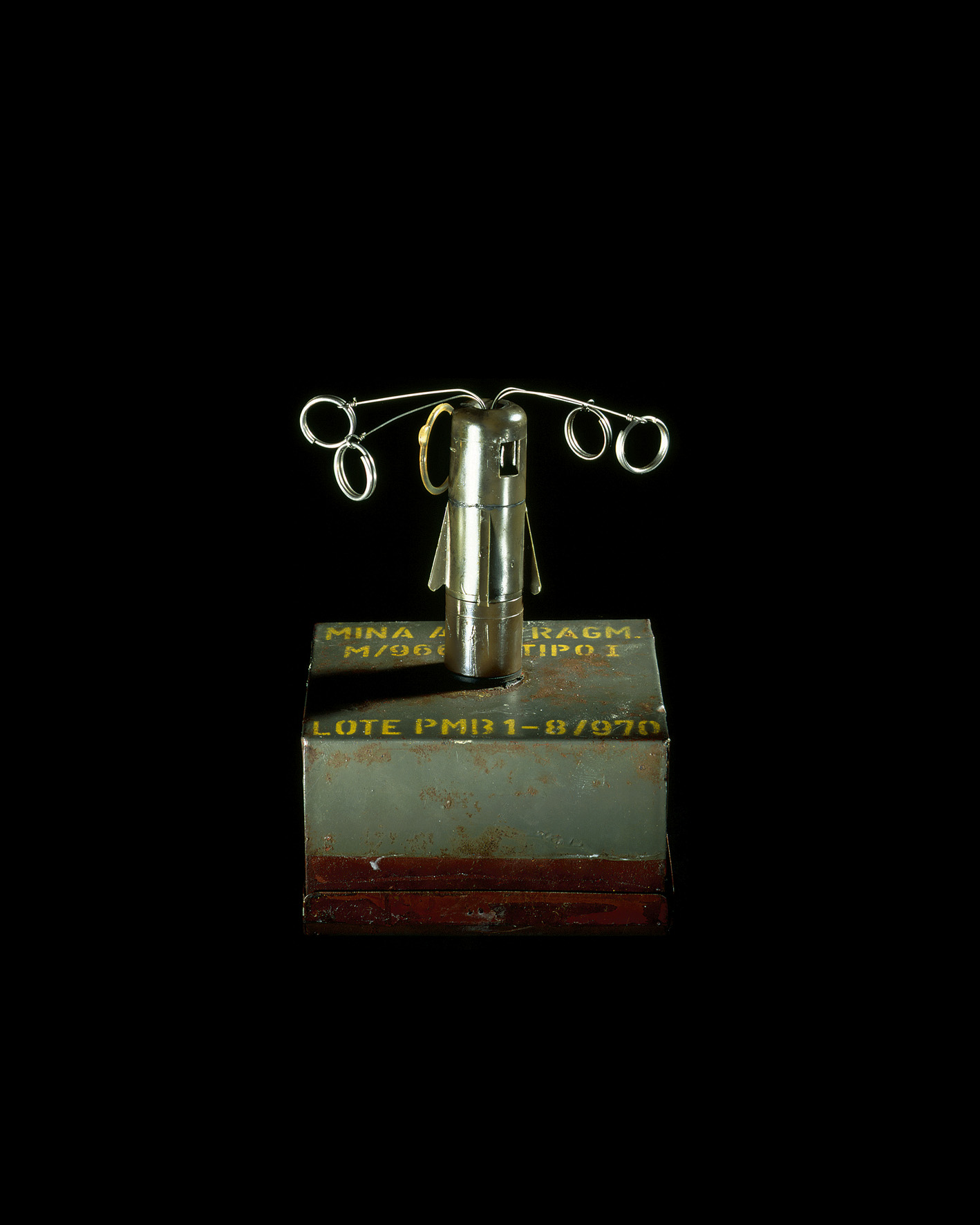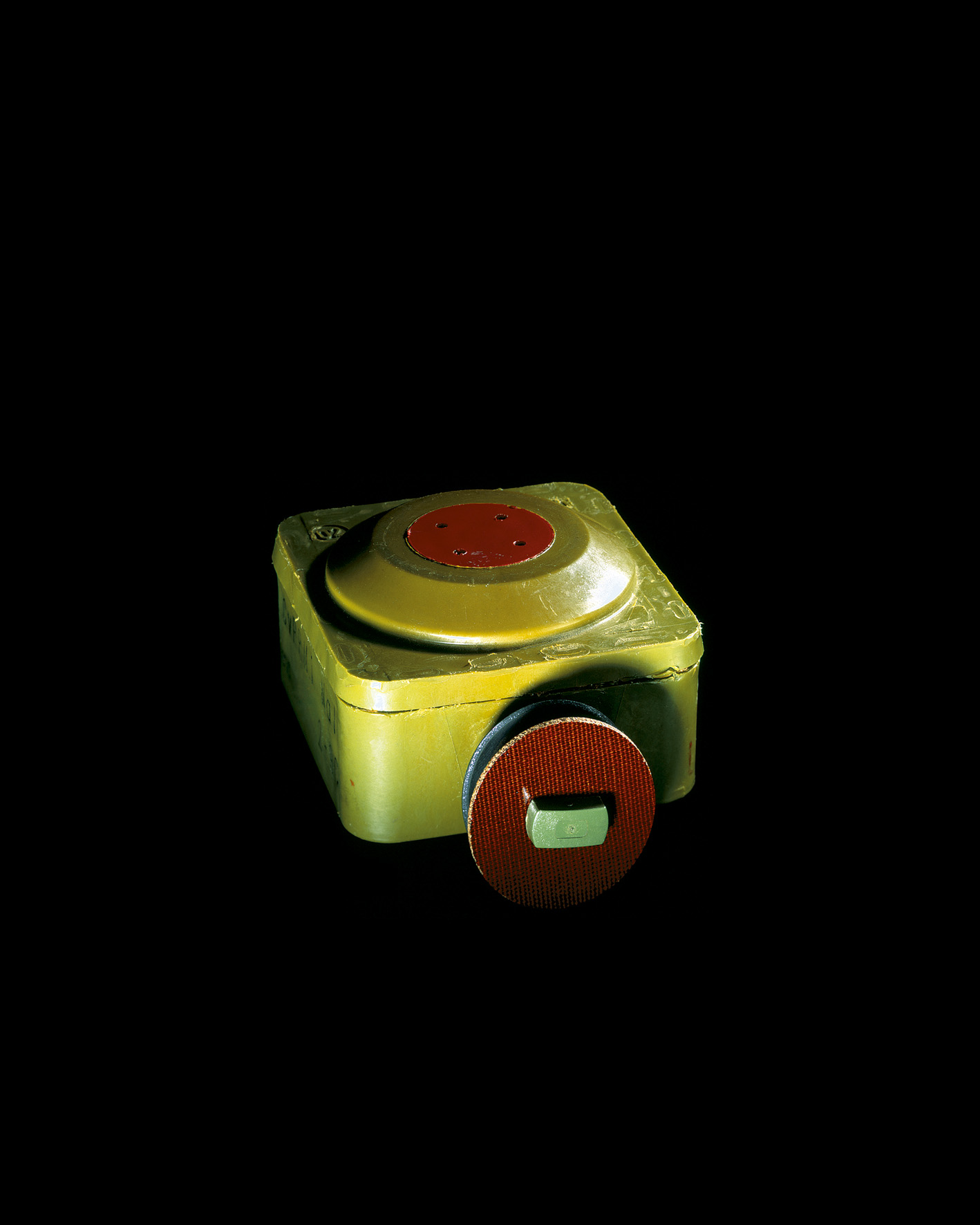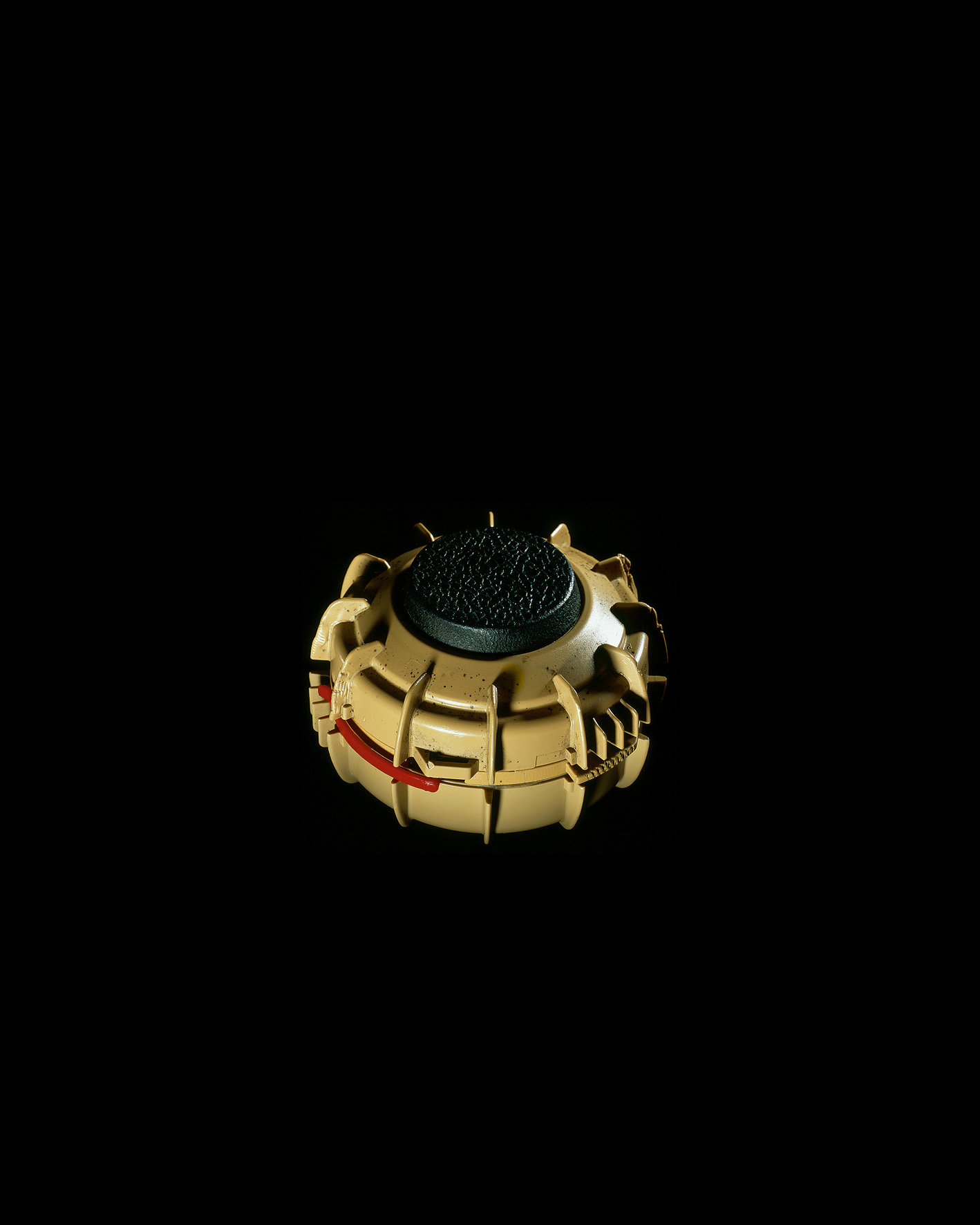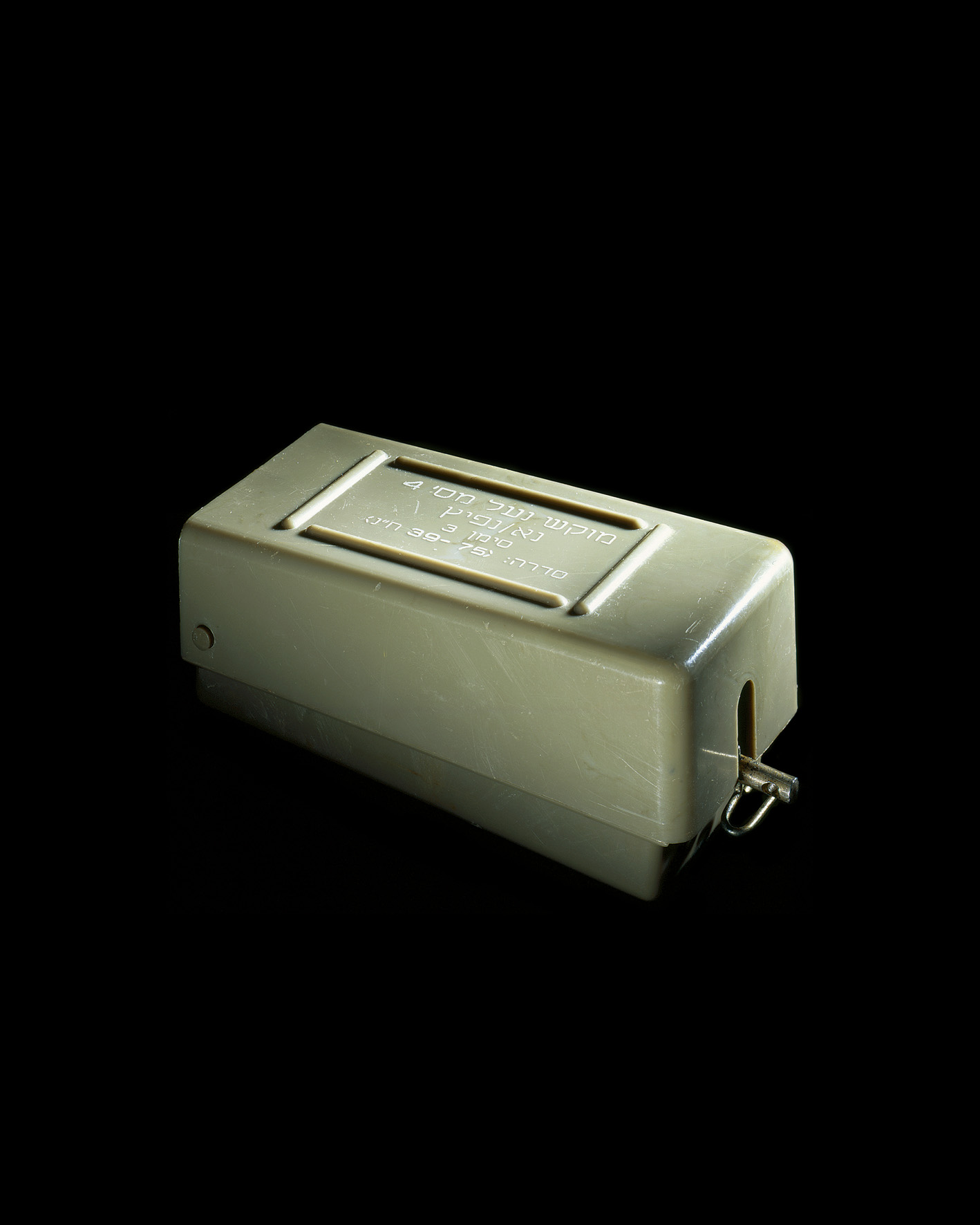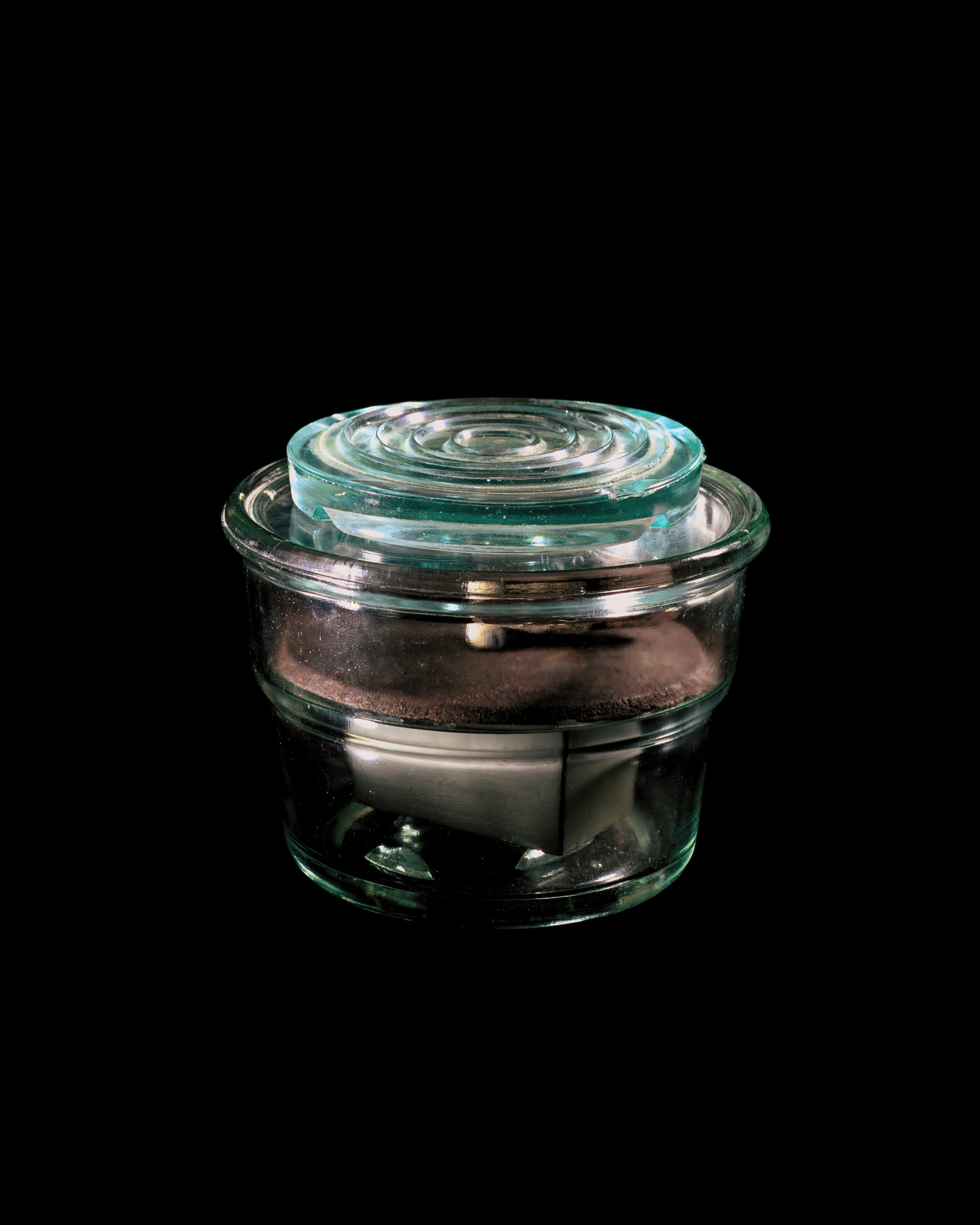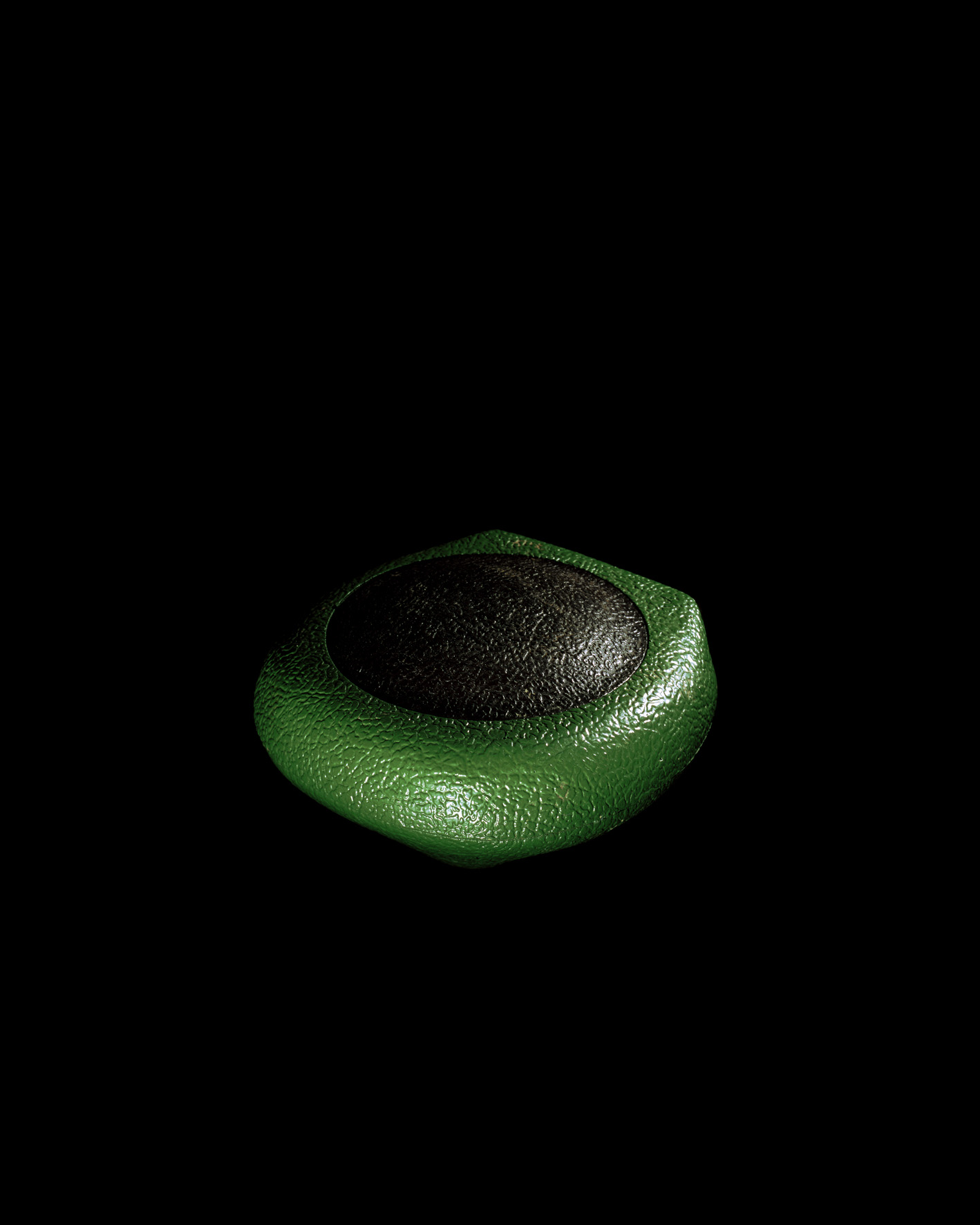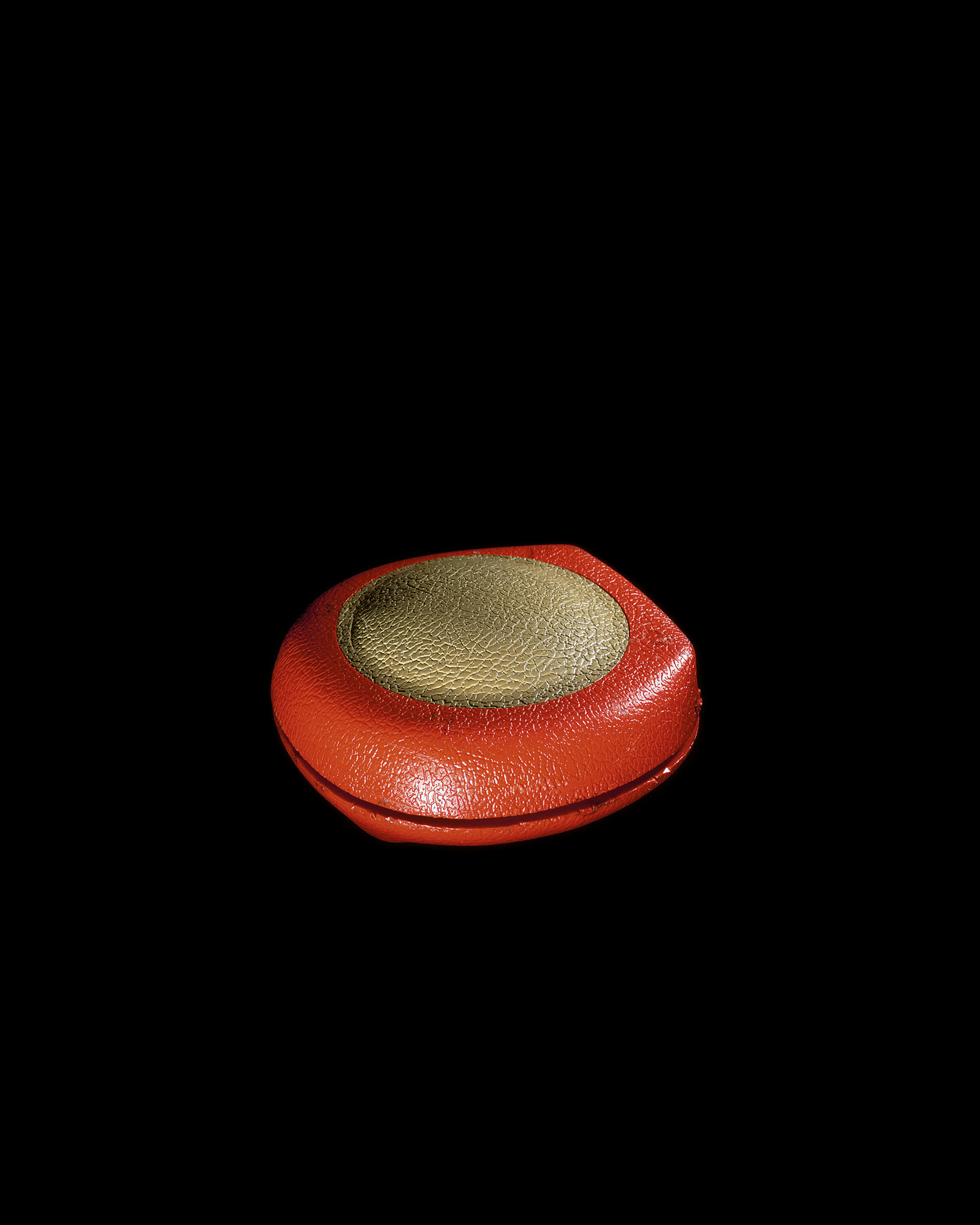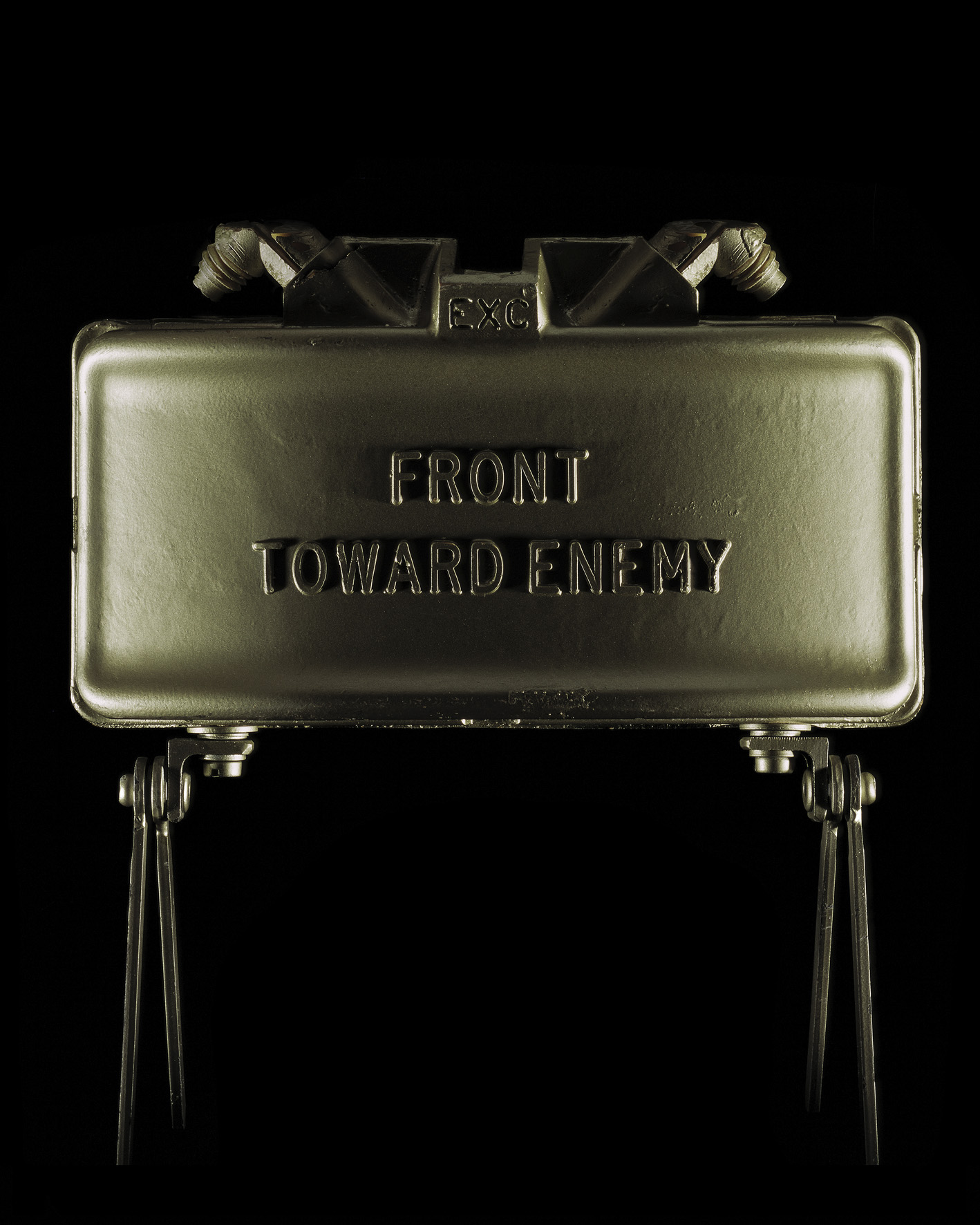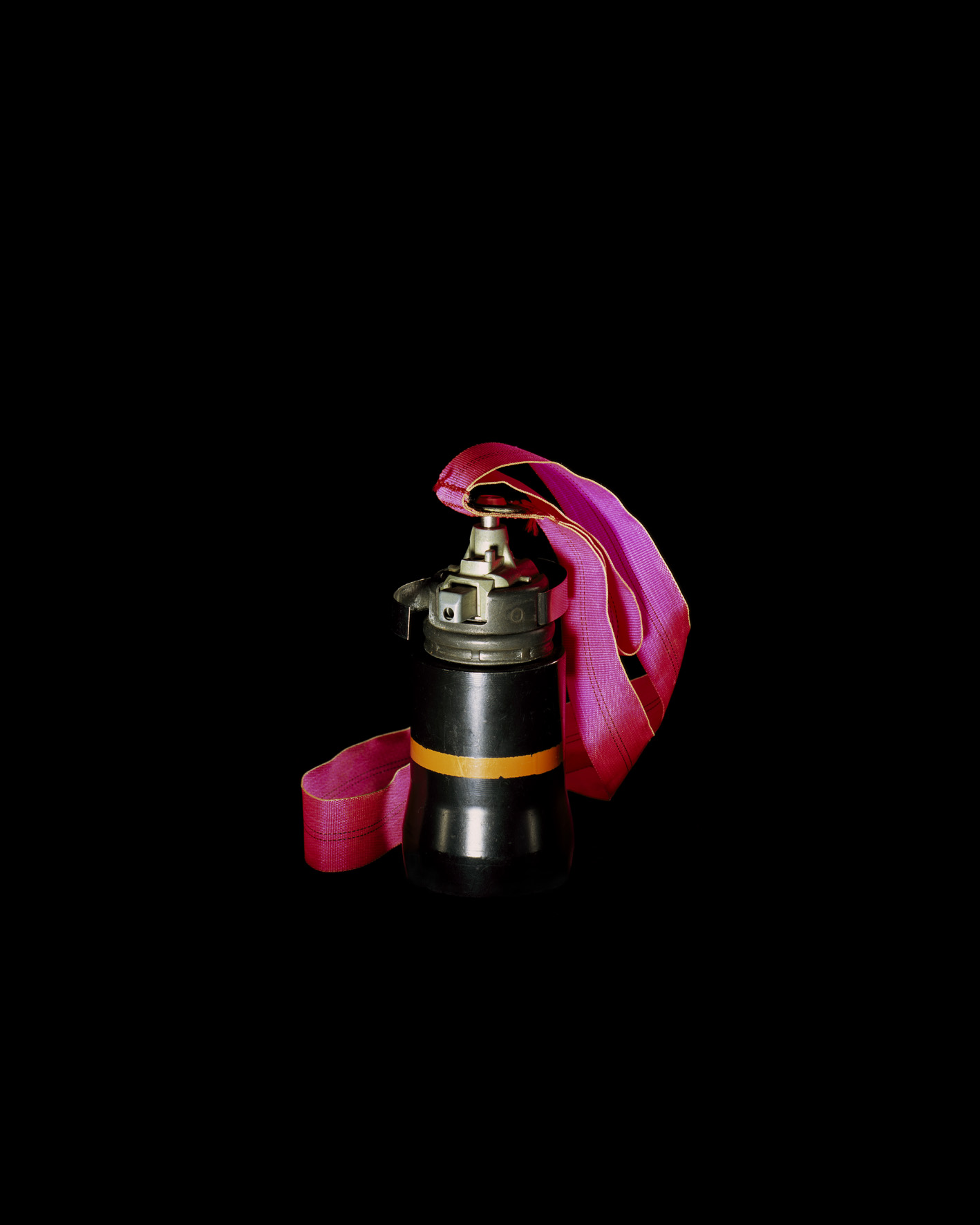 OGRE F1, France
Weight: 244 g, Lenght: 45 mm, Height: 90 mm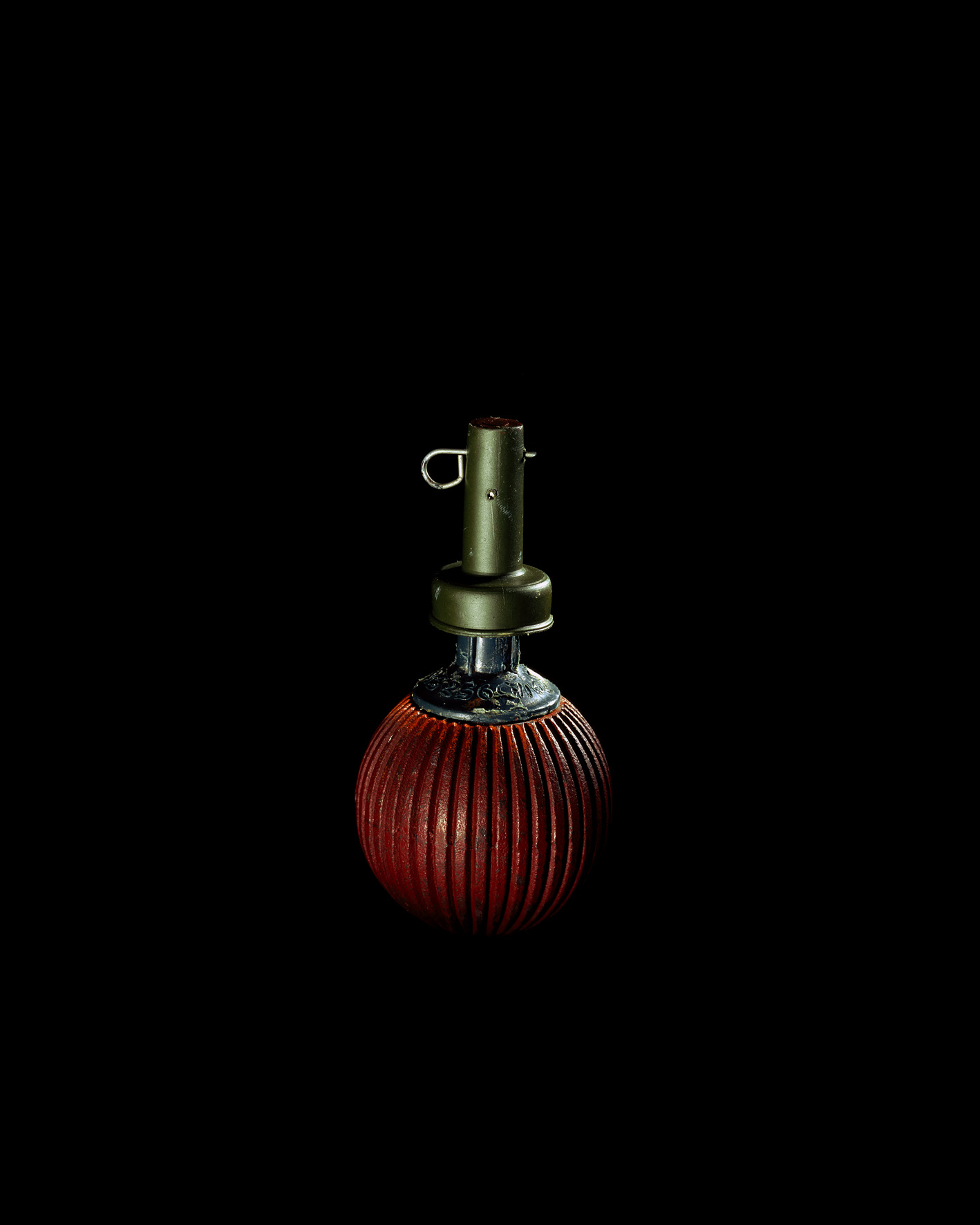 B 40, USA–VIETNAM
Weight: 700 g, Diameter: 60 mm, Height: 130 mm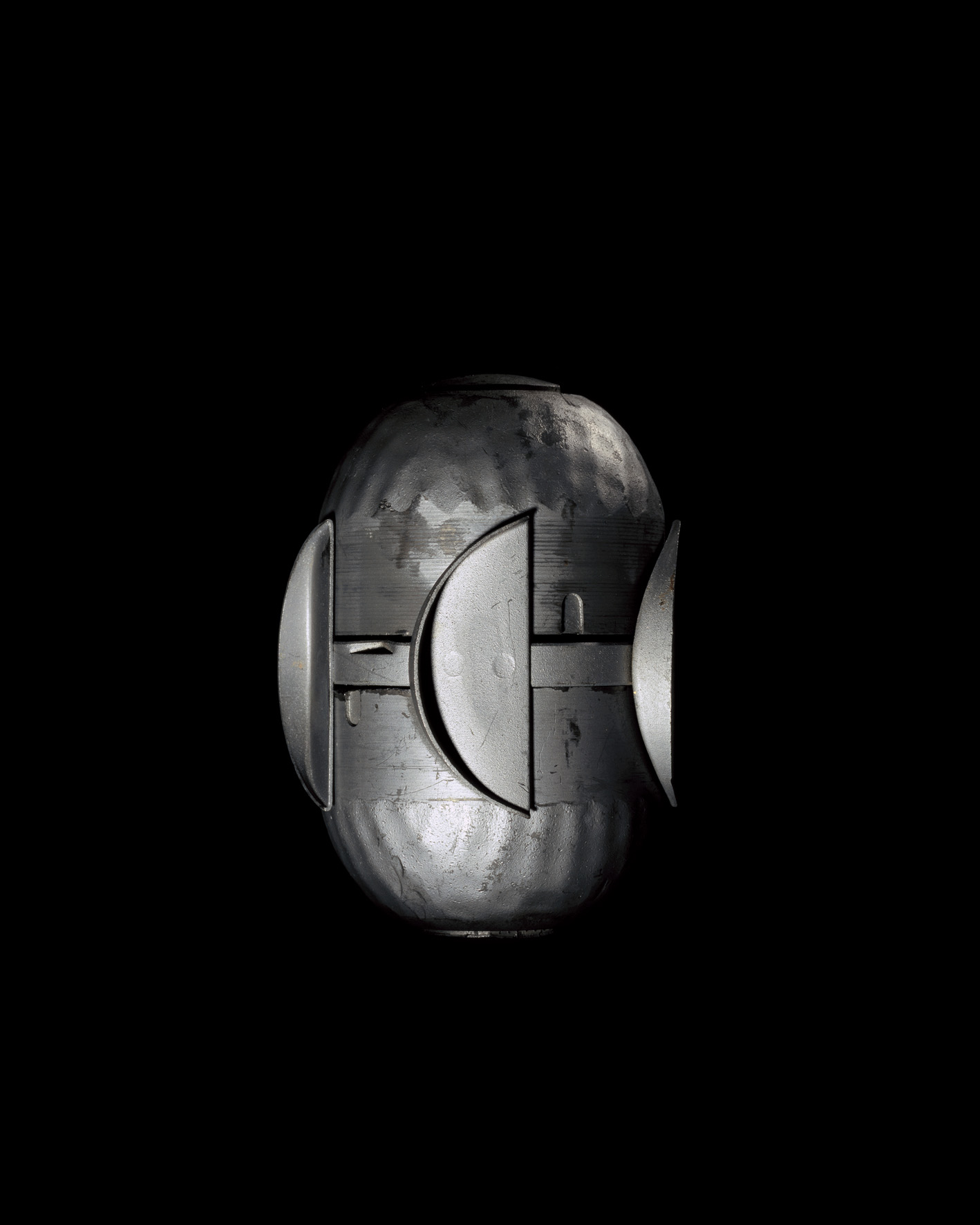 AO2.5RTM, RUSSIAN FEDERATION
Weight: 2.5 kg, Diameter: 90 mm, Height: 150 mm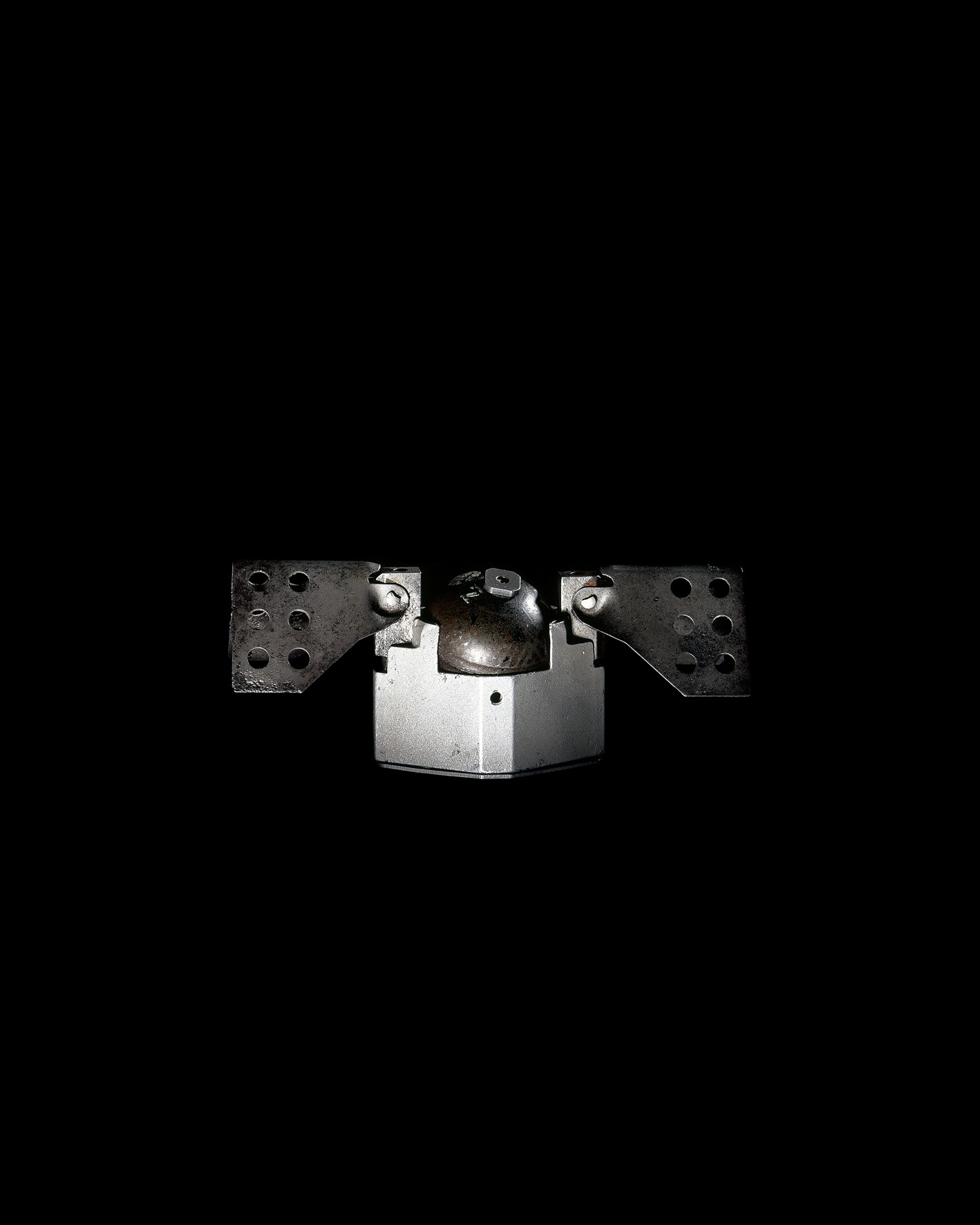 M39, USA
Weight: 200 g, Height: 50 mm, Width: 130 mm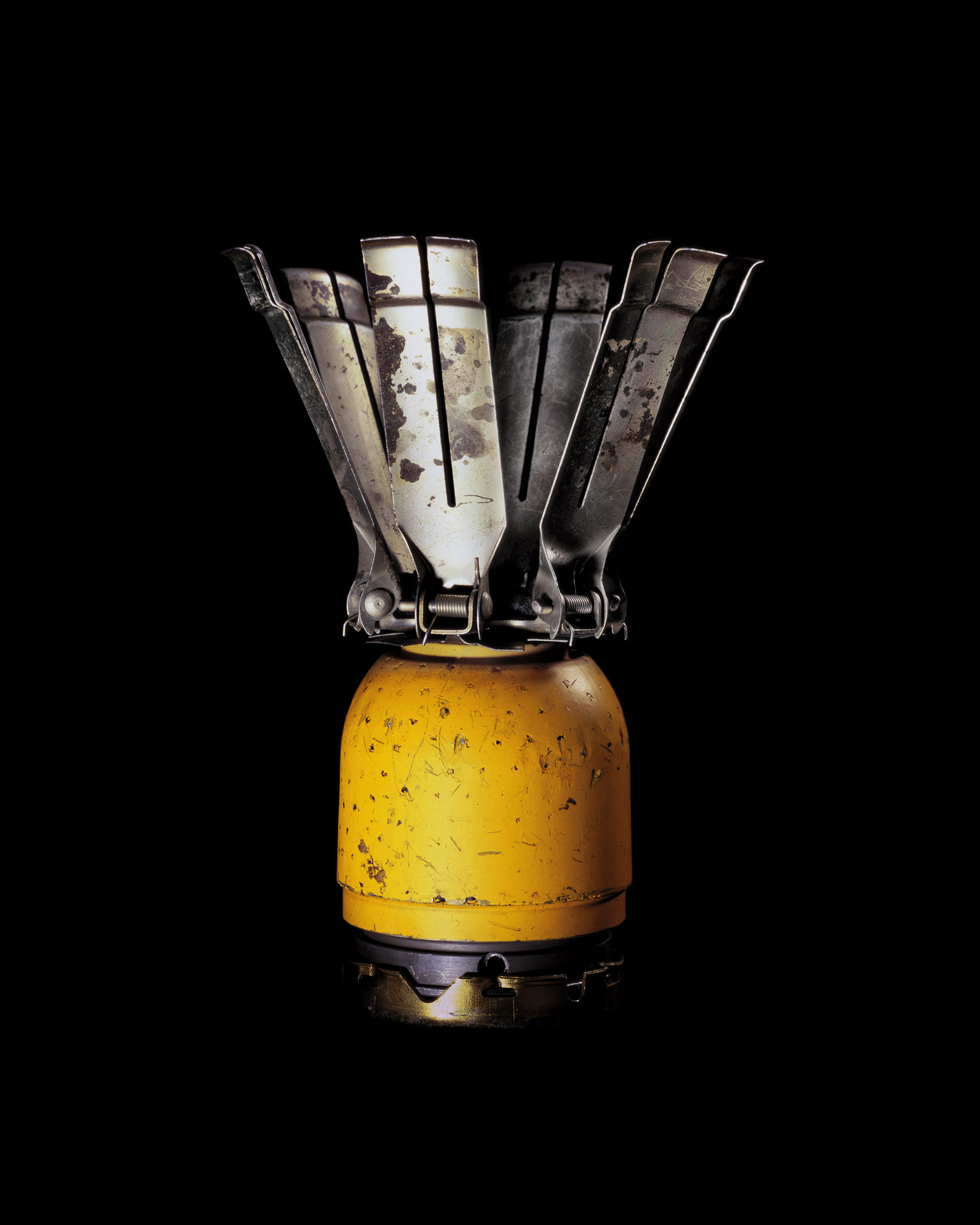 BLU 3/B, USA
Weight: 785 g, Diameter: 140 mm, Height: 180 mm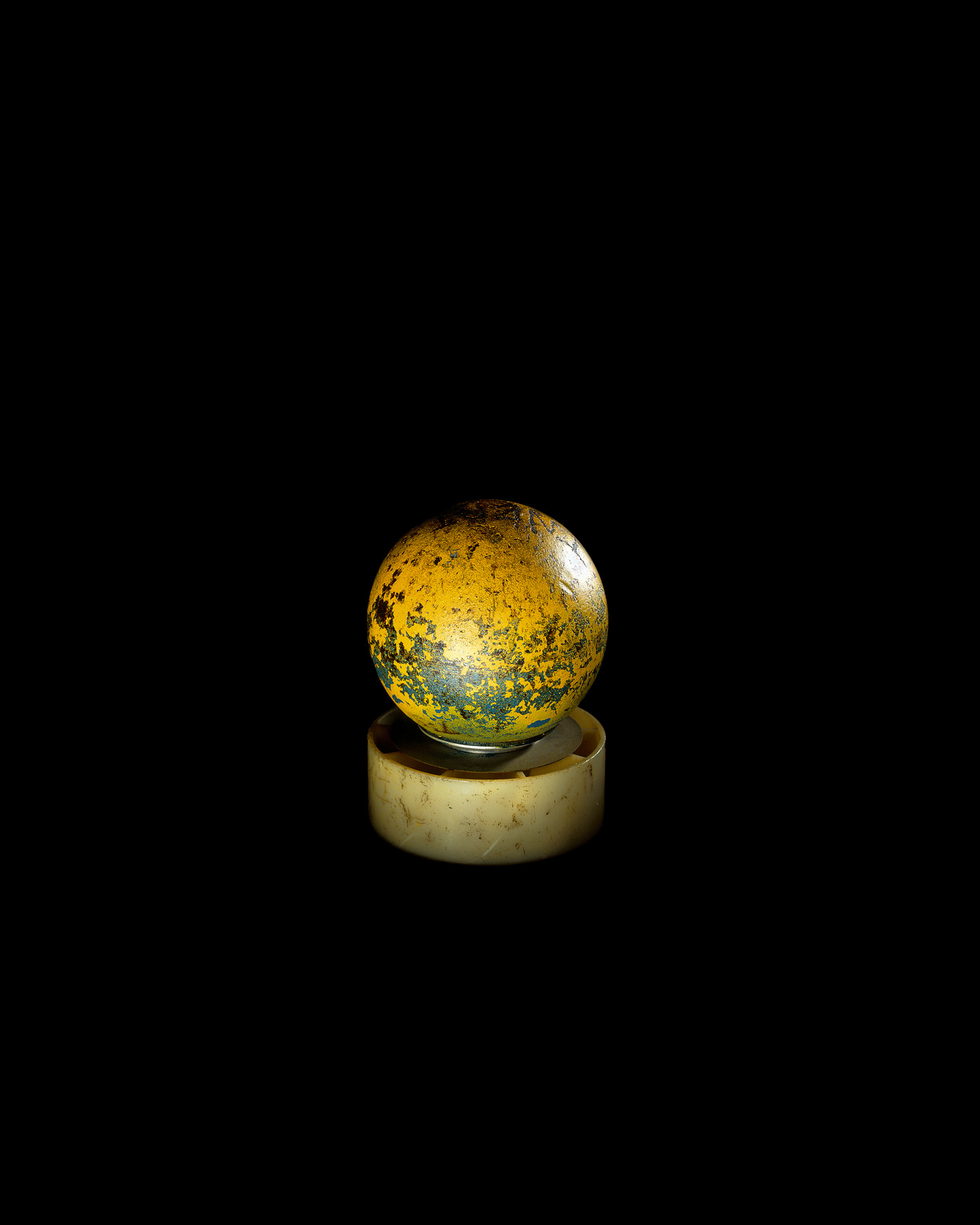 BLU 24/B, USA
Weight: 540 g, Diameter: 60 mm, Height: 100 mm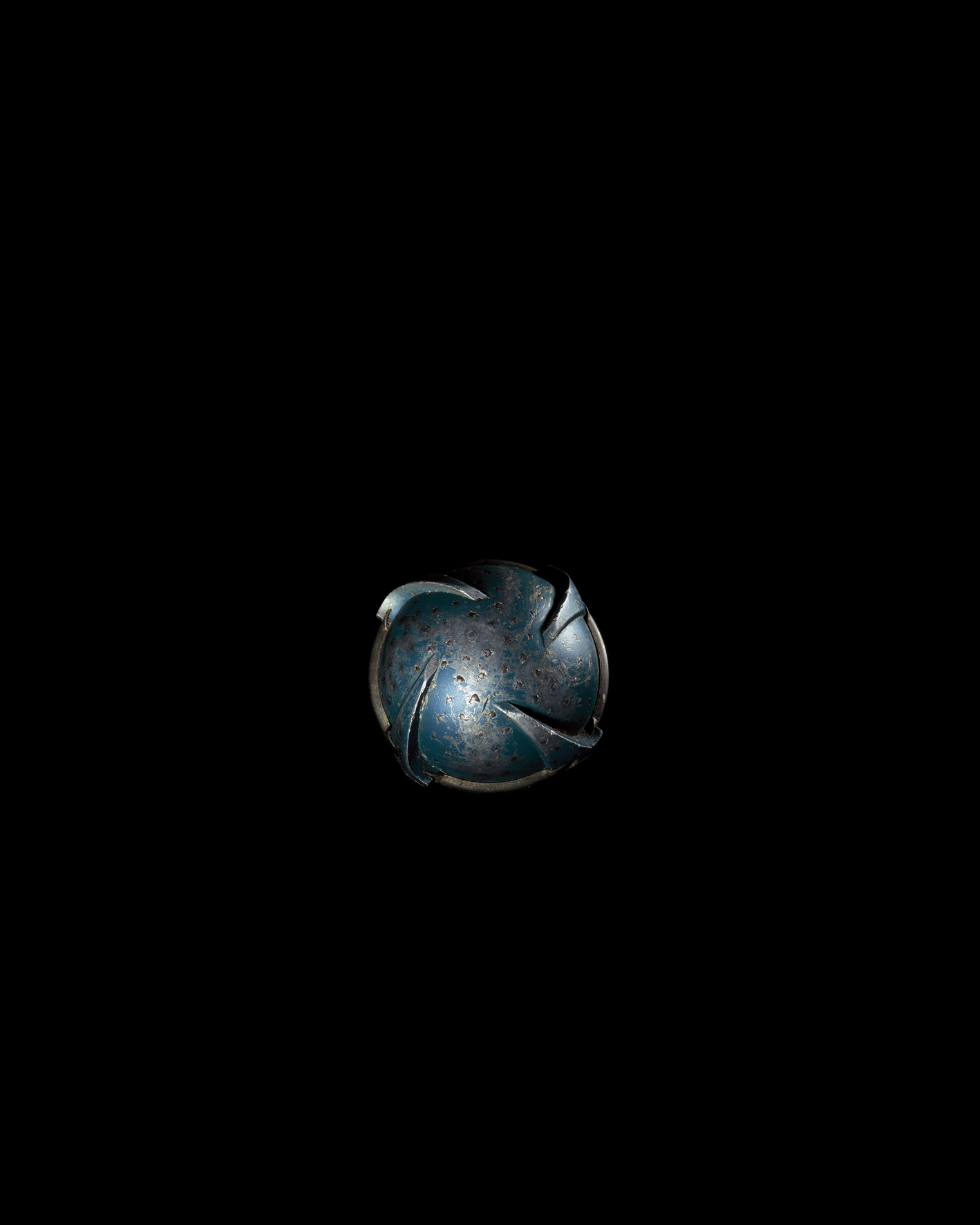 BLU 26/B, USA
Weight: 400 g, Diameter: 60 mm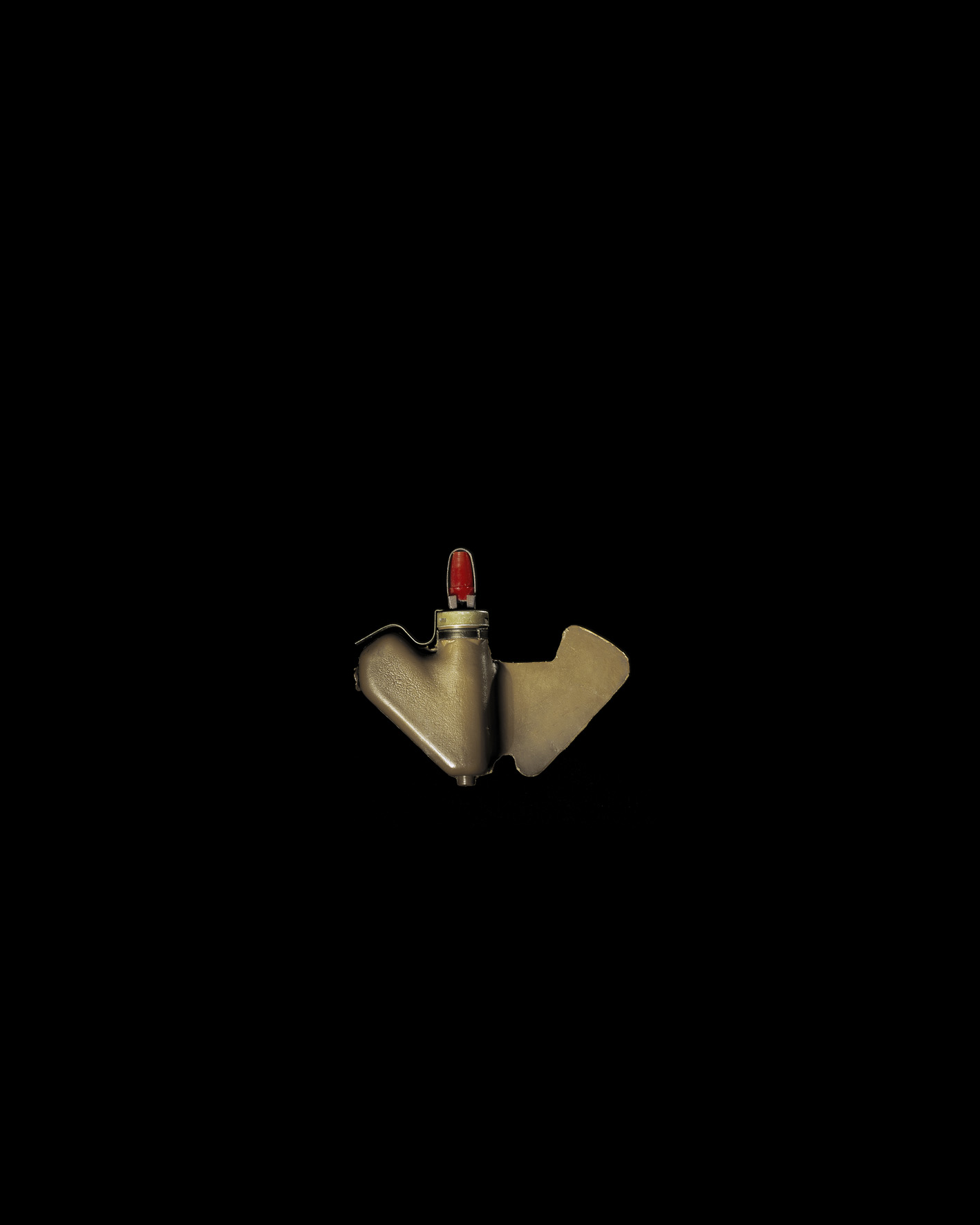 BLU 44/B, USA
Weight: 75g, Width: 70 mm, Height: 60 mm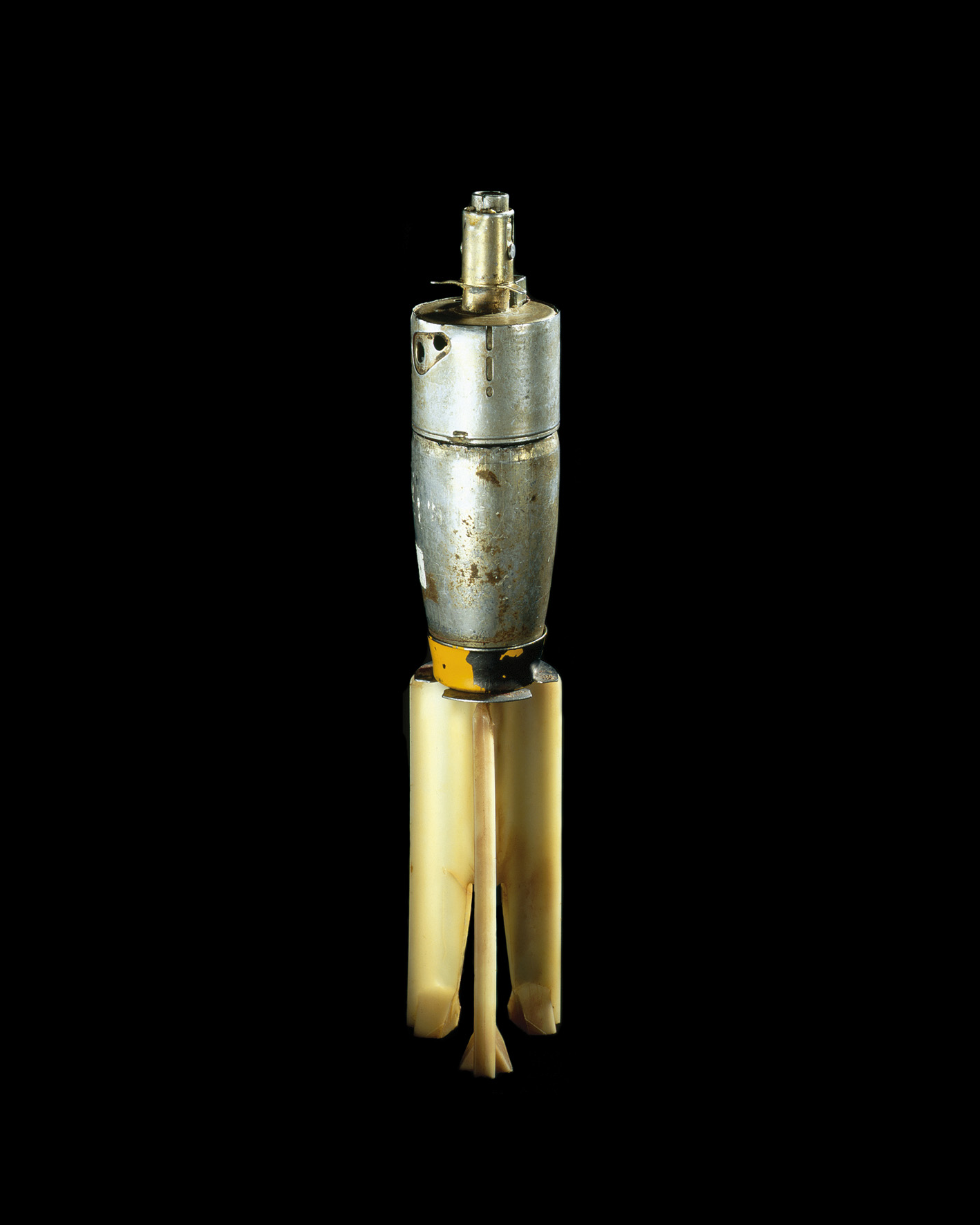 BLU 77/B, USA
Weight: 150 g, Height: 220 mm, Diameter: 40 mm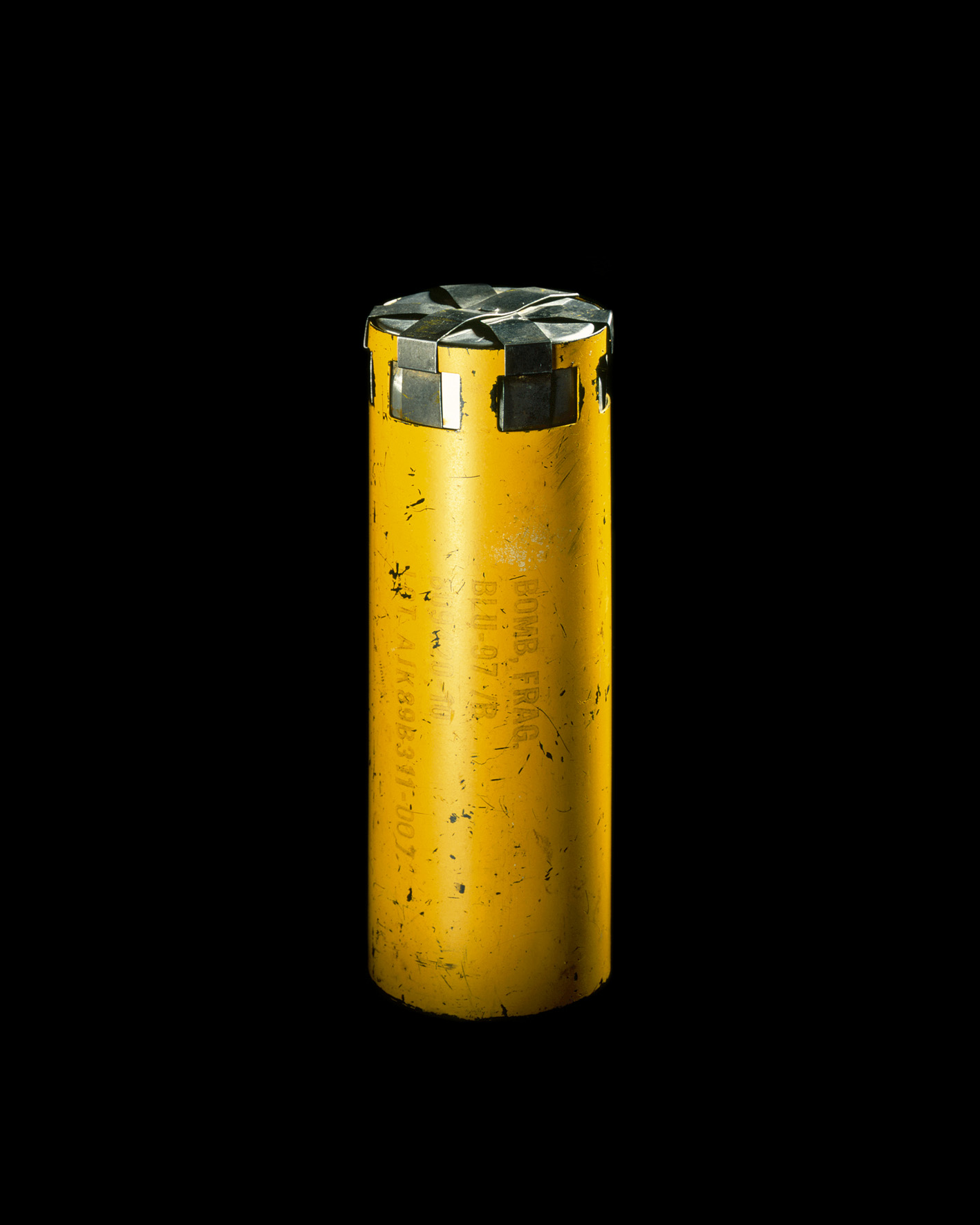 BLU 97, USA
Weight: 200 ,g Height: 170 mm, Diameter: 60 mm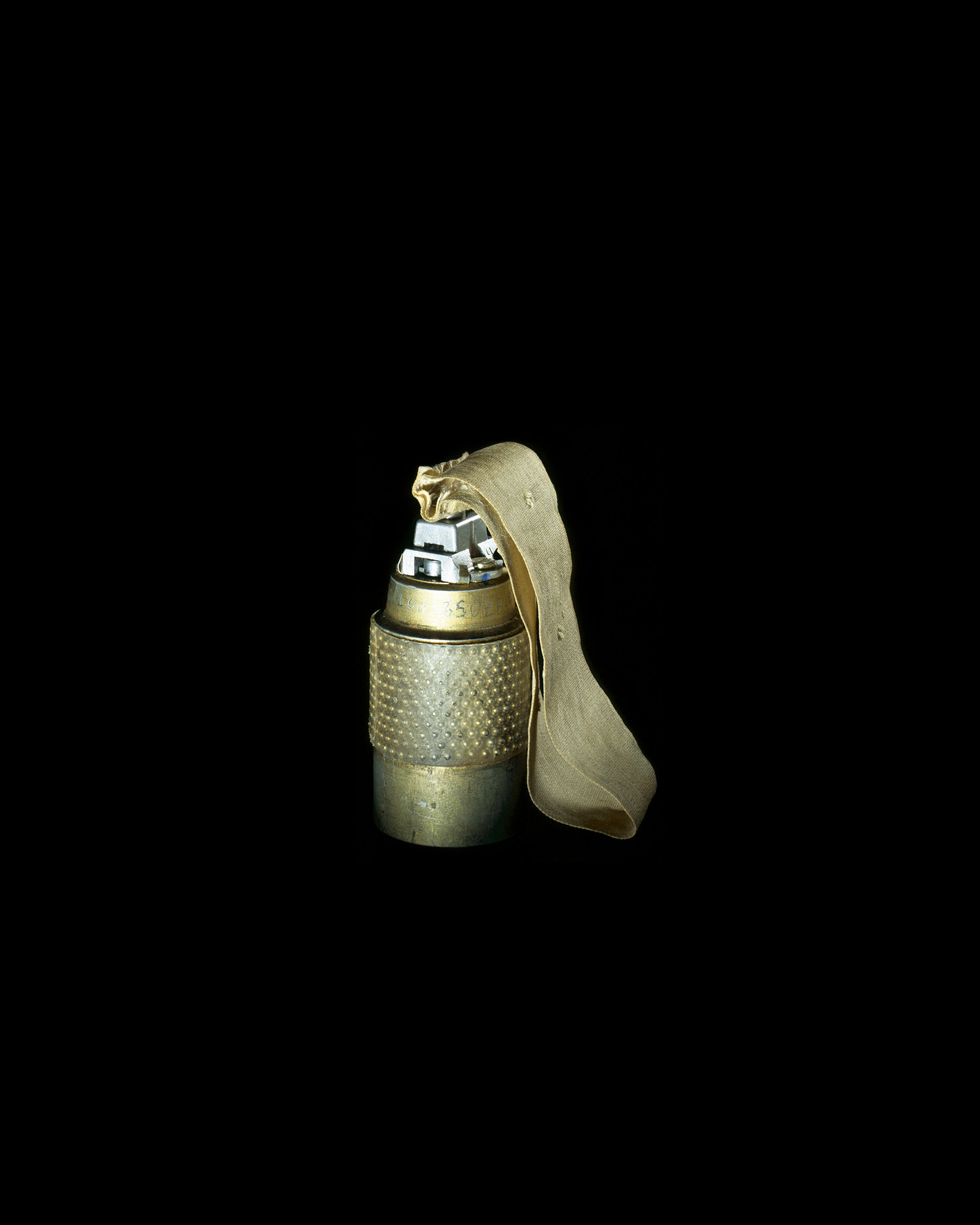 KB1, YUGOSLAVIA
Weight: 250 g, Height: 80 mm, Diameter: 40 mm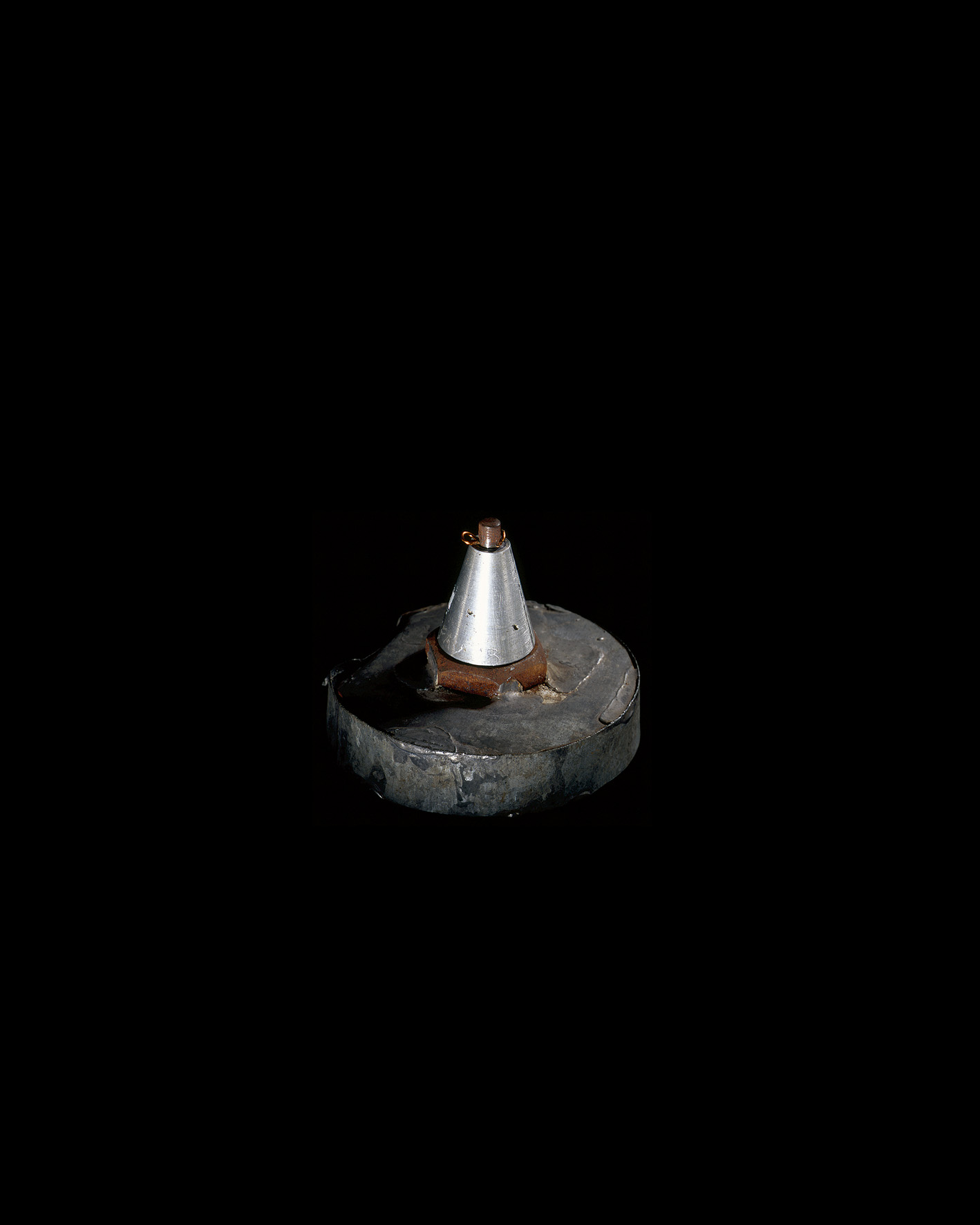 ARTISANAL LANDMINE
Weight: 300 g, Diameter: 70 mm, Height: 80 mm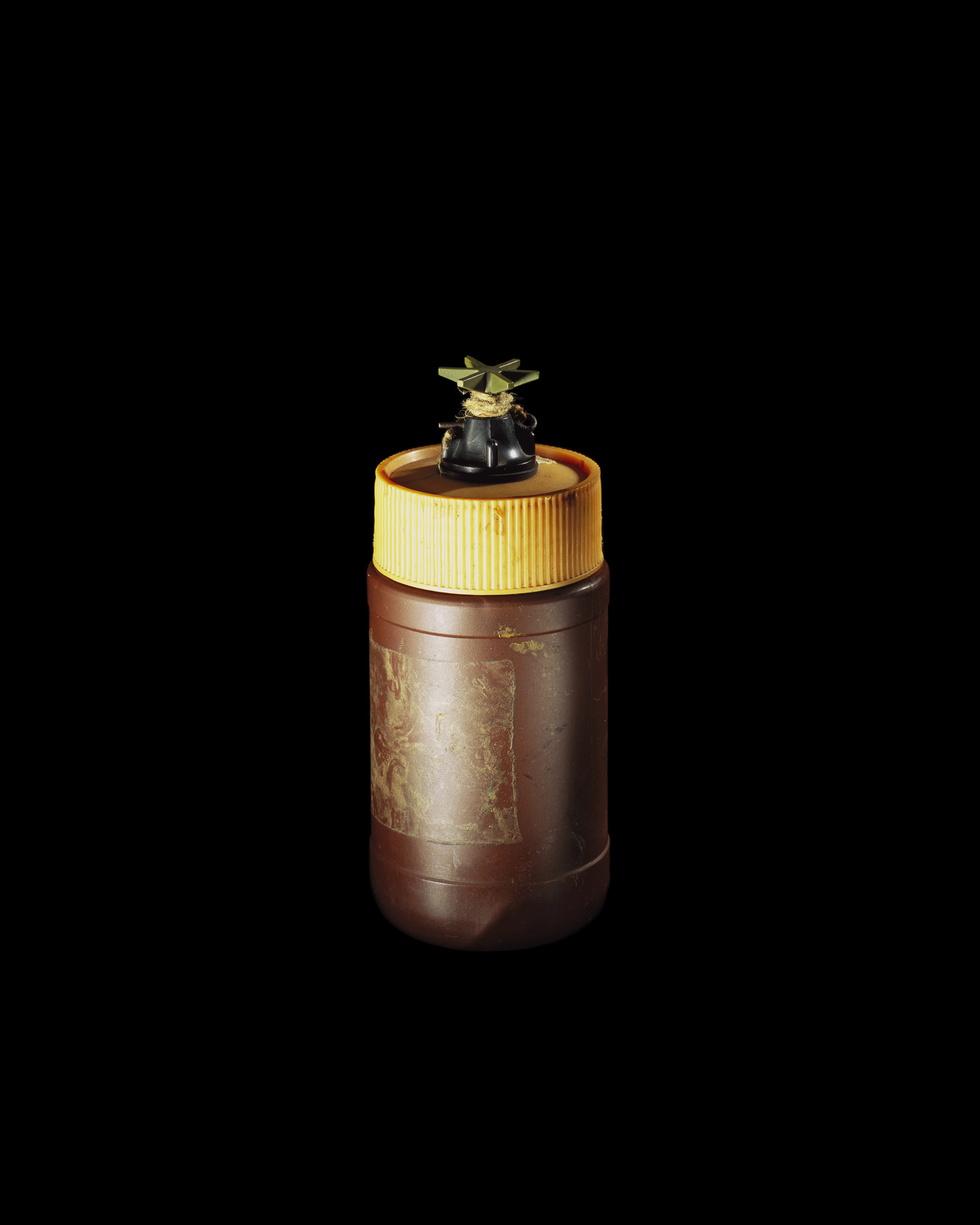 ARTISANAL LANDMINE, BOSNIA
Weight: 500 g, Diameter: 60 mm, Height: 150 mm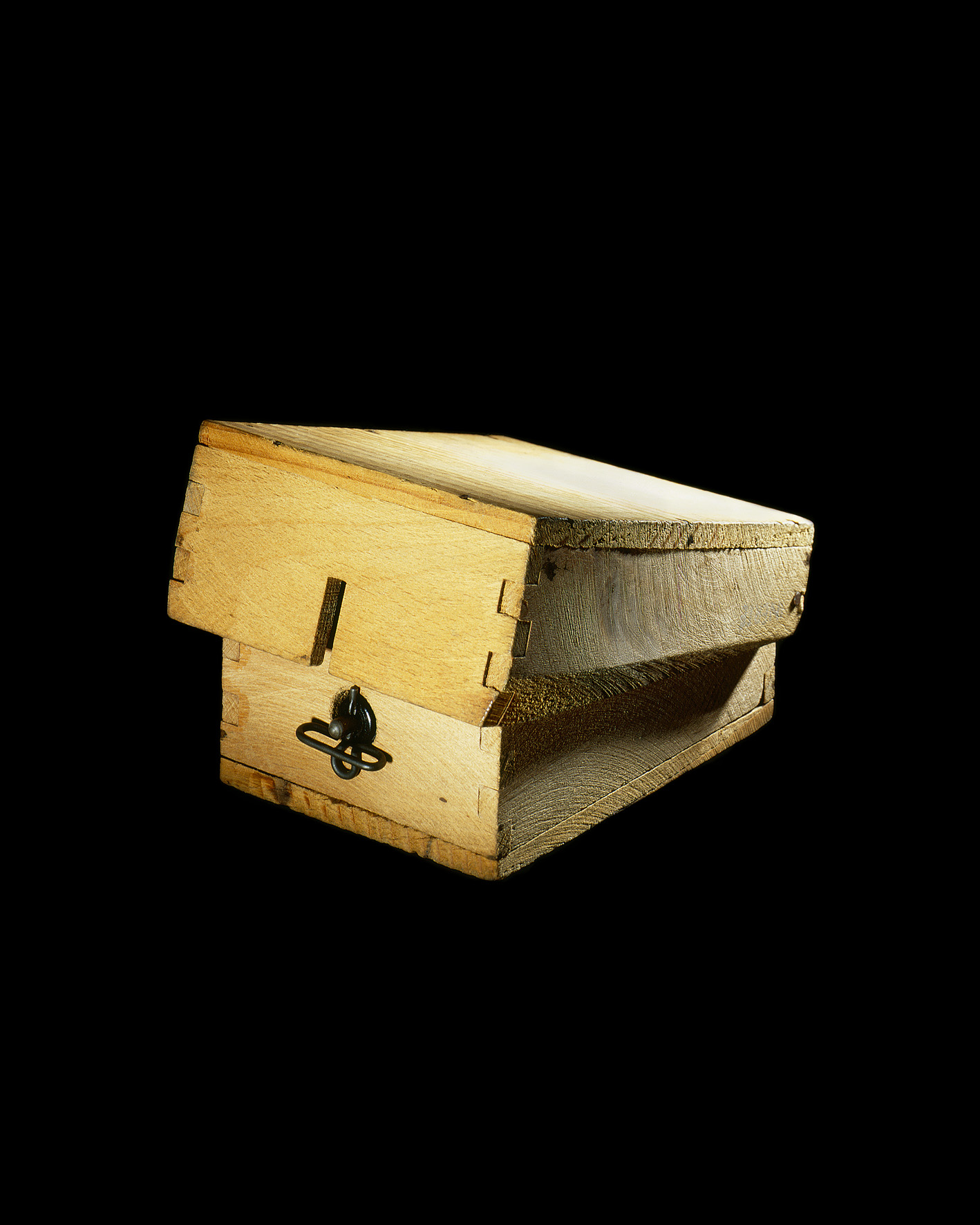 PDM 57, SOVIET UNION
Weight: 500 g, Width: 100 mm, Length: 130 mm, Height: 60 mm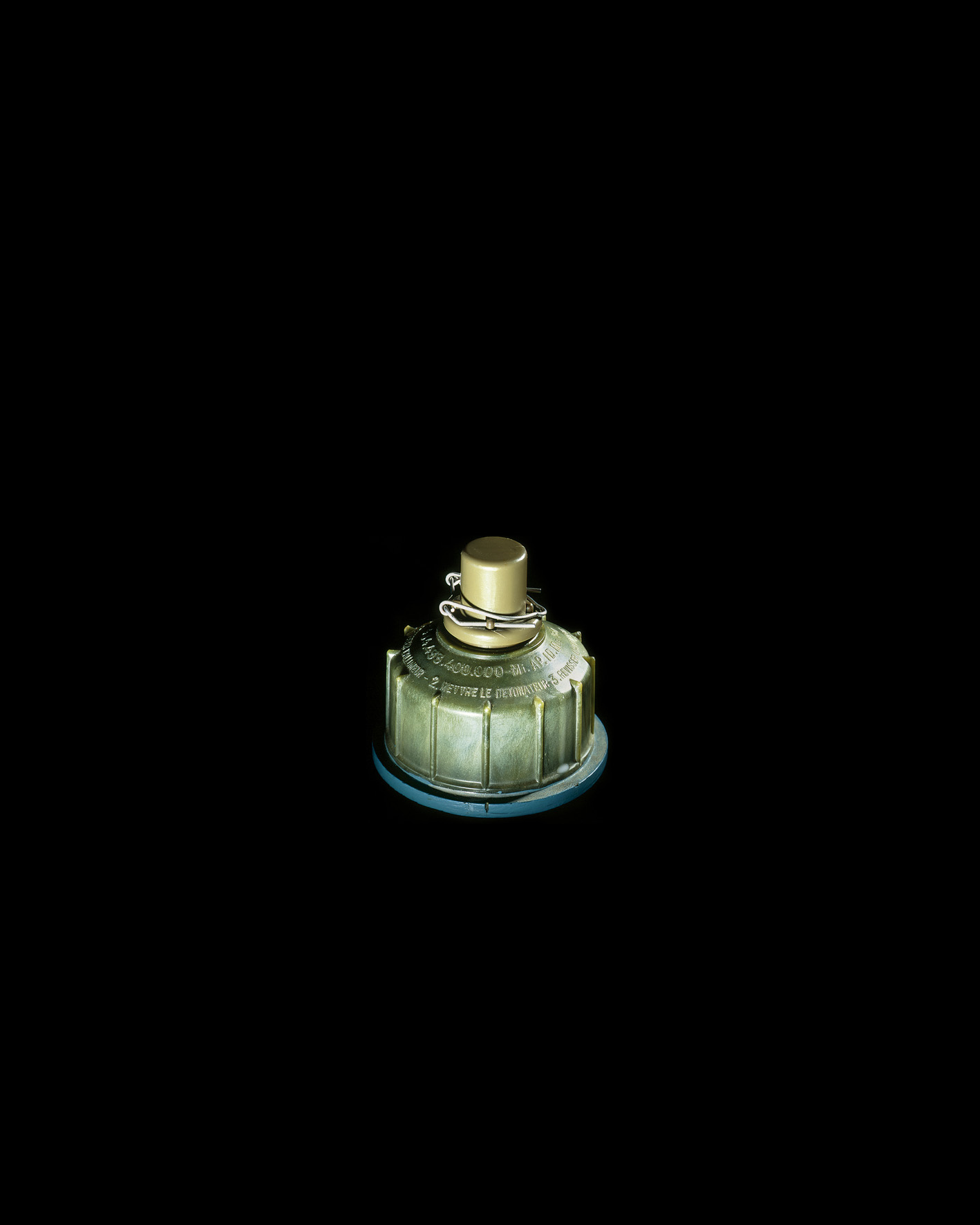 I AP 51, FRANCE
Weight: 85 g, Diameter: 69 mm, Height: 50 mm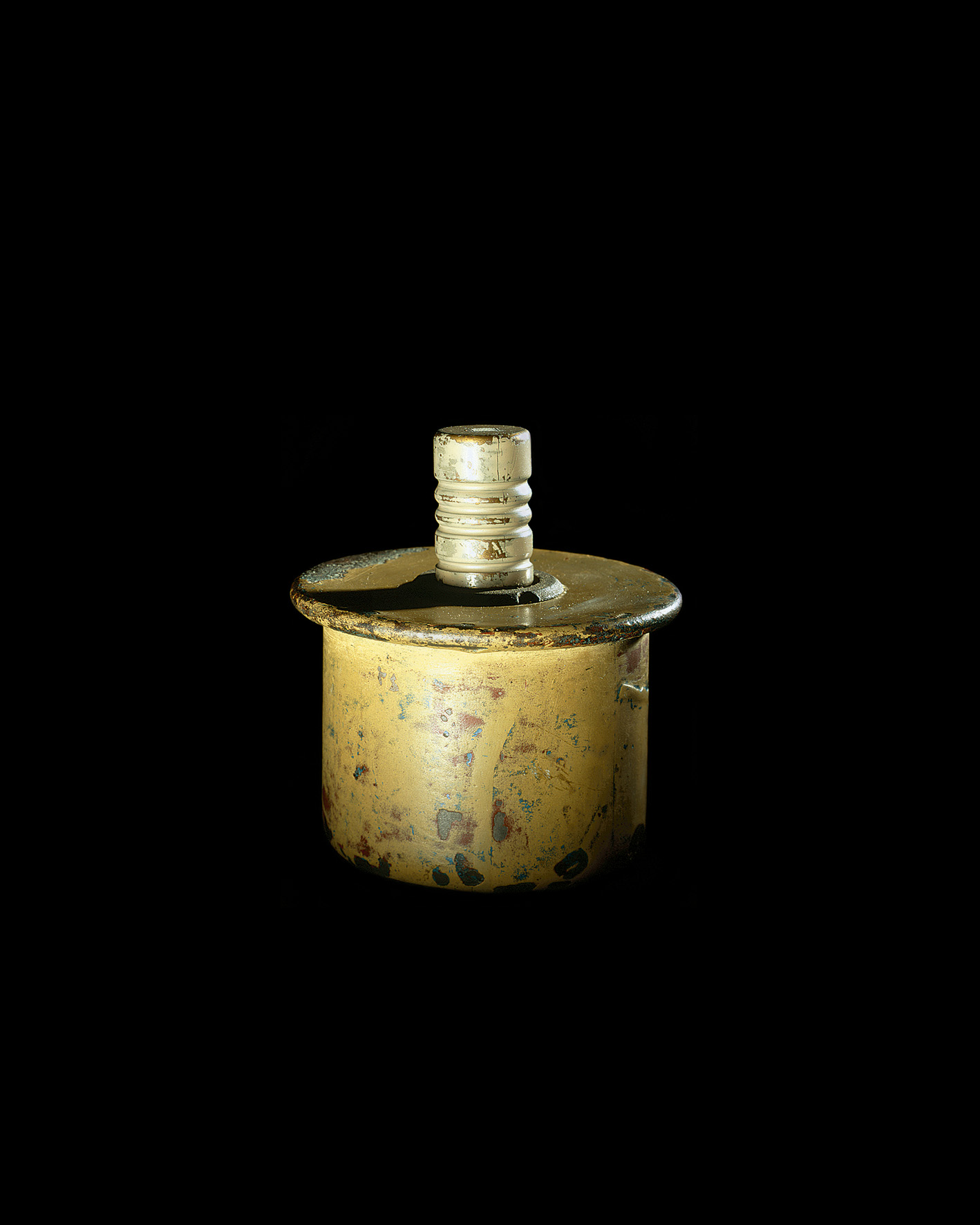 A200, GERMANY
Weight: 550 g, Diameter: 80 mm, Height: 80 mm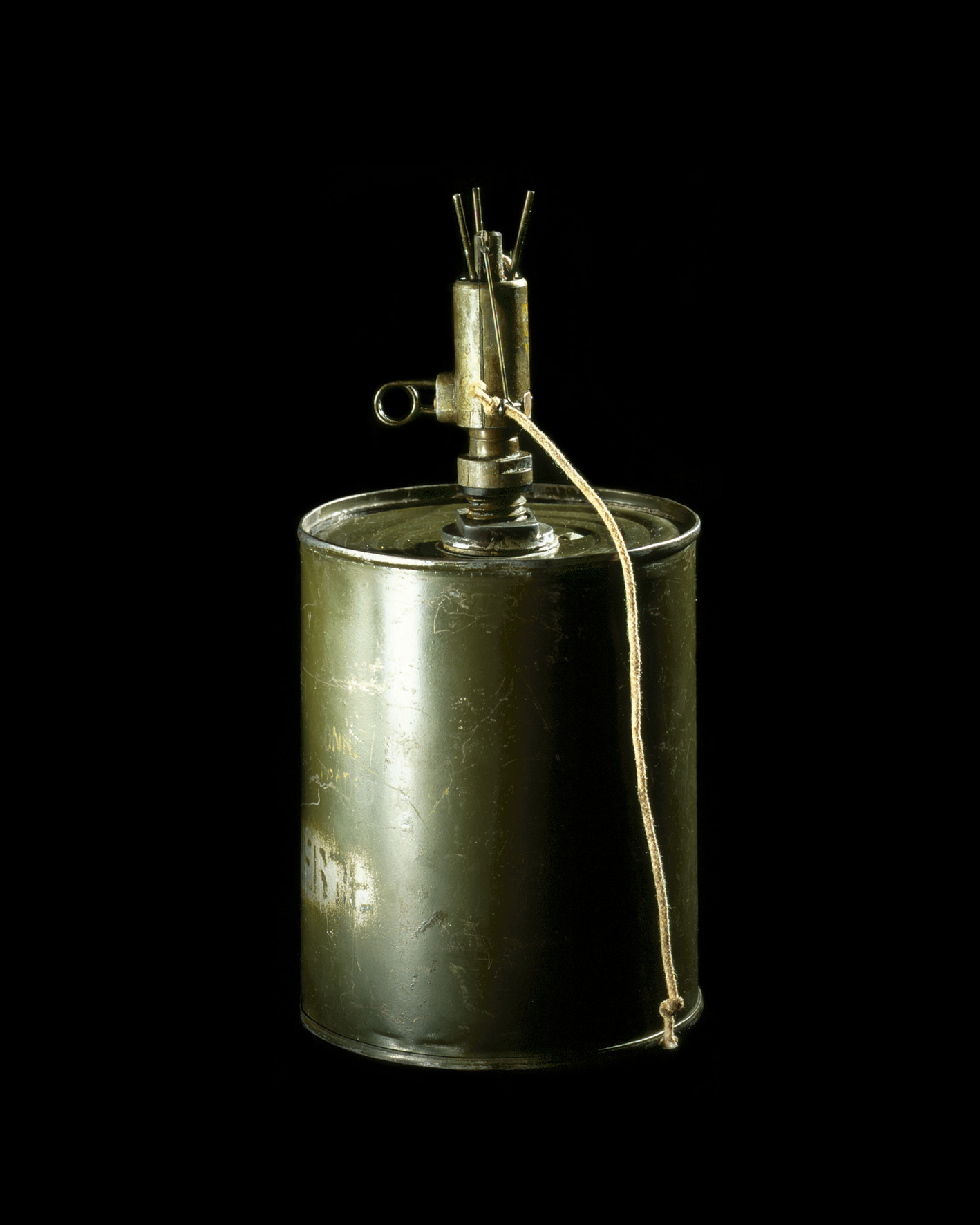 M 16, USA
Weight: 3.75 kg, Diameter: 103 mm, Height: 203 mm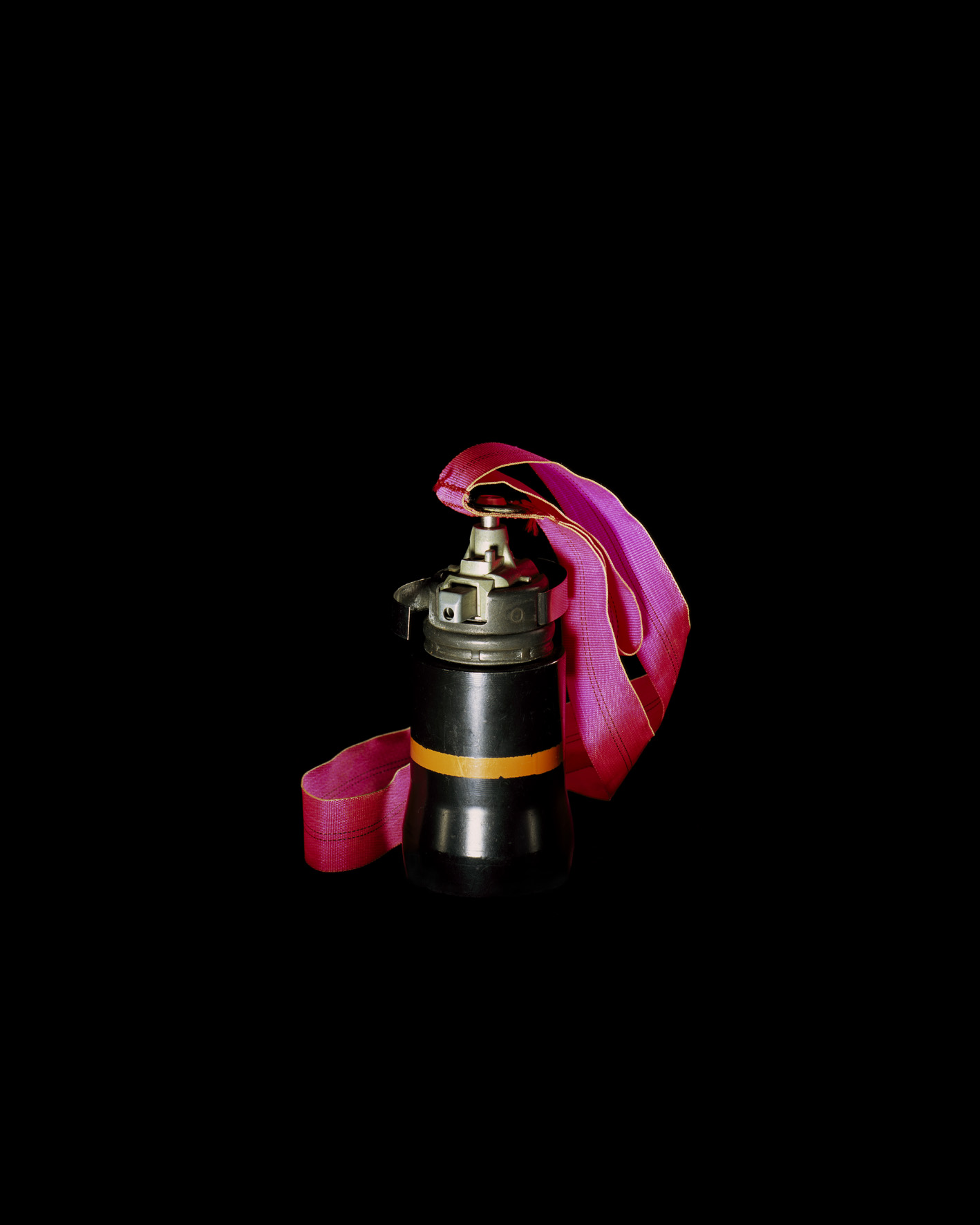 OGRE F1, FRANCE
Weigth: 244 g, Lenght: 45 mm, Heigth: 90 mm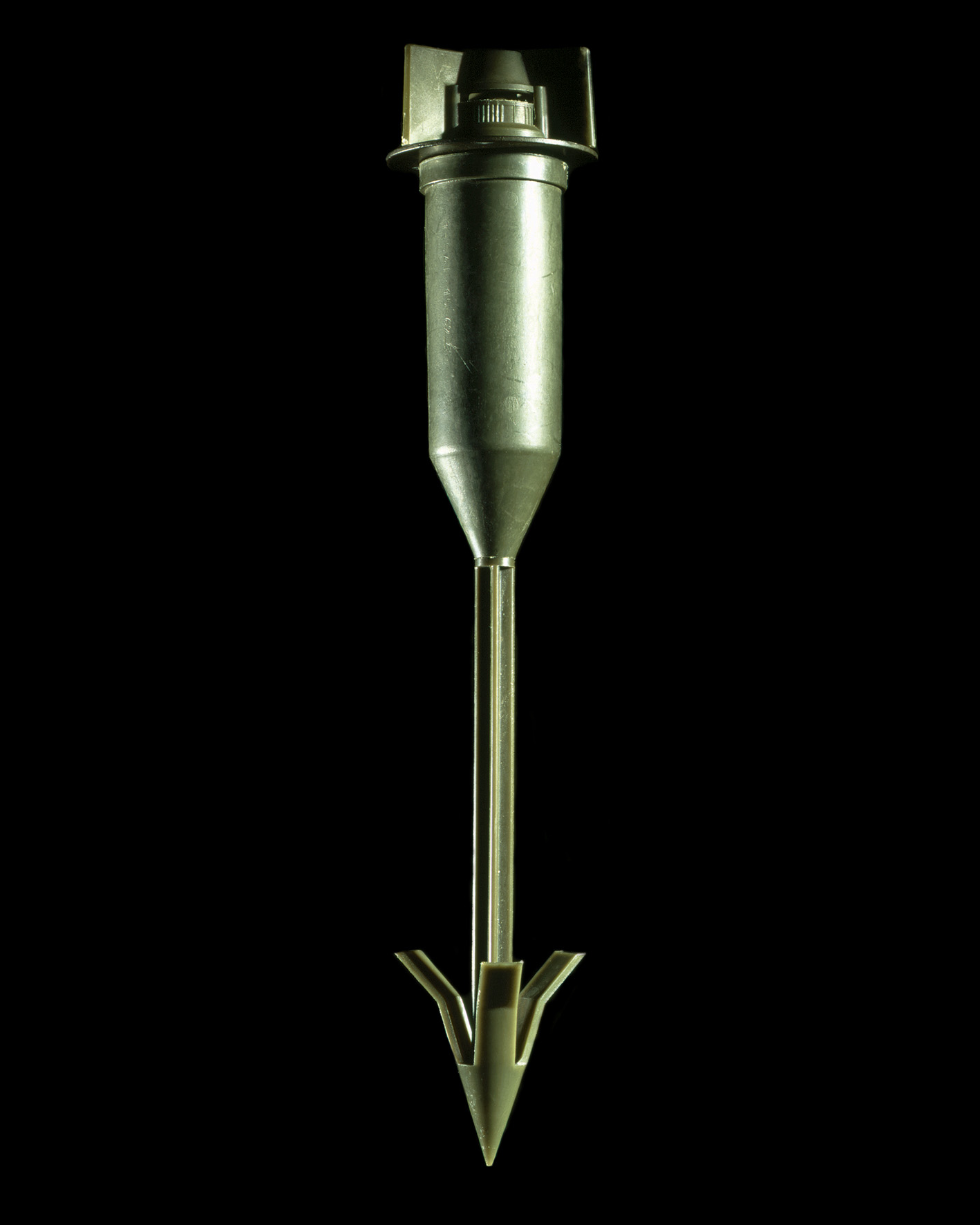 MI AP DV 61, FRANCE
Weight: 125 g, Diameter: 35 mm, Height: 270 mm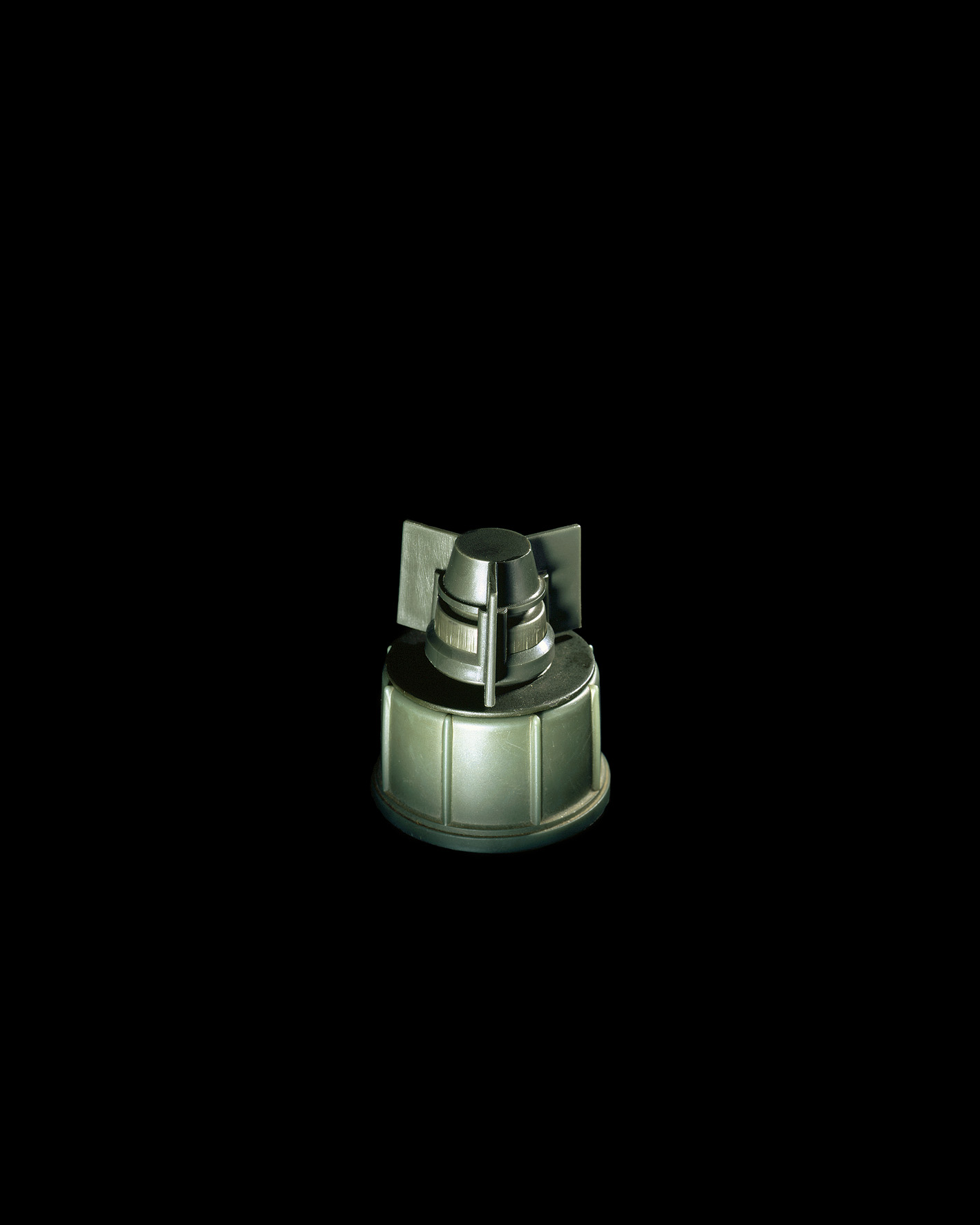 MI AP DV 59, FRANCE
Weight: 130 g, Diameter: 62 mm, Height: 55 mm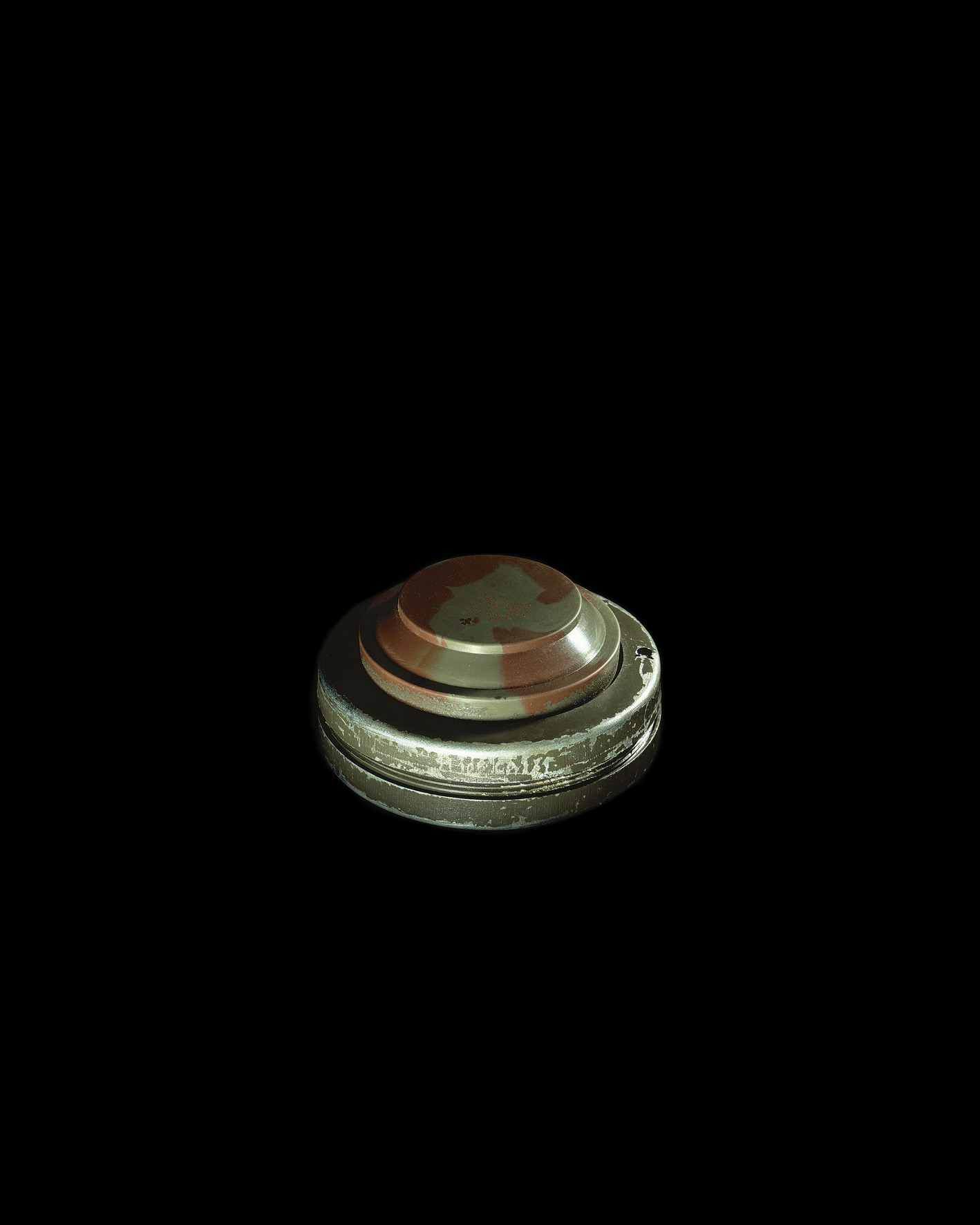 MAUS 1, ITALY
Weight: 267 g, Diameter: 89 mm, Height: 46 mm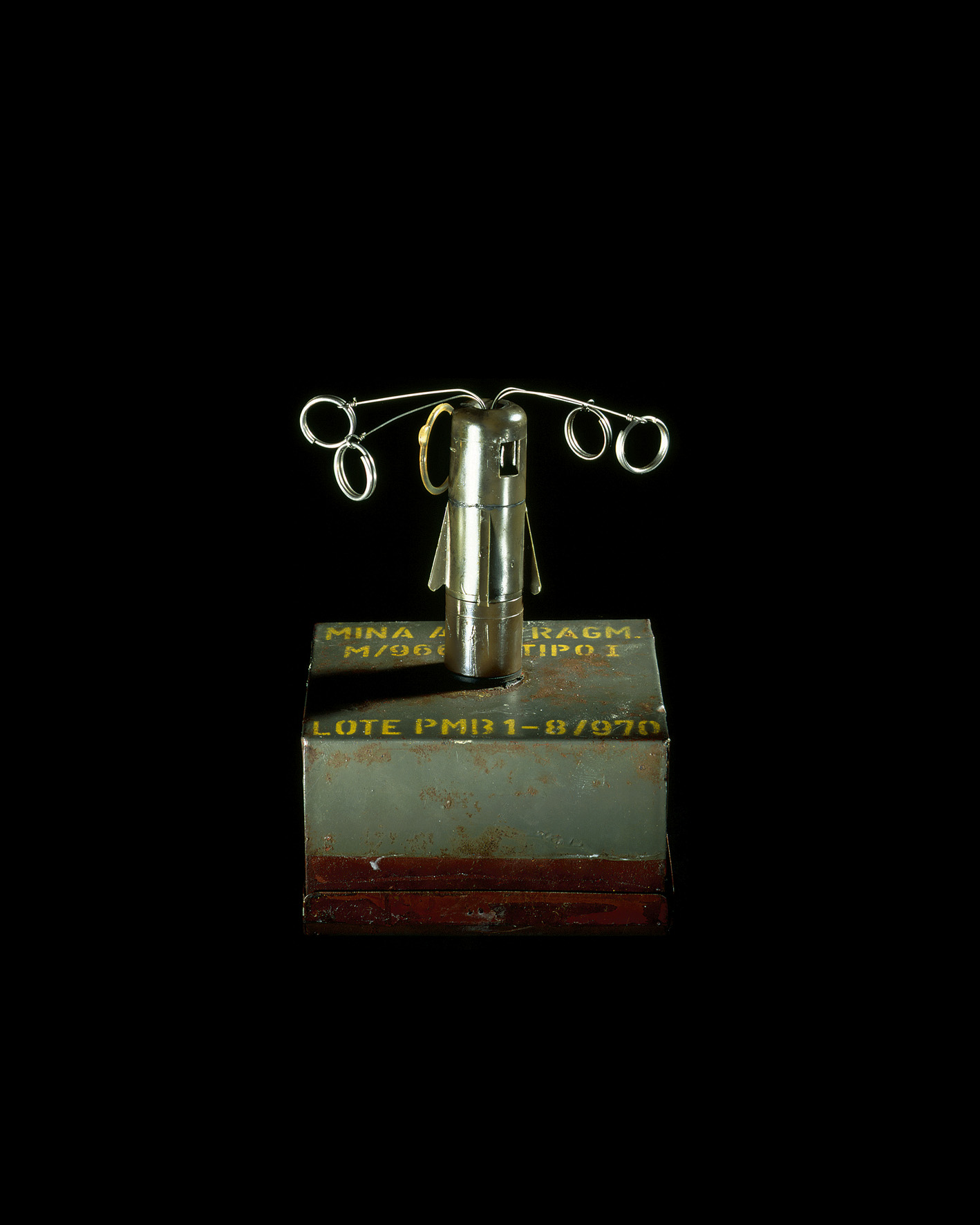 M/966 B, PORTUGAL
Weight: 1.15 kg, Width: 80 mm, Height: 52 mm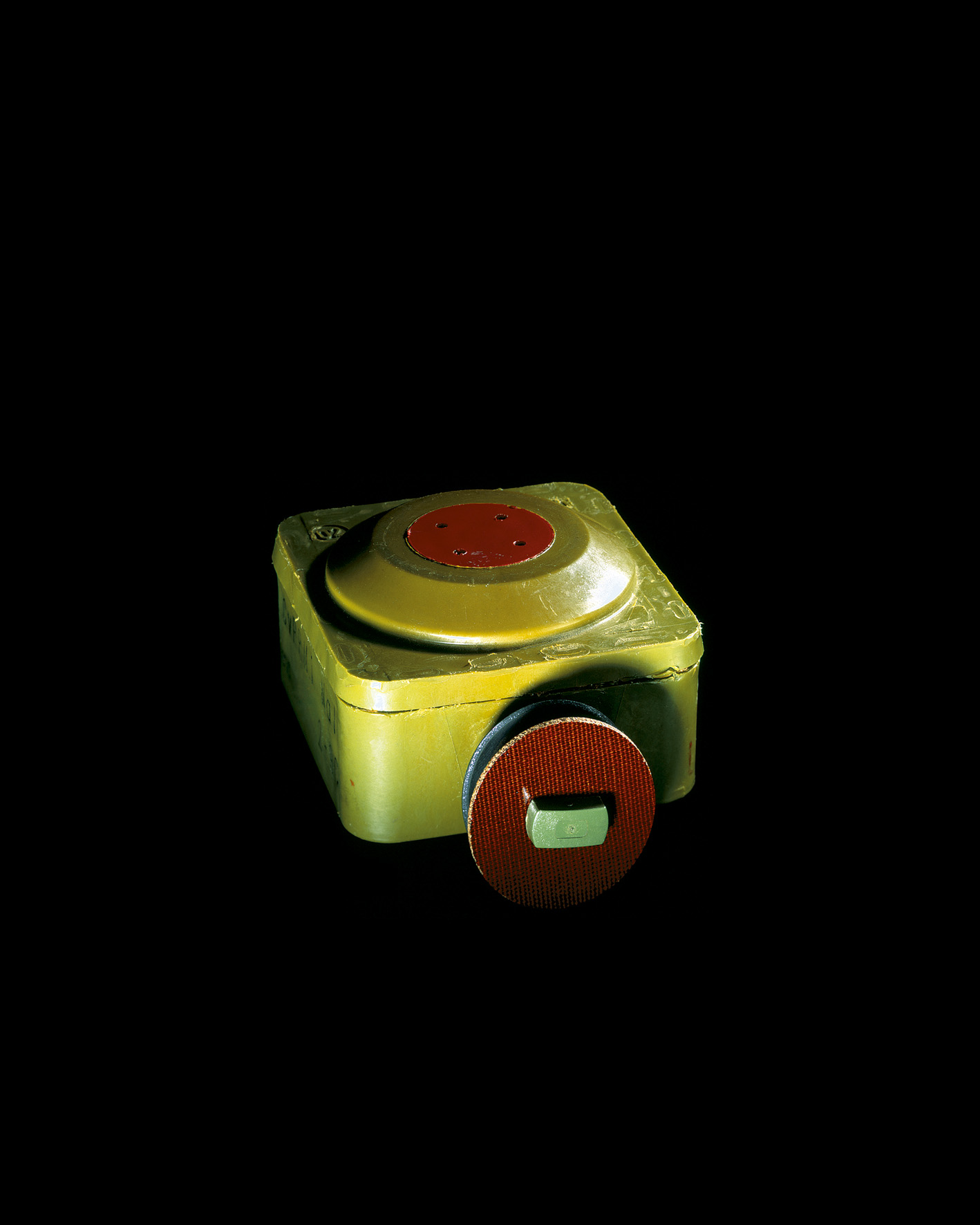 PP MI NA 1, CZECH REPUBLIC
Weight: 175 g, Width: 71.5 mm, Height: 47 mm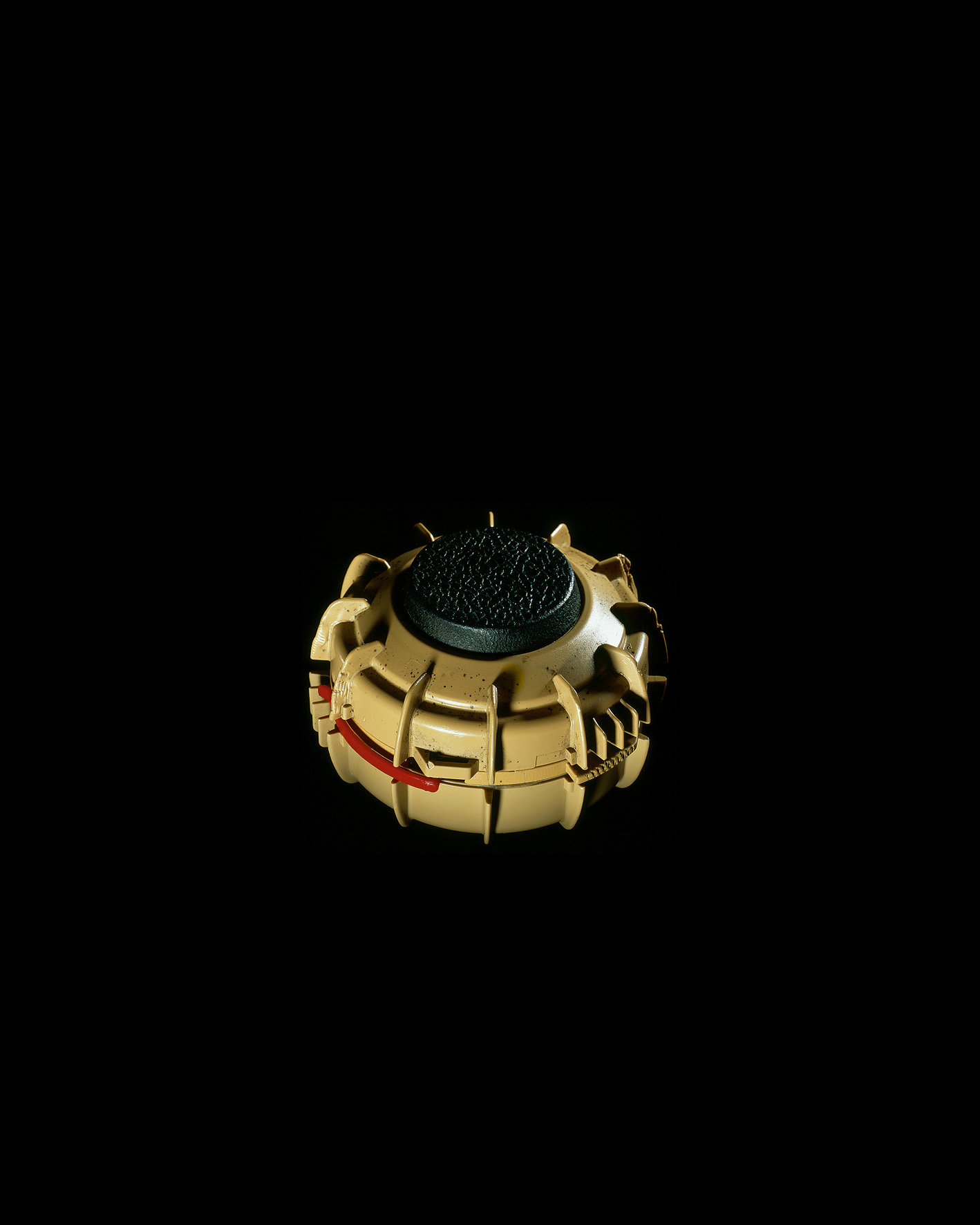 VS 50, ITALY
Weight: 185 g, Diameter: 90 mm, Height: 45 mm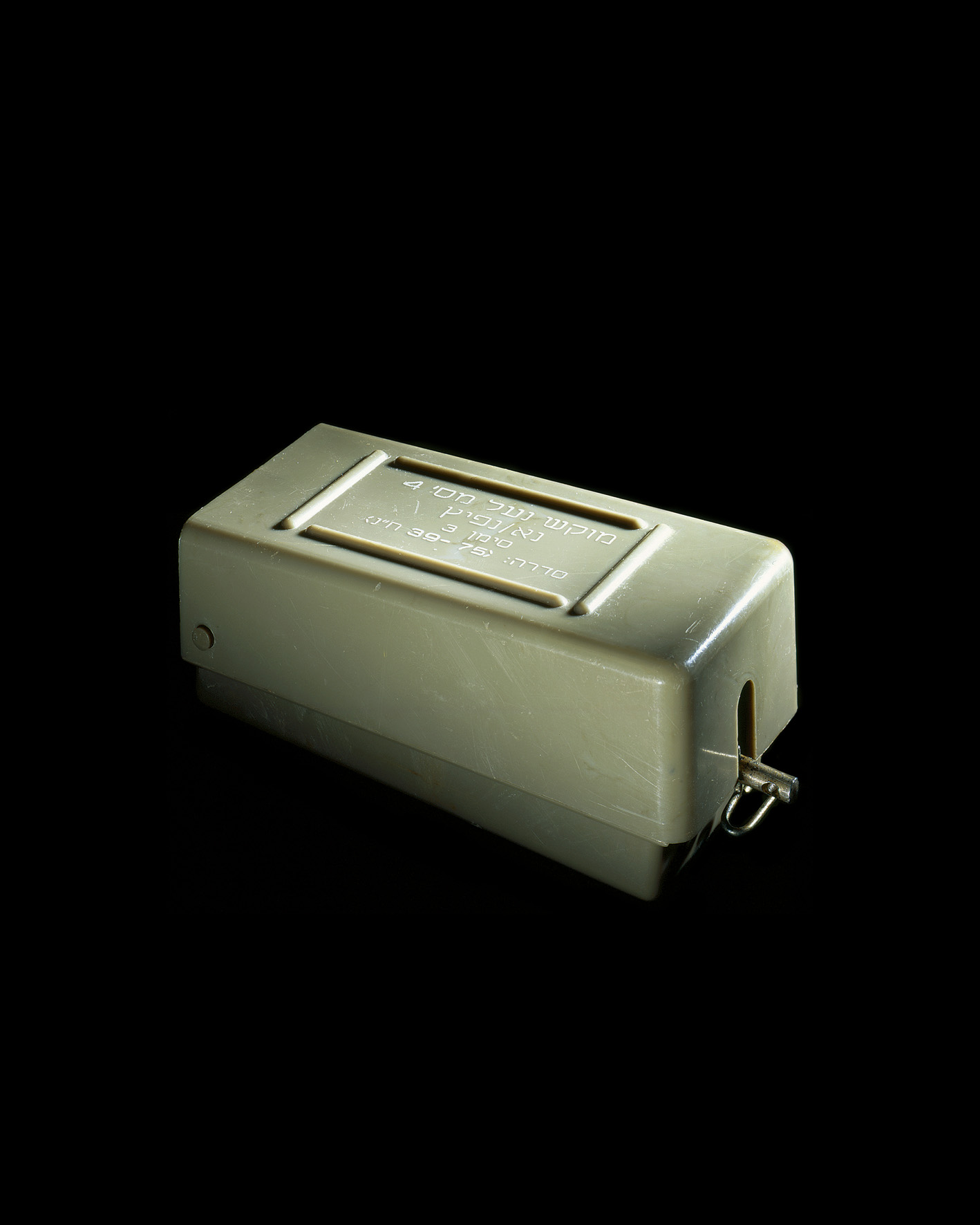 No. 4, ISRAEL
Weight: 348 g, Width: 65 mm, Length: 135 mm, Height: 50 mm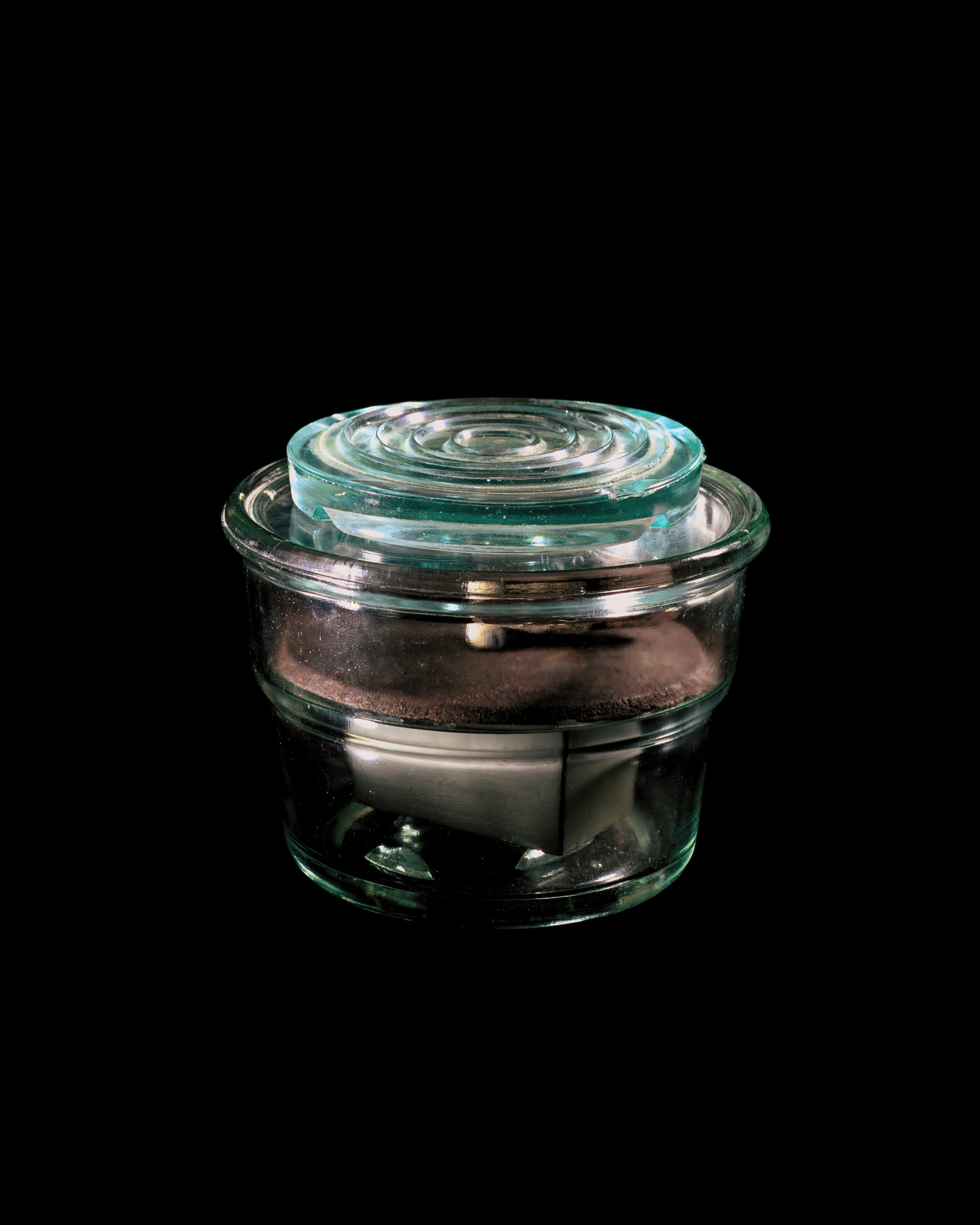 GMMI 43, GERMANY
Weight: 1.2 kg, Diameter: 85 mm, Height: 30 mm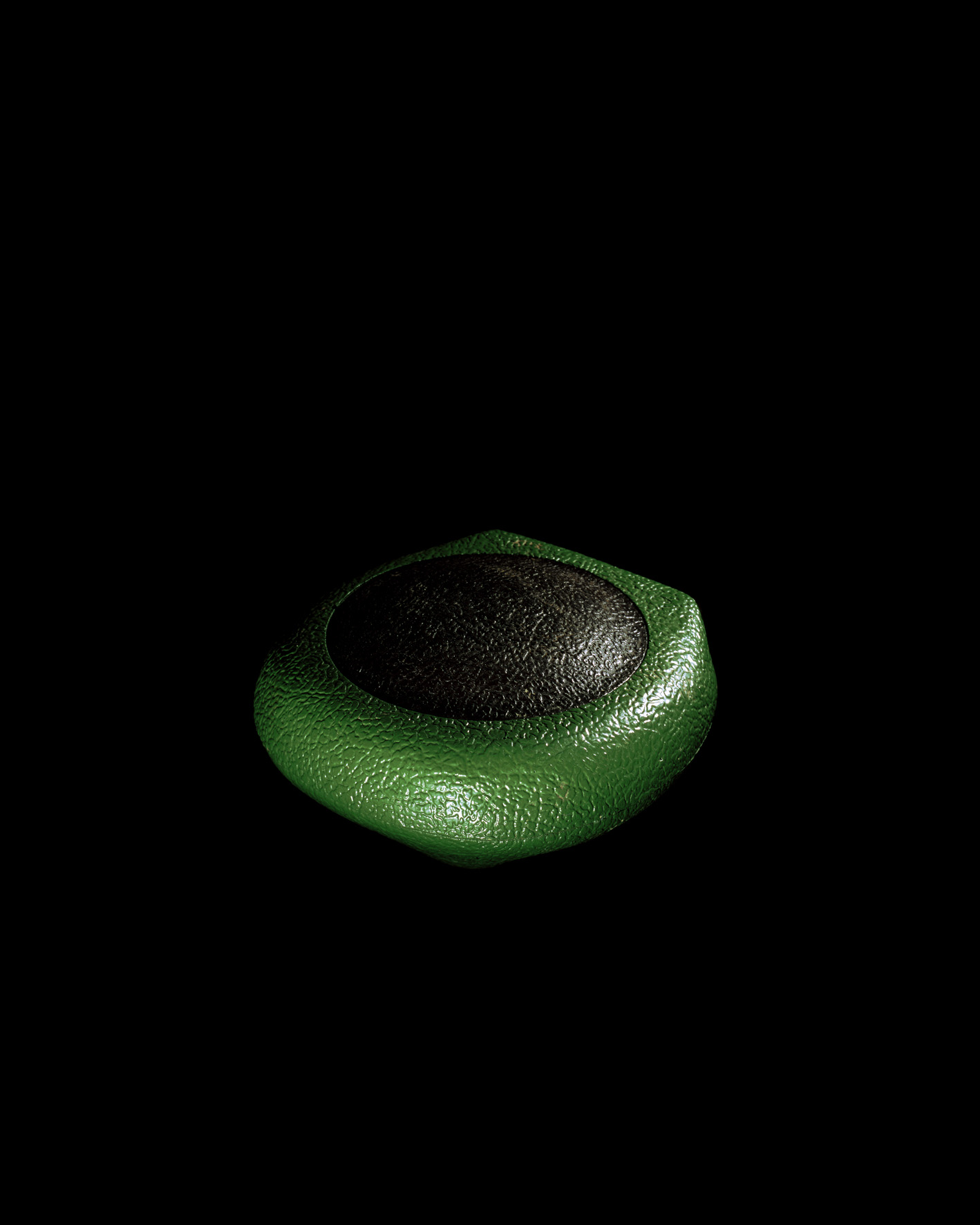 SB 33, ITALY
Weight: 140 g, Width: 85 mm, Height: 30 mm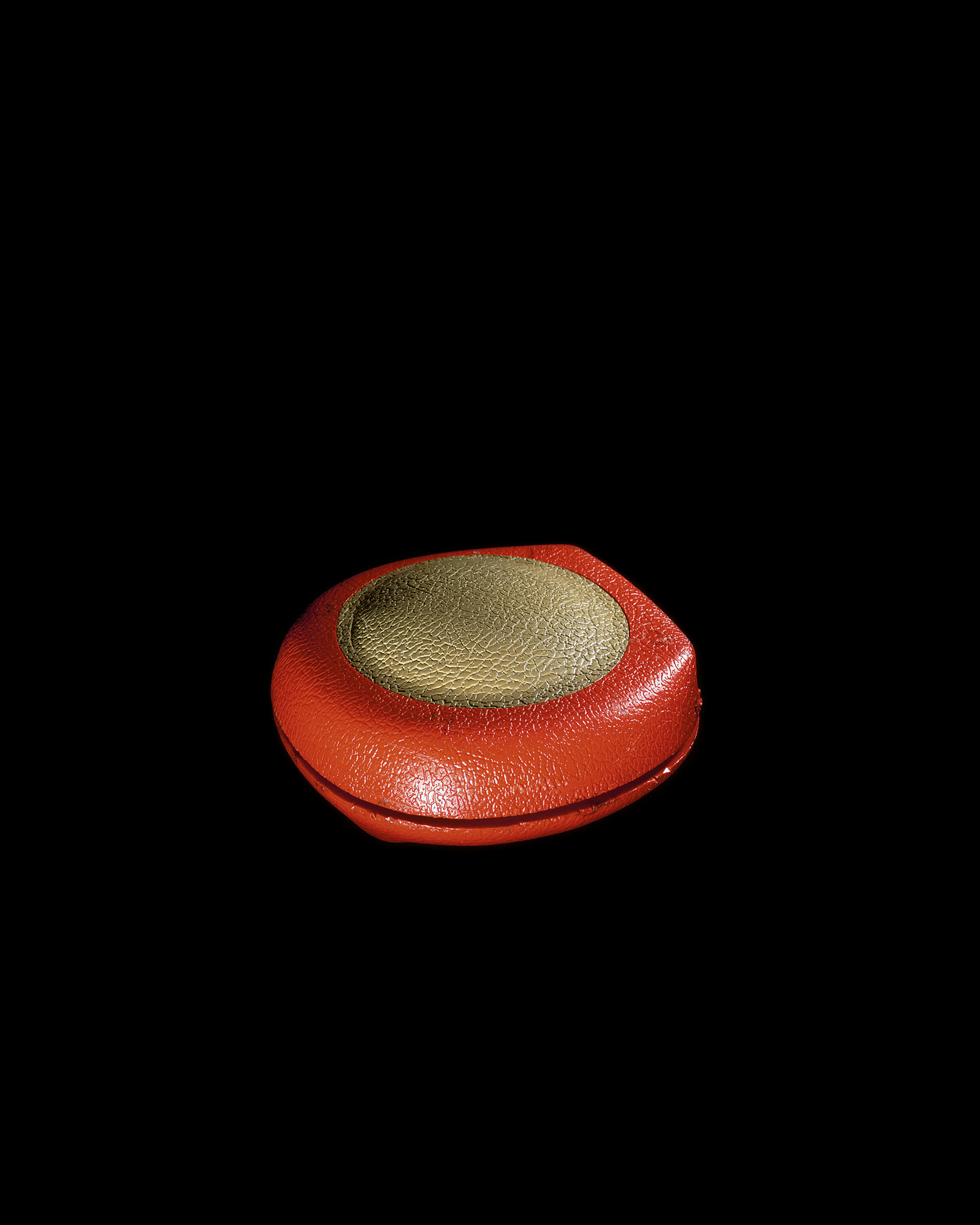 P 5, SPAIN
Weight: 140 g, Width: 88 mm, Height: 32 mm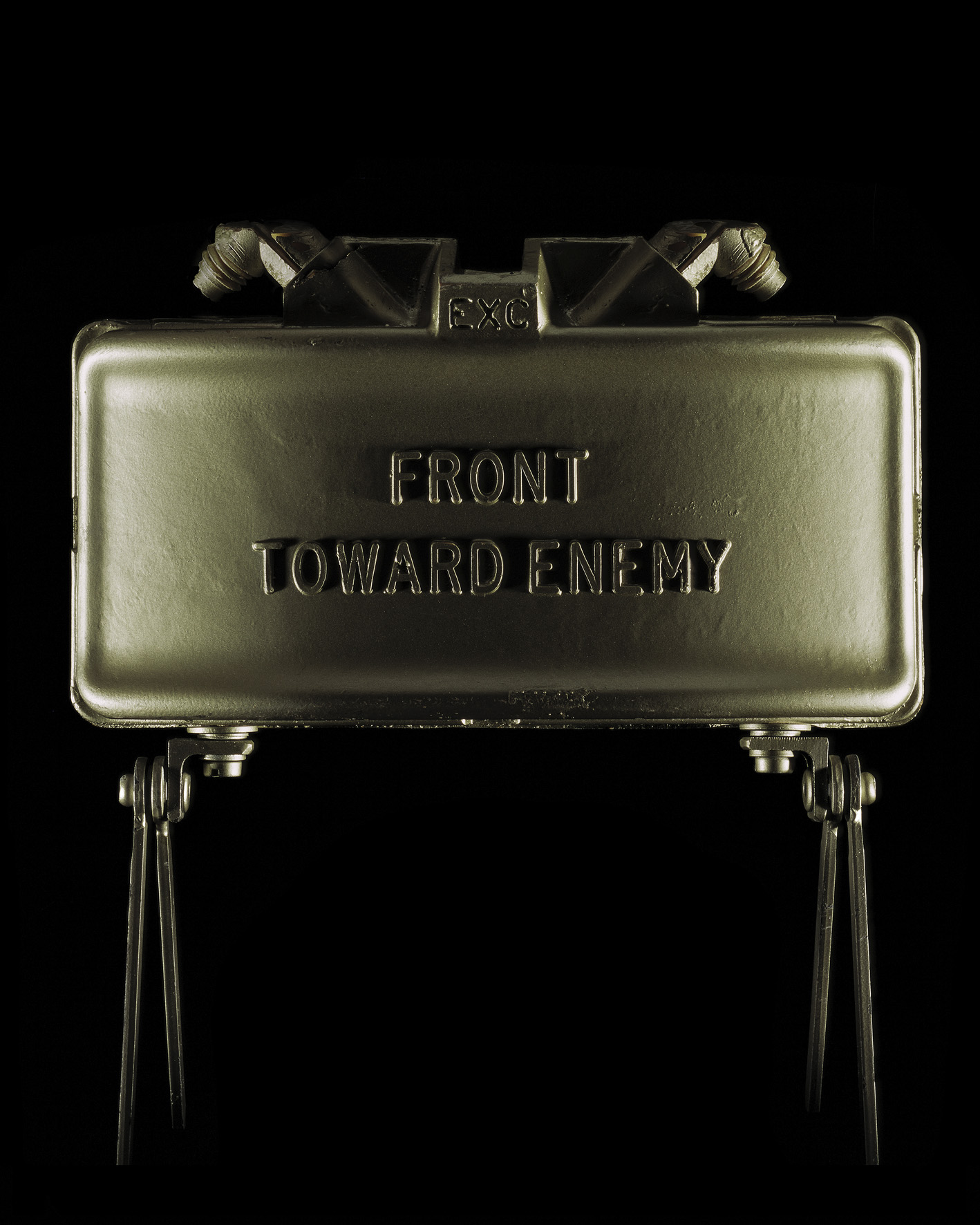 M18A1, USA
Weight: 1,58 kg, Width: 35 mm, Lenght: 216 mm, Height: 82,5 mm
✕