…from a colour suffered: relief from mourning/Noé Bermejo/From April 30 to June 10, 2015
10 Apr 2015 > 30 Jun 2015
Tasneem Gallery and El Palomar present … a suffered color: relief of mourning, the second solo exhibition of Noé Bermejo in Barcelona. Born in León, Noé Bermejo is now based in Valencia.
…a suffered color: relief of mourning is the second phase of Noé Bermejo´s show at El Palomar in October 2014 entitled … a suffered color. Following the interest of Tasneem Salam in the artist and his work, it was decided to further develop this work in collaboration. The resulting metamorphosis of this generative project, with additional pieces and further discourse is now presented in Tasneem Gallery.
…a suffered color: relief of mourning was composed by parts that re-read and contextualized the same attic in which El Palomar is located: the top floor of an early-20th-century building in Barcelona; home of the concierge. A fiction, an illusion constructed through iconic scraps of images which feed the omnivorous imaginary system of the average Spaniard. Defining all through tremendously commonplace images, in which it is very easy to be reflected. Seeking clichés full of common denominators of our imagination- which belong to our history and our culture-filled with space for the banal and the accepted where we can all find and recognise ourselves. It intends to verify, confirm and prove the life history and the existence of this woman, the concierge: a woman born to suffer.
Using the method of self-representation, Bermejo orders a fiction in which the artist portrays each of the characters that inhabit this narrative. Introducing the concept of identity as something always false, partial, banal and stereotyped, capable of sinking or even completely falling apart. Insisting on the absurdity of this term that finally is always a game of role-play. Parasitizing his own biography and becoming both subject and object to propose that identity is not something unique and uniform, but in continuous construction, imaginary and ambiguous.
We are already familiar with these photos, full of everyday places that belong to a collective memory. But they lead us on to think about the nature of photography as something that goes far beyond a message without any denotation, where the presence demanded by a photographic act isn't any more or any less valuable for being real or not-an issue that constantly arises in family albums and this project. Here the subject is deconstructed and the particular is lost. Photographs that are the primal element of all the work of the author and that lead to other elements that are shaped by time and action in fabrics, objects and collections.
…a suffered color: relief of mourning continues to review domestic photography as another attribute of the memory, an element capable of generating memories and becoming a suitable index to transform and reinvent personal history. Affecting, through disguise, the gaps left the family album: pain and illness, death and circumstances, loneliness and its context, sex, sexuality, desire and resignation. The portrait, the portrayed and in this case also the artist, along with the elements involved in the narrative to establish a game between reality and fiction. The simulation generated around the photographic act; raises the question of the limits of the image and photography as a narrative device for memory, as well as being part of it, in a use of photography that transcends the document.
In a re-collection of images that want to be relics, that yearn to be fetishes. From images to imagery, where the fabrics and the quiet and patient work of dressmaking goes on sewing, darning, basting… a discourse in which "the feminine" is posed as something far from soft, submissive, fragile or passive. Not in vain the needle stitches but also hurts.
About the artist
Noé Bermejo (1982, León)
Graduated in Fine Arts with an MA in Art Production from the Polytechnic University of Valencia, where he now makes his doctoral thesis; training complete with visual arts studios at the University of Vigo and the National Autonomous University of Mexico. He has participated in exhibitions and projects throughout the Spanish geography as well as in museums and art centers in Cuba, Italy, Germany, Portugal, Czech Republic and China.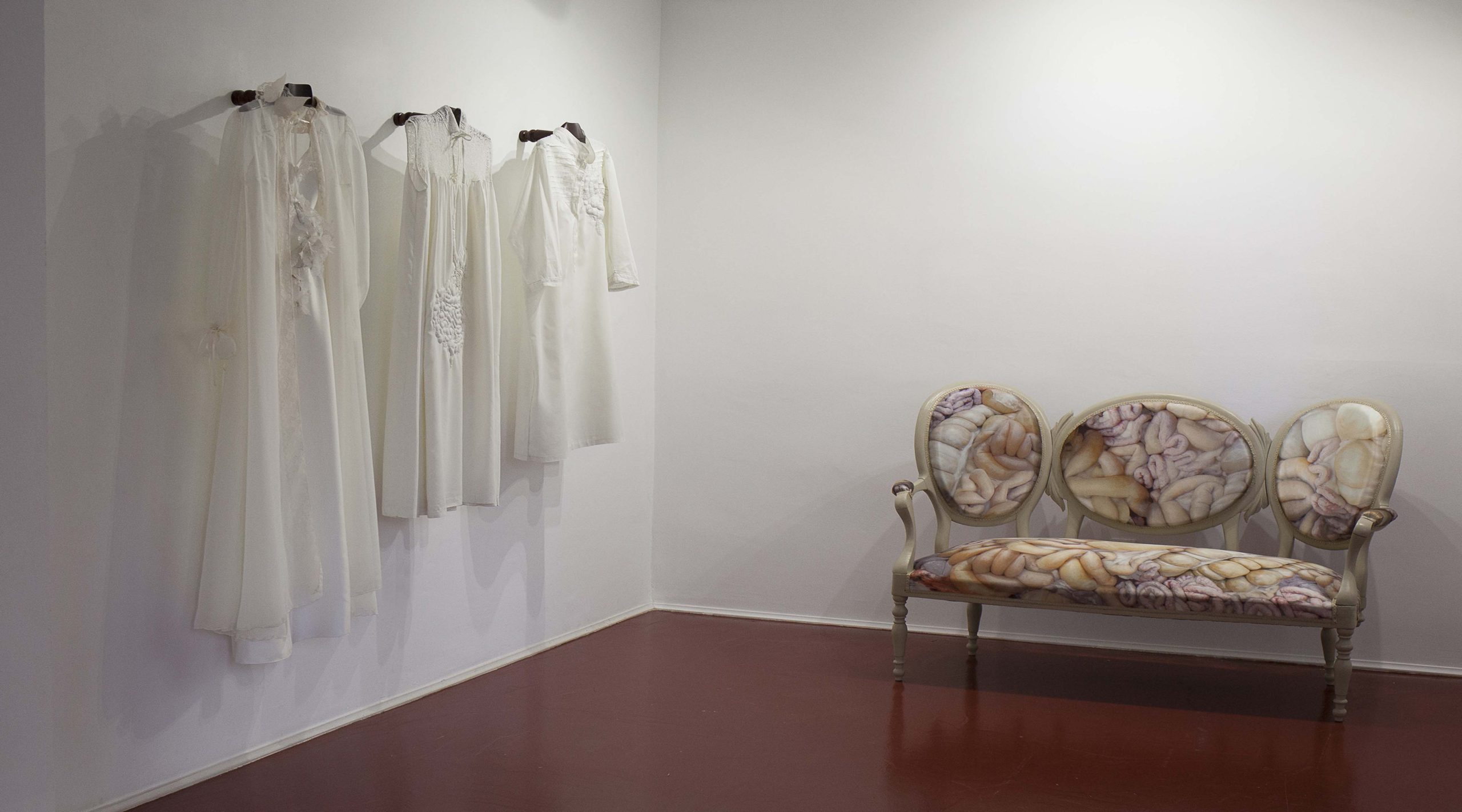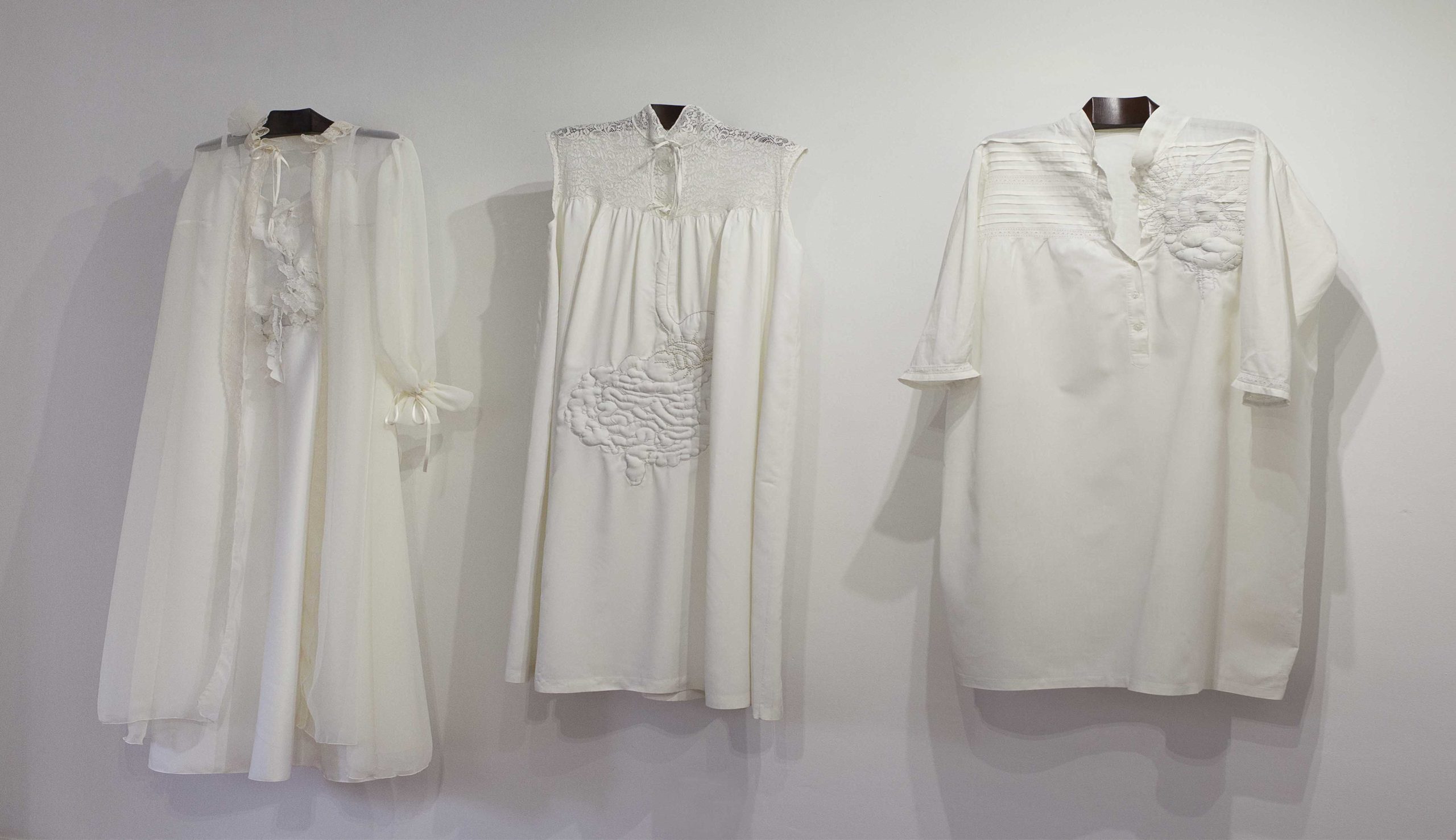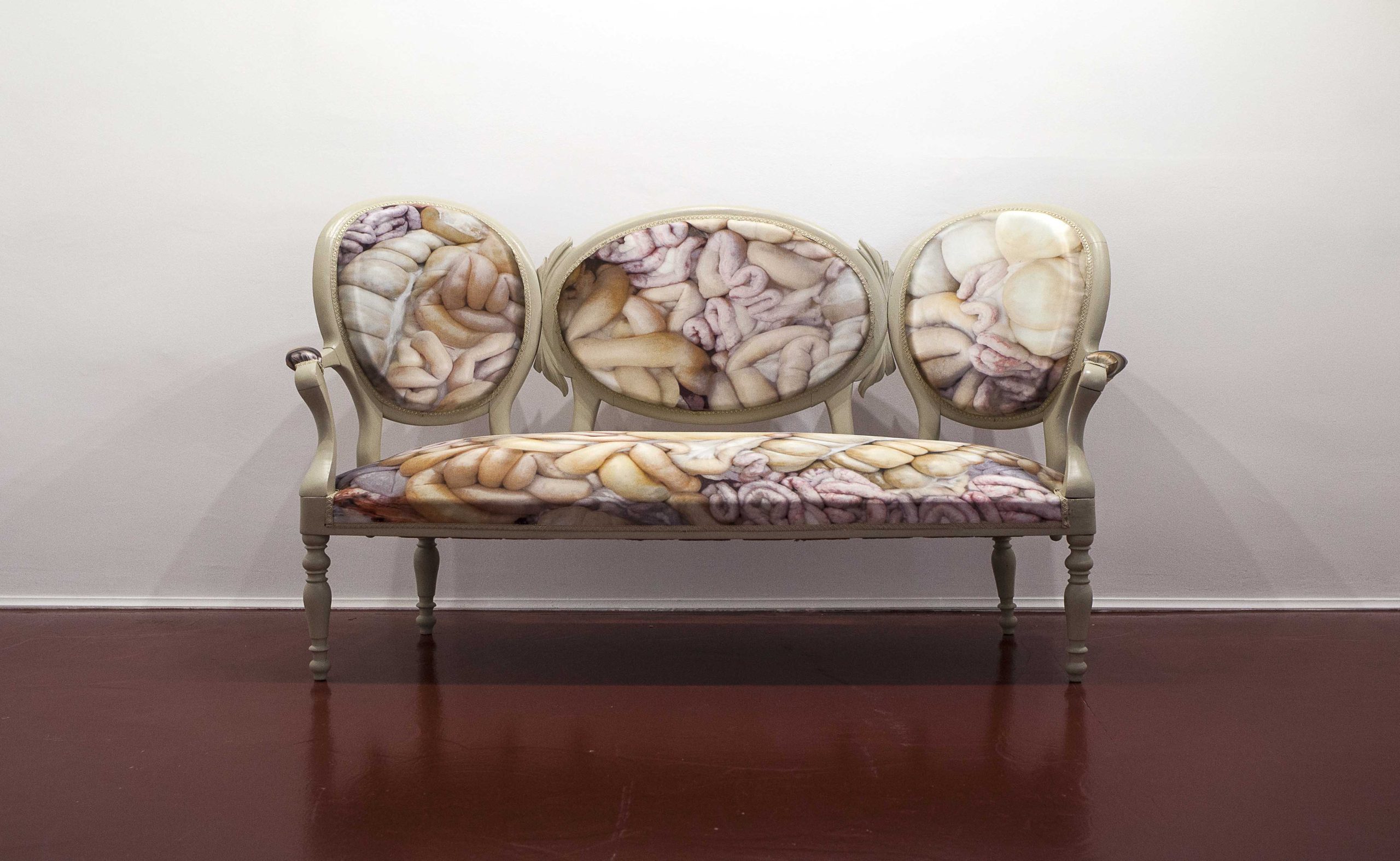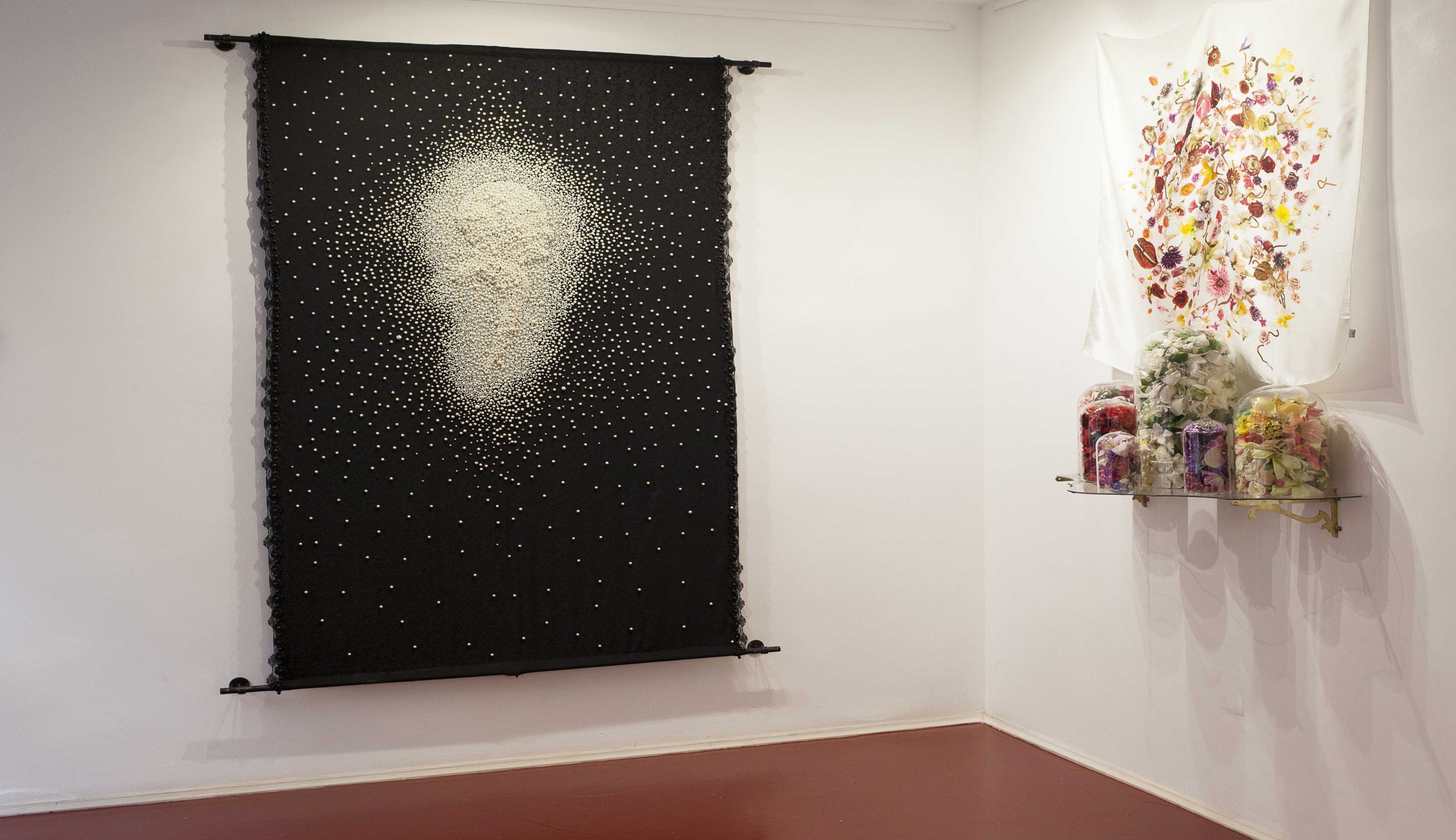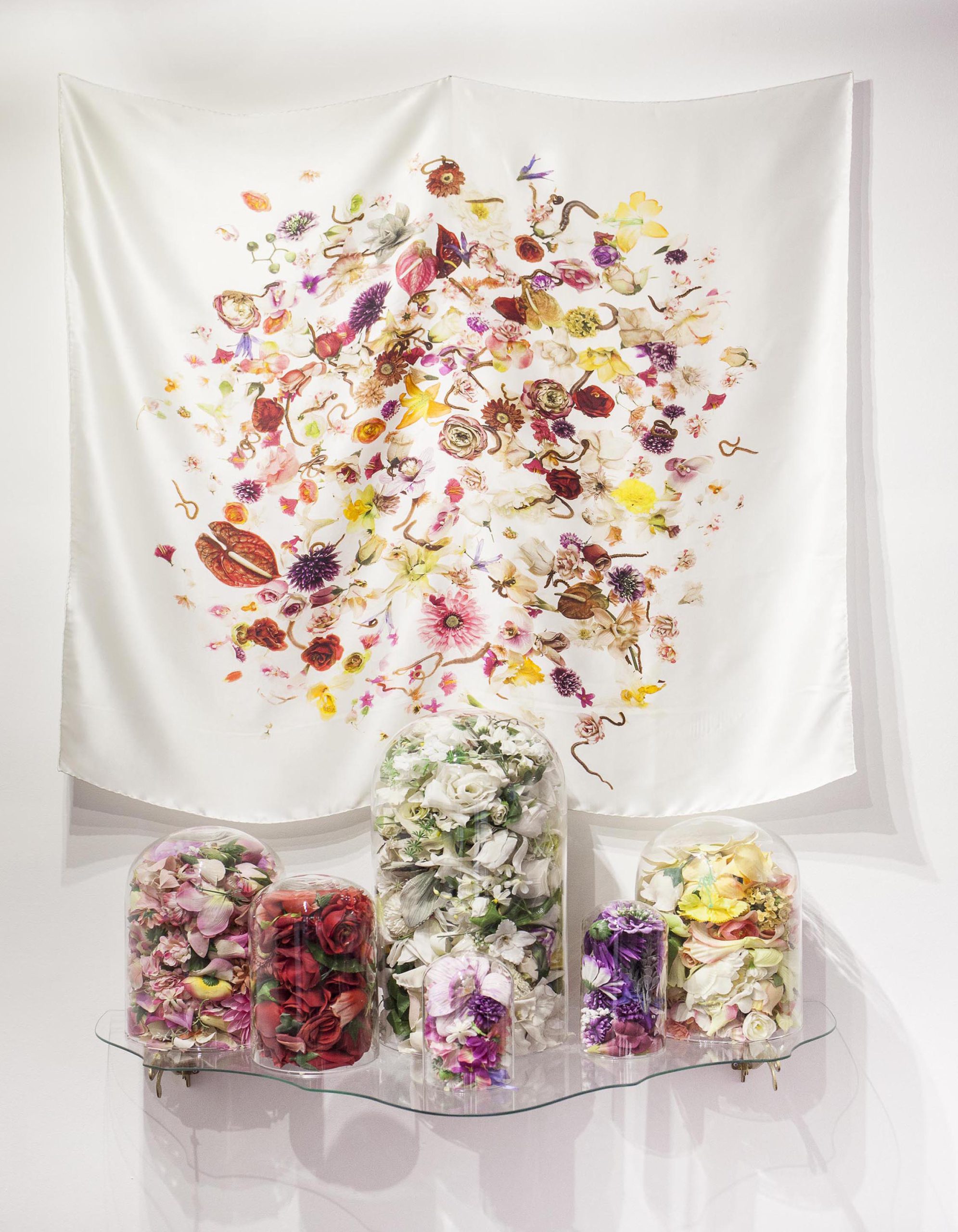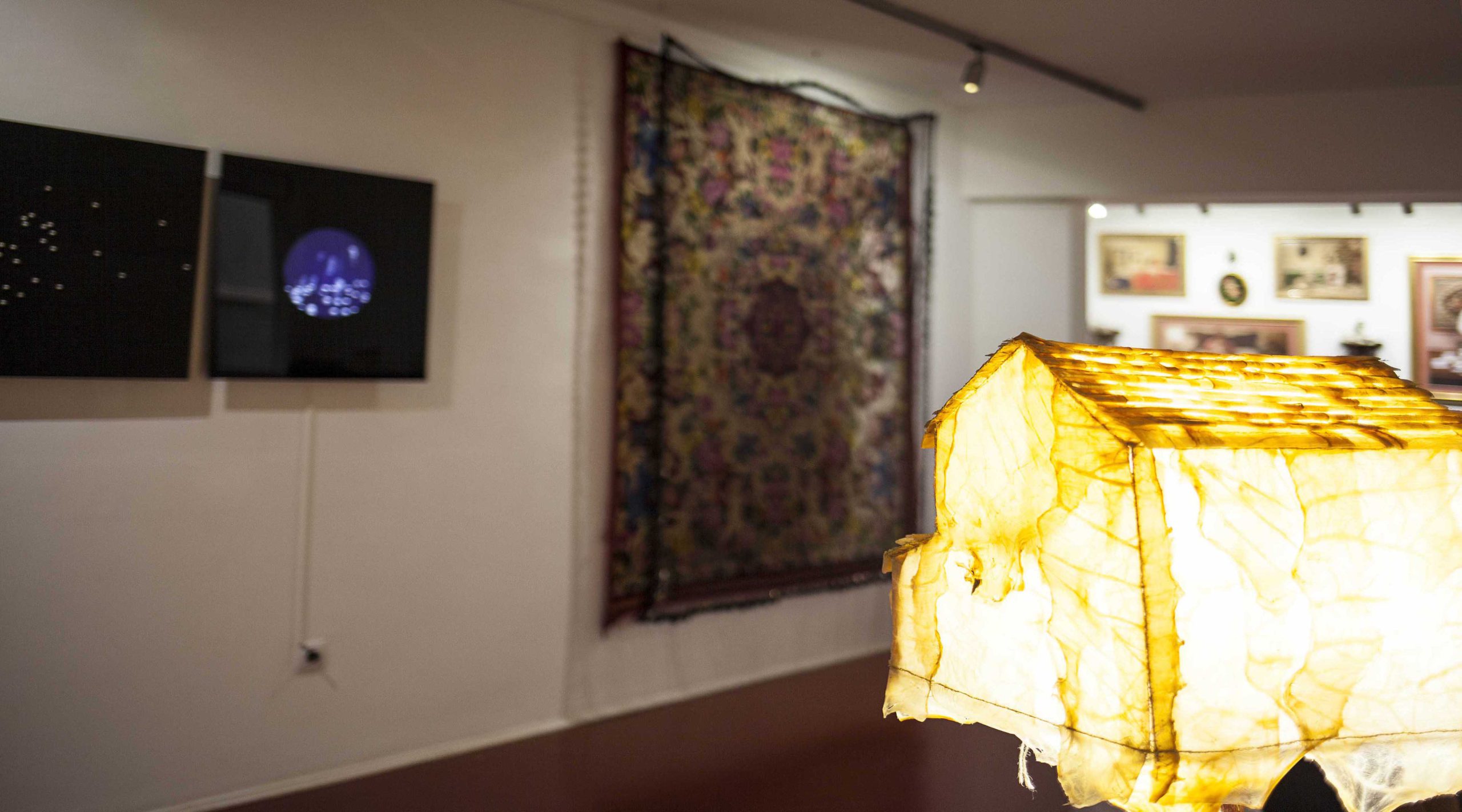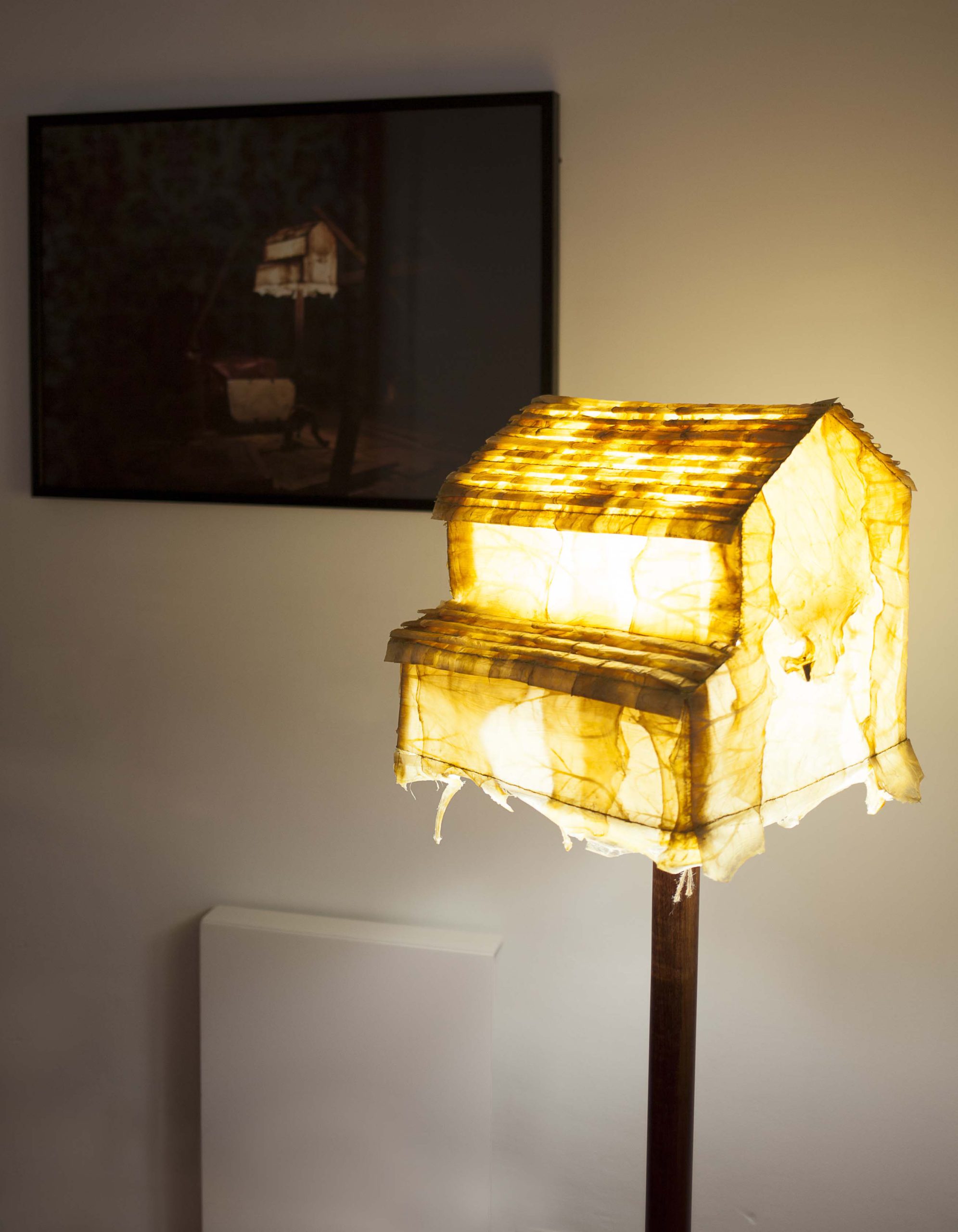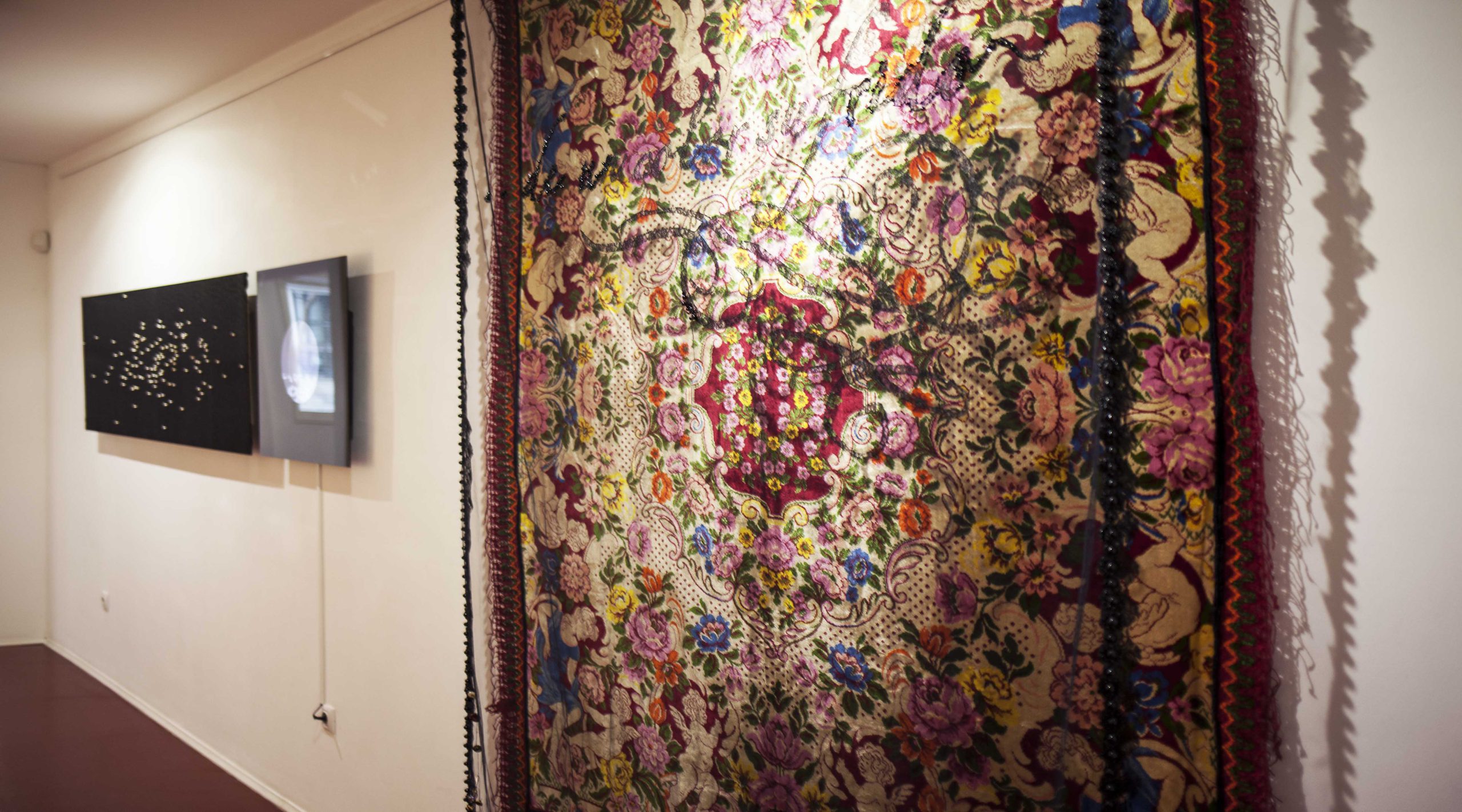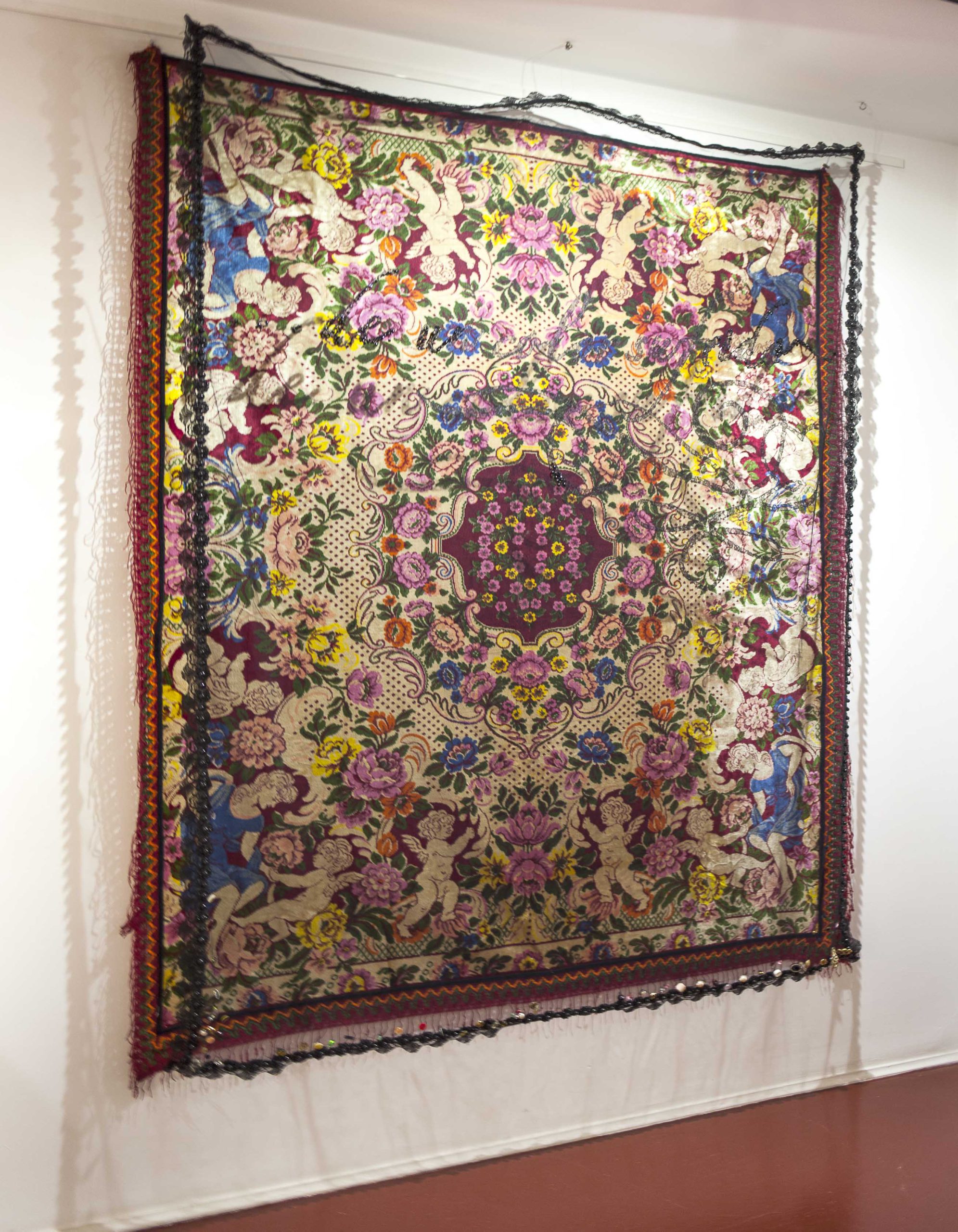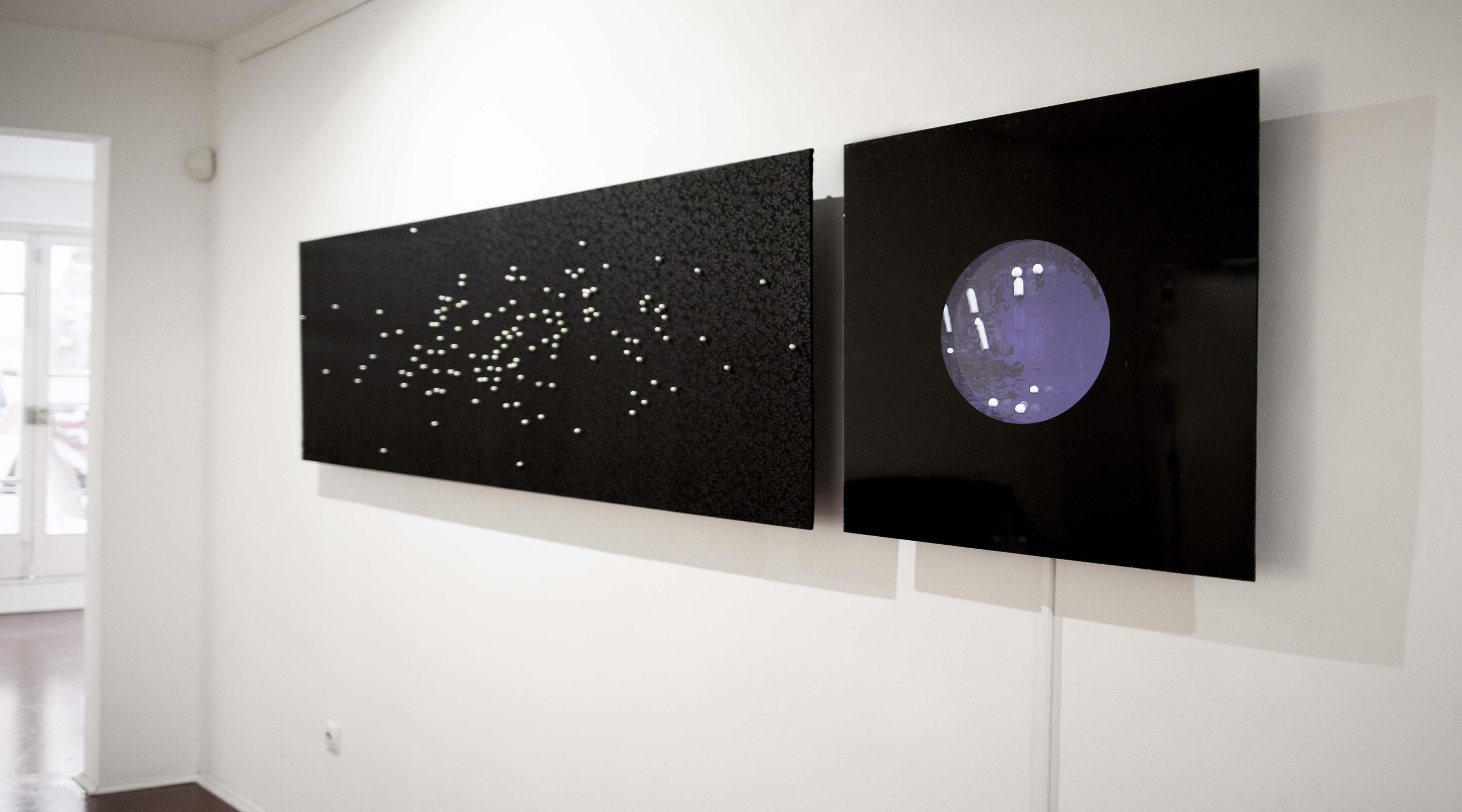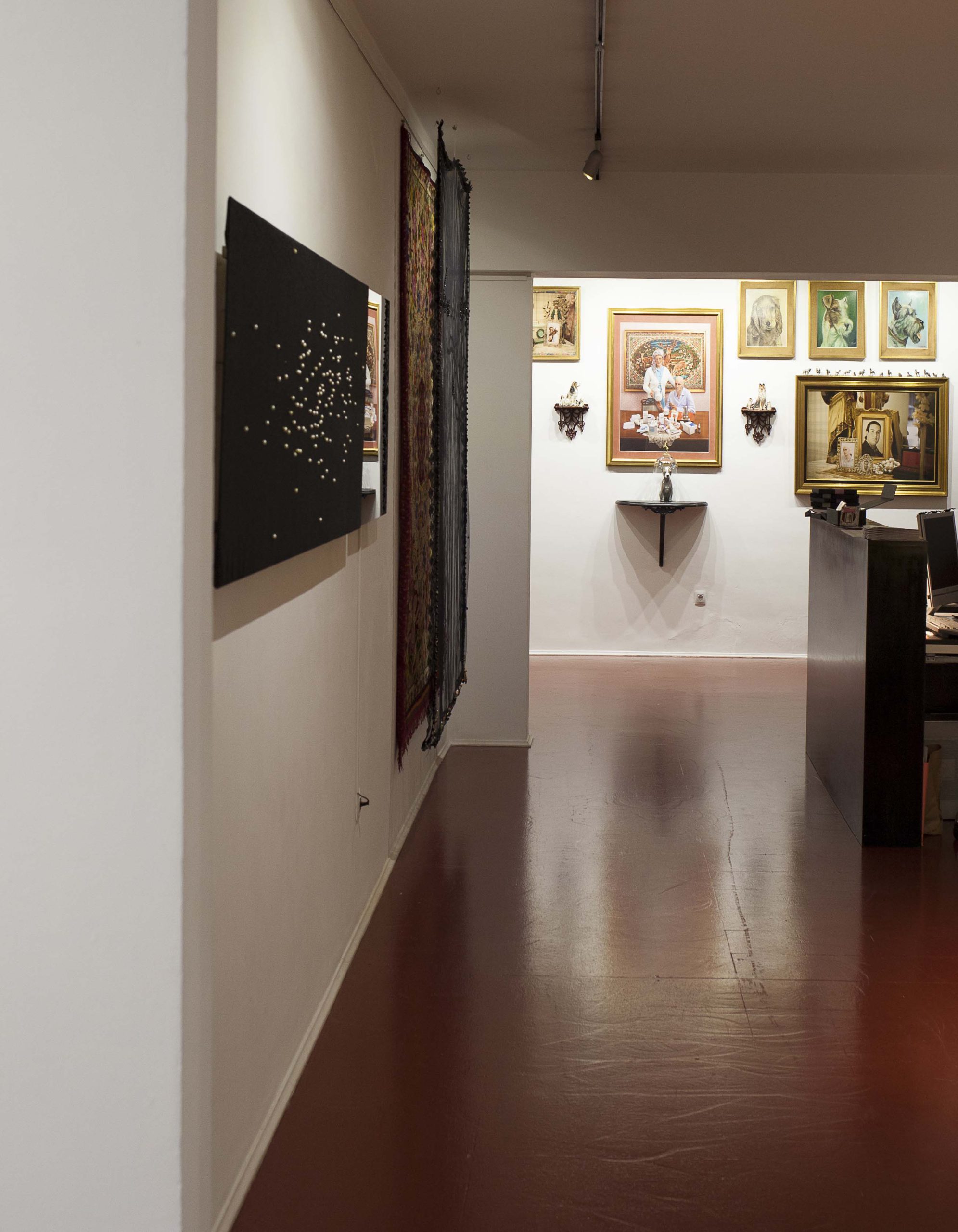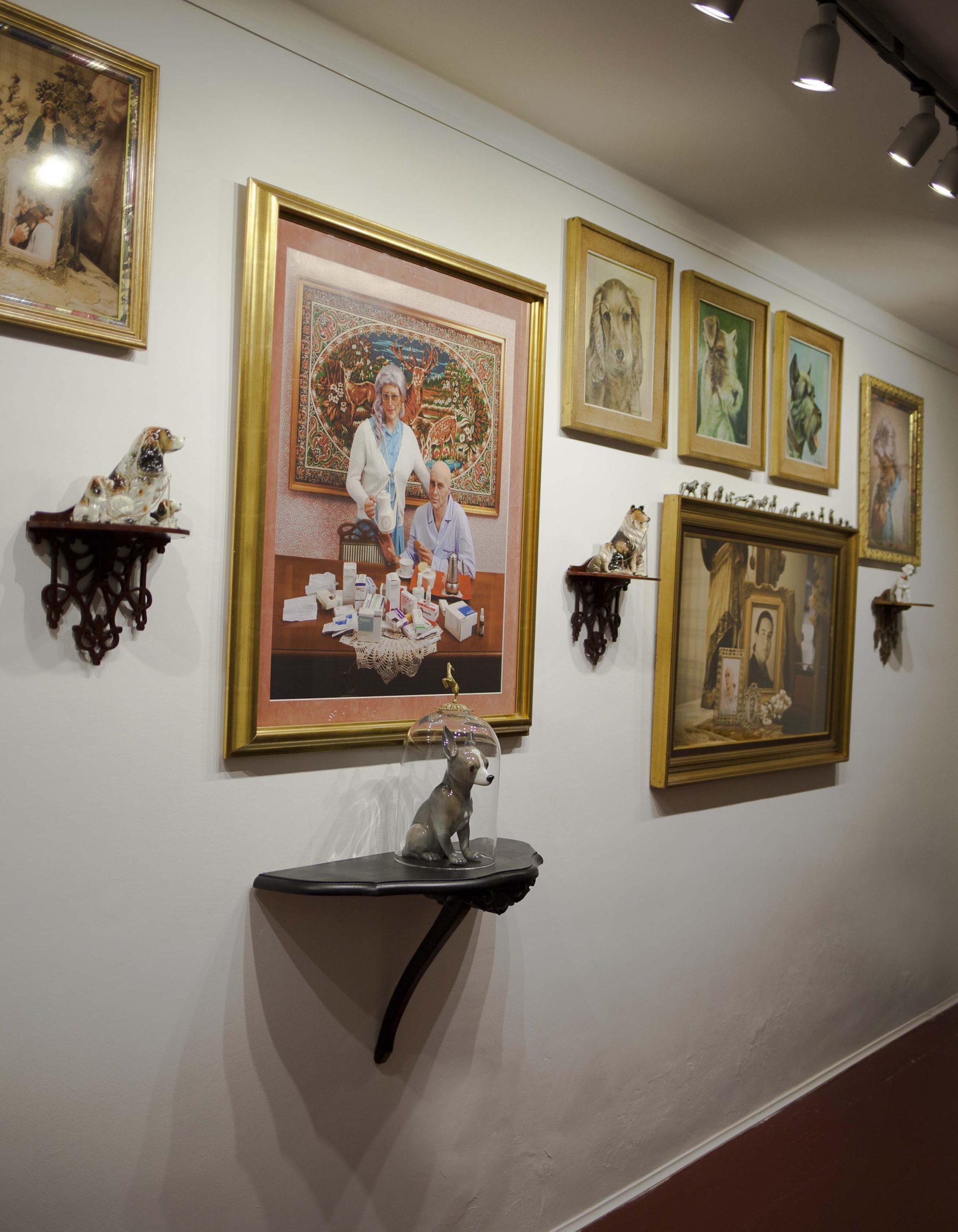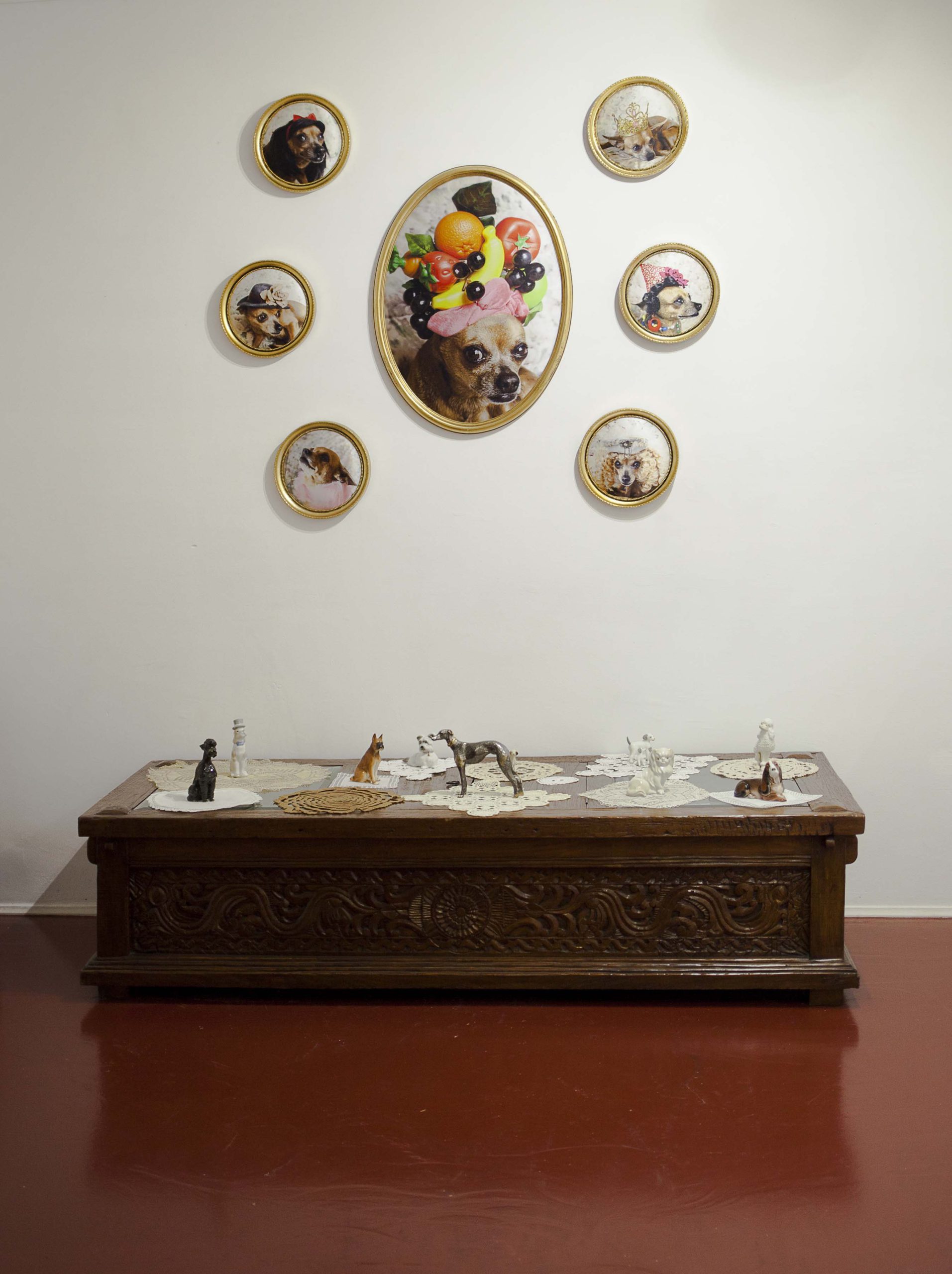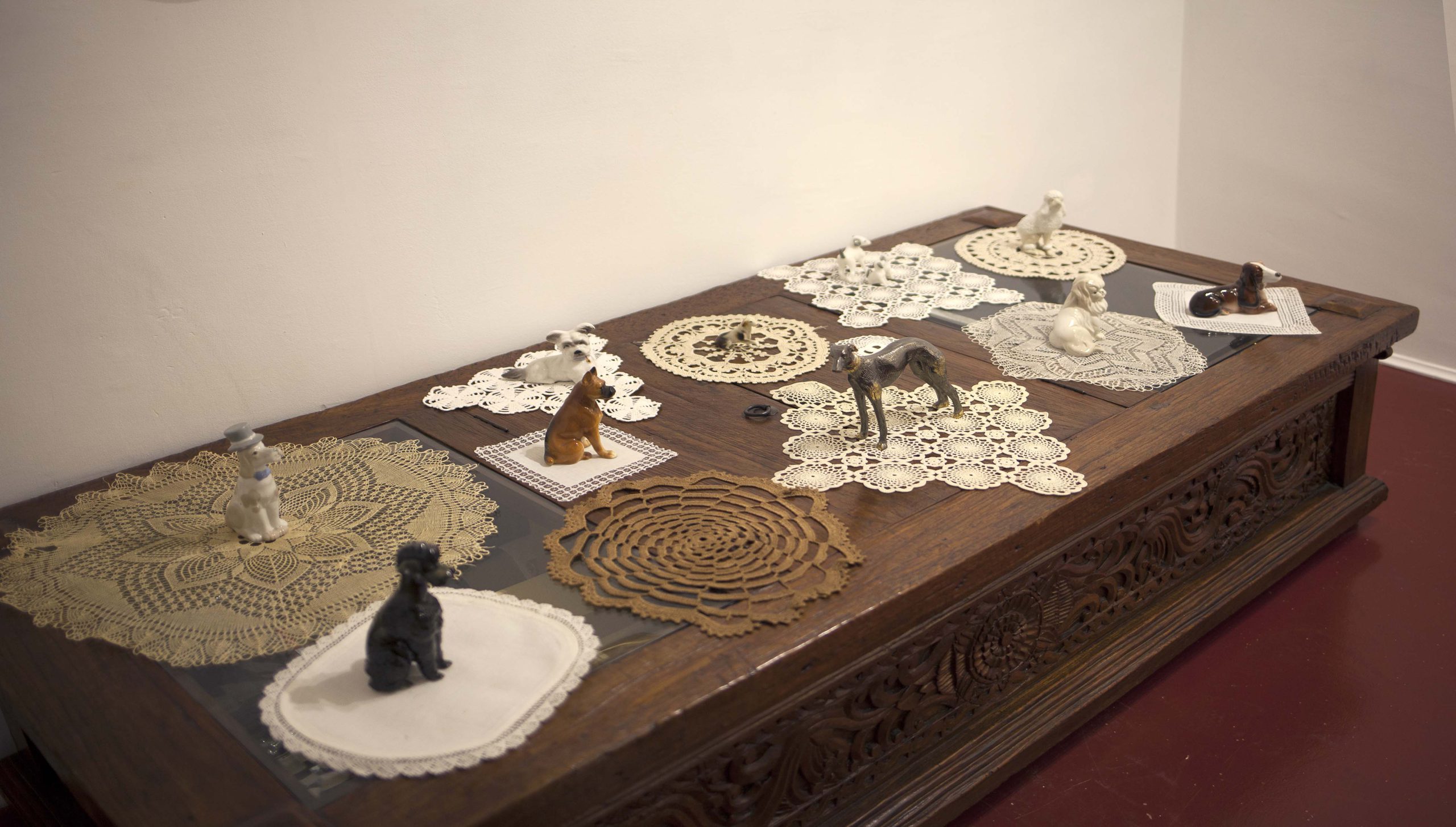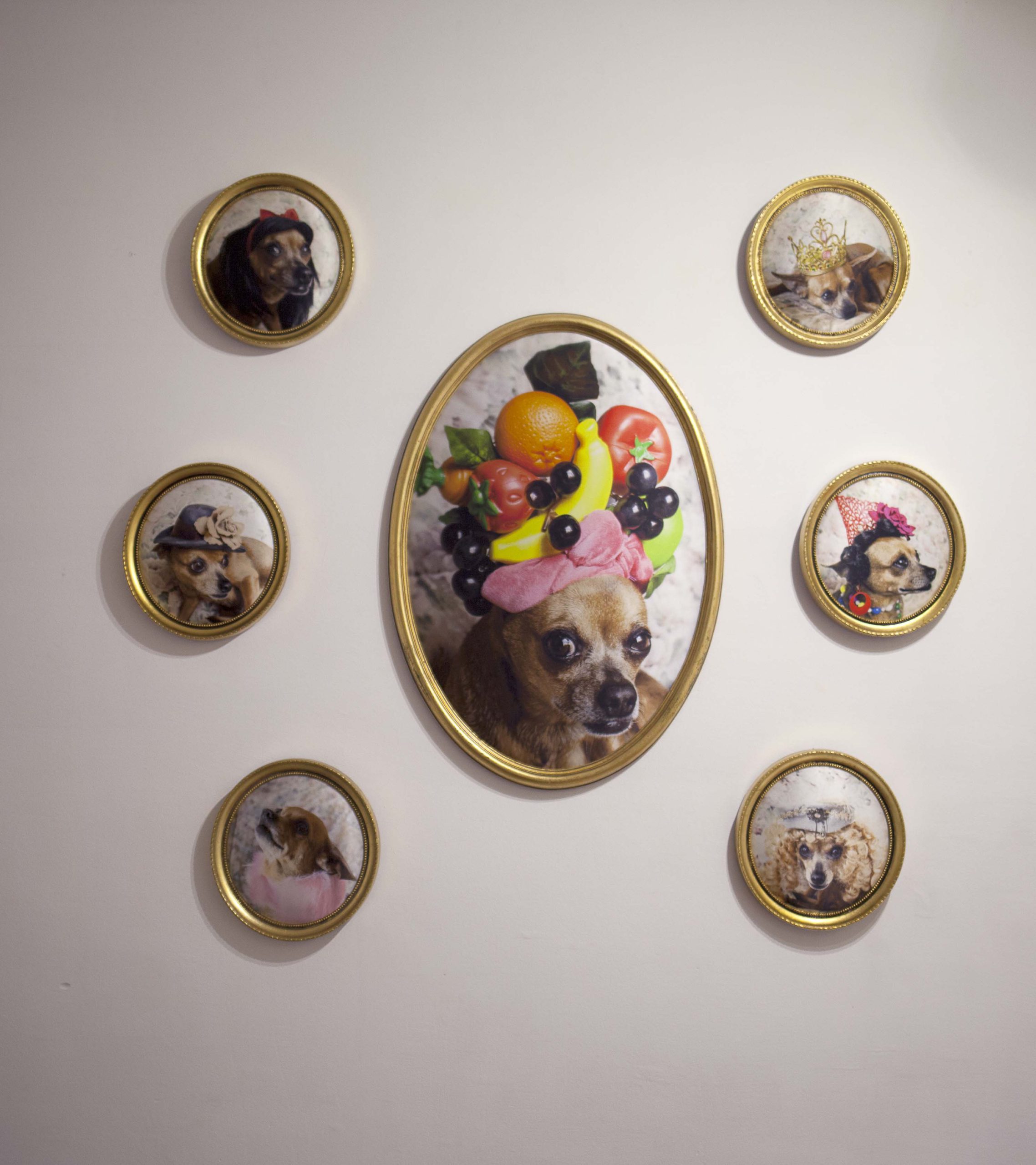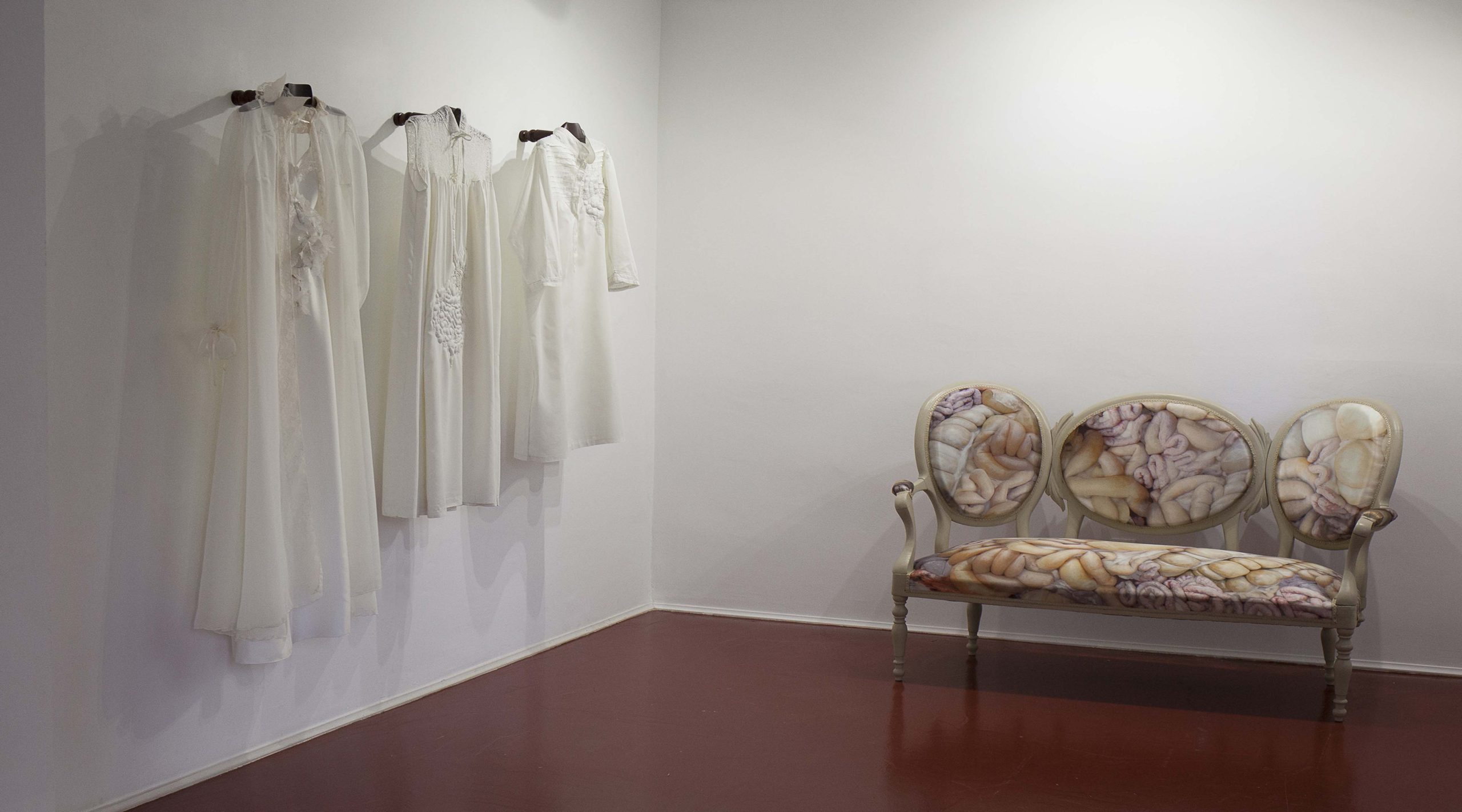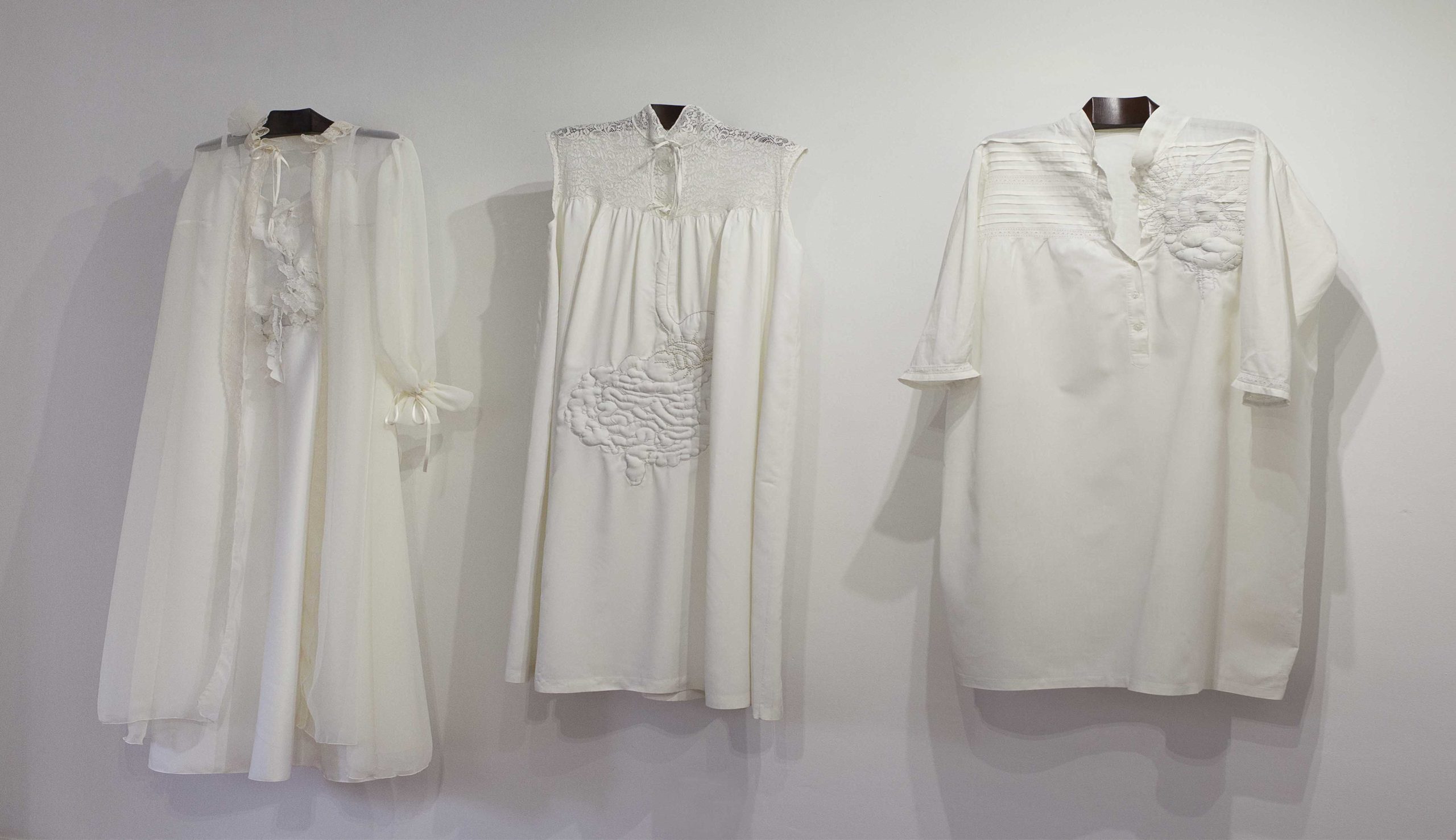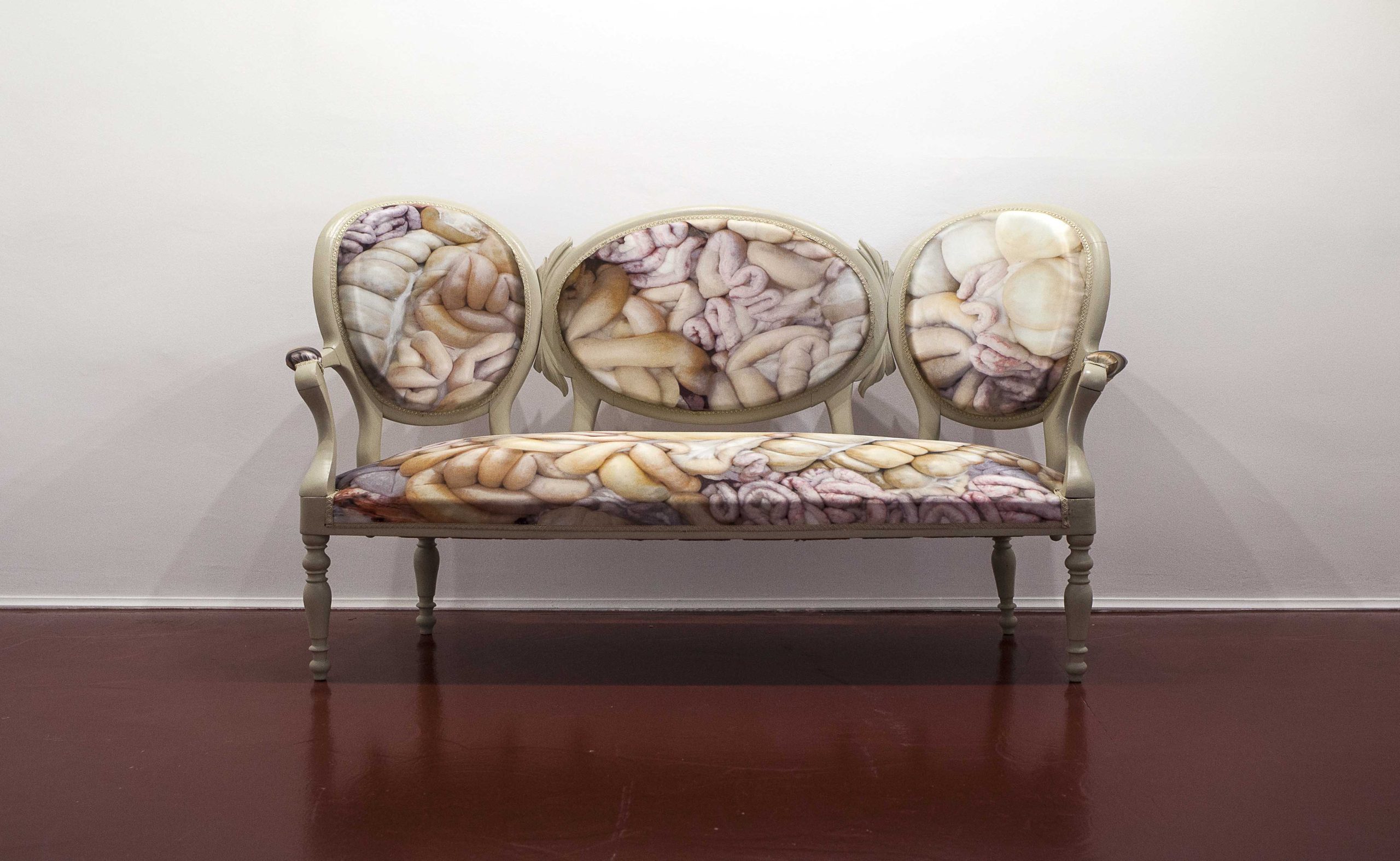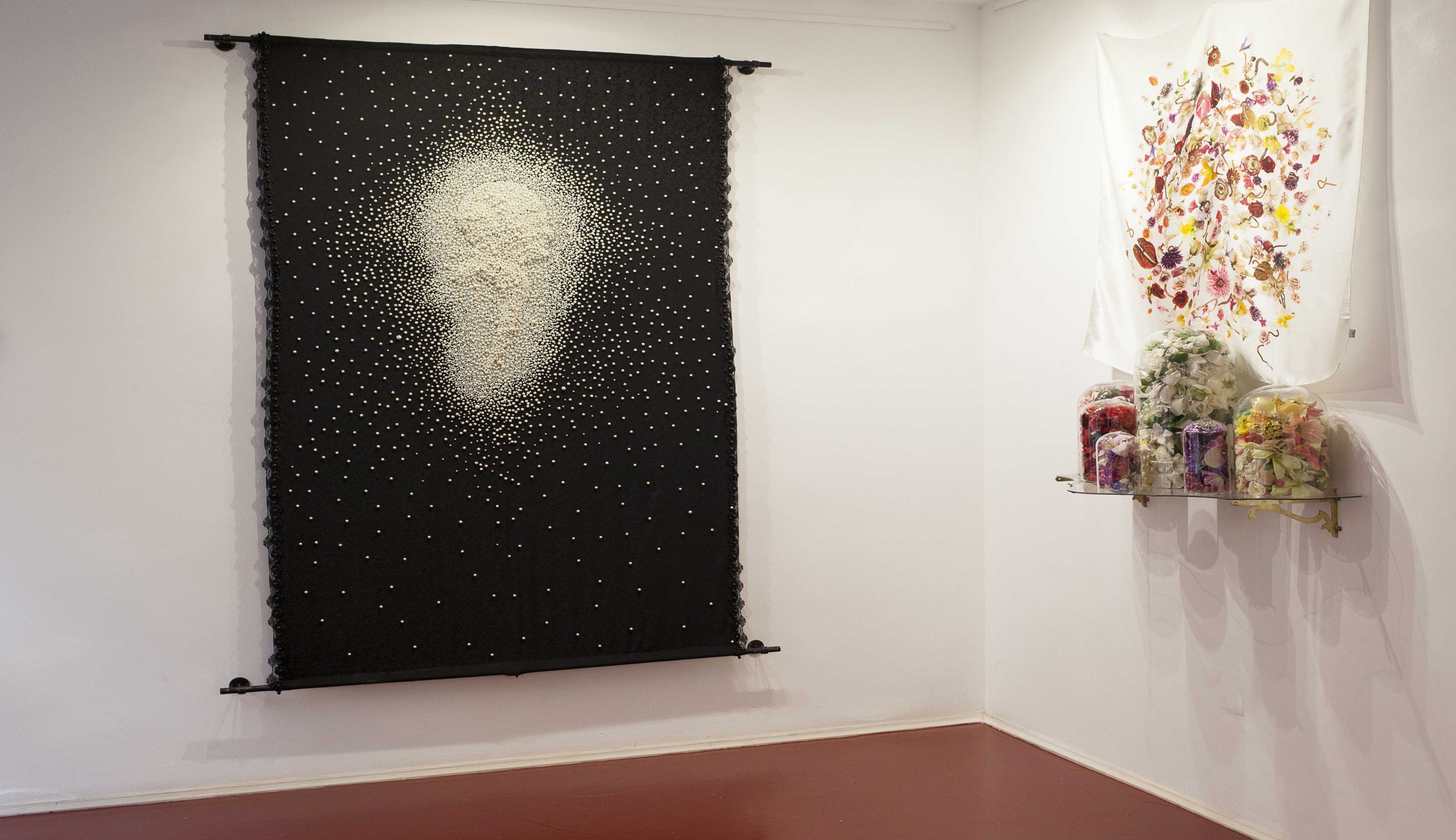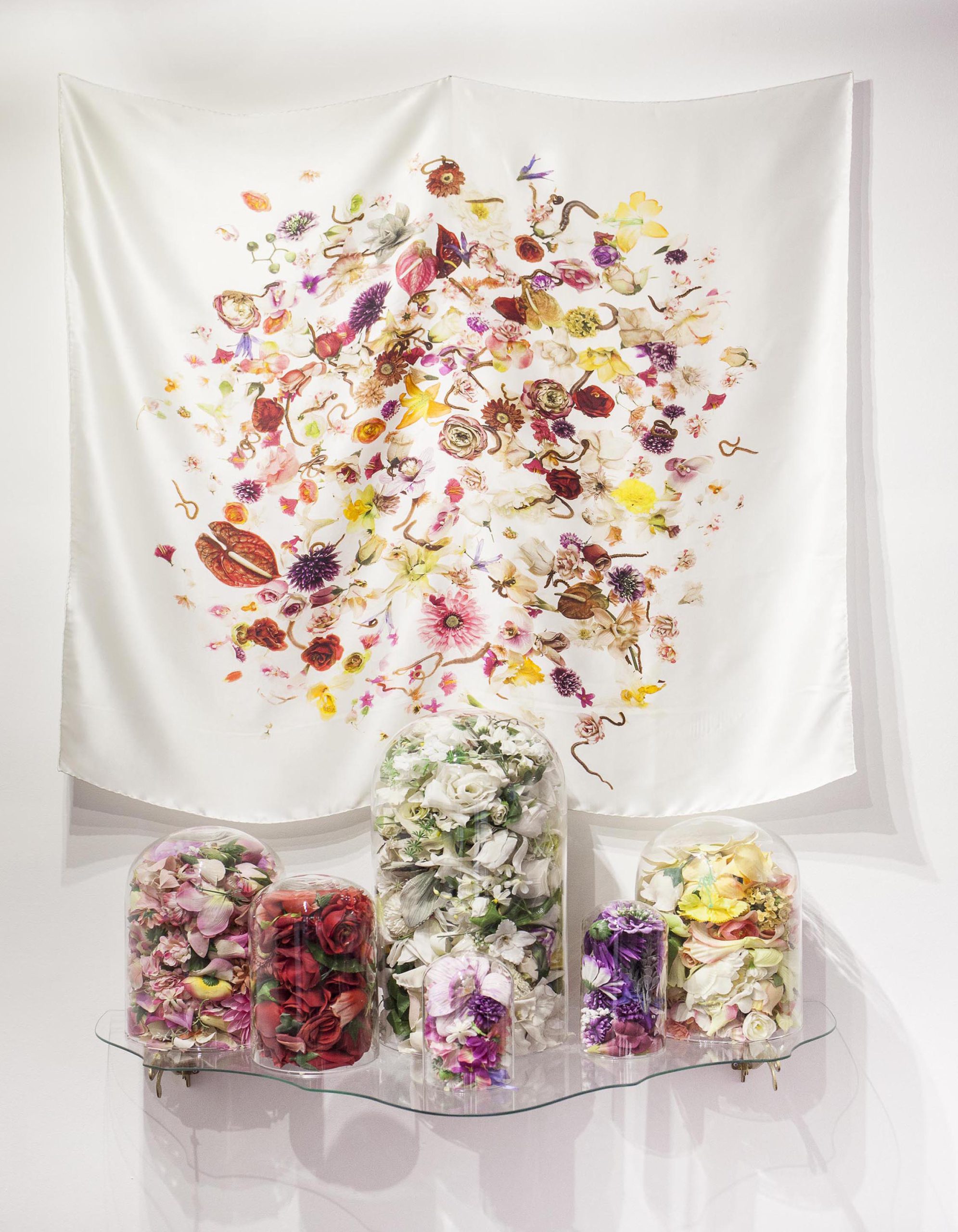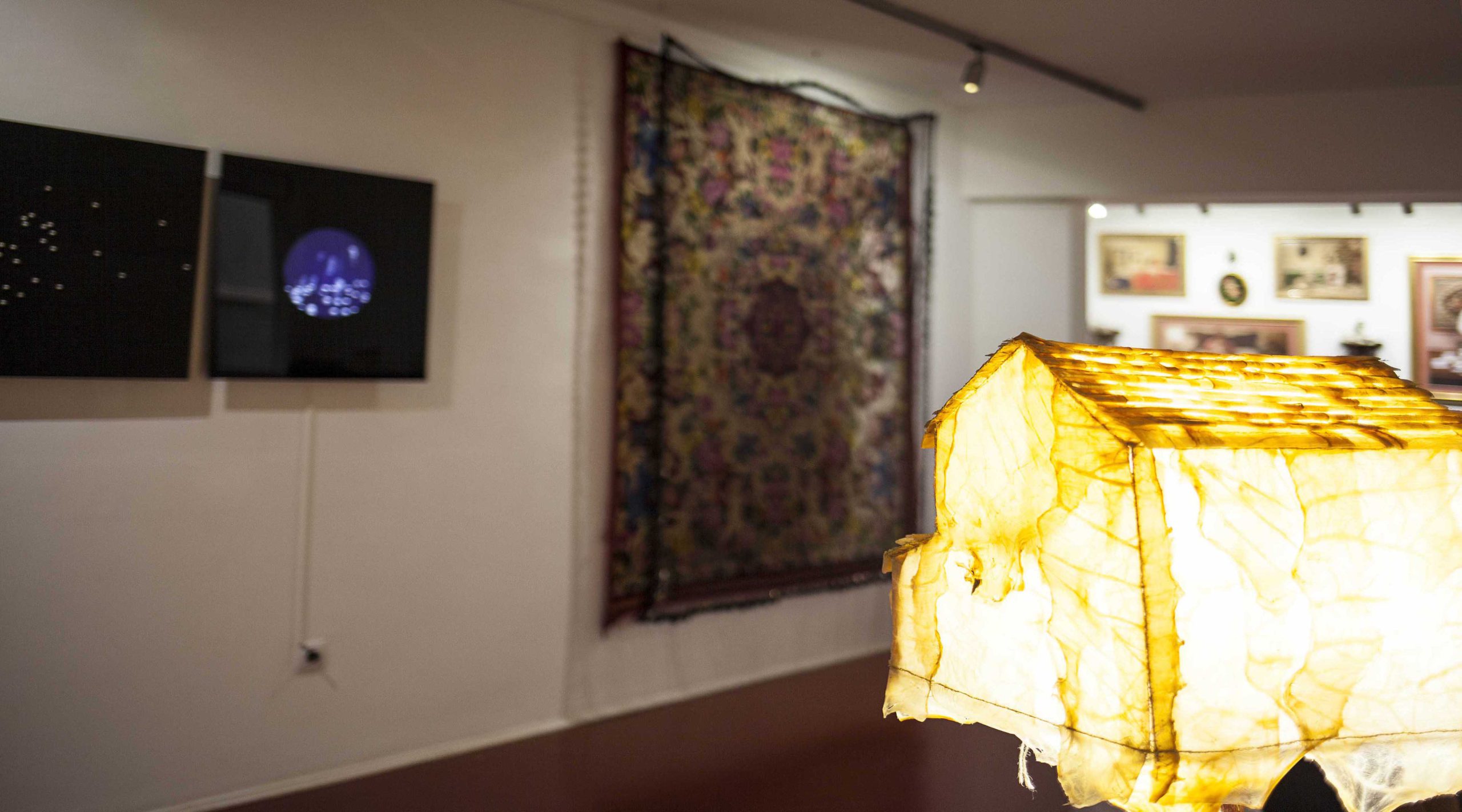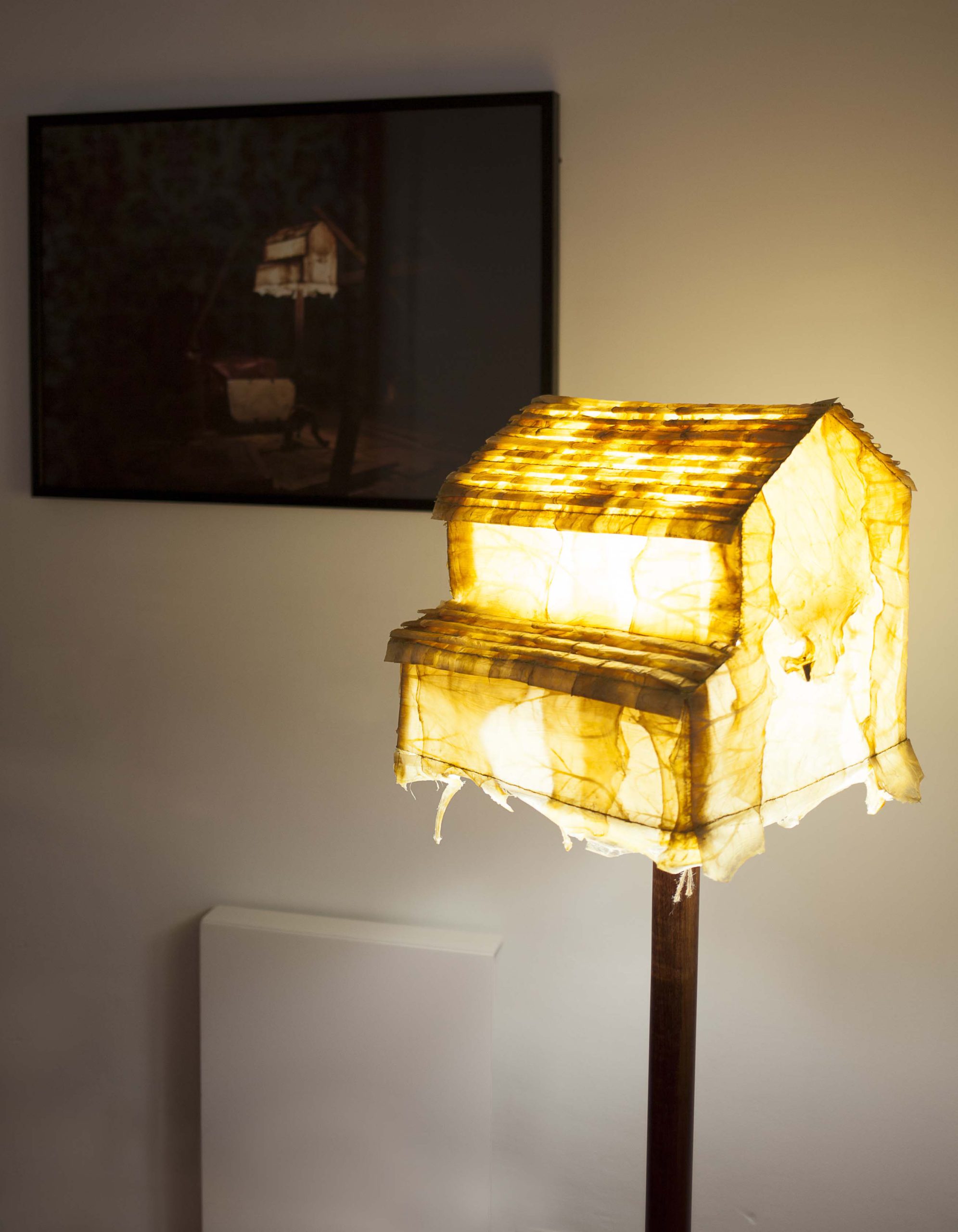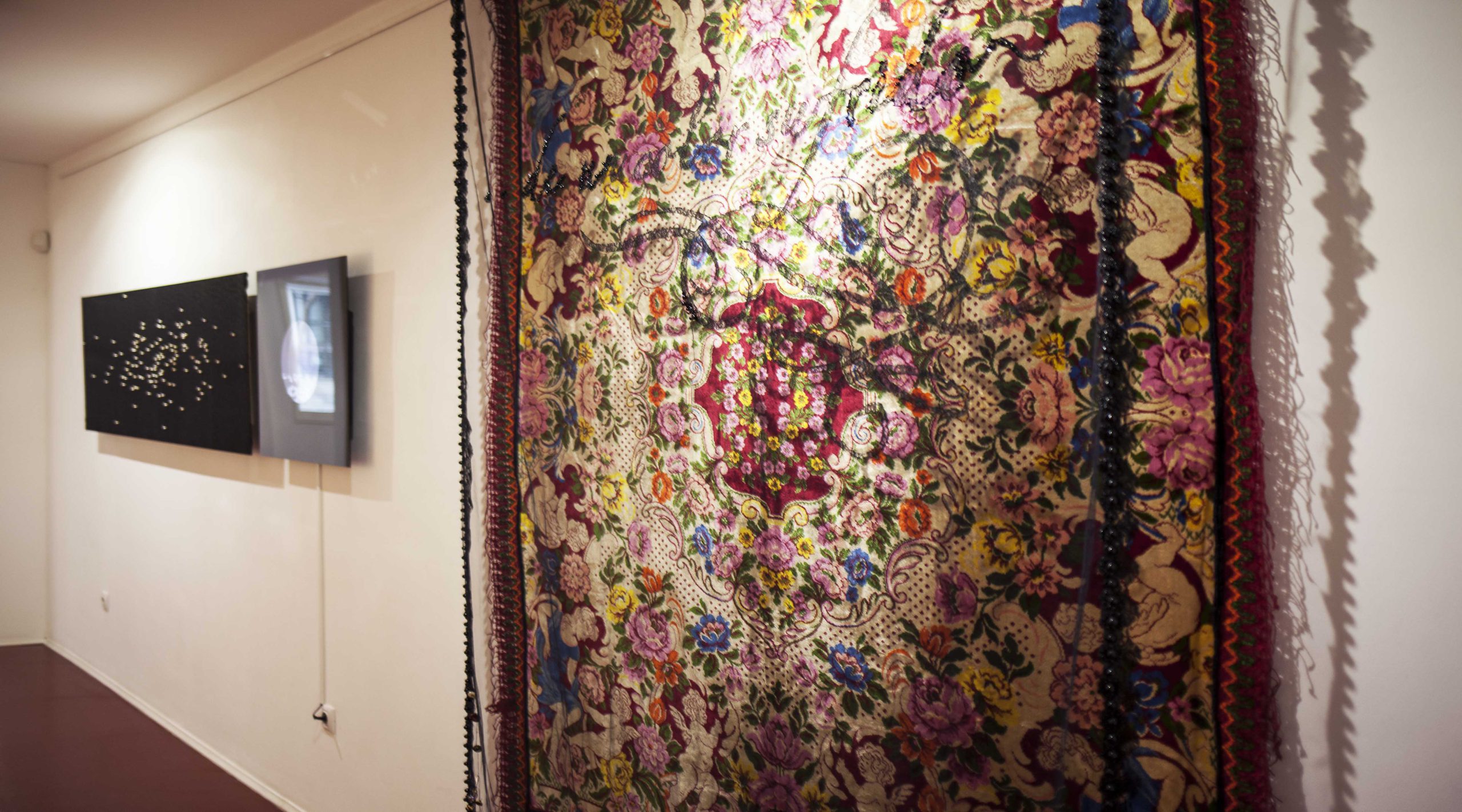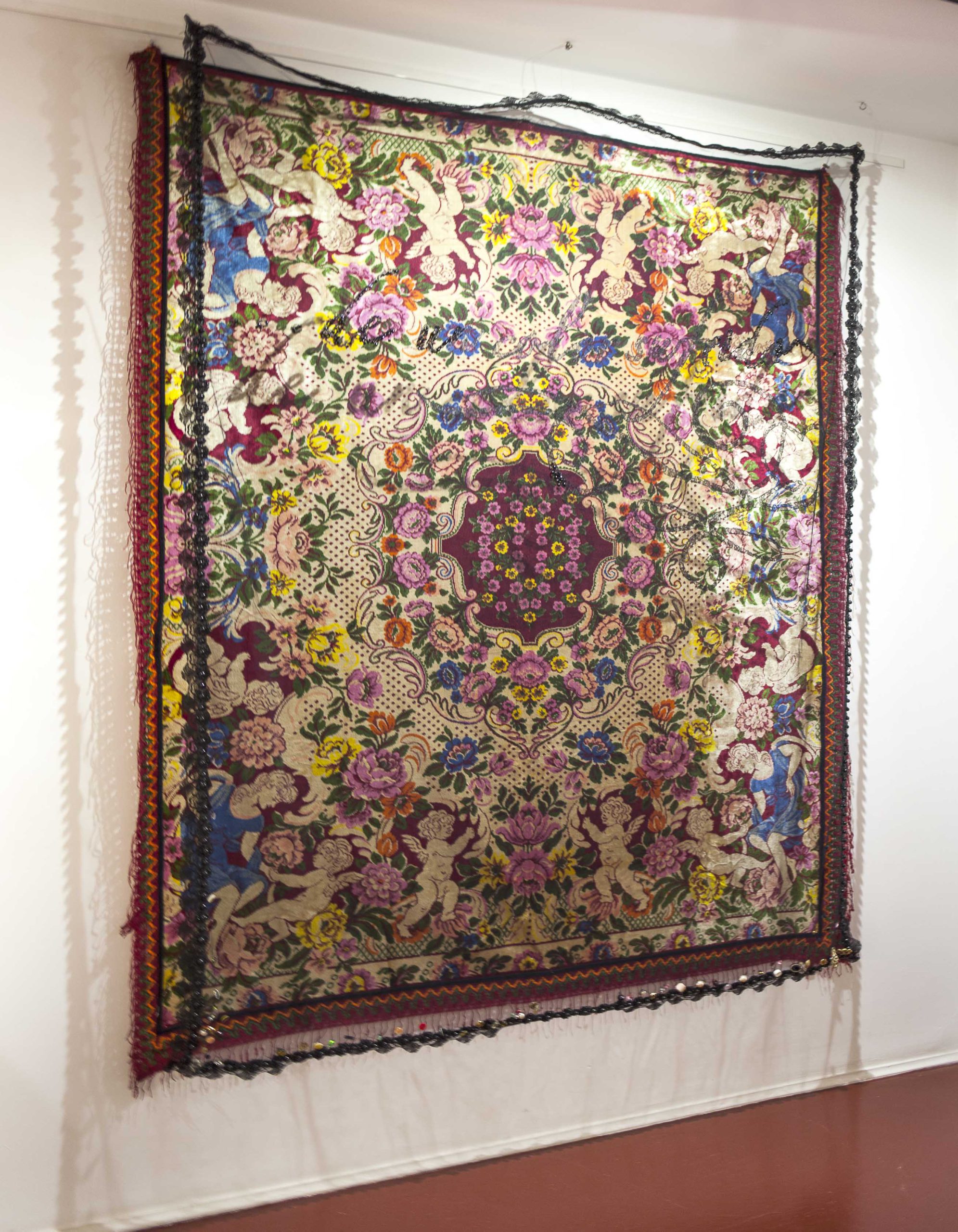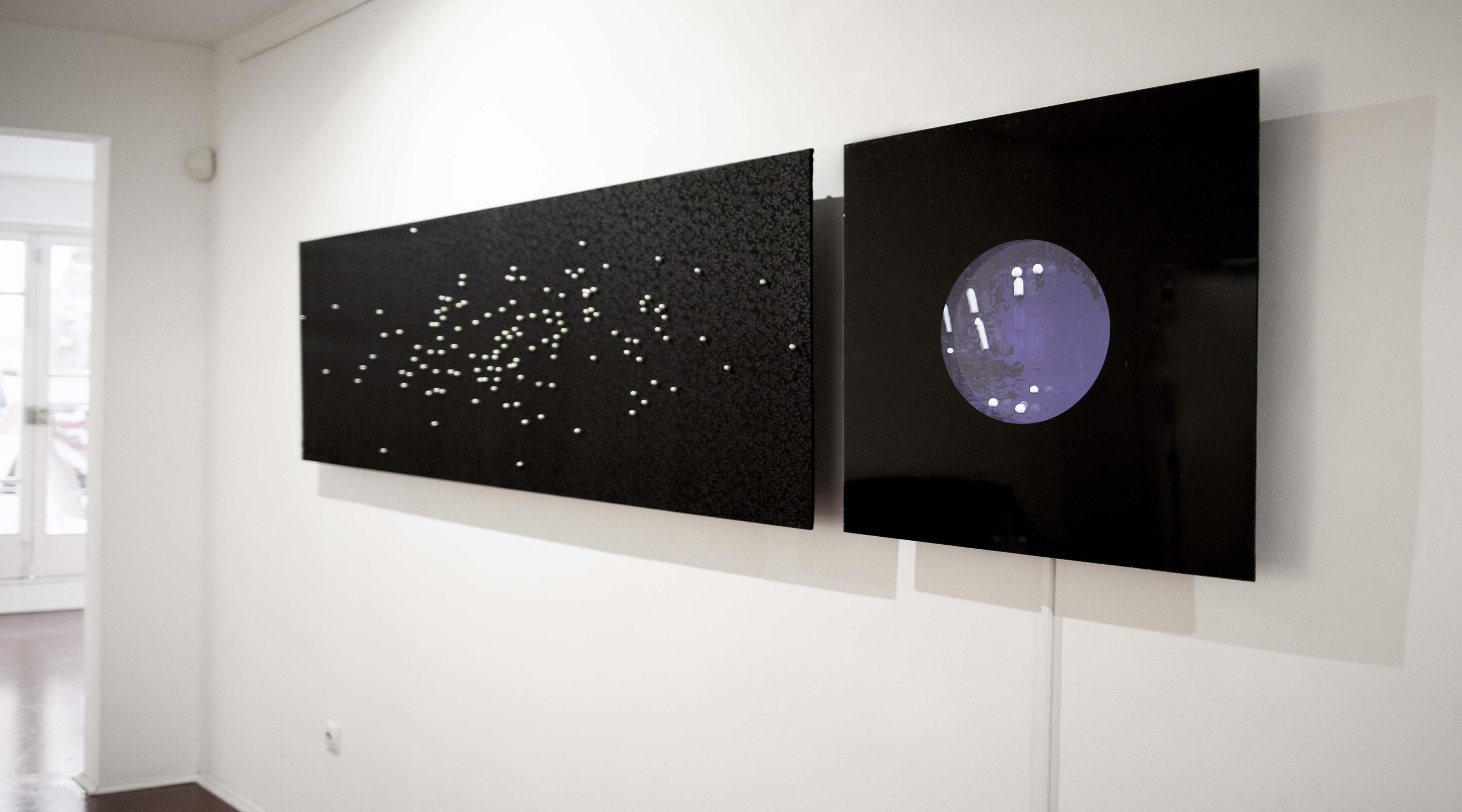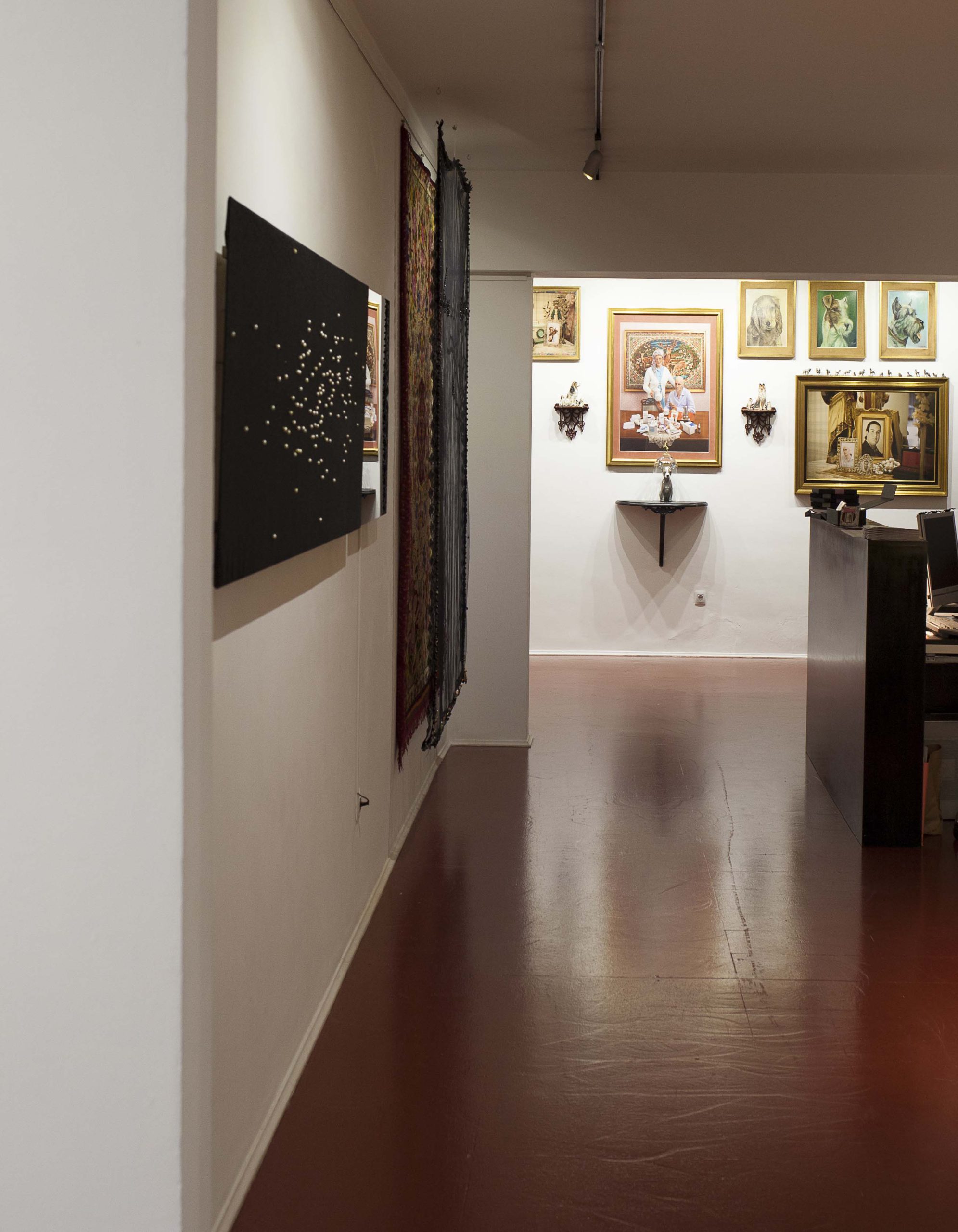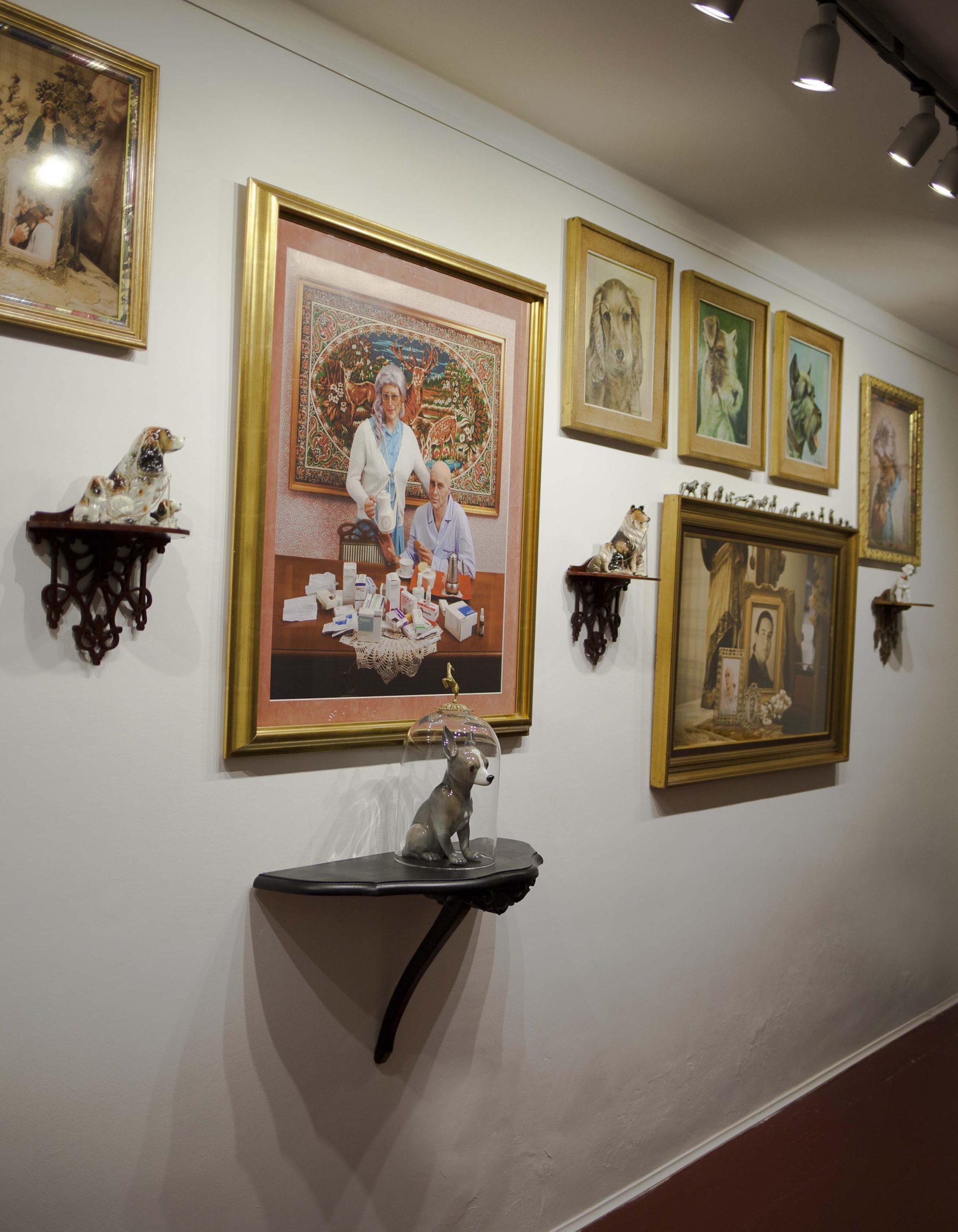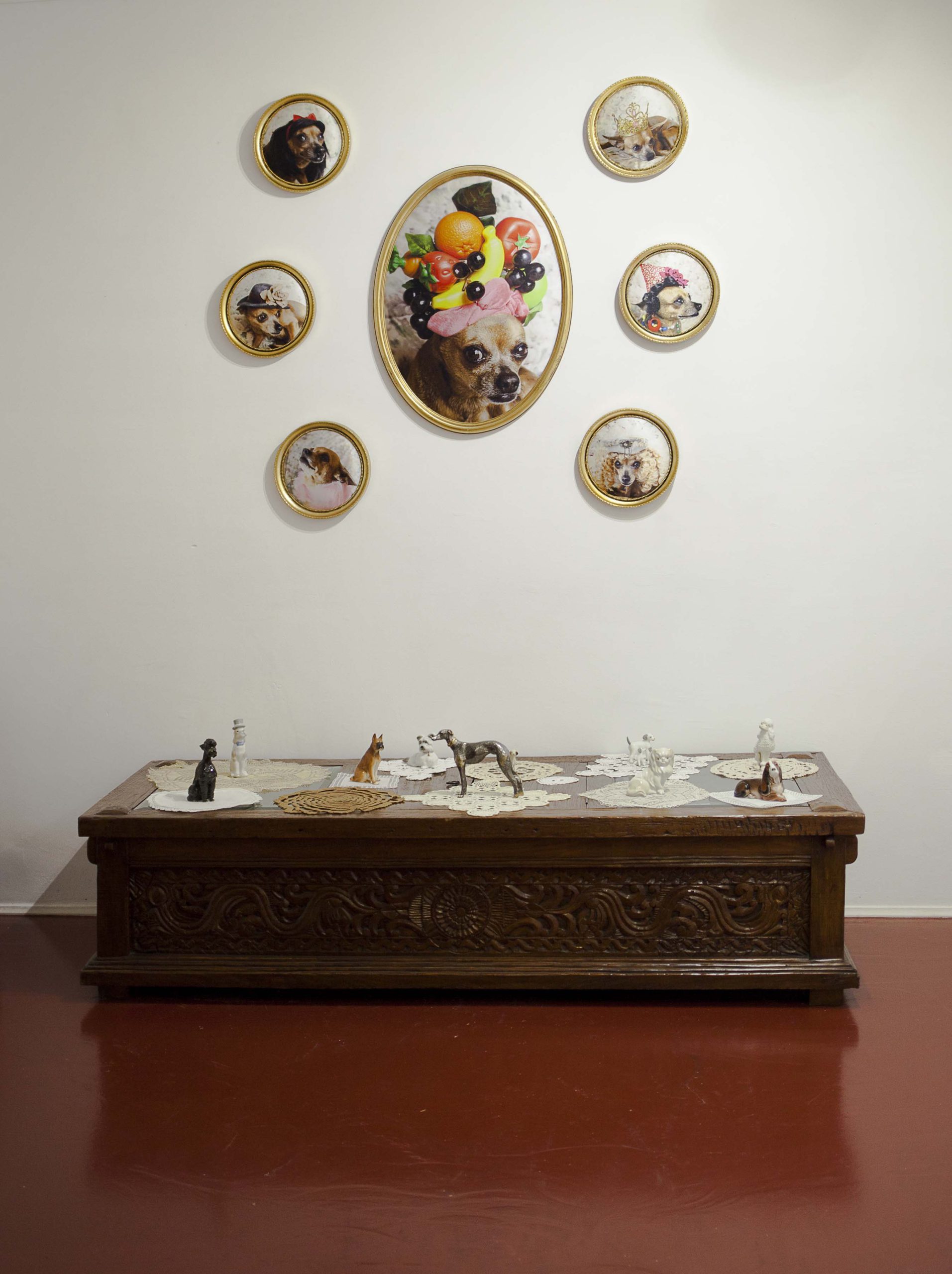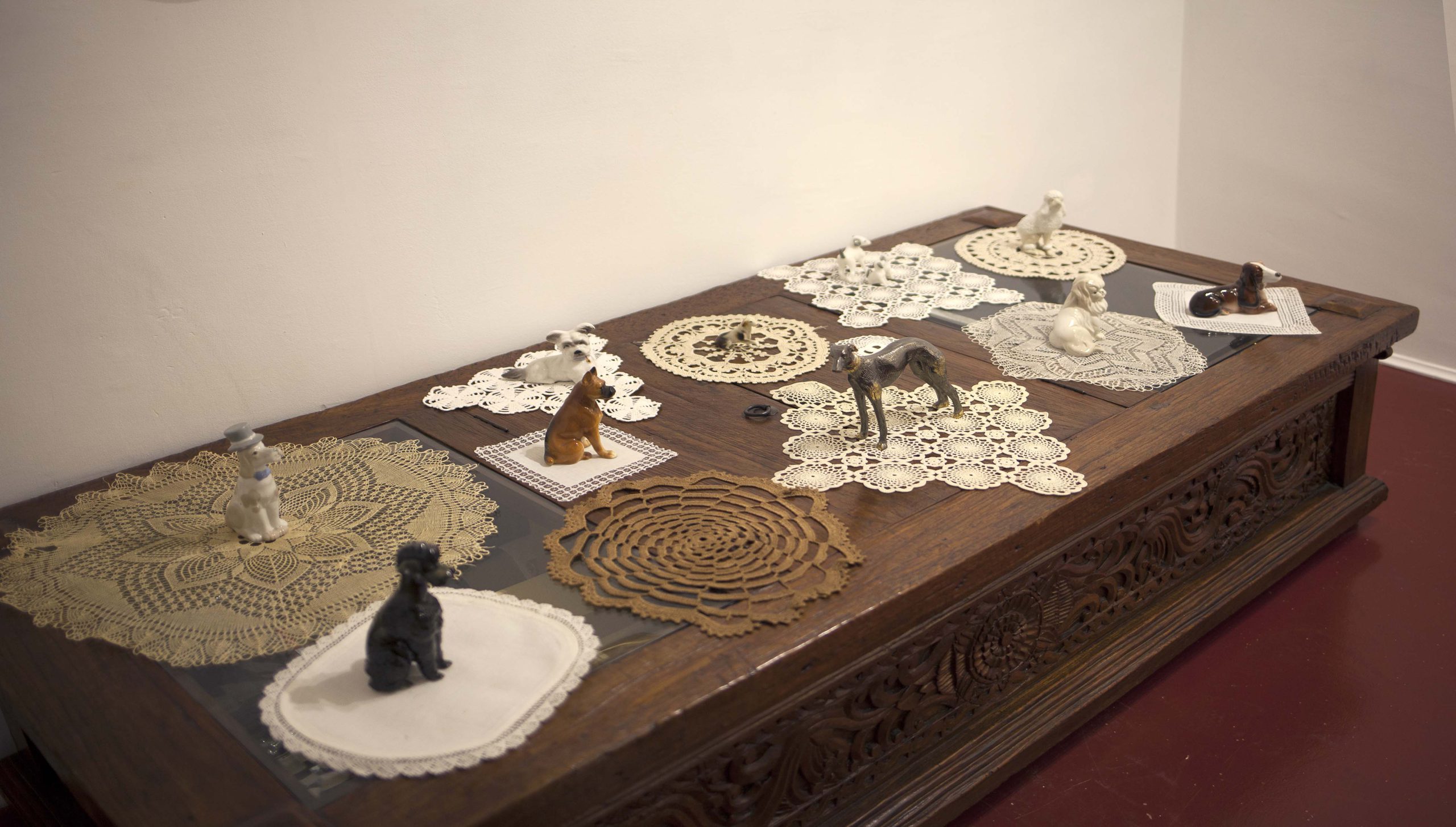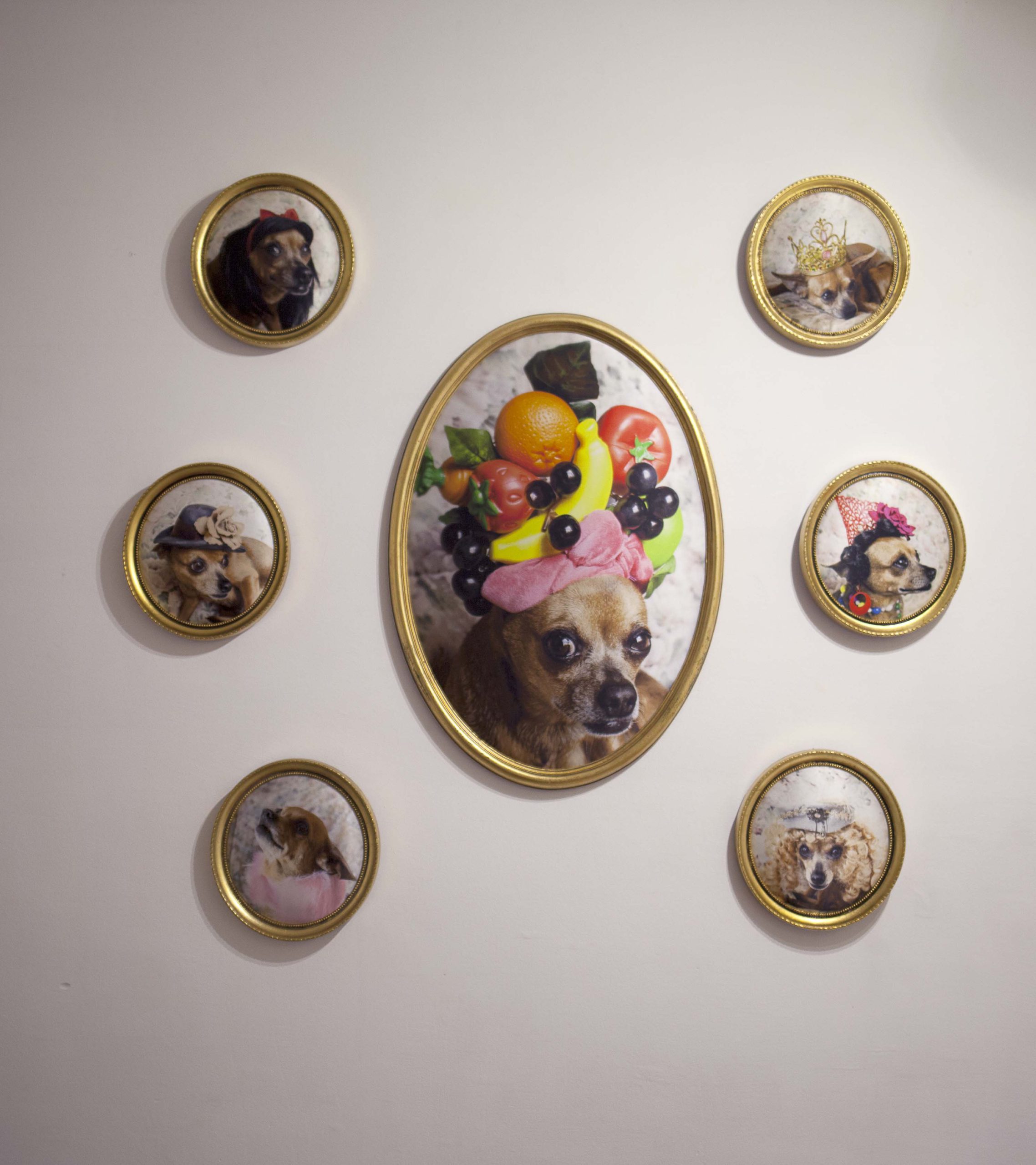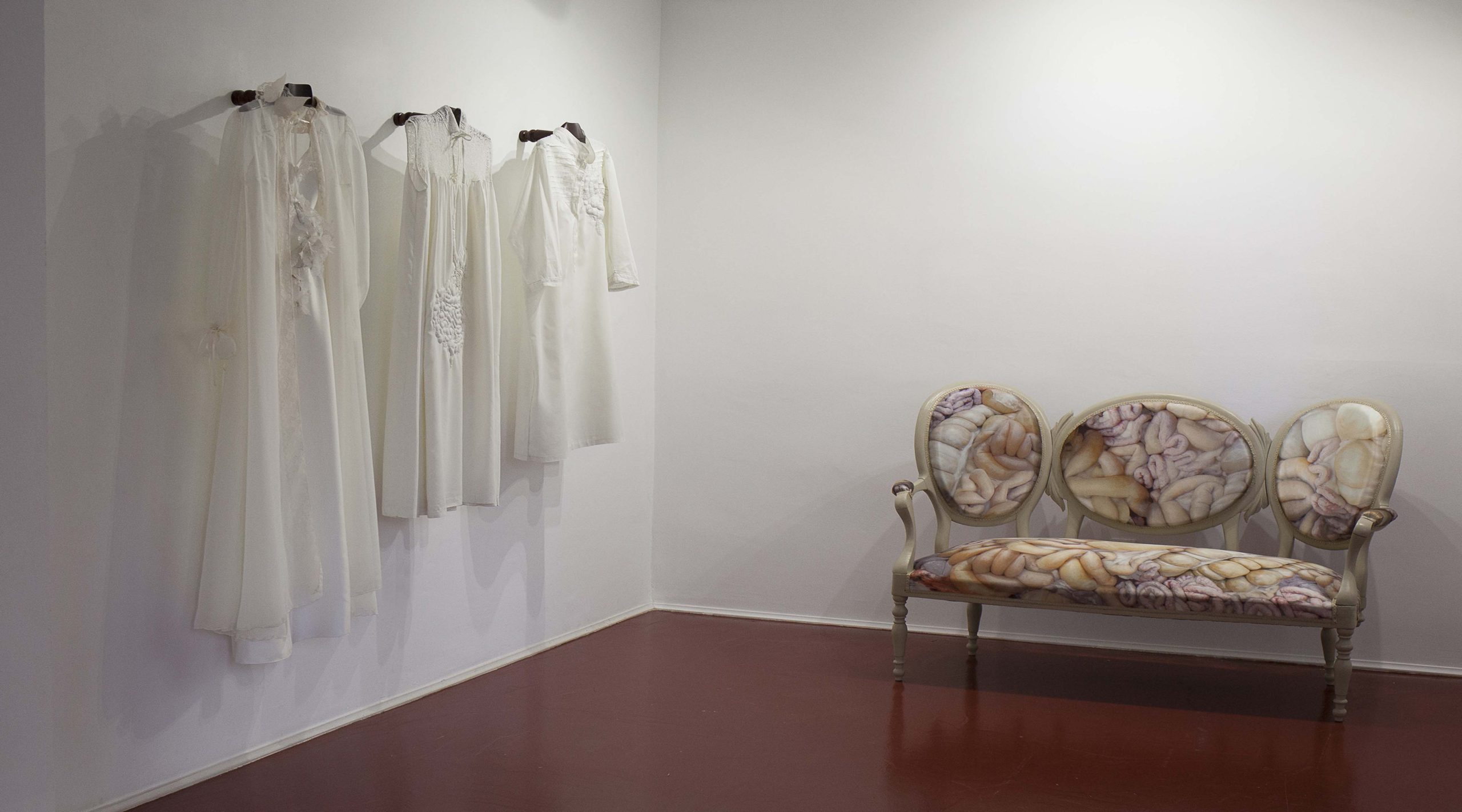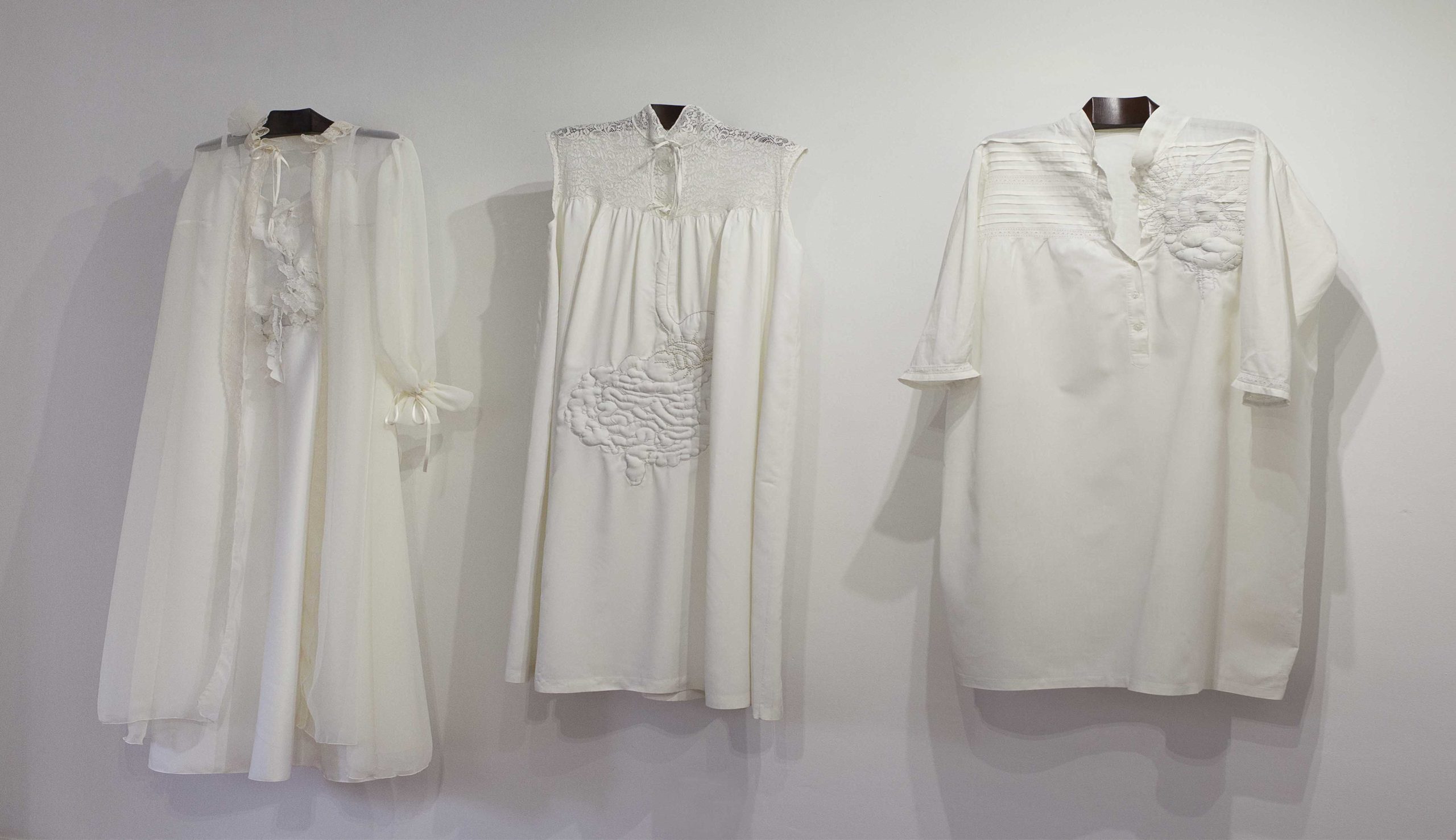 Genealogía De La Resignación, 2015
Instalación con tres camisones bordados"Mariposas en el estómago" (satén y bata de gasa bordada con hilo y encaje, trabajo de acolchado), "Nudo en el Estómago" (tejido y encaje bordado con hilo, perlas y trabajo de acolchado), "De tripas corazón"(algodón bordado con hilo y trabajo de acolchado)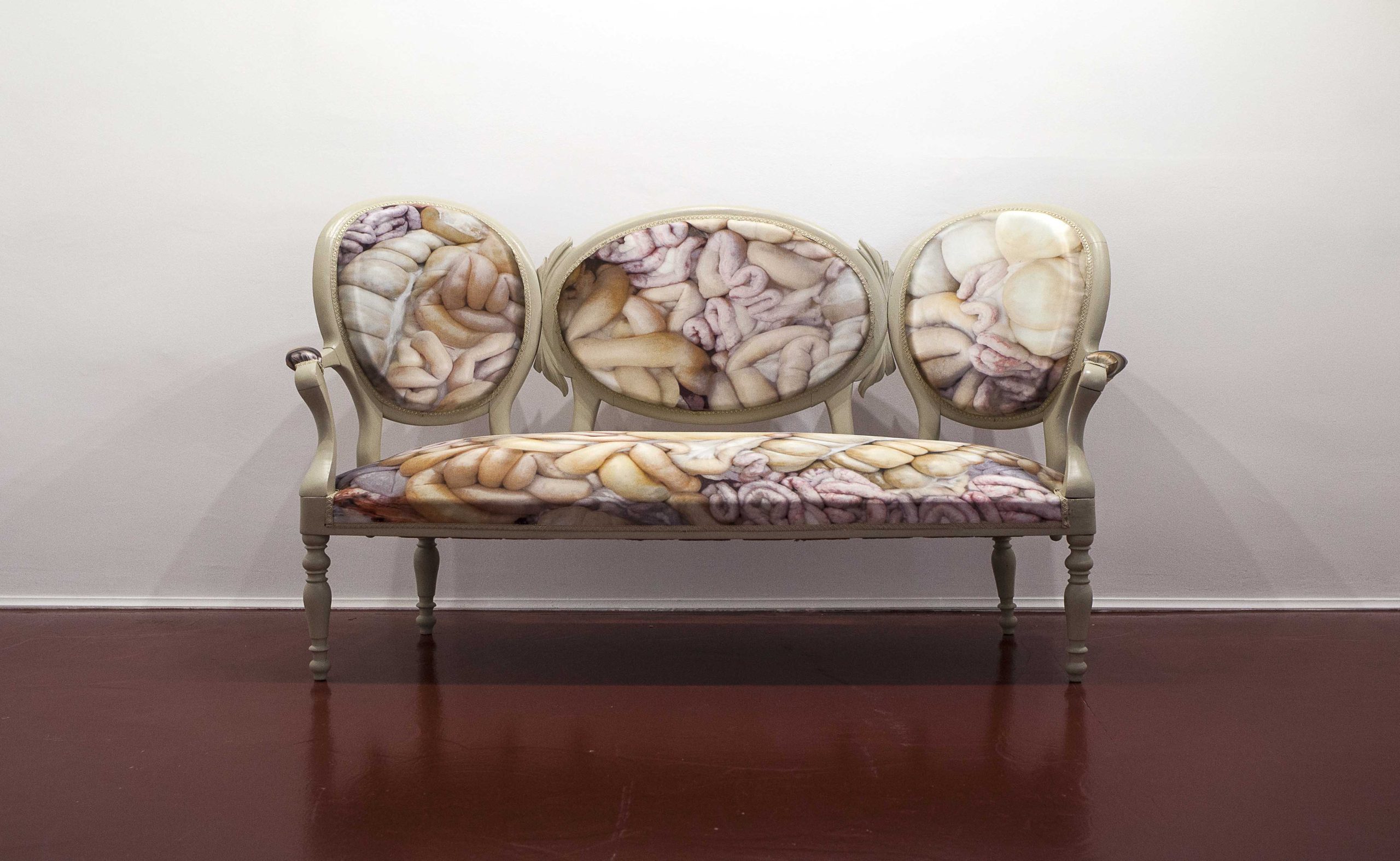 Te Siento En Mis Entrañas, 2015
Tresillo tapizado en seda impresa 147 x 103 x 54 cm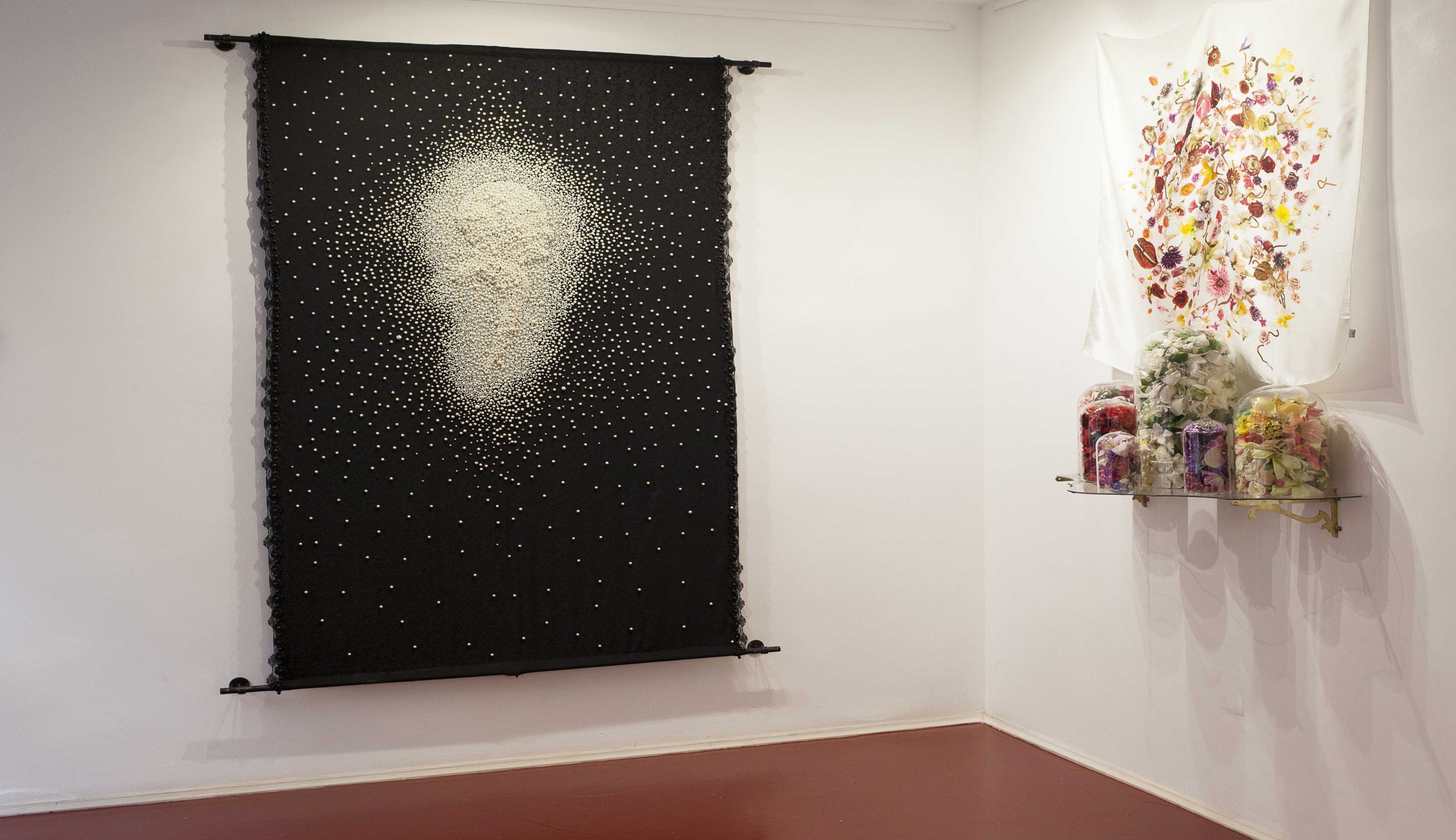 Luto, 2014
Tapiz bordado con perlas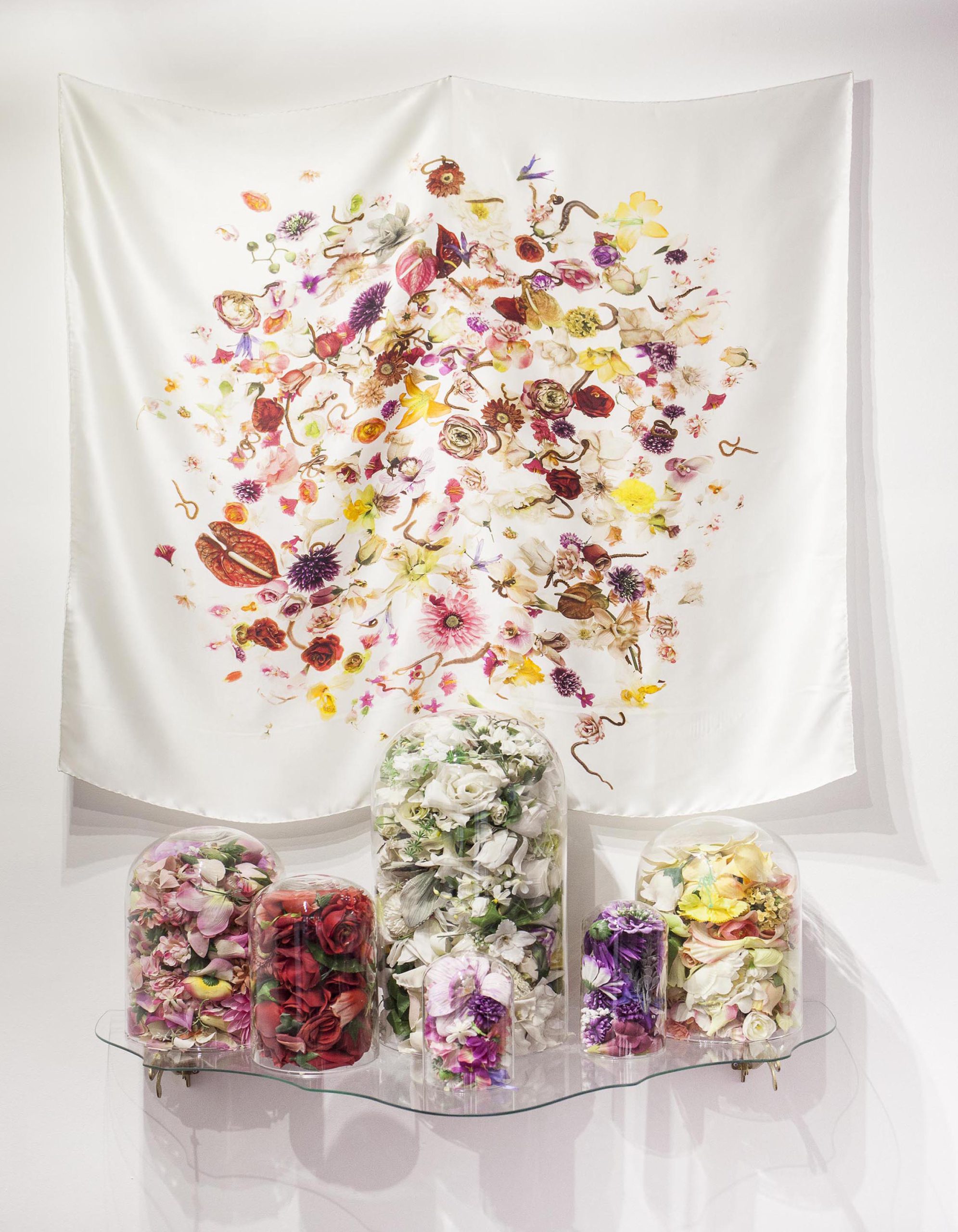 De Un Color Sufrido, 2015
Impresión en seda/Instalación(foto resultado de acción: paseos bucólicos por el cementerio recogiendo flores viejas de tela que el aire ha tirado), 110 x 110 cm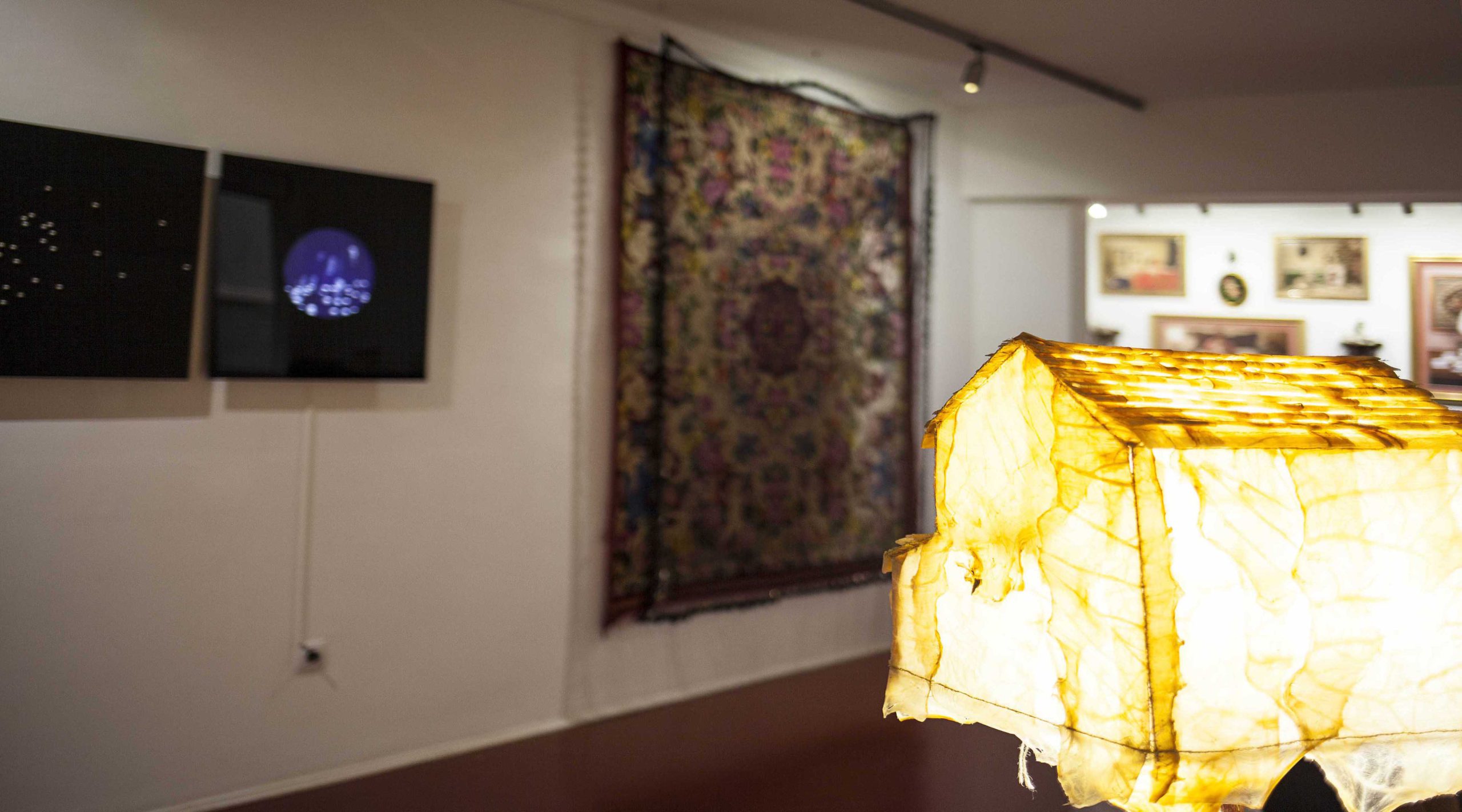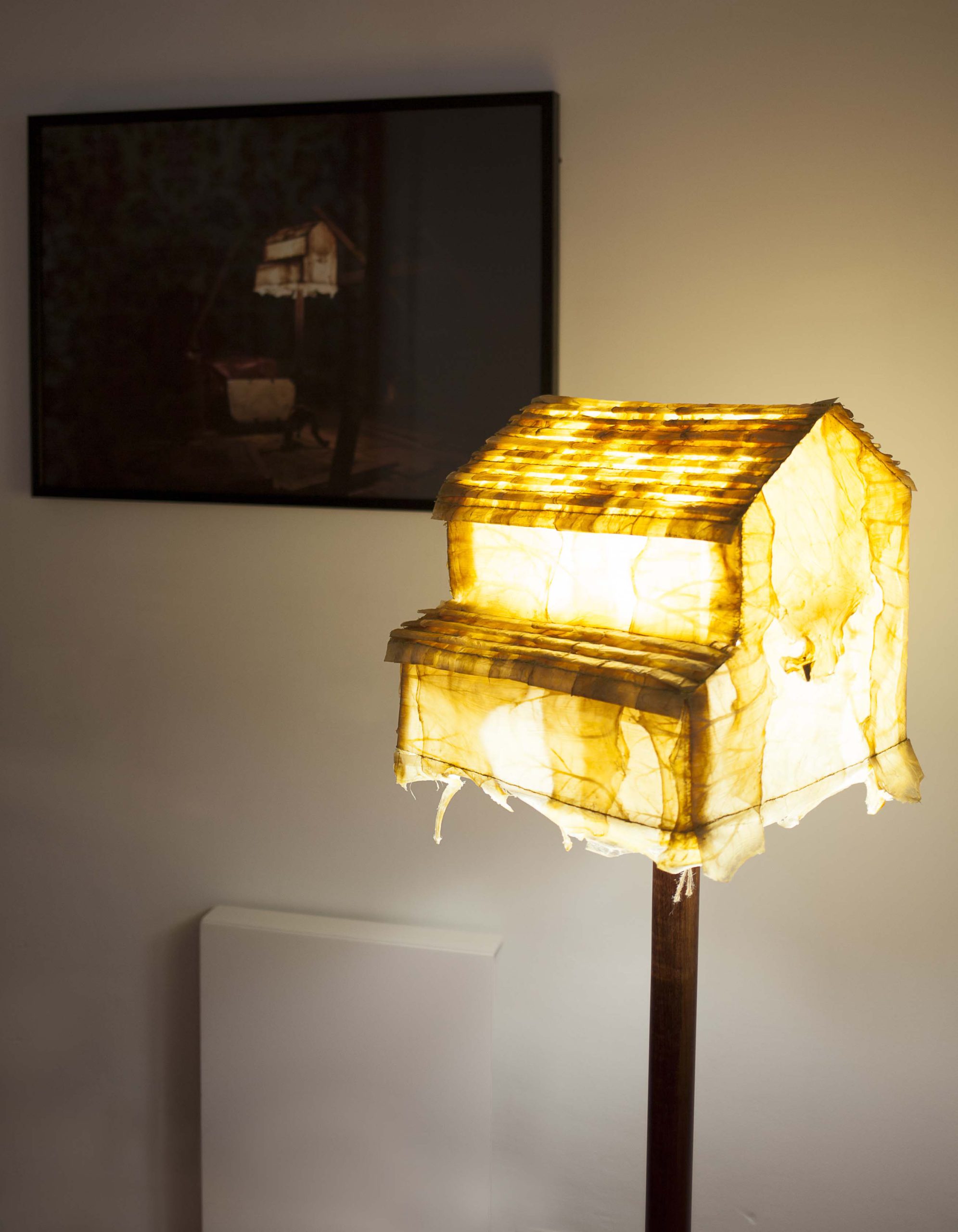 Vuelta Al Hogar, 2013
Foto/Instalación, Fotografía 64 x 90 cm y Casa de tripas 45 x 40 x 40 cm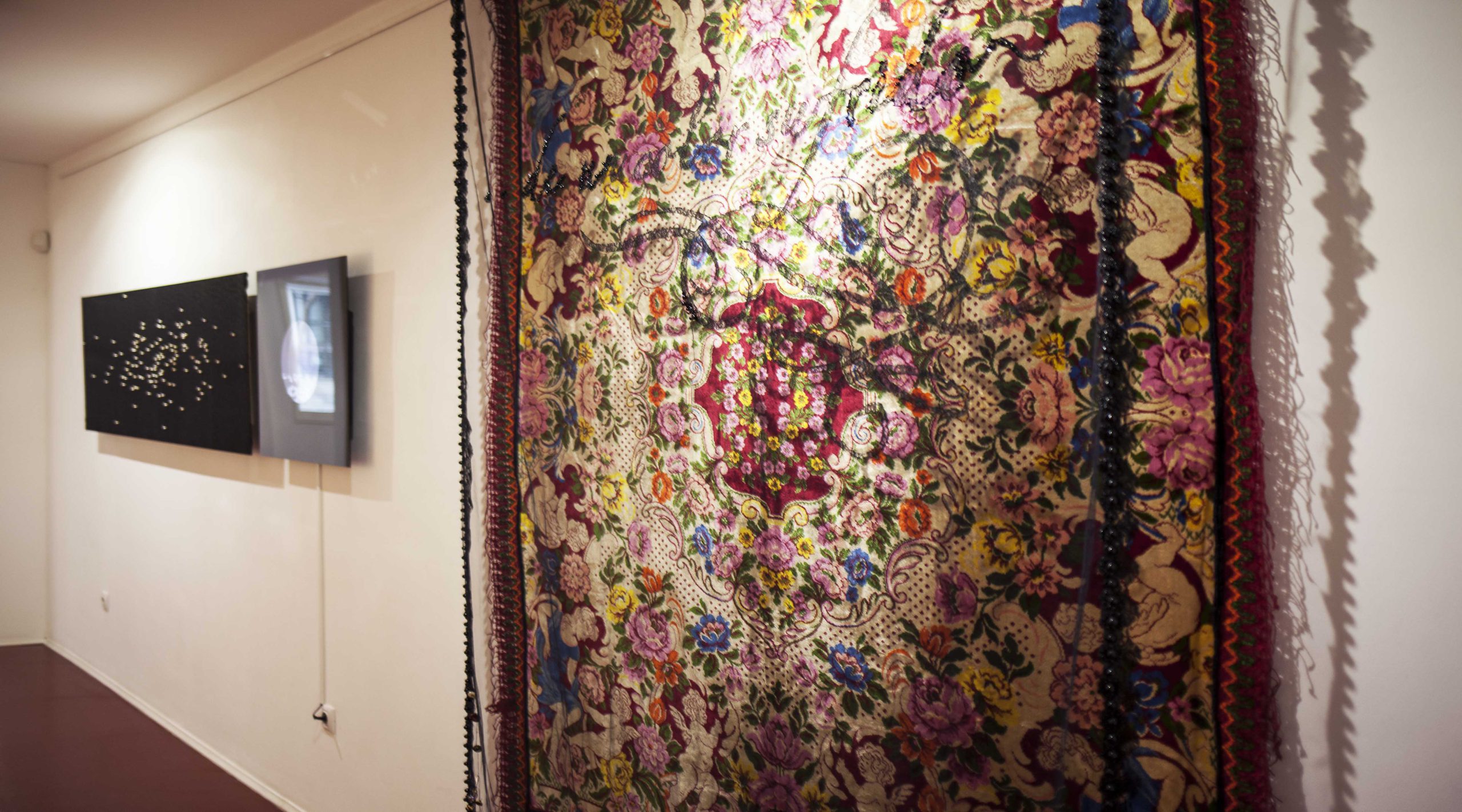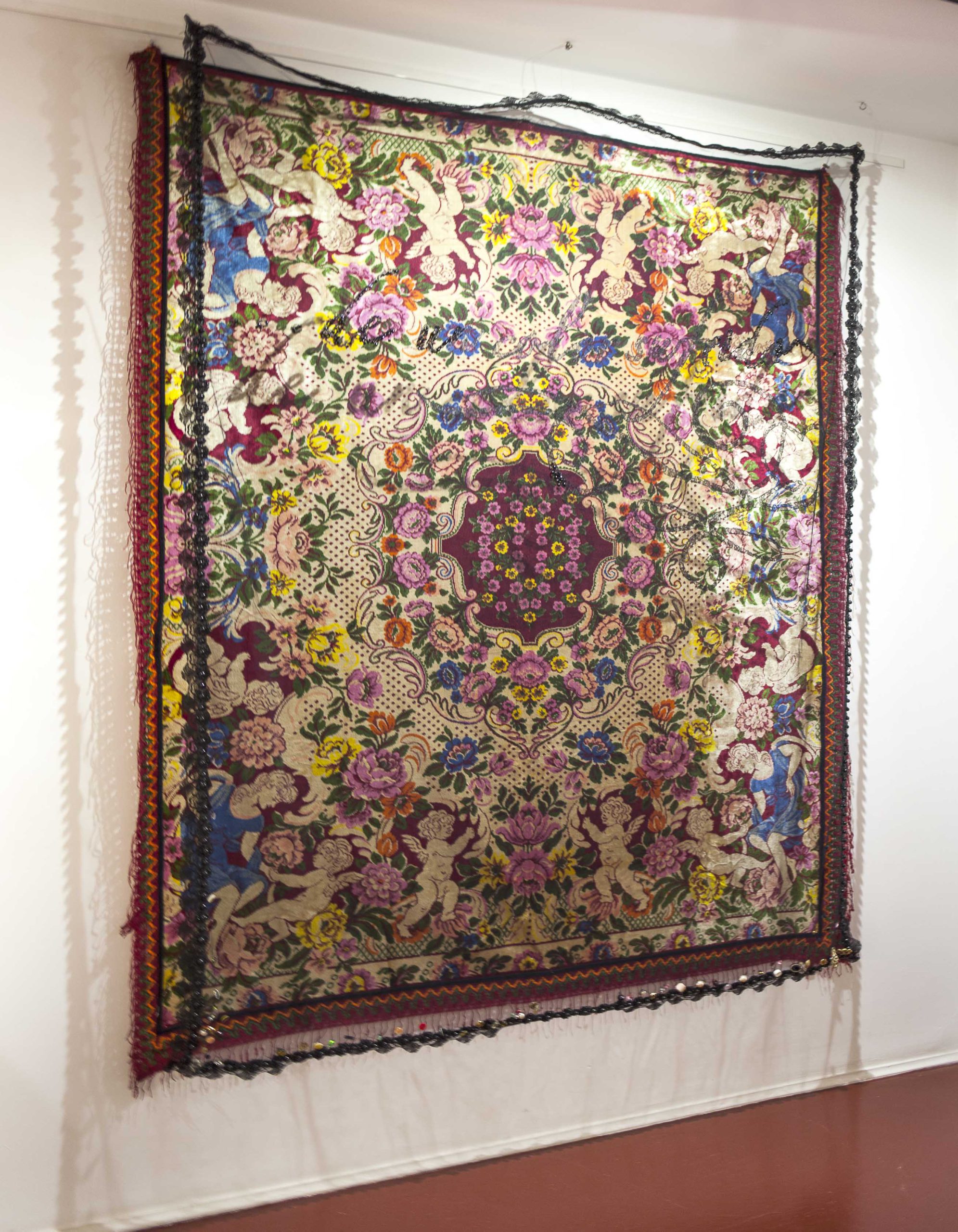 Coser Y Cantar (...de Un Color Sufrido), Work In Progress
Acción/Instalación tapiz de terciopelo encontrado y tul negro bordado, 160 x 215 cm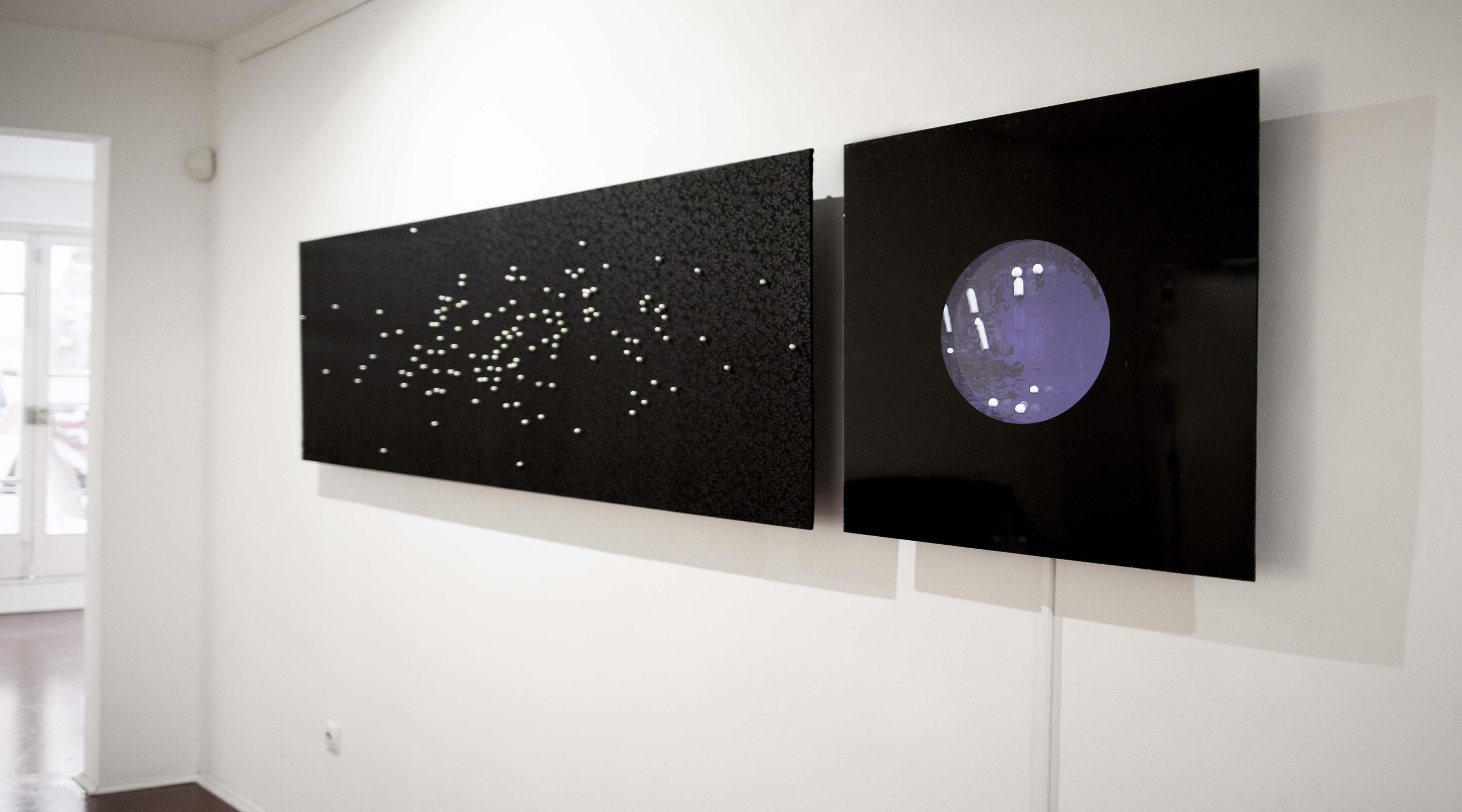 Alivio, 2015
Vídeo/instalación, Tapiz bordado con perlas más plasma con vídeo en loop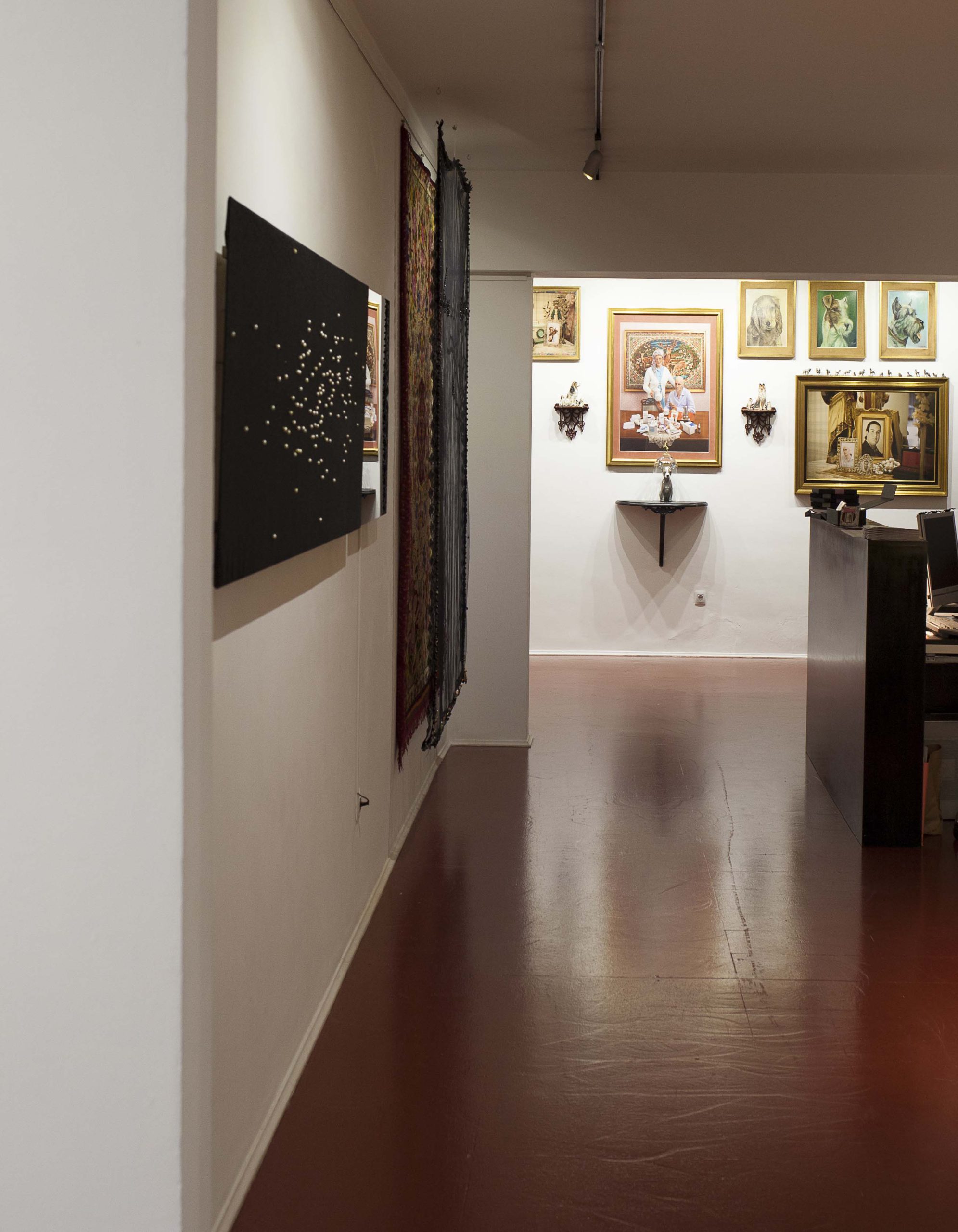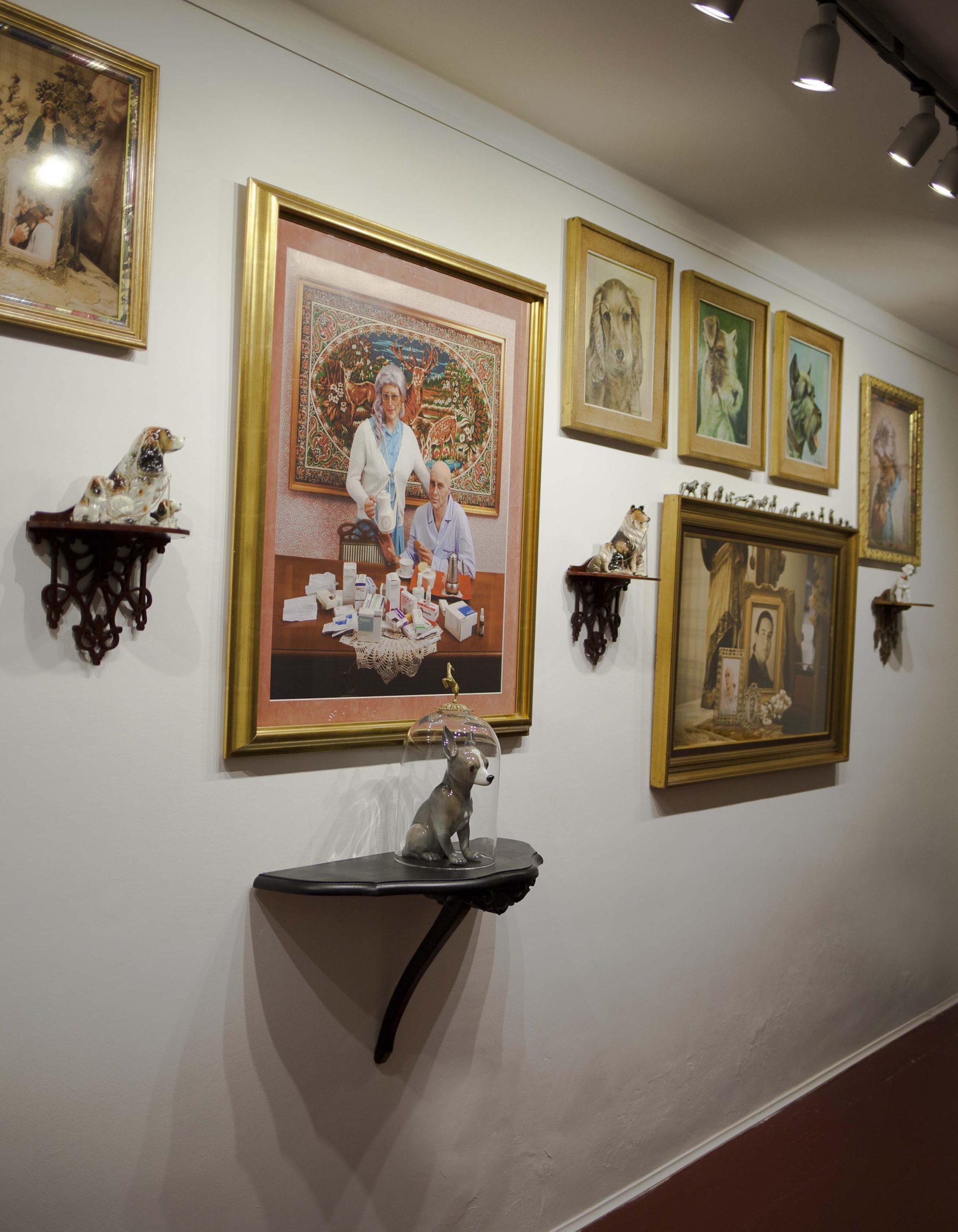 Duelo, Foto/Instalación, 2013
Colección de Fotografía montadas con marcos encontrados, Colección de perros de porcelana encontrados, Ménsulas y fanales
Duelo, Foto/Instalación, 2013
Colección de Fotografía montadas con marcos encontrados, Colección de perros de porcelana encontrados, Ménsulas y fanales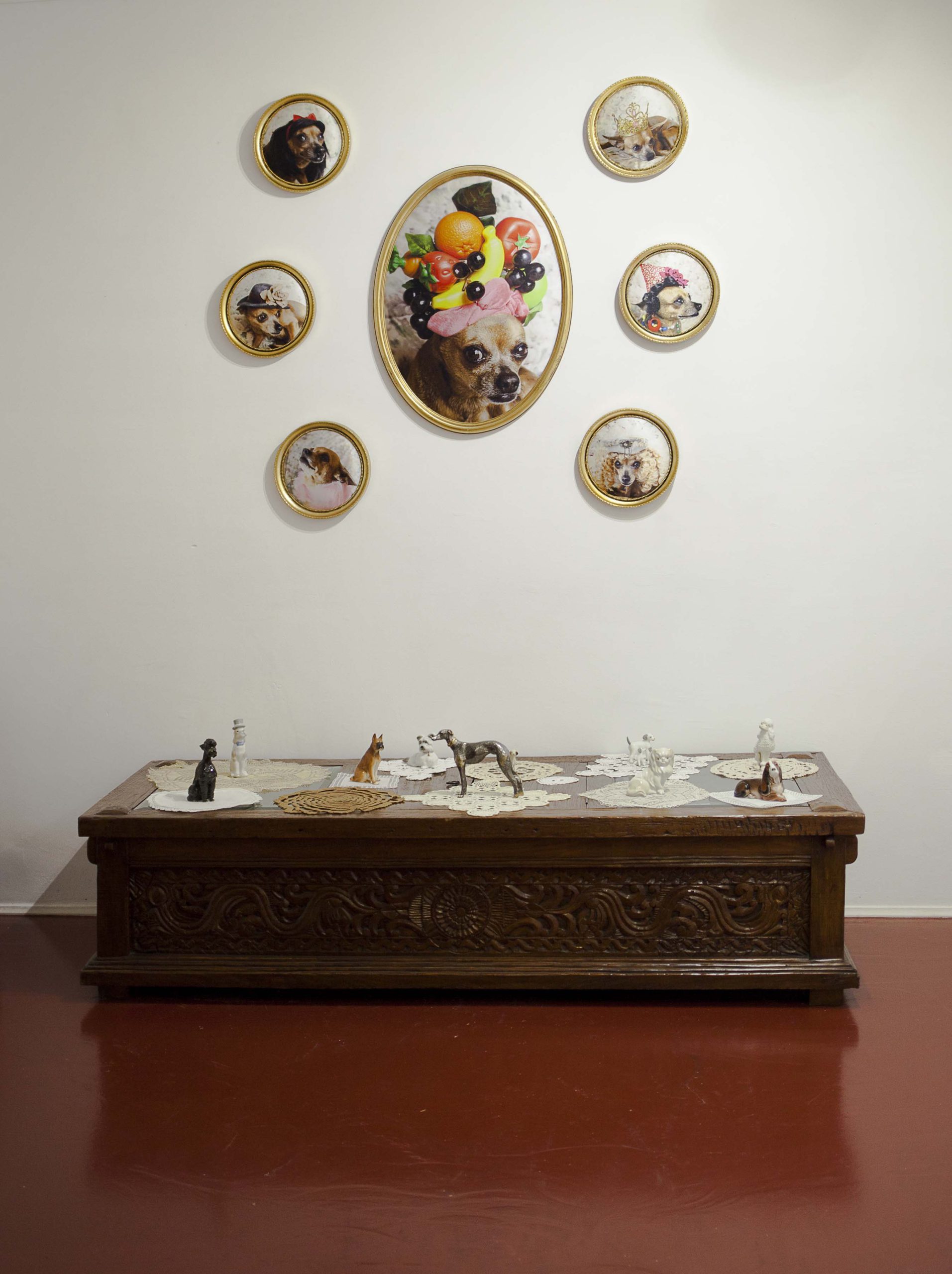 Virtudes, 2014
7 impresiones en seda montadas en marcos circulares y acolchados 27 x 27 cm, Edición de 15, 1 de 50 x 70 cm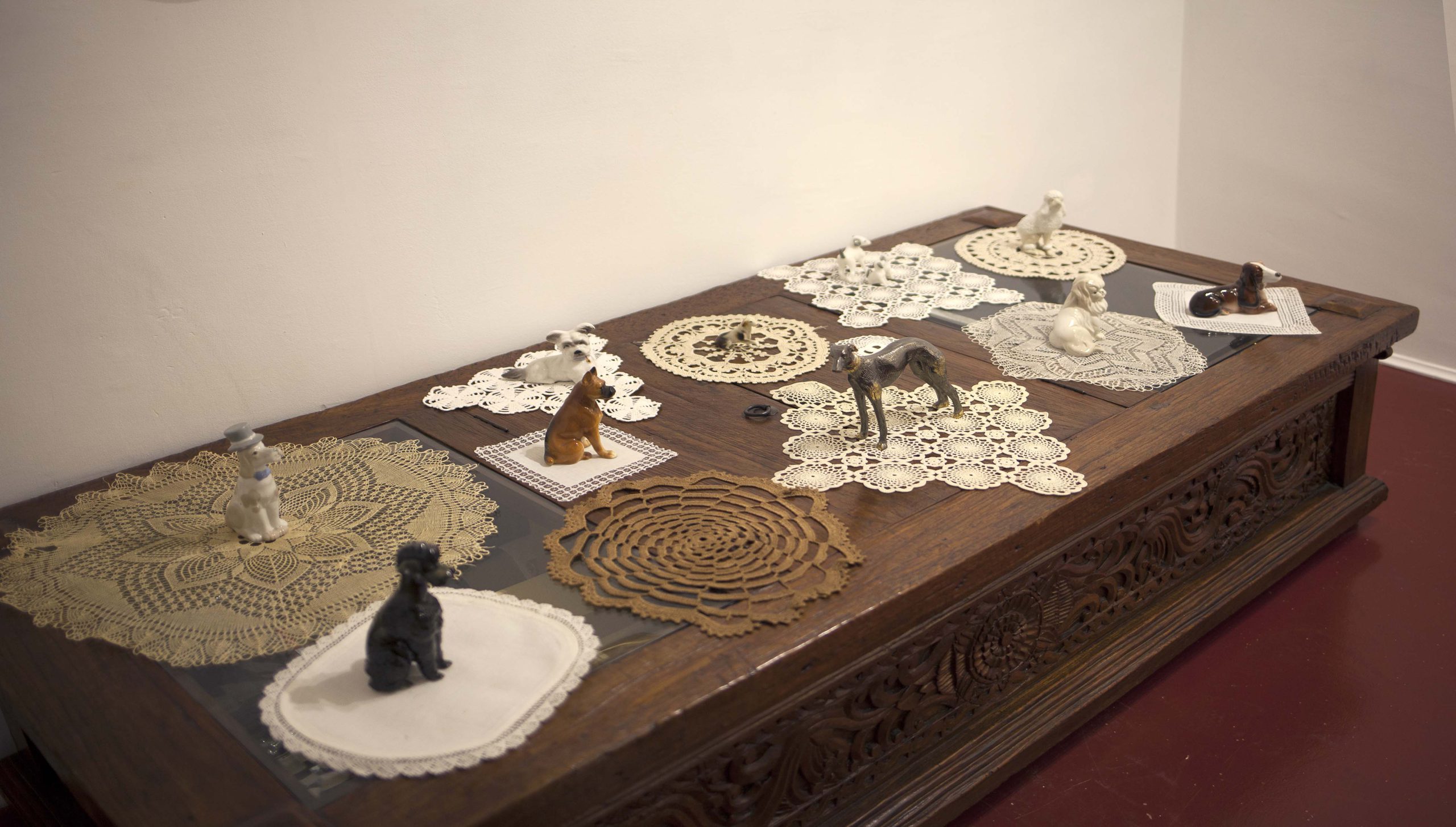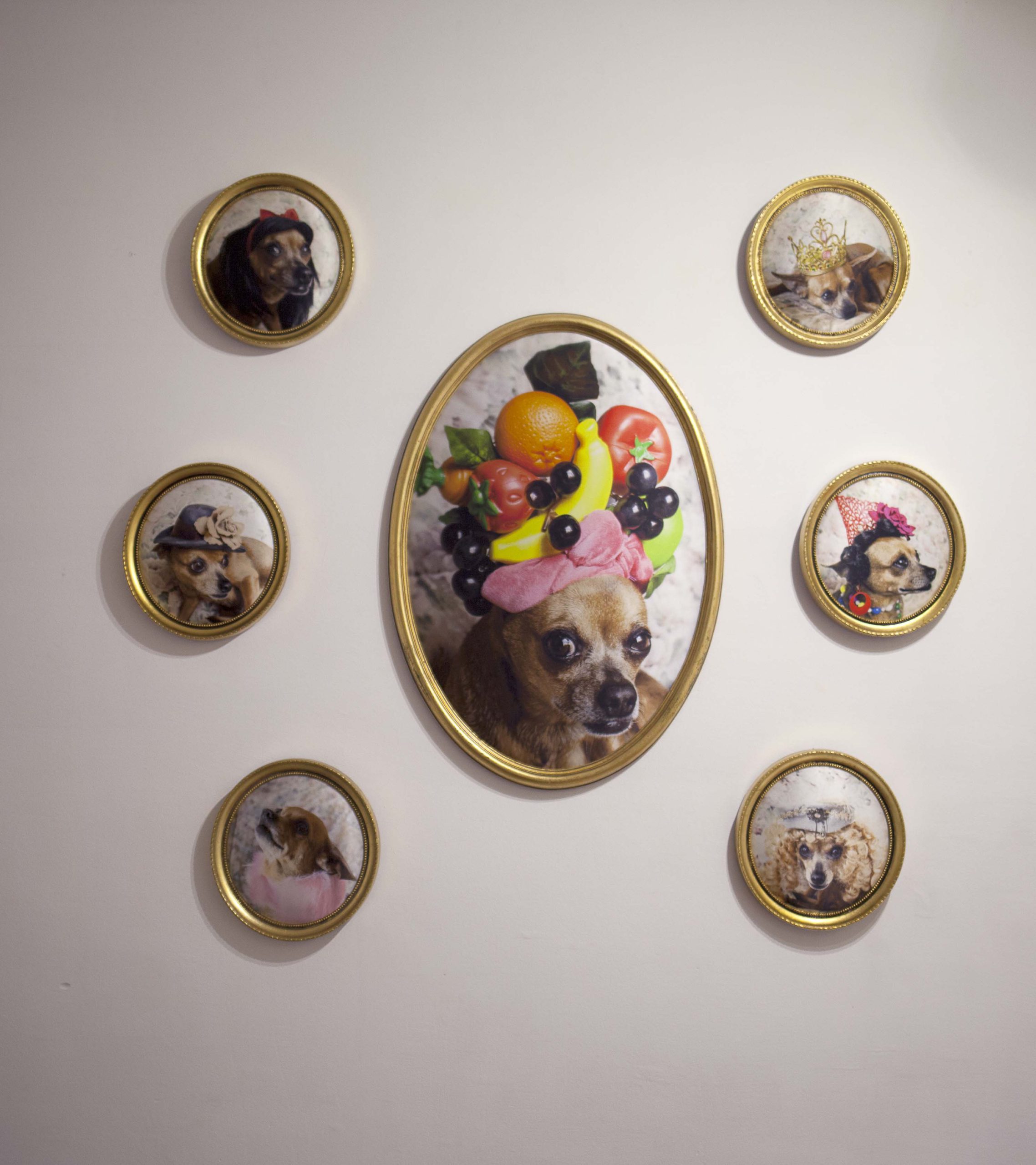 ✕